Analyses
Disinformation
Nigeria's 2023 Elections And The Undercurrents Of Coordinated Internet Campaigns
From announcements of fake results to the use of bot accounts, the country saw a no-holds-barred campaign for votes and legitimacy on social media.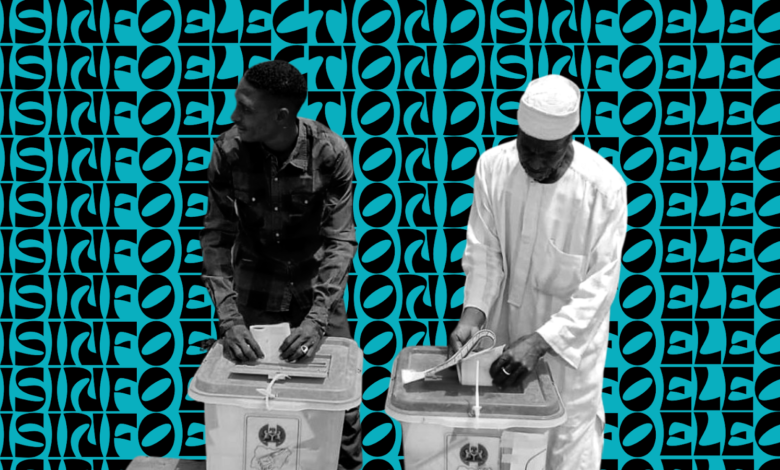 The general elections in Nigeria this year were tightly contested — the presidential race especially. Nothing illustrates this better than the results declared by the electoral commission, which show that three major political parties all had majority votes in 12 states each, with the distribution of votes following a similar trend. But the battleground spread beyond the various polling stations. The campaigns also took place online, but not all of it was organic or even anchored on facts.
The presidential and national assembly elections were held on Feb. 25, and the gubernatorial polls followed two weeks later. The top presidential candidates were Bola Tinubu of the All Progressives Congress (APC), Atiku Abubakar of the People's Democratic Party (PDP), Peter Obi of the Labour Party (LP), and Rabiu Kwankwaso of the New Nigeria People's Party (NNPP).
In their struggle for votes, some of the political parties resorted to pushing coordinated campaigns on social media.
Analysing thousands of posts on X (the platform formerly known as Twitter), HumAngle observed multiple trends of inorganic hashtags and disinformation fuelled by social media influencers, party keypad warriors, and bot accounts. Experts say the disinformation campaigns were aimed at discrediting rival candidates and exploiting voter sentiments.
Premature results
On the night of Feb. 25, when the presidential election was held across the country, some results started trickling in on social media. They were suspicious because counting was still going on at many of the polling units. The numbers, however, suggested that the electoral commission had finished compiling figures in certain local government areas (LGAs).
One of the claims that went viral pertained to four LGAs in Lagos: Ajeromi/Ifelodun, Amuwo-Odofin, Alimosho, and Ikeja. The claim showed the ruling All Progressives Congress leading the polls, followed by the Labour Party, and the People's Democratic Party. But it is a far cry from what was eventually announced by the Independent National Electoral Commission (INEC).
According to the posts, APC gathered 144,247 votes in the four LGAs, compared to LP's 84,717 and PDP's 25,504. The results announced by the electoral commission two days later, however, showed that not only did the Labour Party record the highest number of votes in those local government areas, it had the highest number across the state. Voting data based on the official INEC declaration obtained from Dataphyte, a data access and insight organisation, showed that the Labour Party received 192,541 votes in the four LGAs, while APC received 123,441 and PDP received 17,544.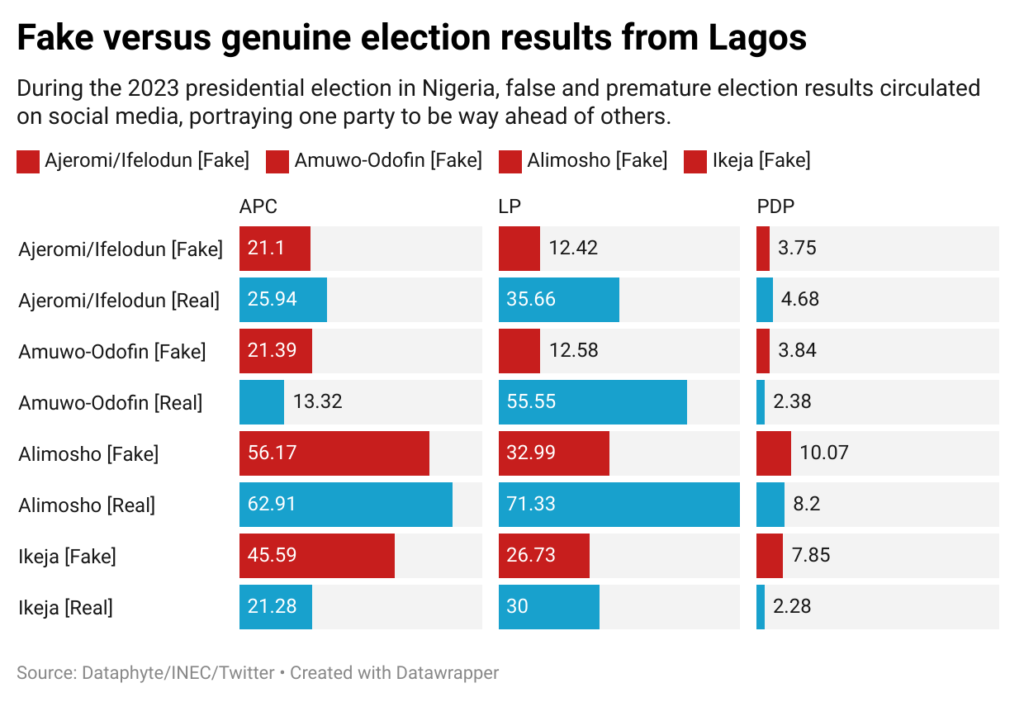 So, who was pushing this false narrative on social media, and how far did it go?
The first tweet was made by one Nìyí Akinsiju (@AgbaakinImodoye), an account created around the election period that has now been deleted. Within three hours, it was copy-pasted by 37 other accounts. By the following day, the tweet had been duplicated by 65 people — to resurface weeks later on March 19 when the results of the gubernatorial election in Lagos were announced.
Coordinated amplification refers to the art of pushing narratives on social media, usually through inauthentic tactics such as duplicating the same content (also called copypasta), paying influencers or amplifiers, getting a group of people to post around the same time, hijacking hashtags, or automating publication via bot accounts.
Analysis of data gathered through Meltwater, an online media monitoring platform, showed that the dozens of original tweets were engaged over 9,400 times and had a reach of over 375,000. When added to the quote tweets and retweets, all the posts numbered as many as 9,985 and had a combined reach of over 22.8 million.
Some of the most influential accounts that originally posted the claim included the APC Presidential Campaign Council (@APCPresCC2022), which has now deactivated its accounts both on Twitter and TikTok; APC's Lagos Independent Campaign Council (@LagosICC2023), another deactivated account; and Babakura Modu (@Babakuramadu), national coordinator of a volunteer media support group for Vice President Kashim Shettima. There were some other apparently partisan accounts, such as @biyora1, @dipoaina1, @gen_buhar, @kashimmedias, @sparkle_akoga, @theml007, and @tinubufrontier.

It appeared some of the accounts were created specifically to amplify campaigns during the elections — such as this one that joined the microblogging platform in September 2022, started posting in February, and stopped being active in April/June. This is consistent with the findings of Dubawa, which noted in a study published last February that a significant percentage of the accounts following all three major presidential candidates on Twitter showed signs of being bot accounts. The vast majority of these accounts were created in September 2022.
There were many other instances of Twitter users sharing fake election results in the same period, often with the @AgbaakinImodoye account being the originator of the claim and the official APC Presidential Campaign Council account (@APCPresCC2022) joining others to repost shortly afterwards.
When one of the accounts reposting the claim was challenged, he replied: "From Asiwaju's campaign council official account. So I guess you can take those numbers to the bank and feel really confident."
The Nigerian Fact-checkers Coalition (NFC) noticed that the @AgbaakinImodoye account was at the centre of the disinformation campaign, which had found its way into reputable news websites, and released a statement to warn the public on Feb. 26. The coalition said its analysis showed the account to be a bot.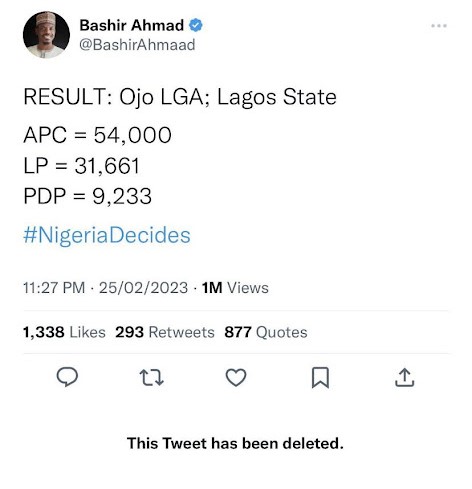 Another instance from the same night featured results from Sokoto state. The tweets claimed that APC gathered 8,869 votes in Shagari, 21,239 votes in Sokoto North, and 23,637 in Sokoto South, compared to NNPP's 2,995, 7,167, and 7,971; PDP's 7,891, 18,886, and 21,020; and LP's zero.
The original posts came from 49 accounts and were published between 7:57 p.m. on Feb. 25 and some minutes past midnight. If we count the retweets, the number of posts rises to over 2,800, with a combined reach of more than 6.9 million.
One claim regarding votes cast in five local government areas of Yobe was originally posted by 54 accounts and mentioned in a total of 5,395 tweets. It was engaged over 17,500 times and had a reach of more than 17.2 million. According to the claim, APC gathered 8,957 votes in Damaturu as against the actual number of 7,306, PDP gathered 2,316 votes as opposed to the much higher 16,649, and the Labour Party received no votes at all as opposed to 769.
There were also fabricated voting data related to Kano, Katsina, Niger, and other parts of Nigeria. It was impossible to confirm all the claims because INEC has not published the harmonised data of votes cast in each local government area, and the compilation done by Dataphyte is not exhaustive.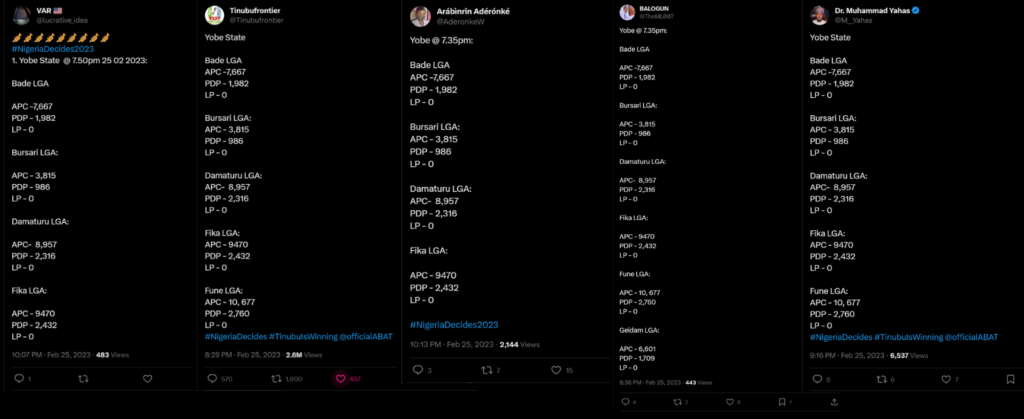 Some of those false figures were published by widely read online newspapers and blogs.
Opeyemi Kehinde, editor of FactCheckHub and coordinator of the NFC, said the fact-checkers coalition observed the spread of fake results was common among supporters of all top four presidential candidates.
"Their intention is to disabuse the minds of Nigerians from accepting any official results declared by the electoral umpire, INEC. They intended to cause widespread election violence and anarchy," he explained.
Senior researcher at Dubawa, Silas Jonathan, believes the fake results were intended to convince people of APC's dominance in Lagos, interestingly happening "during a period when rumours of Peter Obi gaining the upper hand in the Lagos state presidential election were also circulating".
"This is just one instance, but several other instances with the colouration of different political parties also took place," he added.
HumAngle contacted Festus Keyamo, who was the spokesperson of the APC Presidential Campaign Council, but did not succeed in getting a comment regarding the disinformation campaign supported by the council's Twitter account.
False victory for Labour Party
Incidents of inauthentic copy-pasting campaigns were not limited to accounts loyal to the ruling All Progressives Congress.
In one case, we found hundreds of cloned tweets claiming that the Labour Party had gotten the majority of votes in 19 states and the Federal Capital Territory (FCT), PDP in eight states, APC in seven states, and NNPP in two states, according to the INEC Result Viewing (IReV) portal. This, however, contradicts the declared results showing that APC, LP, and PDP had majority votes in 12 states each, while the NNPP had majority votes in one state.
But on March 6, days after APC's Bola Tinubu was declared winner of the presidential election, various accounts shared this claim. It was contained in 268 original tweets, mostly published that morning, but mentioned in up to 8,650 tweets in total. The thousands of tweets were engaged over 27,200 times and had a reach of more than 15.8 million.
It should be noted that the only confirmed case of manipulation leading to one party toppling another as the favourite in a state was in Rivers. Analysis by the BBC and Premium Times found discrepancies between data from the state that was uploaded to IReV and what was ultimately declared by the electoral commission.
Jonathan researched the spread of political misinformation during the general elections and observed concerted, high-organised efforts to promote various narratives, including some that favoured the Labour Party.
"'Celebrity Vibes,' a Facebook page presenting itself as an entertainment source, repeatedly shared false claims favouring Obi. Seven other groups, all named 'Peter Obi,' were found to have either reposted or duplicated claims from 'Celebrity Vibes,'" he told HumAngle.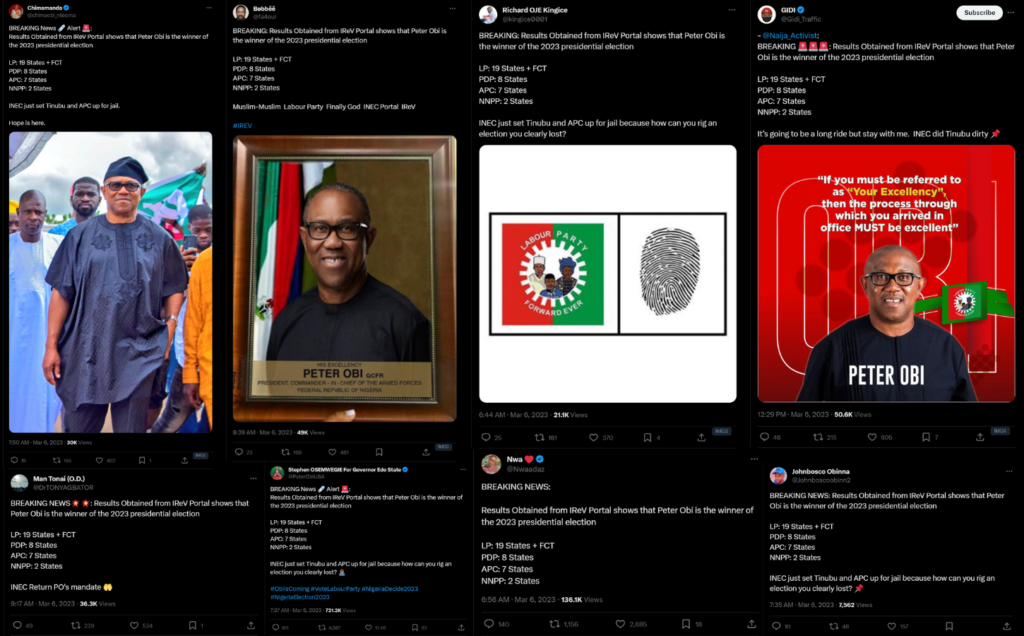 One more time for Sanwoolu
One of the hashtags studied by HumAngle that had the strongest symptoms of a coordinated campaign was #SanwooluLekansi, which is Yoruba for "[Babajide] Sanwoolu one more time" intended to drive support for the APC Lagos governor's re-election.
The hashtag trended for weeks, but first appeared on Twitter on Feb. 27, 2023 — the same day Peter Obi of the Labour Party was announced winner of majority votes in Lagos, an APC stronghold. We found up to 10 scenarios of copy-pasting under the hashtag, taking place between March 3 and 7. In total, there were at least 306 instances of copy-pasting.
Some of the top seeders (accounts with original posts) were @fattylincorn_01, @olumideadefehi2, @_chiefagbabiaka, and @uthmanolaide. Some of the top amplifiers were @sirdemmy, @suru_ni_ere, @lagospedia, and @abuaisha_71.
One of the tweets said, "Lagos is working for you and with you… If you don't believe the things we say, you cannot disbelieve the things we have done … See for yourself Seeing is believing A Greater Lagos is indeed rising. Vote to re-elect Babajide." It was shared 64 times by different influencers — with a combined follower count of over 666,000 — mostly between the hours of 8:25 and 11 a.m. on March 4.
Another of the tweets argued, "A vote for Babajide Sanwo-Olu is a vote for a Greater Lagos. Vote wisely. Re-elect Mr Babajide Sanwo-Olu as Governor, Lagos state." It was shared 43 times by different accounts mostly within three hours on the evening of March 3.
One of the tweets was interestingly phrased in Yoruba and was reposted by 17 accounts, including those bearing non-Yoruba names.
It stated, "Ogun kìí se ìyàn, ogun kìí se ọkà, a ò ní rí ogun o, ọjọ́ ajé ni ọjà, a ò ní ri ogun àì ní lè ṣisẹ́ lọ́jọ́ ajé n'ípìńlẹ̀ Èkó o, IPOB ò ní gba Èkó mo wà lọ́wọ́ o. Dìbò fún #SanwoLekansi." This translates to: "War is not pounded yam. War is not grains. We will not be beset by war. Monday is market day. We will not experience war; we will not be able to work on Mondays in Lagos. IPOB will not seize Lagos from us. Vote for Sanwo one more time."
One common thread in the APC's campaign strategy in Lagos was the condemnation of opposition candidate Gbadebo Rhodes-Vivour, the Labour Party candidate, as an Igbo person and a supporter of the armed separatist group, the Indigenous People of Biafra (IPOB). IPOB's violent insurgency in southeastern Nigeria has led to protracted insecurity, especially as a result of the imposition of an illegal curfew on Mondays that prevents movements and business activities.

More coordinated campaigns
Another example of copy-pasting that happened during the election period had to do with the 25 per cent controversy regarding votes from the federal capital.
Nigeria's law stipulates that for a presidential candidate to be declared winner, they must have the majority of the votes cast as well as "not less than one-quarter of the votes cast at the election in each of at least two-thirds of all the States in the Federation and the Federal Capital Territory".
Opposition party supporters interpreted this to mean that the winner must compulsorily secure at least a quarter of the votes cast in the FCT, in addition to the other states, and since the APC only received 19 per cent of the FCT votes, the election could not be deemed conclusive. Supporters of the APC, on the other hand, insisted that the law does not intend a special status for the federal capital. (The tribunal court later backed the latter argument.)
This tweet from @Jack_ng01 that claimed that no one could be declared president without a quarter of the votes from the FCT and thanked the capital for "rescuing this country from collapsing" was reposted verbatim by at least six other accounts.
The candidacy of the Labour Party's gubernatorial flagbearer in Lagos state, Gbadebo Rhodes-Vivour, was another subject of controversy that fuelled ethnic tensions.
One tweet from @kayzed43 posted on March 2 that falsely claimed Rhodes-Vivour was holding a Biafran flag was reposted verbatim by five other accounts and 62 mentions.
Even long after the presidential election was concluded, we continued to see signs of coordinated campaigns on social media either to discredit the credibility of the polls or cement the legitimacy of the declared winner.
One curious example is a set of tweets posted by Twitter influencers on April 30. "Unless BAT [Bola Ahmed Tinubu] performs worse which i [sic] believe is impossible, Buhari will not be remembered for anything except destroying the economy a second time," it said.
It was originally posted by @Deshysmalls, with nearly 40,000 followers. Then it was copy-pasted by 13 other accounts, word for word, even with the lowercase personal pronoun. Notable among the seeders were @letter_to_jack (with over 280,000 followers), @MrOdanz (125,000 followers), and @Nneoma__ (30,000 followers).
The tweets, alongside the over 4,300 mentions, were engaged nearly 15,400 times and had a reach of more than 13.4 million. The reactions on Twitter showed that some people believed the campaign to be an attempt to manage the reputation of the newly elected president by setting the bar of expectations low and attacking his predecessor.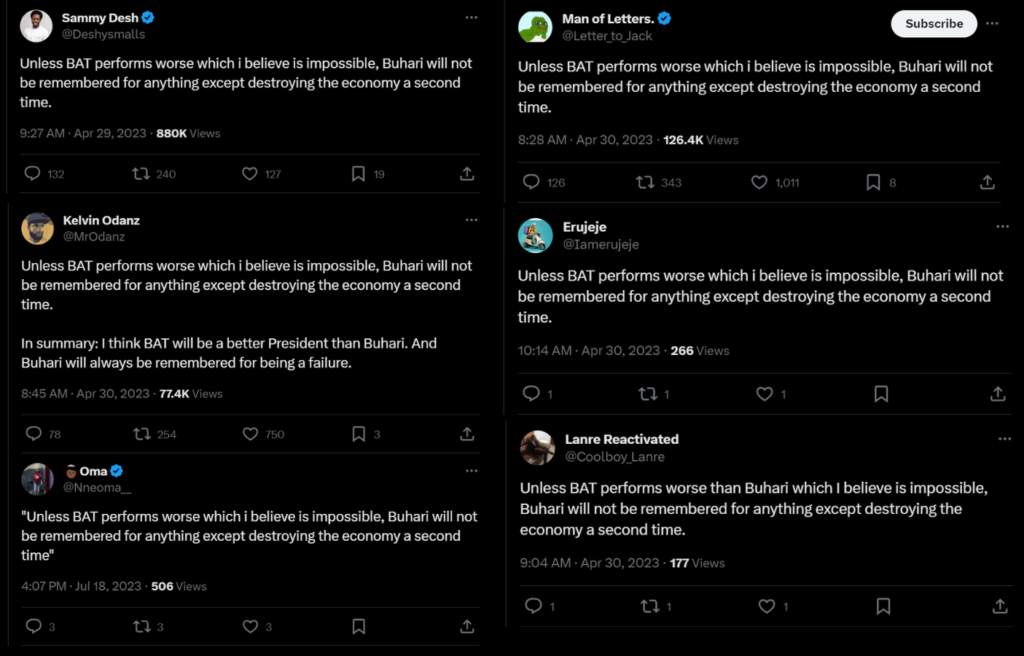 Other trends, one-man campaigns
Another pattern we looked at was some of the trending hashtags in the period that showed signs of coordination.
For example, some accounts trended the hashtag #AsiwajuIsComing mostly between Feb. 25 and 28. In 23 of the tweets, the hashtag is the only thing posted — occasionally with a bunch of emojis. In another set of tweets — about the same number — the posters simply shared the hashtag, but then also tagged various accounts affiliated with the All Progressives Congress (APC) or belonging to social media influencers. These prominently included the APC Presidential Campaign Council (@APCPresCC2022); former presidential new media aide Bashir Ahmad (@BashirAhmaad); and Dada Olusegun (@DOlusegun), who is now an aide to President Bola Tinubu on social media.
The hashtags #TinubuIsComing and #TinubuIsWinning also showed signs of coordination. Dozens of tweets containing the phrase #TinubuIsComing were copy-pasted by at least several accounts.
"Tinubu campaigned in all 36 states and FCT. No one else did. No one cares as much as he does. Working harder than all other candidates, only a very healthy person can do that! Vote Tinubu 🗳 ✅"
The tweet above, containing the #TinubuIsComing hashtag alongside a host of others, was originally posted on Feb. 22 by influencer Oluwayemisi L. Ajayi (@Yemi__Ajayi) and was reposted by nine other accounts — again including @APCPresCC2022.
In some cases, you have individual accounts posting the same tweet over and over again in hopes of reaching a wider audience or improving the odds of trending. Examples include this tweet promoting Tinubu by @Temz62, shared 13 times within a span of 10 minutes; this one by the same author that was shared 16 times within half an hour; and this one by @lagbenjo that was shared 17 times within three days.
Even more impressive is the one-man campaign by @naija_loudmouth, which appears to be a bot account, supporting APC's gubernatorial candidate in Akwa Ibom, Akan Udofia. Almost as if it was stirred awake by a spell, the campaign started at exactly 10 p.m. on March 7, and then the tweet was posted five minutes later and then five minutes after that. It continued like clockwork until 2:45 p.m. on March 9, with the tweets totalling 505 and having a combined reach of a little over 46,500. Ten days later, Udofia was announced first runner-up in the election, losing to PDP's Umo Eno and the Young Progressives Party's Bassey Albert.
Kehinde, the editor of FactCheckHub, described disinformation campaigns on social media during the elections as massive, rampant, and strategic.
"From sharing misleading videos to doctored images and releasing fake data and results, they aimed at discrediting opposition candidates, the electoral processes, and also creating fears in the minds of the electorate to vote for the candidates of their choices," he told HumAngle.
He urged all stakeholders, including the electoral commission, security agencies and political parties, to be more proactive with information management. He added that media organisations should also build the capacity of their journalists to counter misinformation and disinformation, which have become "thorns in our fleshes".
"The electorate should be encouraged to imbibe the culture of verifying every piece of information they consume and restrain from sharing unverified reports. This can be achieved through increased media and information literacy campaigns to enhance their critical thinking abilities," he advised.
Dubawa's Jonathan says there's a role for social media companies as well. They ought to develop election policies that take the African context into account. Relevant government agencies should also take a firm stance against political disinformation campaigns and hold culprits accountable, he continued.
"This is crucial for safeguarding the integrity of the election process and enabling voters to make informed decisions based on accurate information."
---
This article was produced with mentorship from the African Academy for Open Source Investigations (AAOSI) to tackle disinformation that undermines our democracies as part of an initiative by the International Centre for Journalists (ICFJ) and Code for Africa (CfA). Visit https://disinfo.africa/ for more information.
---
Support Our Journalism
There are millions of ordinary people affected by conflict in Africa whose stories are missing in the mainstream media. HumAngle is determined to tell those challenging and under-reported stories, hoping that the people impacted by these conflicts will find the safety and security they deserve.
To ensure that we continue to provide public service coverage, we have a small favour to ask you. We want you to be part of our journalistic endeavour by contributing a token to us.
Your donation will further promote a robust, free, and independent media.
Donate Here