Emergencies
News
Nigerians Blame Scepticism On COVID-19 On Attitude Of Public Officials Toward Safety Protocols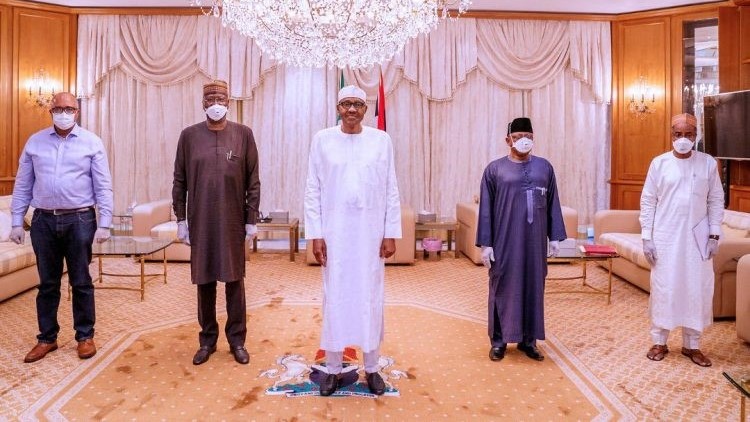 Nigeria's COVID-19 cases rose by 135 per cent in three weeks, yet adherence to safety guidelines, including social distancing and wearing of face masks, issued by health authorities, are slipping drastically.
In a focus group discussion, by HumAngle, respondents attributed the negative attitude of the public to poor awareness campaigns on COVID-19 and the behaviour of the public with regard to safety regulations.
They explained that at the beginning of the pandemic, with cases under 1, 000, the government was more aggressive in public enlightenment but lost the momentum once it eased the lockdown against the spread of the virus.
Despite the 24, 077 cases recorded as at June 28, a lot of Nigerians doubt the existence and prevalence of the virus in the country and have continued to express their reservations in spite of some persons narrating their experiences with the disease.
On Saturday, Peter Okoye, a popular musician, revealed that himself, wife and six-year-old daughter as well as two domestic staff members contracted the virus.
In a moving video, Okoye detailed his ordeal but his comment section was filled with messages suggesting that he had been paid to share the story, as "COVID-19 is not real."
A twitter user @Tomsnash said, "You have been paid too? No more integrity again. It is now all business."
@Rechywest said, "That was malaria and typhoid. This is the season. Stop allowing these people to brainwash you. Ain't no COVID-19 in Africa."
Participants in the focus group discussion said that most of the unbelief and scepticism derived from the attitude of public officials who behaved contrary to their exhortations to the public.
"With numerous, non-essential interstate travelling despite the ban, lack of mask use by the president and the tussle in Aso Rock, people are bound to think the virus is not real," Joseph Ogunjobi said.
Another participant, Elizabeth Ette, said, "If the government is not taking it seriously, we cannot expect the Nigerian to. There is already distrust so it makes sense that they are sceptical."
HumAngle has compiled a timeline of moments public office holders disregarded COVID-19 safety protocols.
President Buhari's missing face mask
As pointed out by the focus group, President Muhammadu Buhari, in recent times, has not worn a face mask, either in public or televised appearances.
On April 10, he tweeted a photo of himself being briefed by the Presidential Task Force on Control of COVID-19 where he did not wear a mask.
The tweet @MBuhari said, "The Presidential Task Force on Control of COVID-19 briefed me today.
"I remain very grateful for the hard work that they are putting into this national assignment. I have no doubt that with all these efforts, Nigeria will triumph over this pandemic."
He also did not wear a mask on June 4 when he presided over the virtual Federal Executive Council (FEC) meeting.
On May 18, when the COVID-19 Task Force briefed him on the national response plan, the mask was also missing.
On June 25, when he dissolved the National Executive Council of the All Progressives Congress (APC), he did not observe the mask protocol.
The same applied to all the televised addresses he has given Nigerians since March 29.
Aisha Buhari and Aso Villa aides saga
On Thursday, June 11, security sources reported a security breach that occurred at the precincts of the Presidential Villa, State House, Abuja.
It was said to have taken place after the First Lady's Aide-de-camp, Usman Shugaba, attempted to force the president's Special Assistant, Sabiu Yusuf, into self -isolation over COVID-19 fears.
State House sources said that trouble started when Sabiu returned to his residence in the precincts of the Presidential Villa, just outside the Pilot gate, after a trip to Lagos where he had gone to meet his wife who had just been delivered of a baby.
Citing COVID-19 protocols, sources said, the First Lady, Aisha, and three of her children, Zahra, Halima and Yusuf, with some of her security aides led by the Aide-de-Camp, on Thursday night went to the residence of Sabiu located outside the Presidential Villa to demand that he self-isolate for 14 days so as not to endanger the first family.
The encounter was said to have degenerated into a heated argument as Sabiu insisted he was not the only aide who had travelled to Lagos. He said that the new Chief of Staff, Prof. Ibrahim Gambari, was in Lagos every weekend till he settled in Abuja and wondered why the double standard required his self-isolation for visiting his wife.
Sabiu, also known as 'Tunde', was however said to have returned home after the argument. As he got home, the first lady in company with her children raided the premises and rained abuses on him.
Sources said Sabiu escaped after gunshots were fired by the First Lady's Aide de Camp in an attempt to apprehend the aide, who ran for his dear life into the nearby residence of President Buhari's cousin, Mamman Daura, where he spent the night.
The incident was brought into the open by the First Lady on Friday, June 12, when she called on Inspector-General Mohammed Adamu to release her aides from detention.
In tweets from her verified twitter handle @aishambuhari on Friday night, the first lady wrote: "That COVID-19 is real and still very much around in our nation is not in doubt.
"Consequently, I call on all relevant Government Agencies to enforce the Quarantine Act signed by Mr President and ensure no one is found violating this law and the NCDC guidelines, especially on interstate travel without the necessary exemptions for movement of essentials.
"Anyone who does that should at the very least be made to undergo a 14 days mandatory isolation no matter who the person is, no one should be above the law and the Police command will do well to remember that."
Sources revealed that Sabiu was not the first presidential aide who did not self-isolate after travelling out of Abuja.
Two of the president's daughters, Zahra and Halima, were also said to have visited their in-laws when Halima's husband's uncle died recently and did not self-isolate when they returned to the Villa.
Obaseki and Wike meeting
In the run-up to the forthcoming Edo governorship election, Godwin Obaseki, the state governor, has breached the interstate ban for a non-essential, political trip many times like many of his colleague governors.
On June 14, Obaseki travelled to Rivers State where he held a closed-door meeting with the governor, Nyesom Wike.
The visit, the first by Obaseki since he became governor, came at a time when he was facing fierce opposition from his former party, APC.
Obaseki also visited other states, such as Akwa Ibom, and the Federal Capital Territory, Abuja, in an effort to get a party ticket to contest the election on September 19, 2020. On each occasion, he moved with a retinue of aides.
APC Governors visit despite travel bans
On June 1, Obaseki and eight of his colleagues on the platform of APC met with the National Leader of the party, Bola Tinubu, to resolve the squabble between the governor and the former National Chairman of the party, Mr Adams Oshiomhole.
The meeting had in attendance governors Abdullahi Umar Ganduje (Kano), Rotimi Akeredolu (Ondo), Gboyega Oyetola (Osun) and others.
On June 15, the National Working Committee (NWC) of APC, led by Oshiomhole met behind closed doors with the Chief of Staff to the President, Gambari, at the State House, Abuja.
The party's National Vice-Chairman (North West), Inuwa Abdulkadir, and the National Treasurer, Adamu Panda, were among members of the NWC who accompanied Oshiomhole to the meeting.
Respondents in the HumAngle focus group discussion cited these visits and travels as instances where high profile figures, who ought to show examples, demonstrated a lack of discipline and disregard for rules to fuel scepticism around the pandemic in Nigeria.
High profile deaths
Meanwhile, some former public office holders have died from the virus.
Abba Kyari, the erstwhile powerful chief of staff, Abba Kyari to Buhari, died on April 17 after a battle with coronavirus. On June 25, Abiola Ajimobi, a two-term governor of Oyo State also died from COVID-19 complications.
Ajimobi passed away in Lagos at the age of 70. At the time of his death, he was a deputy national chairman of the ruling party, APC.
So many other public figures, including Suleiman Achimugu, a former Managing Director of Products and Pipelines Marketing Company, also died from the virus infection after returning from a medical trip abroad.
Three governors have been afflicted with the virus with one, Okezie Ikpeazu of Abia State, still hospitalised in Abuja.
Meanwhile on Sunday, Kogi State Chief Judge, Nasir Ajanah reportedly died at the COVID-19 isolation centre in Gwagwalada, Abuja.
---
Support Our Journalism
There are millions of ordinary people affected by conflict in Africa whose stories are missing in the mainstream media. HumAngle is determined to tell those challenging and under-reported stories, hoping that the people impacted by these conflicts will find the safety and security they deserve.
To ensure that we continue to provide public service coverage, we have a small favour to ask you. We want you to be part of our journalistic endeavour by contributing a token to us.
Your donation will further promote a robust, free, and independent media.
Donate Here