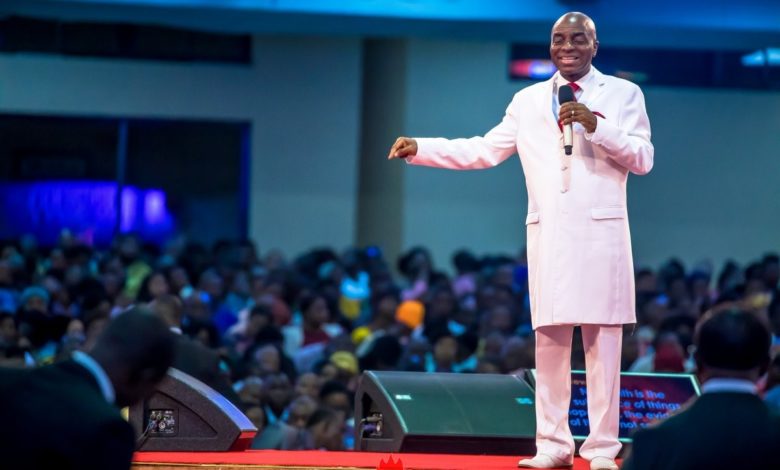 During a presentation on Sunday, August 2, the presiding Bishop of Living Faith Church Worldwide, David Oyedepo, claimed that a cure had been discovered for COVID-19, a disease which was just "like [a] fever," but this is incorrect.
In a video, shared across various platforms including blogs and YouTube, Oyedepo also described reports about the pandemic as "mere noise from hell". While an upload on YouTube has been watched over 4,800 times, a post on Nairaland where it was shared has gathered over 39,000 views.
"I watched something yesterday; the frontline doctors in the US," he said, referring to a press briefing hosted by Tea Party Patriots and America's Frontline Doctors on Monday, July 27.
"This is a noise from hell and there is nothing hidden that is not known to God. Nothing. Every positive report contrary to that demonic propaganda is doused, is not allowed to have expression because of the evil machinations of the perpetrators."
"It is like [a] fever; there is nothing there. It is like fever," he added.
"What is coronavirus? We have found a cure, they say it is not relevant. They cut it off all the various platforms just to keep their propaganda going … If somebody comes out to say we have treated 350 people with this drug and none died, they say no, that is not necessary. So what is necessary? To kill them is necessary? Or to force your demonic vaccine [on them]."
In the widely shared video referenced by Oyedepo, a Cameroonian-American physician, Stella Immanuel, had claimed she took care of 350 COVID-19 patients using hydroxychloroquine, zinc, and Zithromax, and they all recovered. She also said hydroxychloroquine works effectively as prophylaxis to prevent infection.
"I know you people want to talk about a mask. Hello? You don't need mask," she emphasised. "There is a cure. I know they don't want to open schools. No, you don't need people to be locked down. There is prevention and there is a cure."
Has a cure been found?
In short, no. The World Health Organization (WHO), a specialised United Nations agency in charge of international public health, has stated that "there are no medicines that have been shown to prevent or cure the disease."
"However, there are several ongoing clinical trials of both western and traditional medicines. WHO is coordinating efforts to develop vaccines and medicines to prevent and treat COVID-19 and will continue to provide updated information as soon research results become available," it added.
This position is echoed by the Nigeria Centre for Disease Control (NCDC), which says, "There is no specific cure yet for COVID-19. However, there are many ongoing clinical trials to test various potential antivirals. Current management of cases aims to relieve the symptoms while the body's immune system fights the illness."
Likewise, according to faculty physicians at Harvard Medical School, there is currently "no specific antiviral treatment for COVID-19". "However," they said, "drugs previously developed to treat other viral infections are being tested to see if they might also be effective against the virus that causes COVID-19."
They further explained that the reason it is difficult to come up with a definite cure is that the drug must be able to eliminate the coronavirus without killing the human cell that hosts it and must specifically target the invading virus' life cycle, enabling it to reproduce.
Because of the adaptive nature of viruses and their ability to reproduce rapidly, they tend to mutate and potentially develop "resistance to whatever drugs or vaccines we develop".
About the use of the controversial drugs mentioned by Immanuel, the physicians say the recommendation has not changed: "Chloroquine or hydroxychloroquine with or without azithromycin [zithromax] should not be used to prevent or treat COVID-19 infection unless it is being prescribed in the hospital or as part of a clinical trial."
"The jury is still out regarding whether these drugs, alone or in combination, can treat COVID-19 viral infection. While recent human studies suggest no benefit and possibly a higher risk of death due to lethal heart rhythm abnormalities, two studies supporting these conclusions have been retracted by the authors because of irregularities in how results were collected and analyzed," they added.
Other studies have shown that the drug did not improve the conditions of COVID-19 patients and, in May, WHO had stopped clinical trials for the drug citing possible safety risks.
On vaccine development, it must pass through at least three clinical trial phases before it is submitted to regulatory bodies for approval for public use. WHO's records, last updated on August 13, showed that six candidate vaccines were in the third phase of assessment.
Is it "like a fever"?
Fever, according to the Oxford Concise Medical Dictionary (8th edition), is an abnormal "rise in body temperature above, i.e. above an oral temperature of 98.6°F (37°C)". It may be accompanied by shivering, unusual cold, low appetite, signs of dehydration, increased sensitivity to pain, drowsiness, lack of energy, and difficulty concentrating.
"A fever is a symptom, not an illness. A doctor can diagnose a fever by checking the person's body temperature, but they will also need to diagnose the reason for the fever," states Yvette Brazier, Editor for Medical News Today, in a reviewed article.
Though fever is a symptom of COVID-19, it is not the only one, especially for moderate to critical cases. WHO notes that the most common symptoms are fever, dry cough, and tiredness. Less common symptoms include aches and pains, nasal congestion, sore throat, diarrhoea, conjunctivitis, headache, loss of taste or smell, a rash on the skin, and discolouration of fingers or toes.
In severe cases, people infected are likely to experience difficulty breathing or shortness of breath, chest pain or pressure, and loss of speech or movement.
"If you have minor symptoms, such as a slight cough or a mild fever, there is generally no need to seek medical care. Stay at home, self-isolate and monitor your symptoms. Follow national guidance on self-isolation," the organisation advised.
"However, if you live in an area with malaria or dengue fever it is important that you do not ignore symptoms of fever. Seek medical help. Seek immediate medical care if you have difficulty breathing or pain/pressure in the chest."
Conclusion
It is false that a cure has been discovered for COVID-19, as various drugs are still being tested for effectiveness and safety. It is also not true that the disease is "like a fever" as it encompasses various other symptoms, which may be deadly especially after triggering a respiratory tract infection.
The researcher produced this fact-check per the Dubawa 2020 Fellowship partnership with HumAngle to facilitate the ethos of "truth" in journalism and enhance media literacy in the country.
---
Support Our Journalism
There are millions of ordinary people affected by conflict in Africa whose stories are missing in the mainstream media. HumAngle is determined to tell those challenging and under-reported stories, hoping that the people impacted by these conflicts will find the safety and security they deserve.
To ensure that we continue to provide public service coverage, we have a small favour to ask you. We want you to be part of our journalistic endeavour by contributing a token to us.
Your donation will further promote a robust, free, and independent media.
Donate Here