Development
Features
News
Nigerian Border Town Residents Accuse Benin Of Illegal Occupation
Left to their devices, residents of Nigeria's border town, Igbokofi, suffer from alleged Beninese encroachment and maltreatment from their republican police.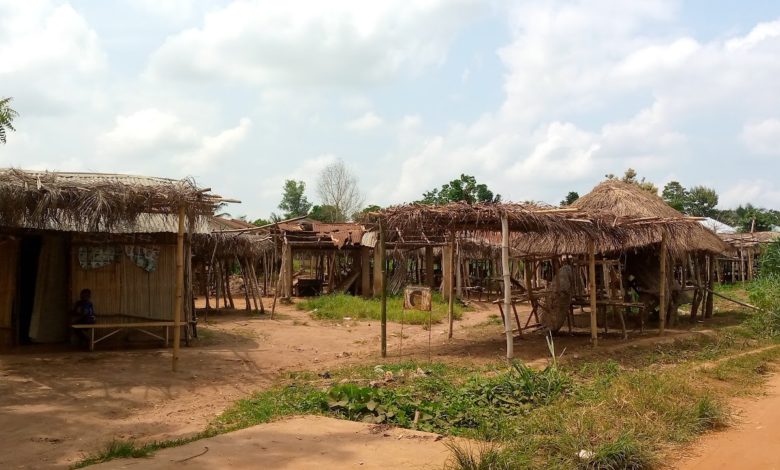 After a day of toil one evening in 2017, Mathew Ajose, 52, was returning from his farm with woods he had collected to be sold in his native Igbokofi community, a border town near Benin Republic. Strangely, he met a barricade mounted by the Beninese police, Nigeria's western neighbour. Yet this was Nigerian territory. 
"When I got to the place I was to collect the ticket, I met with some armed police officers of Benin, who barricaded the road with some woods punctured with nails, restricting our movements," he said.
Knowing he was still within the Nigerian territory, Ajose demanded that Benin police officers remove the roadblock as they were wrongfully operating beyond their territory. This argument, however, did not go well with the officers who requested his "permission papers" before he could pass.
"I asked them what to do because a French officer should not collect the timber papers that belong to a Nigerian, who is farming within the Nigerian territory," he said. "One of the policemen then took his phone and called his other officers. When they came, he asked me to follow them to their station with my timbers. As they tried to arrest me, I withdrew a little from them and then they opened a tear-gas to my face."
Ajose, who was helpless at that point, crawled to the back of his timber and tried to reach for his phone to call for help from his fellow villagers but the Beninese police caught up with him again and opened the tear-gas directly into his eyes, he said.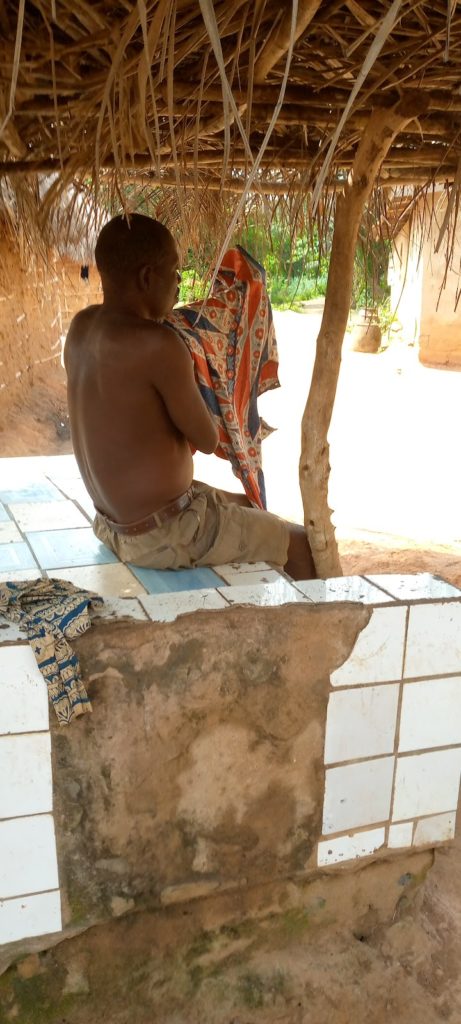 He was then moved to the unit police station – a station erected by the Benin Republic government in the Nigeria-Igbokofi community– and was bailed for N30,000 after his brother and other villagers came to his rescue.
"Three days after my release, I began to feel pain in my eyes. It was seriously itching me like I had my eyes immersed in hot water. I could not see anything," he said. "My friends led me to a hospital in Ijebu. I visited there about four times with several people holding my hands since I couldn't see anything. I was then told at the hospital to go to Ikorodu, Lagos and take a scan but I couldn't afford it and that is how I became permanently blind."
Since this encounter in 2017,  Ajose –now a blind father of six– has depended largely on the support from the community dwellers and his extended relations to take care of himself, feed his family, send his children to school and make other necessary payments required of him.
Many other residents in the community, like Ajose, have had their share of encounters with the Benin police who are accused of illegal occupation of Nigerian land. They could enter Nigerians' farmlands, houses, or markets to oversee operations or request authorisation as to why an activity was being carried out – a question that has caused many to lose their properties.
The boundary between Igbokofi and Benin Republic
Located in Yewa North, Ogun State, Southwest Nigeria, Igbokofi is made up of 14 villages with an estimated population of 400,000. Residents, who are mainly farmers, still use crude methods.
Politically, the town produced two councillors between 1999-2015 and has nine polling units, a testimony, according to the residents, that Igbokofi is within the Nigerian territory.
In a compressed document made available to this reporter by Kunle Garb, a missionary and resident of Igbokofi, the original boundary between Nigeria and Benin Republic was first set at Opara River, Isanado in Benin Republic, following an agreement made between Britain and France before Nigeria gained its independence in 1960.
The documents which would be presented to the National Assembly to seek for an intervention further stated that, in 1918, it was later moved to Onigbolo – 20 kilometers away from Opara River. For the third time, it was shifted to Otekotan – 10kms away from Onigbolo after Nigeria's independence.
However, the boundary was moved for the fourth time to Towe river – 5kms to Otekotan and 35kms to Opara, wherein Igbokofi land extended to Towe Town due to the expanse of farmland. 
After a final agreement between the French and British governments, smaller pillars were erected in Cotonou in the Northern parts of Benin by the French colonial administration while the British erected bigger ones beside them. This was done at a river behind the 80-year-old Igbokofi market to designate Nigerian territory.
The document explains that while some of the erected pillars are still located at their original site, some cannot be accounted for, and others have been removed or relocated due to the recent encroachment by the Benin Republic police.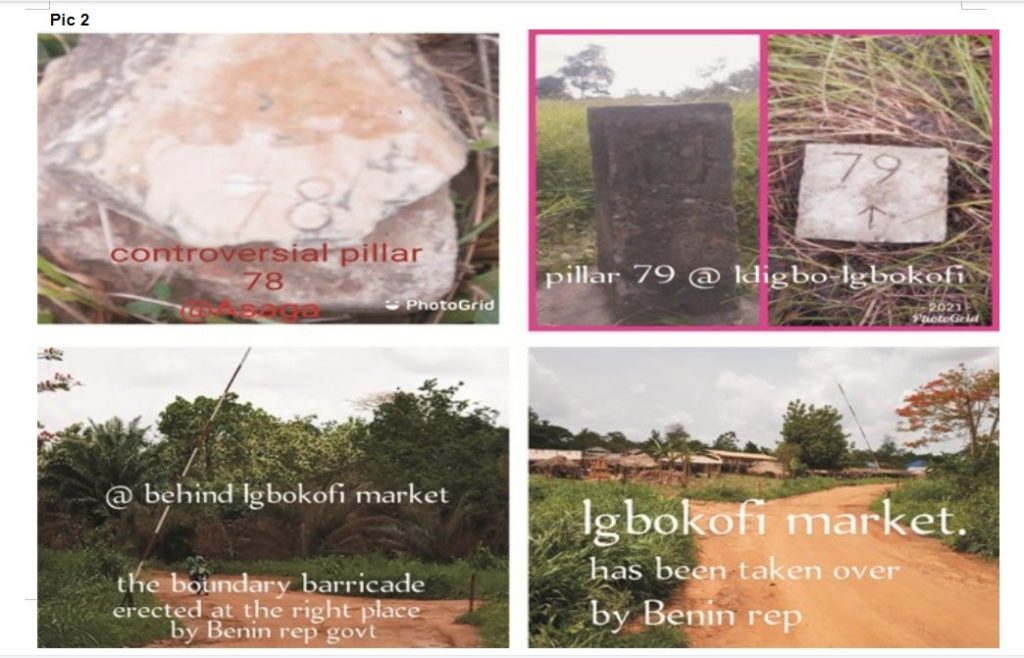 The pillars still at their sites are Pillar 67 at Oke Odo; Pillar 69 at Oke Ola; Pillar 73 at Ipinle ; Pillar 74 at Owode; and Pillar 77 behind the Igbokofi market but taken over by the Benin Republic.
The missing pillars are pillar 68, pillar 70-72, pillar 75, pillar 76 and pillar 78.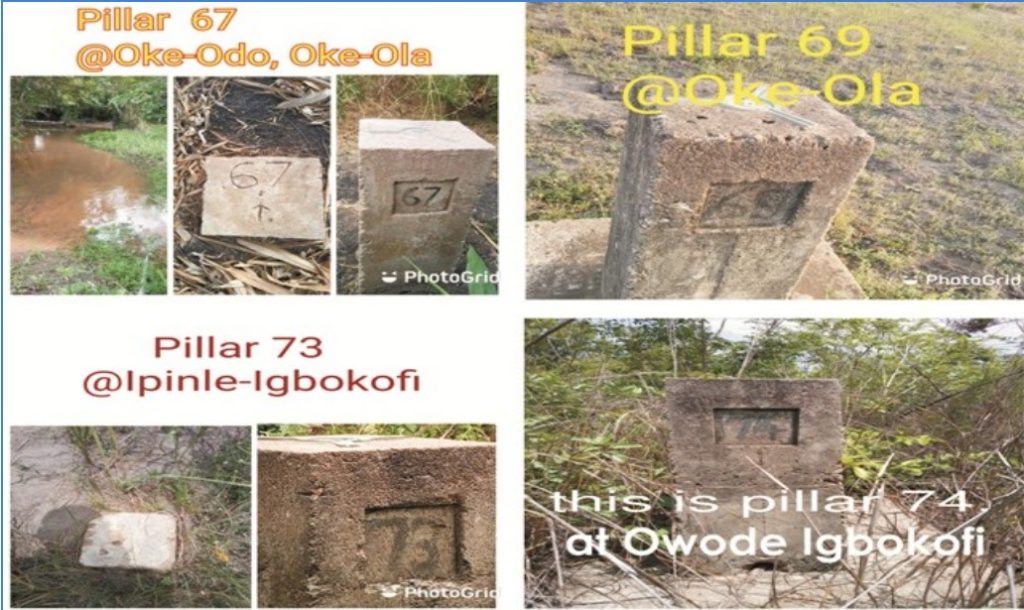 This reporter was taken to different sites to observe the missing pillars as well as some erected structures by the Benin Republic government on Nigeria territory.
Some of these structures include a telecommunication mast belonging to a network provider that operates in Benin, a police unit post, and a tiled road that extends from the Benin territory into Asaga-Nigerian territory constructed in Nov. 2020.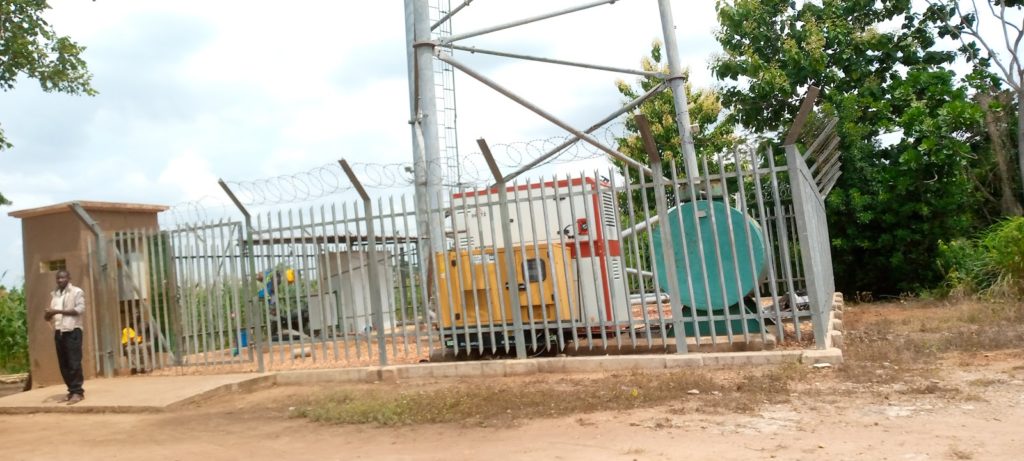 It was observed that some residents, as a means of identification, had painted colours of the Nigerian flag on their farmlands or houses to identify it as part of Nigeria. However, for  Garb, the erection of a Nigerian flag on his land and spearheading of different protests against the illegal encroachment got him arrested by the Benin Police.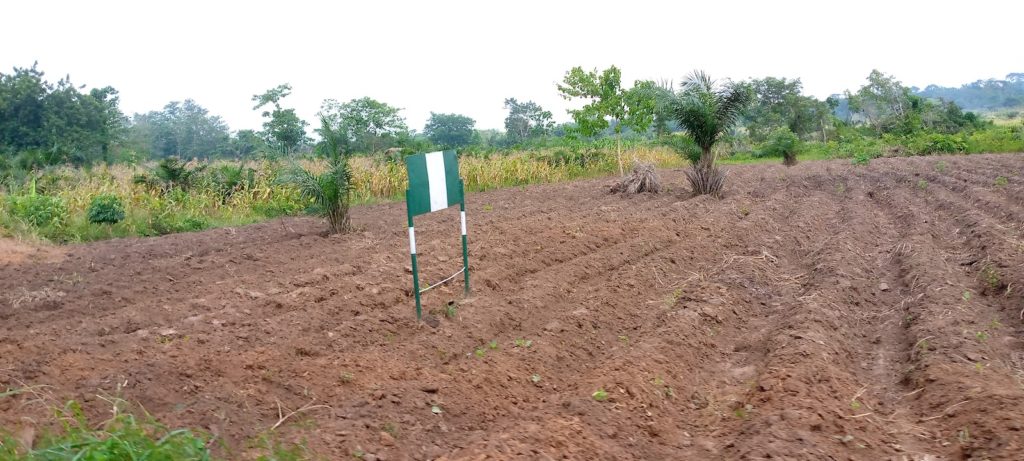 20 days in Beninese cells
"On the twenty-fourth of June, I was feeling somehow uncomfortable in the morning, and I decided to take a walk down to the market. I sat down with my orange seller and that is how they came. They were ready to pull the trigger if I did not follow them," Garb said, narrating his ordeal with the Beninese security operatives which led to his arrest and 20-day experience in a Beninese cell.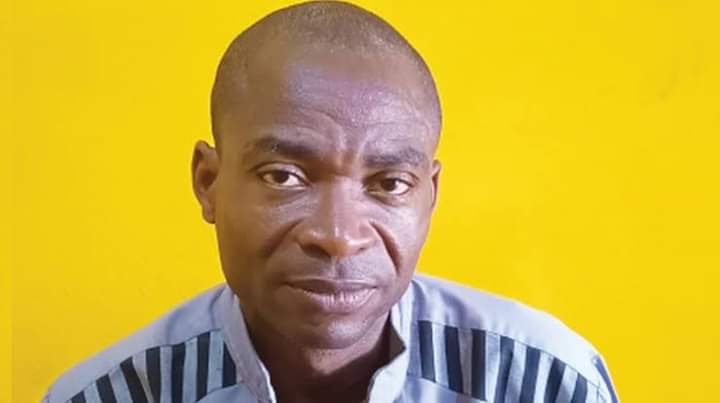 Garb said he was moved down to the Benin police unit –constructed in the Nigerian territory – and a few minutes later to Pobe Station, the central station that controls the zone. He was then arraigned in court on June 28, but, according to him, the judge and prosecutor found him blameless of all charges against him and requested that a complete investigation be carried out before his next sitting.
"That took them about four days. I returned to the prosecutor on the first of July, but this time the prosecutor had been bought over. He read all the charges without questioning me and I was moved to Porto Novo."
"I was in a solo. I was put in a dark room. I was not allowed to see anyone or come out except for twenty minutes, from 6pm to 6:20 p.m.) They brought food but I didn't eat or drink anything. They poisoned the water for me and did a lot of things. I was made to sit and sleep on the floor," he said.
However, Garb alleged that the influence of the Director International Boundaries Commission, Mustapha Ribadu, contributed to the delay in his release as he (Garb) was supposed to appear before the National Assembly for the second sitting on the first of July to defend the encroachment.
"He was afraid because I had the 1914 documents with me and that was part of the documents I wanted to submit to the Assembly if I had gone," he said.
Residents told the reporter that Mr Ribadu had allegedly compromised several laws, ensured the arrest of agitators on the land as part of an effort to strengthen his ties with the Beninese government and security operatives.
"When he is coming to this place, he will pass Benin into Nigeria, which is wrong. He has moved some projects by the federal government from their designated site to another place–giving the Beninese access to our land," a resident who sought anonymity for fear of victimisation, said.
"Also, the Nigerian police is another problem we have. They come here almost every week to the Beninese police to do what? Anytime they come, the Beninese securities would say the Nigerian police also agreed to the encroachment," Garb added.
When contacted by phone, Ribadu refused to comment on the allegation made against him. He said he had no authority to speak to the press.
An emailed inquiry was sent as a follow-up to the commission but no response was received.
Also, Garb claimed that he had written to the Inspector-General of Police's office to caution the director on 'excessive' oppression and intimidation of Igbokofi residents.
Garb was released on July 13 alongside his interpreter, Benjamin Amosu, who was arrested a few days after. This came days after the state government, alongside other non-political associations, wrote to the federal government demanding his release.
Deplorable infrastructure enhances encroachment 
As Igbokofi residents explore every option to protect their land, property and community from the Beninese – a fight they stress should be that of the federal government – the poor state of infrastructure and access to basic amenities limits their efforts.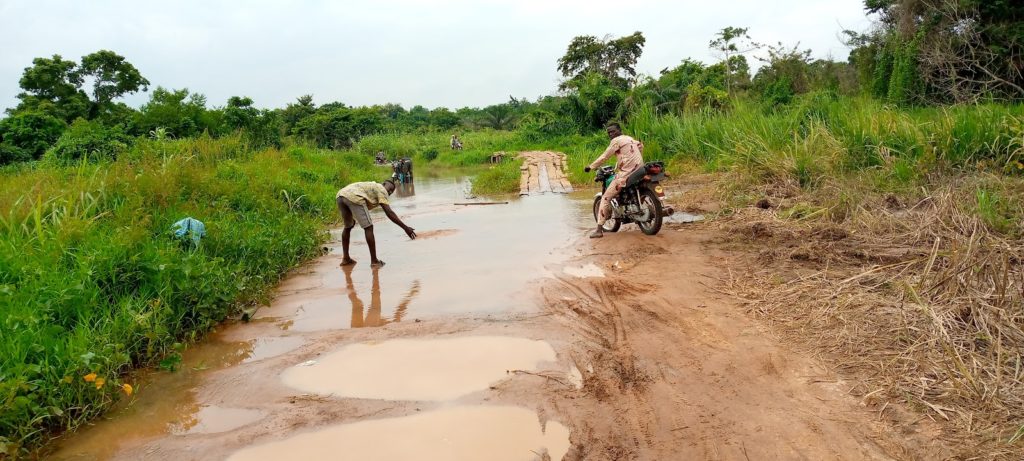 "We largely depend on them. We do not have good water to drink or even cook. We carry our kegs into their territory to fetch water we use here. We do not have electricity, a proper health center or even a good road. That is why they can illegally take our lands," a resident, who simply identified himself as Demeji, said while driving this reporter into the community.
HumAngle observed the deplorable condition of the roads that lead into the community. A bushy pathway, according to the bike ride, was, "manageable and faster." On some of the roads where the river flows, woods were constructed. However, only one bike could cross at a time.
"You can not come here during the rainy season. No car passes this place once the rain starts, that is why we depend largely on motorcycles as a means of transportation," the bike rider said.
Garb also added that several projects, including a police post and hospital by the National Boundary Commission were either abandoned or not used. "If police had taken over the police post constructed for them, maybe we would not be having this issue," he said.
However, the Ogun State Police Command's Public Relations Officer, Abimbola Oyeyemi, refused to comment on the state of the abandoned police posts, when contacted. He said, "I do not want to comment on the issue because it is a country to country matter. I was not in office when that inauguration was made so I cannot say anything regarding its state."
Residents await government's intervention
"The people have suffered a lot," Kehinde Akinlade, Secretary Ogun West Liberation Movement, said.
Akinlade, whose association has made several efforts to stop the dispute, said, "Igbokofi is losing land if we allow that to happen. These are patriots fighting the issue that the federal government should be fighting. 
"We are not particular about having Igbokofi in Nigeria, if the federal government is not interested. All we want is for that status to be cleared to relieve the citizens."
Also, one of the community leaders simply known as Seke Ade said the encroachment is causing multiple losses for the people as the government fails to intervene.
"I am expecting the National Assembly to call for another sitting so I can make my presentation. I have gotten a call from the federal government representatives and I am expecting their response," Garb added.
Efforts to get an official statement from the Beninese police were unsuccessful as access was denied to their station. 
Support for this report was provided by Premium Times Centre for Investigative Journalism with funding support from Free Press Unlimited

.
---
Support Our Journalism
There are millions of ordinary people affected by conflict in Africa whose stories are missing in the mainstream media. HumAngle is determined to tell those challenging and under-reported stories, hoping that the people impacted by these conflicts will find the safety and security they deserve.
To ensure that we continue to provide public service coverage, we have a small favour to ask you. We want you to be part of our journalistic endeavour by contributing a token to us.
Your donation will further promote a robust, free, and independent media.
Donate Here