Features
Human Rights
News
Nigeria Police Interference In Civil Disputes Fueling Human Rights Abuse
The law prevents the Nigeria Police Force from interfering in civil disputes. Yet, operatives of the Police still infringe on citizens' fundamental rights.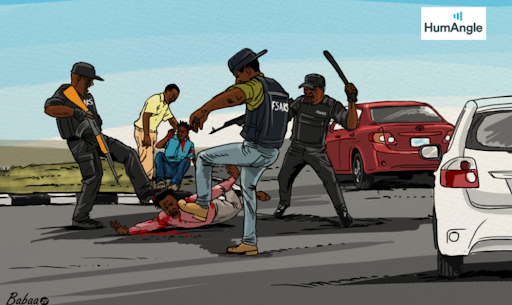 Nnamdi Daniels runs a fashion designing business in Abuja, North-central Nigeria. His business survives on a constant power supply from the national grid. Still, recent power failure and the continued collapse of the national grid mean that he must provide an alternative power source.
Daniels bought a generator on Friday, April 15, 2022, but the generator stopped working the following day. Expectedly, he complained to the dealer, who later sent a repairer that requested more money to fix the generator.
"I was bittered that N25,000 requested from me was too much to fix a generator I bought new for N850,000," Daniels told HumAngle.
"I gave the person he sent N10,000, and he fixed it. I was travelling when I got another call from my staff that the generator had spoilt again. I called the seller to inform him, but he did not respond to my calls and messages."
He later complained to the dealer on April 20 over the shady deal. Daniels requested a refund, but he did not also get a response. That was after days of not hearing from the dealer.
"I later went to his office to take goods worth the money I bought the generator. I also went to the police station in Maitama to report all that transpired, and he called that day, pleading that I should return his stuff and he would pay me back. After that, he fixed a meeting with me, but he never attended the meeting."
On April 26, some police officers stormed Daniels' office. When they did not see him, they harassed, arrested and unlawfully detained his staff.
"The Police from Wuse Zone 3 left their jurisdiction to arrest eight of my staff. They were beaten thoroughly and detained for four days," he said.
"I went to the Public Complaint Commission, and they invited Wuse Zone 3 officers. The Commission instructed Them to release my staff. The dealer also promised to pay me back, but he has not done so."
Section 35 of the Nigerian Constitution states that no one should be detained for more than 48 hours. After that, the law says such a person must be charged to court. But in the case of the staff that the police arrested, the police violated this section of the constitution.
Lukman Adeyera, a lawyer, told HumAngle that the matter was a civil dispute in which security agencies had no role to play other than to advise parties on how to settle their issues amicably.
"It is wrong for the police to interfere in civil matters such as breach of contract, landlord/tenant disagreement, family dispute, non-delivery of purchased goods and services, and even disagreement among neighbours," the lawyer said.
He added that civil or contractual matters without criminal elements must not be dabbled into by the police, emphasising that various courts up to the  Supreme Court have held that only criminal cases should involve the attention of security agencies.
According to the Administration of Criminal Justice Act (ACJA) of 2015, police officers do not have a role to play in civil disputes. Section 8(2) of ACJA states that a suspect shall not be arrested merely on a civil wrong or breach of contract.
Also, Section 32(2) of the Nigerian Police (Establishment) Act 2020 forbids the arrest of anyone based on a civil wrong or breach of contract unless on the order of a competent Court.
Some Nigerians and legal practitioners, however, told HumAngle police officers often ignore the provisions of the Acts.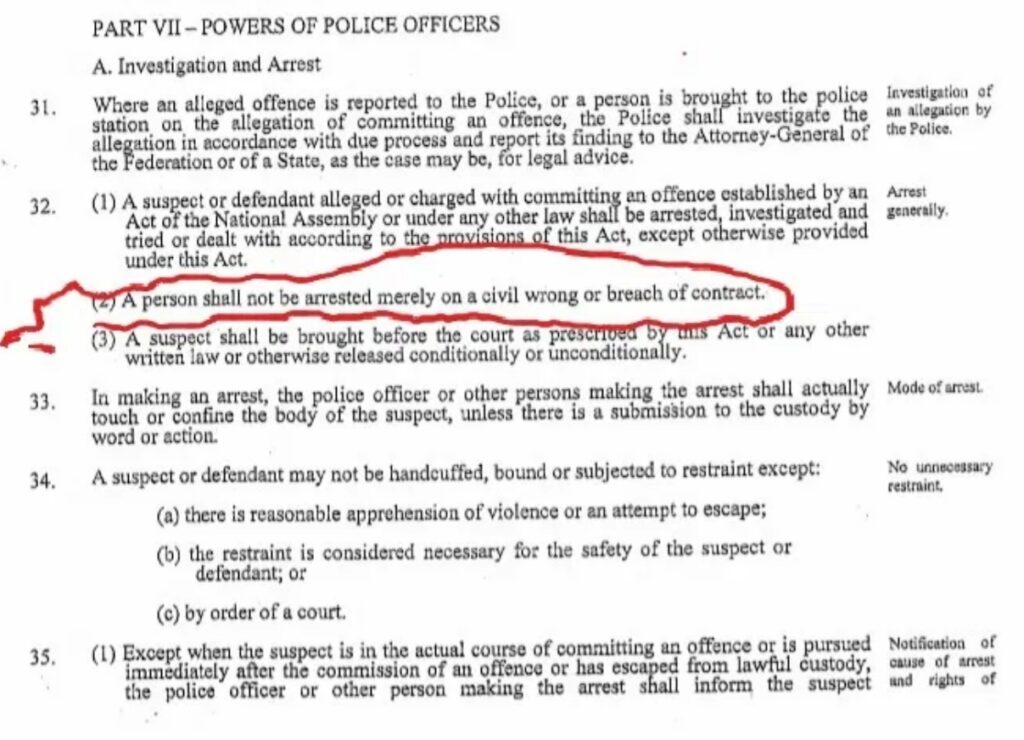 Adeyera, whose area of specialisation in the legal practice is loan recovery, said, "many police officers dabble into this matter because they get a percentage of the recovered debts from the creditor". 
"They also carry out arrests because they receive money for bail."
Like Nnamdi, Bello Aisha, a petty trader in Lagos, Southwest Nigeria, said a microfinance bank recently used the police to hound her over a debt. Police in Lagos detained Aisha for seven days.
She took a loan from the bank in 2021 for her business and was to pay it back in monthly instalments over 12 months. Aisha, however, defaulted in the ten months due to business difficulties- so she was arrested.
"The reality is that police interference leads to illegal detention," Adeyera explained.
"Rather than enforce the law and correct people who come to police stations over civil matters, police will carry the matter on their heads because of the share they will get from the recovery, and if the person arrested does not have money, he or she will spend months in detention."
Journalists not exempted
In holding power accountable, journalists have also had their share of the illegal interference by police on issues that deal with their reports or comments on public issues on social media.
One of such cases was the disagreement between Tom Uhia, publisher of Power Steering. This monthly magazine covers the power sector and the Minister of State for Power, Goddy Jedy-Agba.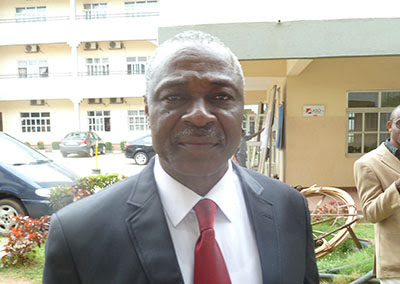 The latter accused the former of defaming his character with a report he published in the June 2020 issue of his magazine. The report accused the minister of wrongdoing when he was a senior manager with the Nigeria Nigerian Petroleum Corporation (NNPC).
While the Minister should have gone to court for redress, he wrote a petition to the police through his lawyer, Obi Nwakor. Unfortunately, on October 13, 2020, the Police Force Criminal Investigation Department (FCID) in Area 10, Abuja, arrested the journalist over the petition and kept him behind bars for about a month.
"Even if treated as a criminal case, Section 35 of Nigeria's 1999 Constitution demands that the police should not detain any suspect for longer than 48 hours without a court order," Emmanuel Ogbeche, chairman of the FCT Council of the Nigerian Union of Journalists (NUJ) said, in a statement at the time.
Court rulings
Lawyers who spoke with our reporter on the illegality of police interference in civil disputes explained that when a person involves a police officer in a civil matter, both the complainant and the officer may be sued for breach of the fundamental human rights of the accused. They cited decided cases to back up their claims.
"In the case of NWADIUGWU v. IGP & ORS (2015) LPELR-26027(CA), the appeal court maintained that the police are neither debt collectors nor arbitrators, and Section 24 of the Police Act 2004 does not list settlement of disputes or collection of debts amongst the duties of the Police," Naimat Azeez, a lawyer explained.
She also cited the case of KEN McLAREN & ORS v. JAMES LLOYD JENNINGS, where the Court of Appeal held in 2003 that "it was unlawful for the police to arrest and detain the Appellant concerning the collection of a debt; this is as, under the Law, the Police is not a debt collection agency."
"The Court maintained that "by interfering in civil matters, police muzzled the rights and freedom of Nigerians even where cases are clearly outside their jurisdiction, power or corridor," Azeez emphasised.
"If this is not curbed, everybody, including the judicial officers, will always suffer from floodgates of civil matters being hijacked by the police and transmuted into crimes. If this is not tackled, everybody would have suffered in the ruthless hand of the police who have become a law unto themselves in this country."
Muyiwa Adejobi, Nigeria Police Force spokesperson, did not respond to enquiries. In addition, he did not respond to calls and text messages sent to him by our reporter.
Meanwhile, a top police officer who did not want his name in the media because he was not authorised to speak said, "there are some civil issues that have criminal elements."
"Whenever this comes up, the police are only expected to address the criminal elements like assaults and threats that follow."
He stated, "once there are no elements of such, police officers are not expected to dabble into civil disputes except if complainants mislead them."
Ademola Owolabi, a Lagos-based lawyer, said the way forward is for the police to investigate all sides of the complaints before making an arrest.
He added that police officers must desist from abusing citizens' fundamental human rights by interfering in civil disputes.
"It is important that issues are properly investigated to determine whether they have a criminal element before an arrest."
---
Support Our Journalism
There are millions of ordinary people affected by conflict in Africa whose stories are missing in the mainstream media. HumAngle is determined to tell those challenging and under-reported stories, hoping that the people impacted by these conflicts will find the safety and security they deserve.
To ensure that we continue to provide public service coverage, we have a small favour to ask you. We want you to be part of our journalistic endeavour by contributing a token to us.
Your donation will further promote a robust, free, and independent media.
Donate Here