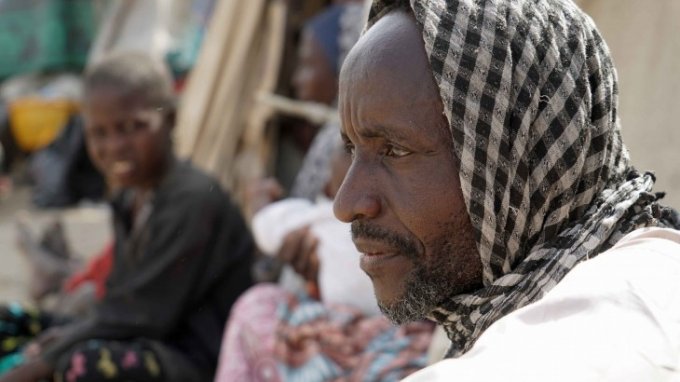 Amnesty International has advised the Nigerian Government to provide immediate, unfettered humanitarian access across Northeast Nigeria.
In a new report, "My Heart Is In Pain:  Older people's experience of conflict, displacement, and detention in Northeast Nigeria", released on Tuesday, Amnesty International shows how both Boko Haram and the Nigerian military have committed atrocities against older women and men, with nobody held to account.
The organisation made far-reaching recommendations to the government of Nigeria on the creation of humanitarian access in the troubled Northeast as well as other issues relating to the wellbeing of older people who have been displaced by the over decade-long insurgency. 
The report also focuses on how displaced older people are consistently overlooked by the humanitarian response. The atrocities and wider neglect remain ongoing, especially across Borno State, AI said.
The research for the report was undertaken between November 2019 and October 2020
In the 67-page report, the human rights organisation recommended that international and national humanitarian organisations should be allowed access to monitor the needs of displaced persons and others in need and to deliver assistance to them without restriction.
It suggested that there should be greater support to the Ministry of Humanitarian Affairs, and to National Emergency Management Agency (NEMA) in particular, in ensuring that all displaced persons, including older persons, had access to sufficient food, healthcare and shelter.
Amnesty International said the government should put in place special measures to assist older people, and especially older women and older people with disabilities, living in Internally Displaced Person camps, to ensure that their rights were upheld and they were able to access essential services.
Ensure Accountability, Reparations, And Non-Repetition Of Violations
In the report, AI said the government should ensure that members of Boko Haram suspected of being responsible for war crimes, crimes against humanity and other serious human rights abuses were investigated and, where there was sufficient evidence, prosecuted in fair trials not subject to the death penalty.
It also suggested that members of the military suspected of being responsible for war crimes, crimes against humanity, and other serious human rights violations were investigated and, where there was sufficient evidence, prosecuted in fair trials not subject to the death penalty.
"Investigate, among others, senior military officials in charge of detention facilities like Bama Prison and Giwa Barracks during periods of grave and systemic violations, including against older persons. Ensure witnesses can testify as part of any investigation or trial without fear of reprisal," it said.
The government should make public the report from the 2017 Presidential Investigation Panel to Review Compliance of the Armed Forces with Human Rights Obligations and Rules of Engagement.
It should ensure that victims' rights to truth, justice, and reparations, including by guaranteeing trials, are public and provide for meaningful participation of victims in judicial proceedings and establish a reparations programme in consultation with civil society and affected communities, the organisation said.
This must ensure the meaningful participation of older people, including older women and older people with disabilities, Amnesty International explained.
"Seek and implement expert advice to maximise the impact of reparations as well as to design and distribute reparations so as to be accessible, including for people with disabilities," it added.
Domesticate And Implement In Full International Human Rights Treaties
Amnesty International wants Nigerian Government to ratify the Protocol to the African Charter on Human and Peoples' Rights on the Rights of Older Persons in Africa and revise domestic laws to bring them in line with the protocol's obligations.
In addition, it suggested that the government revise the definition of older age in the Older Persons (Rights and Privileges) Bill currently before the Senate, extending the bill's protections at minimum to people aged 60 or older, consistent with the African Protocol on Older Persons. 
It added that the government should ensure the bill's other provisions were in line with international human rights law and then prioritise the bill's swift passage and implementation.
While this is done, the government must work to domesticate and fully implement the obligations under the Rome Statute and ensure domestic law criminalises enforced disappearances and that domestic standards on arrest and detention comply with international human rights law and standards, including with the International Convention for the Protection of All Persons from Enforced Disappearance and the African Commission on Human and Peoples' Rights Guidelines on the Conditions of Arrest, Police  Custody, and Pre-Trial Detention in Africa, AI said.
It added that government should also bring the Terrorism (Prevention) Act in line with international law, including by repealing the death penalty; providing that an individual may only be arrested on reasonable suspicion of having committed a criminal offence; providing that all individuals must be promptly brought before a court and charged with a recognisable criminal offence; and providing that law enforcement officers (including the military when exercising such a function) may only use force when strictly necessary and to the minimum extent required.
Amnesty International recommended that the government should make a declaration under Article 34(6), allowing individuals and non-governmental organisations access to the African Court on Human and Peoples' Rights, following Nigeria's ratification in 2004 of the protocol that established the court.
Promote And Protect The Rights Of Older Persons In Detention
AI also called for an immediate release of those, including all older persons, held in Giwa Barracks, Maiduguri Maximum Prison, Safe Corridor and other detention facilities, unless they were reasonably suspected of having committed an internationally recognisable offence and charged accordingly; remanded by an independent, civilian court; and held in inhumane conditions in a civilian facility.
It added that the government should "Ensure all detainees are promptly brought before an independent, civilian court where they are represented by counsel and can challenge their detention."
While making case for detainees, the human rights organisation said the government must ensure that all detainees could access their rights to health care, adequate food and water, and all other necessities, as well as the right to have access to the outside world, including their families.
Older people in detention must have access to essential medicines as well as, for people with diabetes and other illnesses, a diet that corresponds with their needs, it suggested.
Ensure that an up-to-date, centralised register is maintained of all people arrested and detained in relation to the conflict and is made accessible to detainees' relatives and lawyers, AI further said.
"The register must include detainees' personal details; the names and places of detention; the names of individuals responsible for the detention; the basis of the detention; and the date of arrest, detention, and transfers. Include, for those who died in custody, the date, location, and cause of death," it added.
 It urged the government to immediately close all unofficial and secret places of detention, including ungazetted military detention centres, and other facilities where there was a pattern of inhumane conditions and/or failures to ensure procedural protections against arbitrary detention and torture and other ill-treatment.
"Either release such detainees or promptly bring them before an independent, civilian court, ensure all places of detention without exception can be visited regularly and through unannounced visits by the National Human Rights Commission; that detainees can speak in confidence with such observers; and that no detainee who so speaks is intimidated or punished; and allow the UN and other relevant international and Nigerian organisations unrestricted and unannounced access to monitor all detention facilities."
Collaboration Between State And UN Agencies
To ensure that assistance programmes are designed and carried out in a way that is inclusive and that does not discriminate on the basis of age or disability, in line with international human rights law and humanitarian principles, Amnesty International opined that the Federal Ministry of Humanitarian Affairs and the Borno and Adamawa State Emergency Management Agencies (SEMA) work with UN agencies and humanitarian organisations.
It added that they should work with UN agencies and humanitarian organisations to put in place special measures to reach the most at-risk and marginalized IDP populations, including older women and persons with disabilities.
"Work with UN agencies and humanitarian organizations to ensure information is disseminated, for example on how to resolve problems with a distribution card, in ways that reach the entire displaced population, with specific attention to those who are most at risk, including older people living alone and older people who are shelter-bound. Strongly consider, for example, developing networks of trained volunteers in the camps who can identify people at risk, communicate information to them proactively and in their primary language, and visit those people regularly to determine if there are gaps in assistance or other problems to bring to the attention of relevant service providers."
"Work with the Ministry of Health as well as with relevant UN agencies and humanitarian organizations to provide affordable access to medication and other appropriate health services for chronic diseases, including hypertension and diabetes."
These state agencies must also take urgent steps to ensure that humanitarian assistance, including access to adequate food and to shelter, reaches people, including older people, who are not registered in IDP camps and who are staying in host communities; and work with other parts of the federal and state government to secure additional land for the camp construction or expansion, given the severe overcrowding and the related uninhabitable nature of many shelters.
What National Human Rights Commission, UN Agencies Must Do
In its report, the AI also charged the National Human Rights Commission to conduct routine visits to detention facilities used in the context of the conflict in Northeast Nigeria, including Giwa Barracks and Maiduguri Maximum Prison, as well as detention facilities in front-line towns, like Bama Prison and military posts in Monguno and Damboa; and investigate the allegations contained in this report, make the findings public, and work with the authorities to find ways to ensure an end to violations, and justice and reparations for victims.
UN agencies and humanitarian organisations must also work with the relevant Nigerian authorities in taking urgent steps to ensure that displaced people, including displaced older people, have access to adequate food, health care, and shelter. 
These also include improved outreach, through networks of community volunteers that go shelter to shelter, to identify as a matter of urgency all older people who are unregistered or who are otherwise not receiving food assistance in IDP camps.
They must work with local authorities to ensure access to affordable medication for chronic diseases like hypertension and diabetes, including at camp health facilities and develop networks of community volunteers in camps to assist older people with limited mobility in obtaining distributions of food and non-food items.
" For some older people with limited mobility, this may involve assistance in walking to distribution sites and in transporting items back to their shelter," AI said.
"For other older people, particularly those who are living alone and entirely or largely shelter-bound, this should involve the delivery of distributions to their shelter, with protection monitoring to ensure that such shelter deliveries have been made; and ensure that all those who need it, including older people, have access to material, financial, and other support needed for the construction and repair of shelters, as appropriate."
---
Support Our Journalism
There are millions of ordinary people affected by conflict in Africa whose stories are missing in the mainstream media. HumAngle is determined to tell those challenging and under-reported stories, hoping that the people impacted by these conflicts will find the safety and security they deserve.
To ensure that we continue to provide public service coverage, we have a small favour to ask you. We want you to be part of our journalistic endeavour by contributing a token to us.
Your donation will further promote a robust, free, and independent media.
Donate Here