Human Rights
News
NAPTIP Rescues 16,000 Victims, Seeks Collaboration With Traditional Institutions To Curb Human Trafficking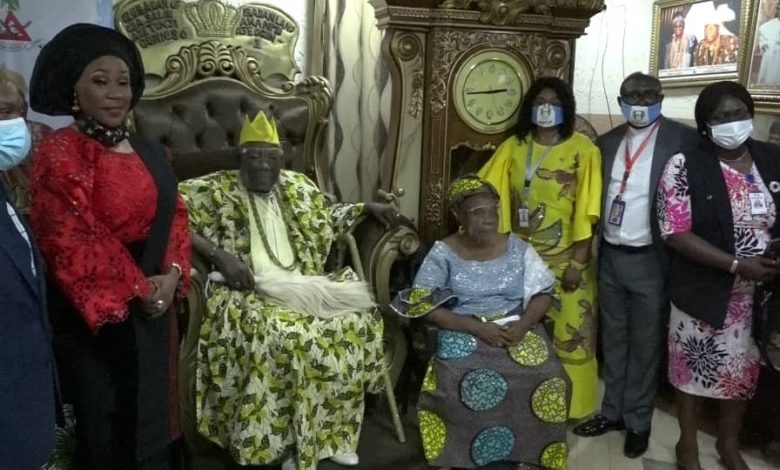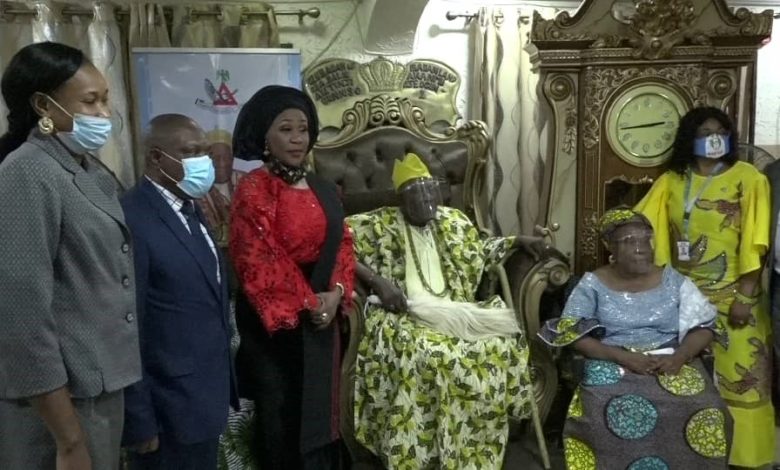 Mrs Julie Okah-Donli, the Director-General of National Agency for the Prohibition of Trafficking in Persons (NAPTIP), has called for collaboration with traditional institutions and other stakeholders to curb human trafficking and irregular migration by Nigerian youths.
Okah-Donli said such partnership was necessary against the background that the efforts of NAPTIP were being hindered by traditional priests who administered oaths of secrecy on trafficking victims to stop them from providing information that could help in dealing with the problem.
The director-general made the fact known during a courtesy visit to the Olubadan of Ibadanland, Oba Saliu Adetunji in Ibadan on Wednesday as part of a sensitisation campaign against the menace.
She said the agency had rescued over 16,000 trafficking victims, including 1,052 indigenes of Oyo State from 2004 to July 2020.
According to Okah-Donli, from NAPTIP records, about 95 per cent of victims of human trafficking are young people within the age of 35 and mostly women as well as children.
She said the traffickers recruit their victims from vulnerable rural communities taking them through hazardous terrains with promises of greener pastures abroad.
"We have the policy, the prevention which we do through massive awareness like this, we have the protection. Over 16,000 victims of human trafficking have been rescued and rehabilitated by the agency.
"We have 10 shelters across the federation where we rehabilitate these victims. We have even sent five of the victims through primary school, secondary school to tertiary institutions; they are now graduates and are even working for us in the agency now.
"We have prosecuted over 8,000 cases of suspected traffickers and we have secured 435 convictions and we have so many cases in court being prosecuted all over Nigeria.
"We are expected to partner with everybody to win this fight against human trafficking. We are setting up this task force in all the 36 states of the federation so as to coordinate our activities to get better results.
"Also, human trafficking studies have been introduced into the education curricula and very soon it will be introduced to primary and secondary curriculum.
"It is now in the curriculum of all the colleges of education in Nigeria so that people can understand what human trafficking is all about," Okah-Donli said.
She said that stakeholders' involvement was vital towards solving issues of human trafficking in Nigeria.
"We have also partnered with the Oba of Benin, the paramount ruler in Edo State, to stop the administration of oath of secrecy by the traditional priests for victims of trafficking.
"This was because there was a time when we rescued traffickers and their victims were afraid to talk so we could not prosecute.
"While we wondered what was happening, they said, 'oh the juju priests, they have done some oath on them and if they talk they will die or run mad and so on.'
"We were like, are we now saying that traffickers should continue to operate with impunity and nothing will happen to them since we do not have information to prosecute them?
"So I went with my team to meet Oba of Benin. I solicited his help as trafficked girls are on oath forbidding them to talk.
"The oba then invited all the juju priests and forbade any of them to place an oath of secrecy on any victims of trafficking else, his curse is on them if they renerge.
"So the juju priests revoked all they did and the girls began to speak and identify traffickers from all over the world, so we started to arrest and prosecute," she said.
Okah-Donli further said, "I don't know if similar oath of secrecy is done here because Ibadan is very notorious for human trafficking.
"They are taking all your children in Ibadan to Saudi Arabia, Lebanon and Oman, all those criminals that call themselves agents. Kabiyesi, you will have to invite them to your palace and make them promise never to take your children out of this land.
"We are also initiating measures to strengthen bilateral relationships between Nigeria and some neighbouring countries to curb irregular migration.
"If you go to Ghana, Togo, Mali, Cote d'voire and Burkina Faso you will see our girls all over the place," she said.
The director-general recounted her experience in Mali in 2019 and how she met several Oyo State girls, in particular, who were victims of trafficking and had no way of escape.
"I remember last year, I went to Mali, I saw a very beautiful girl from Oyo State aged 14. I said follow me let's go back to Nigeria but she was afraid she said no. But I knew her madam who trafficked her was around and there are so many of them like that.
"So we need to make sure that we stop them from destroying the lives of our girls.
"Almost all the states in Nigeria are affected by migration but Oyo is endemic of the trafficking of adults and children in the quarries, in the plantations, the cocoa farms in all those places; they use little children that should be in school to do free work, they are not even paid at all.
"These are victims of domestic servitude, sexual exploitations," she said.
Okah-Donli said the rescued Oyo State indigenes were of both sexes, noting: "This number consists of 752 females and 270 males.
"These are mostly from Oyo town, Saki, Kisi, Iseyin and Ibadan. And these victims were subjected to child labour, domestic servitude and sexual exploitations.
"NAPTIP is currently working on a programme to strengthen the capacity of state and non-state institutions to assist, support and protect the victims of trafficking that is why we want to establish the task force in Oyo State.
"This will improve the skills and knowledge of state and non-state institutions to reduce and prevent human trafficking in Nigeria, to enhance collaboration between communities and government to combat human trafficking.
"This can be done through targeted sensitisation and capacity building workshop for prevention, identification and reporting of human trafficking.
"We expect that after this meeting all the chiefs of various communities, youth leaders, market women association and so on will go back to their networks and sensitise others, especially the young boys and girls, that there is no greener pasture outside Nigeria but all that is there waiting for them is slavery and death."
Okah-Donli said a lot of children had been killed unaccounted without anyone knowing who they were and their parents.
She said victims of trafficking were being raped everyday among other abuses they faced.
"So we need to stop them from going on this suicidal mission. We will also increase the capacity of the agency and the specialised agency to effectively prosecute and manage trafficking cases.
"In the task force newly constituted that will be inaugurated on Thursday, all security agencies and other useful people will be included.
"The agency is seeking massive collaboration with the Olubadan of Ibadanland to raise the awareness on human trafficking.
"Also, children's rights should not be violated. We have cases all over the place; children and girls are raped and some killed that is a crime against humanity.
"Rapists must be brought to book so there should be no settlement for rapists.
"At times when such an incident occurred the family will later come to say we want to settle the issue within themselves, there should be no such settlement after the victim's life has been destroyed by the act.
"Rape is not a family business but a criminal offence. We will arrest and prosecute and also disgrace rape perpetrators.
"As it is now we have the names and pictures of rapists are in the Sexual Offenders Register. If you just check the website you will see their names and pictures, including their villages," she said.
Okah-Donli said from the interview conducted for rescued victims "it was clear that these girls are being sent into slavery and death as against the greener pastures they seek.
"Some times it is parents that force their children into slavery in the name of making dollars. We rescued two girls lately from Lebanon whose legs have been broken, they couldn't even walk.
"Some of these girls were pregnant, they have like 10 to 15 men sleeping with them, they don't even know who impregnated them.
"Some of these girls will come back with HIV/AIDS because they have no choice; they are like prisoners; they call them slaves. When they come they will say my slave has arrived from Nigeria, they don't call them by their names they take their passport from them.
"The oga in the house will rape them, Oga's brother will do his own, Oga's son will do his own then when they finish they will say go and clean my brother's house they too will do their own.
"They make them sleep in the kitchen on the floor. Some of them sleep in the toilet; these are testimonies from the girls themselves. I am not making it up because when they come we interview them to find out what they went through.
"The most important thing is to stop our children from being trafficked. We want to mobilise Oyo State indigenes to be vigilant towards the trafficking of young girls to the Middle East.
"Anyone with relevant information should report on any agents perpetrating these acts, we must stop them on their tracks," she said.
In his remark, the Olubadan of Ibadanland, Oba Saliu Adetunji appreciated the agency for its interest in protecting the dignity of human beings.
Adetunji, who responded through his spokesman, Mr Adeola Oloko, said people had taken the lives of children and others for granted.
"I feel sorry for these children who were victims because they are young and vulnerable and even ashamed that Oyo State is part of it, until recently, I didn't know that our figure is as high as 1,052.
"It is a collective responsibility of all to fight this to a stand still and ensure that none of our children is ferried across the country without their permission."
The monarch said that the entire Ibadanland was in support of NAPTIP in the fight against trafficking.
---
Support Our Journalism
There are millions of ordinary people affected by conflict in Africa whose stories are missing in the mainstream media. HumAngle is determined to tell those challenging and under-reported stories, hoping that the people impacted by these conflicts will find the safety and security they deserve.
To ensure that we continue to provide public service coverage, we have a small favour to ask you. We want you to be part of our journalistic endeavour by contributing a token to us.
Your donation will further promote a robust, free, and independent media.
Donate Here