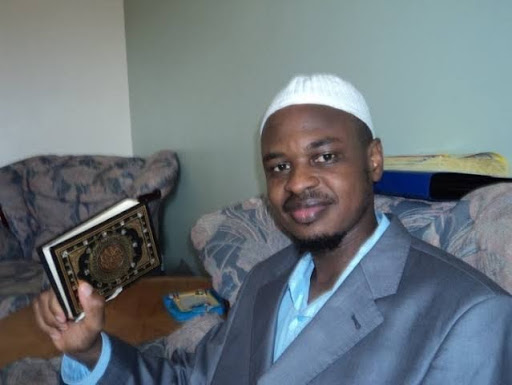 On April 11, a Nigerian newspaper reported (later retracted) that Nigeria's Minister of Communication and Digital Economy, Dr Isa Pantami, has fallen into America's intelligence watch list for sharing theological references with global jihadists. 
"Before he was appointed a minister, Ibrahim was a known Islamic preacher and held what was termed 'dangerous views' against the American govern­ment, with allegiance to Al-Qaeda," the retracted report described Pantami, a popular Salafi cleric in Nigeria. 
Responding to the enquiries sent by journalists, the US Federal Bureau of Investigations (FBI) said it would neither confirm nor deny whether an individual is on its terror watch list. Experts say making it known to the public will destroy the aim of the "watch." 
Pantami, who was subject to repeated threats from Boko Haram, promised to sue the newspaper for injury to his personality. He also demanded an apology.
However, some sentences in the report and the subsequent updates and fact-checks have left some Nigerians with more questions. 'Is it true that Pantami had a dangerous view against the American government, and openly supported Al-Qaeda even as a virulent critic of Boko Haram?'
There is no evidence that Pantami was ever a confidant of Mohammed Yusuf, Boko Haram founder, although both share Salafi sectarian affiliation. Like many other clerics in Northern Nigeria, "used to" hold sympathetic views towards global jihadism, the latter actively participated in the violence. 
Andrea Brigaglia documented how Pantami, alongside other notable clerics in Northern Nigeria like Sheikh Ja'afar Adam, became active agents of politico-religious entanglement that created mass support for the Jihadi combustion in Nigeria. 
These types of clerics, categorised by researchers as "quietist Salafis" for their inactive participation in violence, but public support for the jihad, have engaged with Yusuf in doctrinal confrontations and ideological debates, while expressing support for global jihadism at the time. 
While there is no trace of an explicit disagreement over the issue of jihad against the Americans by Al-Qaeda in Iraq and Afghanistan, Adam and Pantami adopted a non-confrontational and non-radical path in establishing an Islamic government. 
Their slogan was "A shiga a gyara" —a Hausa term that means to participate in governance and correct it, until you get enough power to dismantle the entire system and replace it with Sharia law. According to them, Jihad isn't entirely ruled out, but it has its time.

Yusuf was of the belief that Muslims should not under any circumstances participate in politics and governance to correct it, they should instead, fight the system and enthrone Sharia law.
In a lecture titled "Su Waye Taliban" (Who are the Taliban) in 2006, Pantami stated that he was prompted to present the lecture due to the love he and other Ahlussunnah (read: Salafis) have for fighters in Afghanistan and their efforts to respond to the "western unbelievers" who are spoiling the image of the jihadists. 
In the same lecture, he criticised some Salafi youth identified then as Nigerian Taliban. They operated in Kanamma, Yobe State, and metamorphosed to Boko Haram, misusing the Taliban's name due to their extreme passion for political struggles. 
The Nigerian Taliban were then a handful of radical urban, modern-educated former associates of Mohammed Yusuf, who gradually broke away from the mainstream Salafi and established a settlement in the Kanamma to practice puritanical Salafi ideas in isolation from the wider Nigerian society. 
Unlike the depiction of Boko Haram terrorists as a group of rural and uneducated people, the radicals who started the movement were university students and graduates influenced by Islamists worldwide. 
The youth shared propaganda videos and produced an "Islamic anthem" that mimics the Nigerian national pledge widely used in Northern Nigeria as ringtones and adopted by the Muslim Students Society of Nigeria (MSSN) as an anthem. 
The Kanamma youths attacked a police outpost after a disagreement with locals over payment of tax, which led to the engagement that temporarily destroyed their camps. 
That same year (2006), Pantami offered his condolences for the death of Abu Mus'ab Alzarqawy, the 'first Emir of Al-Qaeda in Iraq,' in which he described him as a martyr who took responsibility from Mollah Omar to oversee a jihadi camp in Herat. 
"To this date, in the Community of the Prophet, we have some incredible people, people of faith who follow the creed of the Sunnah and thanks to whom the enemies of God are unable to find rest in this world." 
"They have killed Shaykh, the martyr Abdallah Yusuf Azzam – may God have mercy on him – but did the struggle end? […] Whenever one goes, another comes, and he is even more remarkable than the first."
"The mother of Abu Mus'ab – may God have mercy on her – died in 2002 of the Christian era. Before she passed on, she prayed to God that her son might die as a martyr to prevent the enemies of God to lay their hands on him."
"Did God answer her prayer or not? May God, then take our lives too, as well as the lives of our teachers, as martyrs on the path of the creed of the Sunnah." Pantami said. 
In another lecture in 2004, Pantami delivered an emotional speech in the aftermath of the Yelwa Shendam crisis. He called for retaliation with jihad as "an obligation for every believer, especially in Nigeria."
At the end of the 20-minute long speech, he prayed, in tears, for the success of the Taliban and Al-Qaeda. He offered himself to be a commander in responding to Muslims' Christian attack. 
Pantami said Jihad is "fardh ayn" (individual obligation) and called Muslims to be sceptical of politicians and religious leaders who would be calling for peace. 
What caused the rift between Yusuf and Salafi clerics 
There were many ideological battles between Yusuf and other Salafi clerics in Northern Nigeria, notably the Adam and Pantami. However, these engagements did not touch the legitimacy of waging jihad against the secular government. 
The well-known debate between Pantami and Yusuf that lasted six hours, of which some parts survived, was on the legitimacy of working with the Nigerian government and the permissibility of studying western education. 
Like Pantami, Adam held sympathetic views towards Al-Qaeda. He disagreed with Yusuf over the issue of western education. Adam had given examples of Abu Mus'ab Al-Zarqawi and Ayman Al-Zawahiri as Muslims who have used western education to wage successful jihad against Americans. 
This shows that the Salafi clerics then approved the study of professional courses like Medicine and Engineering to prepare well for the emergence of a jihadi leader like Osama bin Laden or Mullah Omar to wage a successful jihad. 
Another "quietest" Salafi killed by Boko Haram was Sheikh Auwal (Albanin Zaria). The cleric had publicly supported jihad in Iraq and Afghanistan, claiming that he had a personal connection with Osama bin Laden. He withdrew from mentioning him after the emergence of Boko Haram. 
In a 2017 audio recording, Sheikh Aminu Ibrahim Daurawa – another Salafi cleric and the former Commander of Hisbah in Kano state – extended his support for jihadism in the Middle East to providing an Islamic ruling (a fatwa) that justifies suicide bombing. He withdrew his fatwa four years later after pressures from the public. 
In Nigeria, the Salafi leadership gradually shifted towards less militant positions after Adam's assassination, while Yusuf moved towards the jihadi positions and it's implementation.
According to Abdulbasit Kassim, a US-based Nigerian researcher on Boko Haram, Pantami's method of silently moving away after he supported jihadism will not be sufficient after delving into politics. A public recantation can help in silencing future critics. 
"We will be doing ourselves a disservice if we all pretend and turn a blind eye to the lectures some of our clerics delivered, particularly in the 9/11 milieu. Although most of our clerics have embarked on a paradigmatic reversal, there are archives of what they said in public lectures, which sadly might come back to haunt some of them," Kassim said. 
He explained that "the truth is, anyone who digs deep into the archive of lectures delivered in the 9/11 milieu would have sufficient evidence to haunt not just Dr Pantami but other mainstream scholars who have now embraced a different style of proselytism." 
Widespread support for the unknown 
Many Muslims in Northern Nigeria, including some Sufis and those who didn't belong to any sect, influenced by the clerics, have supported Al-Qaeda and named their children after Osama bin Laden. 
In 2002, the BBC reported a massive increase in the number of boys called Osama – after Bin Laden – in Northern Nigeria. 
The report identified one hospital in Kano, where there were celebrations after the 11 September attacks, in which seven out of 10 babies born in a day were given the name Osama.
"Osama Bin Laden is my hero," a 36-year-old Sadiq Ahmed, father of baby Osama, told the BBC. 
"My wife gave birth to our third child on 15 September, and I named him Osama in honour of Osama Bin Laden, who has proved to the world that only Allah is invincible by exposing America to shame despite its claim of being the strongest nation on earth."
These supports garnered by Osama were based on the anti-American sentiments popularised by clerics in the region by showing America as a country targeting Muslim nations and not fighting terrorism. 
A local radio station in Kano also presented Osama bin Laden as a hero. Osama posters could be seen on walls. Stickers were also pasted on cars and motorcycles. 
Islamic singers have also produced songs praising Osama bin Laden and youths prayed to join the jihad in Afghanistan or Iraq. 
These and many reasons validated Alexander Thurston's argument that Boko Haram didn't come from a vacuum.
---
Support Our Journalism
There are millions of ordinary people affected by conflict in Africa whose stories are missing in the mainstream media. HumAngle is determined to tell those challenging and under-reported stories, hoping that the people impacted by these conflicts will find the safety and security they deserve.
To ensure that we continue to provide public service coverage, we have a small favour to ask you. We want you to be part of our journalistic endeavour by contributing a token to us.
Your donation will further promote a robust, free, and independent media.
Donate Here