Featured
Features
Human Rights
News
Murder In The Lagoon: How Hospital Allegedly Killed Patient By Administering Expired Drug
Lagoon Hospital advertises itself as "the best hospital in Lagos," Southwest Nigeria, but the reckless management of a patient nullifies this claim.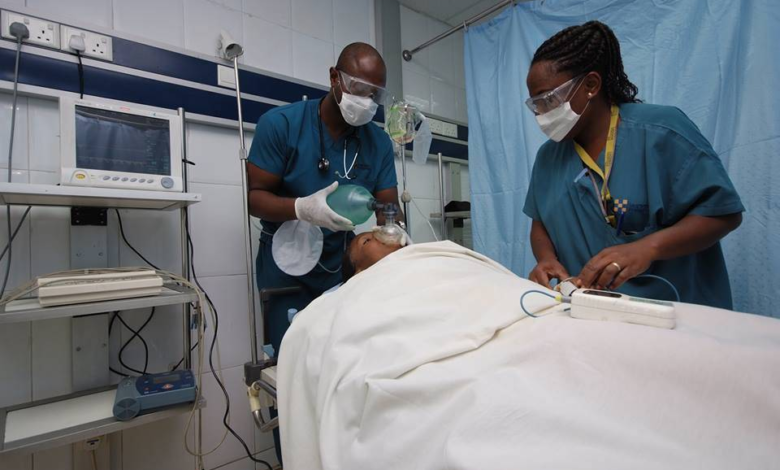 Adelagun Ronke*, 50, was surrounded by her children and siblings as she was taken into the Ikoyi branch of the Lagoon Hospital, Lagos State, Southwest Nigeria. Between March and June 2019, Ronke, who had been diagnosed with advanced colon cancer and would be admitted twice at this hospital.
On their part, Ronke's relations were optimistic she would beat cancer and come out strong while they showed her love; confident that with supposedly good medical care at the hospital, all would be well.
"We felt very hopeful but also reasonably concerned and worried as cancer is no joke," Adelagun Kemi*," Ronke's daughter, who spoke to HumAngle, said after her mother eventually passed on.
But on June 8, 2019, she suffered a recurring itch, suspected to be a reaction to her medical procedures. She was admitted to the Accident and Emergency (A&E) ward before being moved to the Intensive Care Unit (ICU) on June 9. 
Her children and siblings slept at the hospital that night and woke up to the news that her blood pressure needed to be optimised on June 10 while she was equally due for dialysis. However, by the next day, while she was being prepped for dialysis, she got better. 
On the afternoon of June 11, unfortunately, a nurse walked into her ward on the instruction of one Dr Okoro, disconnected the IV fluids connected to Ronke, and rushed a bag of Gelofusine into her central vein catheter. 
Ronke's elder sister and children who were present in the room asked her if it was meant to be rushed at full speed, "and she had said yes."
It would mark the beginning of the end of Ronke's life. 
Lagoon Hospital
On the Lagoon Hospital website, the hospital says it "has consistently been providing healthcare of international standards in Nigeria." 
Established in 1984 by Professor Emmanuel and Professor Oyin Elebute, and commencing operations in 1986 as a provider of integrated healthcare services, Lagoon Hospitals is currently the largest private healthcare services Group in Nigeria with six healthcare facilities.
"Lagoon Hospitals is the only Nigerian Hospital group accredited by the Joint Commission International (JCI) and one of two groups in Sub-Saharan African to be so accredited. The hospital was first accredited in 2011 and re-accredited in 2015, 2018 and 2021. This is a guarantee of safe and quality healthcare that meets international standards."
The Joint Commission, also known as TJC, is a United States-based nonprofit, tax-exempt 501 organisation that accredits more than 22,000 US health care organisations and programmes. The international branch accredits medical services from around the world.
How then did a hospital so renowned make a mistake so juvenile, leading to the death of a patient which it swore to protect?
The preemptive action
When Ronke was admitted to the ICU ward, one of the nurses on duty had almost administered an expired antihistamine on the patient before it was discovered by Kemi. 
Despite this, Kemi told HumAngle that "we were hopeful that she would be in the best possible hands and receiving the best care. The care in the ICU ward is better than the care in the general wards because that is where the patients that need extra care go."
In April, Ronke had visited the hospital for treatment, and when her daughter went for the bill, she discovered some anomaly. During her admission, Lagoon Hospital had said she needed two pints of blood but the bill read three pints.
"We were upset that the hospital did not inform us that she had suffered a transfusion reaction and that the hospital had charged us for a bag of blood that was not used since it was thrown out after the transfusion reaction," Kemi said.
Regardless, the family trusted Lagoon Hospital to be more honest and provide Ronke with utmost care. 
Therefore, on June 11, when another nurse had claimed she was working on the instructions of one Dr Okoro to apply Gelofusine on the patient, the family did not anticipate any casualty − at least, not one that would lead to Ronke's death. 
In the presence of her relatives, Ronke, who had been having light-hearted conversations, suddenly became distressed. "Her chest had suddenly become painful, and she wanted us to get the doctor," her distraught daughter said.
Dr Okoro was called in to attend to her.
"I knew it had something to do with the Gelofusine infusion, and indeed so did everyone else in the room because there was a sudden and drastic change in her condition in the moments that followed being connected to the infusion," Kemi told HumAngle.
Dr Okoro declared a "code red" and commenced CPR immediately. All efforts at that point proved abortive. At 2:35 p.m. on June 11, 2019, Ronke was declared dead. Kemi picked the bottle of the administered Gelofusine and saw what the fatal blow came from − the drug had expired three months prior. 
Adding to its chain of errors, Lagoon Hospital issued Ronke's death certificate to a third party instead of the next of kin on her records. For a hospital that said it was "driven by a single thrust, to provide the best standards of patient care," this was one mistake, too many.
Litigation, Lagoon's response, and delayed action from medical bodies
On June 13, 2019, and June 28, the deceased's family, having been treated casually by the hospital, insisted on and called for a meeting with the management of Lagoon Hospital to discuss the reckless handling of the deceased. 
In an audio clip recorded during the first meeting and made available to HumAngle, Dr Mowa Falase, who was at the time Lagoon Hospital's Medical Director, said, "To be able to give you the answers that you want, it's going to take some time. Let me, first of all, say that it's not due to insensitivity; it [an investigation] must be carefully done so we can give you correct answers. All I ask is that you give us some time."
In a subsequent meeting, Dr Olujimi Coker, who was the CEO of Lagoon Hospital at the time, told the deceased's family (children and siblings) that "we did investigate it. Our former warehouse was in Apapa. We transferred some of the drugs down here. We have a process where we take note and remove drugs that have almost expired from circulation."
"One of the bottles of Gelofusine was mixed with the rest of the stuff that had not expired. In so far as the infusion was put up, it's obvious that it wasn't checked. It's probably because of the emergency because they were trying to stimulate her blood pressure. There is no excuse as she should have been checked."
Despite this initial admission, Dr Coker could be heard in the recording refusing to acknowledge that Ronke's heart's shutdown was accelerated by the Gelofusine, blaming it on her cancer, a failing liver, and a failing kidney. 
Speaking about the meetings, Kemi said: "We felt Lagoon was very dismissive and insensitive."
"They refused to take any responsibility or to apologise. It seemed like they hoped that we would sweep their mistake under the rug. Even after the fact, the two meetings we had with them were on our insistence, not on their invitation."
Lagoon Hospital, in the death certificate issued to Ronke's family, said the cause of death was 'cardiopulmonary arrest.' 
Despite several repeated attempts by the deceased's family physically and in writing for Lagoon Hospital to admit officially that Dr Okoro's error led to Ronke's death, they have remained insistent on it being a 'heart attack' and not one induced by the application of the expired Gelofusine.
The deceased's children, tired of the lack of accountability, involved the services of a legal practitioner. Regardless, since 2019, Lagoon Hospital did not take any further action or try to communicate until the family had written petitions to other bodies such as Health Facilities Monitoring and Accreditation Agency (HEFAMAA), Medical and Dental Council of Nigeria (​MDCN), Nursing and Midwifery Council of Nigeria (NMCN), and  Pharmacists Council of Nigeria (PCN). A petition was equally submitted to Joint Commission International (JCI). Copies of the petitions were made available to HumAngle.
The deceased's family released a statement to HumAngle on the case. It reads in part: "Our mum was bravely fighting for her life, and in the end, her life was suddenly and tragically cut short, not by cancer she was bravely battling but as a result of avoidable human error. 
"We brought her to Lagoon specifically because we thought that in her condition, she needed the best care and that she would get it there. We were happy she would get round the clock care in the ICU; however, it was there that she was given the expired IV medication that triggered the series of events that resulted in her death. 
"We, her children, were robbed of precious time and, after that, treated like an inconvenience by the hospital responsible. Nothing can change what has happened, but Lagoon refusing to take responsibility for their mistake has felt like further trauma on top of what is already so terrible."
Expert opinion
A pharmacist, Deborah (last name withheld) who spoke to HumAngle, explained that Gelofusine is used to replace bad blood in the system. "If a patient is weak and the Gelofusine has expired, that means it cannot be effective and potent," Deborah explained.
"So it even makes the patient more vulnerable. It can cause a lot of damage to the person. It could be a heart attack because when blood is not pumping properly to the heart, it will stop." 
So, it is possible that the drug's lack of effectiveness caused the patient to suffer a heart attack, she concluded. 
Other pharmacists who spoke to HumAngle anonymously for concerns of being sanctioned by regulatory bodies confirmed that drug potency dwindles upon expiration. One pharmacist said although it can still be used, "the only thing there is that the potency will reduce." But he was quick to add that the reduced potency is usually until "three months at most" after expiration. 
Another medical practitioner, Dr Yemi Obabire, said "determining cause of death is a complex matter that requires analyses of several factors by experts. These factors include; nature of illness and comorbidities, severity/stage of illness, drugs being used prior to treatment, the kind of treatment received in terms of what was done, how it was done, when it was done etc."
He added that "the administration of expired drugs can be dangerous and it is bad practice on the part of anybody who does that. It falls below the normal standard of care expected of a doctor".
"However, expired drugs aren't always dangerous. The more likely hazard is that they are no longer effective. Meanwhile, the fact that she was given gelofusine suggests that she was bleeding seriously."
"Someone bleeding seriously will have their heart rate go up in a bid for the heart to circulate the low amount of blood more frequently than normal so it can sustain the body's needs. This is a temporary mechanism that the heart can't sustain and can lead to death if intervention is not received."
Lagoon Hospital responds
After several failed attempts, when HumAngle finally reached Lagoon hospital, Adetomi Olaobaju, who heads the Legal and Compliance department, told us over the phone: "I wish we could give you our own part of the story but there are two major laws that are holding us back from talking to you on this case but we just agreed that even though we cannot give you our own side of the story, we can at least meet with you and so that you will understand that we are not unwilling to meet with you but only that the law constrains us."
"The National Health Act and Nigerian Data Protection Regulation proscribes us expressly as a hospital from giving out patient information to anybody other than the direct family and the next of kin of that patient; because of that, we cannot give you any information, as much as I would like to."
However, Olaobaju added that "the allegations that are being made against the hospital are majorly untrue and I will be sad if you go ahead to publish anything that might turn out to be libellous material against the hospital. I would like to let you know that hospitals in Nigeria are governed by a body called HEFAMAA and when the family came up with the allegation, they wrote to HEFAMAA, and they being our regulators invited us over for a mediatory meeting with the family; they met us individually and met with us together."
"HEFAMAA came and investigated our facilities and our pharmacy, they listened to both parties and found that there was no negligence." 
Speaking further, Olaobaju said, "HEFAMAA also told the family that they could not find any evidence of medical negligence from their investigation, but that they could go to court if they were aggrieved."
HumAngle also reached out to the petitioned agencies to know the status of their investigations, if any. Joint Commission International (JCI) responded that it "does not assess specific care of an individual patient; thus, we are unable to tell you if appropriate medical care has been provided. Instead, our evaluation focuses on processes and policies that are required within our standards. If any opportunities for improvement are identified, we will work with the organisation to correct practices and systems so that they meet or exceed our standards."
The Nursing and Midwifery Council of Nigeria (NMCN) sent a response to HumAngle on July 30, 2021, stating thus: "Kindly be informed that (the) Council has not received any formal report or petition in respect of the subject matter reference nor the identity of the Nurse as alleged. it is pitiable as the case may be."
"You may wish to note that it is not the usual practice of the Council to grant a telephone interview on such issues as the present case for misuse of language or misinterpretation since the Council has not received the full details on the matter of alleged medical negligence that led to the (supposed) death of the victim. Moreover, the Council cannot investigate the matter without having knowledge of the case and full details of the nurse involved."
This, claim, however, was debunked by the family's lawyer, who presented HumAngle with a copy of the petition submitted to NMCN on the case.
While the other petitioned bodies are yet to respond as of the time of filing this report, a staff of the HEFAMAA told HumAngle that the information request will be pushed forward to the appropriate department. HEFAMAA is yet to provide said information as of the time of publishing this report.
*This report was updated on July 30, 2021, to reflect a response from NMCN.
*Names have been changed to protect the dignity of the deceased and her children.
Additional reporting by Chigozie Victor.
---
Support Our Journalism
There are millions of ordinary people affected by conflict in Africa whose stories are missing in the mainstream media. HumAngle is determined to tell those challenging and under-reported stories, hoping that the people impacted by these conflicts will find the safety and security they deserve.
To ensure that we continue to provide public service coverage, we have a small favour to ask you. We want you to be part of our journalistic endeavour by contributing a token to us.
Your donation will further promote a robust, free, and independent media.
Donate Here