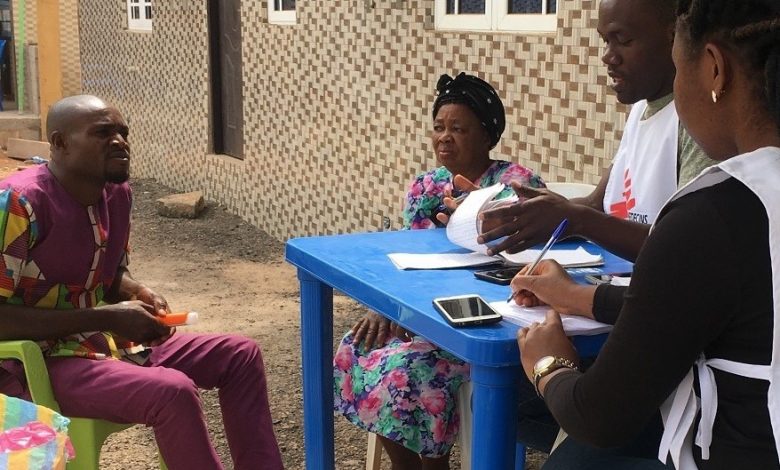 International aid organisation, Médecins Sans Frontières (MSF) or Doctors Without Borders, is elated over Nigeria's recent wins against Lassa Fever.
HumAngle had earlier reported that Nigeria was hit with a terrible wave of Lassa fever at the beginning of 2020, while the country also struggled with how to manage COVID-19.
The peak in cases is usually in January and February and the 2020 outbreak was the largest on record, with 4,914 suspected cases and 1,021 confirmed cases across 27 states of the federation.
On April 28, Nigeria Centre for Disease Control (NCDC) declared the 2020 Lassa fever emergency over following a steep decline in cases.
In a statement, the agency said, "MSF recognises the efforts of our health workers, and those of the Nigerian Ministry of Health in saving the lives of patients with Lassa fever, and conducting essential research into this serious and potentially fatal disease.
"While the Lassa fever emergency has subsided for 2020, it remains an endemic disease; research and treatment continue to be priorities for the future."
Meanwhile, MSF's Head of Mission in Nigeria, Laura Martinelli, stressed the importance of working closely with communities for better trust and understanding in the response.
She said, "The announcement in April from the NCDC that the 2020 Lassa fever emergency has subsided offers a ray of hope for health workers and patients who have been battling the disease.
"It is by working closely and engaging with communities in Ebonyi State, as well as the Ministry of Health, that we have made steps forward in the treatment of Lassa fever."
"However, there is still much to be done for the years ahead, and MSF remains committed to treating and researching Lassa fever in Nigeria," Martinelli noted.
A long road
Unlike COVID-19, Lassa fever is not new to Nigeria. The country's health sector has battled the disease for decades since the first outbreak in Lassa town, Borno State, in 1969.
Outbreaks of the severe viral haemorrhagic illness have been reported in other parts of West Africa, including Benin Republic, Ghana, Mali, Sierra Leone, Liberia and Guinea. European countries have also treated cases of Lassa fever.
On March 22, NCDC released a report regarding the spread of Lassa fever. Since the onset of its outbreak early in the year, Nigeria has recorded 178 deaths, with new cases reported from 12 states – Edo, Ondo, Ebonyi, Bauchi, Taraba, Plateau, Kogi, Abia, Enugu, Benue and Gombe – and the Federal Capital Territory.
In 2018, the NCDC reported over 600 confirmed cases and over 170 deaths. In 2019, from January to October, 726 cases were confirmed positive and 156 deaths recorded in 23 states.
Since 2018, MSF teams in Abakaliki have been working closely with the Ministry of Health in Abakaliki, Ebonyi State, to provide treatment for patients suffering from Lassa fever in the Alex Ekwueme Federal University Teaching Hospital Abakaliki (AE-FUTHA).
Dr Precious, who oversees the treatment of Lassa fever cases in Ebonyi for MSF, recounted: "This project began as an emergency response in 2018.
"Because so many healthcare workers had fallen sick and died, we reached a stage where a lot of healthcare workers did not want to work in medical facilities. That's where MSF stepped in.
"MSF began installing new infection prevention measures in the hospital, and that work had a ripple effect on other hospitals in Ebonyi State, meaning that health facilities were no longer amplifying the infections of Lassa fever."
Lassa fever is an acute viral haemorrhagic fever that can be passed from rodents to humans, and between people.
In 2018, 16 people in Ebonyi State tragically lost their lives to Lassa fever, among them eight healthcare workers. The toll the disease was taking prompted MSF to begin responding in Abakaliki.
However, in 2019, despite six health workers falling ill with the disease, they all recovered; and so far in 2020, not a single health worker has contracted Lassa fever in Ebonyi.
Protection of health care workers
The protection of healthcare workers represents a substantial step forward in screening, testing and treating Lassa fever in the state.
In 2018, this was one of the primary goals established between MSF and the Ministry of Health.
MSF noted that by protecting healthcare workers, more patients could be treated, and hospitals would not become amplifiers of the virus.
The protection of healthcare workers, other patients and hospital staff was achieved through infection control protocols, personal protective equipment and adapted patient flow and triage systems, the aid organisation stated.
These protocols have been used effectively by MSF and Ministry of Health teams in treating patients for Lassa fever and similar protocols are now being implemented in an Ebonyi State isolation ward for patients with COVID-19.
Lassa fever-free
Some patients, who are back on their feet after battles with Lassa fever have expressed their joy and appreciation to MSF.
They also shed light on the stigma they experienced and the psychological effects of contracting and beating the disease.
Speaking on the stigma, Chinedu, a mental health activity manager with MSF, said, "The stigma associated with Lassa fever can be very strong.
"Some people have lost their jobs, been chased out of their own community or even lost a relationship because they were associated with Lassa fever, as a patient or even as a caregiver.
"The patients we treat are suffering but it's not just physical – it's also psychological and emotional. The impact of Lassa fever on a patient's mental health cannot be overemphasized.
"People's individual beliefs and understanding of Lassa fever, plus the things they hear about it lead to a variety of emotional reactions, ranging from denial, shock, fear, anxiety, sadness, frustration and anger.
"Because of this, the mental health team works with each patient right from the time they begin to exhibit symptoms, when their test results come back, up until they are discharged.
"This is because patients have different needs at each of these stages. Lassa fever patients are isolated, with limited social interaction – and waiting for test result for hours and sometimes days can result in significant anxiety, making many patients feel abandoned."
Sharing her experience, a former patient, Umonna Ngozi Ogochukwu, said, "Because of Lassa fever, people avoided me. I lost some of my friends because nobody came to visit me while I was undergoing treatment.
"I was all alone until I called my mother who was in Anambra and she came over to the hospital in Abakaliki where I was being treated.
"The presence of my mother contributed greatly towards my recovery and I must also add that the MSF personnel attending to us gave us hope. They were constantly consoling and motivating us.
"They told us that being diagnosed with Lassa fever is not the end of the world. It really helped, having such caring people there."
For Amaechi-Egemba Emmanuel, the situation made him lie about his ailment because he was afraid of the stigma.
He said, "My family told me I shouldn't tell people about it – even though I felt that I should have been proud of surviving it.
"However, people's reactions showed me that it was wiser not to tell people I was a survivor. During my treatment, the few friends I told avoided me and never visited me.
"Whenever I called them, they would promise to visit, but it never happened. That was when I realised how it feels to be lonely. But this lonesome feeling ended up being an inspiration for me because I wrote several songs and poems."
Emmanuel appealed for the setting up of Lassa fever support groups as a way of shedding light on the disease.
More barriers for patients
Despite the effective treatment of 81 patients with Lassa fever in 2020 in AE-FUTHA, MSF noted that there were still substantial barriers in the care for many patients.
It said, "Even today, there is no access to pre-qualified drugs to treat Lassa fever, and the most commonly used drug in treatment, Ribavirine, has yet to pass a randomised controlled trial testing.
"With this in mind, MSF's intervention in Abakaliki has a research, as well as a treatment component, with the aim of producing more effective clinical diagnoses and treatment methods for Lassa fever.
"Treatment for patients with Lassa fever is far more effective in the early stages of the disease. However, two further barriers also prevent patients from coming forward for essential care: the prohibitive cost of treatment, and the associated stigma.
"While healthcare for all MSF patients is free of charge, more generally, treatment for Lassa fever and particularly supportive treatment, including dialysis, is remarkably expensive."
For the average course of treatment, lasting approximately 15 days, patients can expect to pay N60,000. This means that for some, treatment simply is not an option.
In terms of stigma, MSF teams in Abakaliki have seen first-hand the effect of misinformation on the physical and psychological well-being of patients and their loved ones.
Through the stigma associated with Lassa fever patients, survivors and even health staff have faced social exclusion from workplaces, schools, places of worship and even their own communities, the aid organisation noted.
While MSF health promotion teams dedicate their time to providing accurate information about the treatment and transmission of Lassa fever, it's important to recognise that with the proper protocols, transmission can be prevented, and with early reporting, patients can be treated effectively, the organisation stated.
Lessons for COVID-19
Precious, in his report, drew comparisons between Lassa fever and COVID-19, sharing lessons that Nigeria could use to beat the pandemic.
He said, "Now that the world is facing COVID-19, I think there are valuable lessons that we can learn from the experience of treating other diseases, like Lassa fever.
"Our approach taught me that with good planning, tools, and organisation, there is no challenge that lacks a human solution.
"Prior to our coming into Ebonyi State, no healthcare worker wanted to come near anything linked to Lassa fever; those who still wanted to be involved, faced a terrible stigma.
"But all that has changed, this hospital is a place where people come to be healed, and to recover. Trust and understanding are replacing that fear now," the doctor added.
With the number of Lassa fever cases diminished for 2020, MSF's medical teams in Abakaliki have turned their attention to supporting the Ministry of Health in managing the COVID-19 pandemic.
After working with Ministry of Health teams to establish a COVID-19 isolation facility, MSF is now supporting the Ministry of Health in Ebonyi with resources, including personal protective equipment and human resources.
---
Support Our Journalism
There are millions of ordinary people affected by conflict in Africa whose stories are missing in the mainstream media. HumAngle is determined to tell those challenging and under-reported stories, hoping that the people impacted by these conflicts will find the safety and security they deserve.
To ensure that we continue to provide public service coverage, we have a small favour to ask you. We want you to be part of our journalistic endeavour by contributing a token to us.
Your donation will further promote a robust, free, and independent media.
Donate Here