Features
Gender & SGBV
News
#MeToo Movement: What Does Winning ₦15m Damages Against Police, AEPB Mean For Sexual Assault Cases In Nigeria?
In August 2021, a landmark judgement was delivered in favour of six women whose sexual assault case helped galvanise Nigeria's #MeToo movement in 2019. Activists say this development casts a positive light on the pursuit of justice for sexual assault survivors.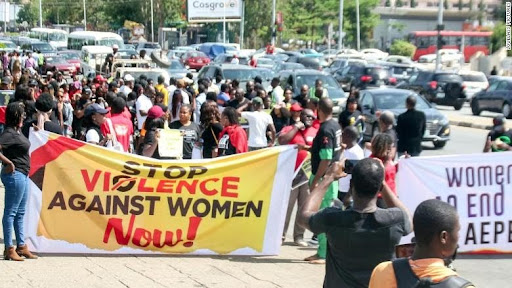 On the evening of April 26, 2019, Blessing* was shopping for groceries at the popular H-medix supermarket in Gwarimpa, Abuja, Nigeria's capital city, when some plainclothes policemen pointed a   gun at her and hurled her into a waiting bus while fumbling her breasts.  
At first, she was rattled at the thought of her abduction not making news. But when it became clear that her attackers were policemen attached to the Abuja Environmental Protection Board (AEPB) monitoring team, Blessing pleaded for them to let her present her identity card. Instead, they ignored her. At the time, she was a student at the University of Abuja.
"They said I was a prostitute and took me to Katampe Extension, from there to Wuse to arrest more people before they took us to Life Camp Police Station," Blessing said at a press conference in August, her voice cracking with emotion.
Like Blessing, Loveth was arrested while hanging out with her boyfriend at Caramelo nightclub in Wuse (now demolished) and was immediately bundled into a marked AEPB Hilux van, leaving her boyfriend frightened.
"When I asked what my offence was, they didn't answer me," Loveth said.
In a two-day raid on streets, nightclubs, and supermarkets in the federal capital, more than 100 young women were arrested based on their 'revealing clothing' by security agents of a Federal Capital Territory Administration (FCTA) joint task force, with representatives from the Social Development Secretariat and Development Control. Shaka Sunday, spokesperson for the Social Development Secretariat, said it was a needed operation to rid the capital city of "social nuisance." Safiya Umar, the Acting Secretary of SDS, said the raids were to correct immoral behaviour among young women in Abuja, swelling the number of 'prostitutes' in the capital city.
The women were arrested for prostitution, a charge lawyers described as non-existent in any federal law but was used to justify the 'unlawful' arrests. "Nowhere is prostitution criminalised," said Deji Ajare, a lawyer who would later represent six of the victims in court. "Only operating brothels and pimping is what the FCTA Penal Code criminalises."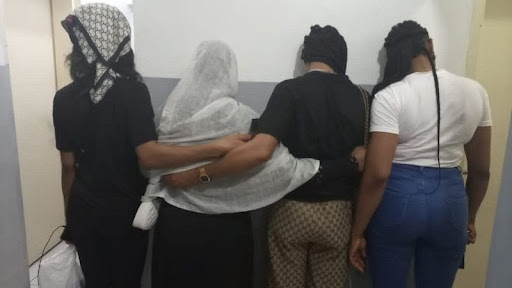 Some of the women shared harrowing stories of being sexually assaulted by the security agents who were supposed to protect them. Those arrested and detained at Utako Police Station said they were raped by police officers in exchange for freedom.
25-year-old Bella,* who was arrested for 'being out late', said she was raped after the policemen had demanded N4,000 she couldn't pay because she was without cash at the time of her arrest.
"They took me to the bush behind a building," she said. "There were four of them. They molested me, and while three were holding me down, one of them raped me. He didn't use a condom."
Martin Obono, a lawyer who was at Utako police station at the night of the raid for another case, said some of the women were bleeding and battered.
"They told me the policemen used objects, like sticks, to touch their private parts," Obono said.
Twenty-seven of the women were summarily charged with prostitution at the AEPB mobile court but convicted as "idle" persons, and sentenced to one month in prison with a N3,000 fine option in accordance with section 532 of the Penal Code Act of FCT, 1990, regulating social conduct in the city, and section 35 of the AEPB Act for public nuisance and loitering.
The Penal code partly defines an idle person as "a common prostitute behaving in a disorderly or indecent manner in a public place or persistently importuning or soliciting persons for the purpose of prostitution" without clearly defining who constitutes a "common prostitute." During the raids, the women said they were arrested on vague moral grounds like "indecent dressing."
All these sparked national outrage over violence against women in the country.  
In an open letter, a coalition of 72 women's organisations, activists, scholars, civil society and human rights organisations, said the raids violated women's rights to free movement and expression. 
Joining the global #MeToo movement that spoke against sexual harassment of women, local feminist groups also held protests, under the banner of #SayHerNameNigeria, across major cities in Nigeria, including Abuja, Port Harcourt, Lagos, and Benin City. 
They demanded a government investigation. The pressure prompted the National Human Rights Commission (NHRC) to investigate the allegations. But in less than a week after the NHRC's announcement, 11 more women were arrested with reports of them being beaten with batons during their arrest.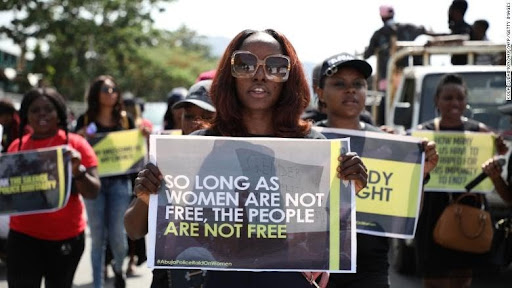 Again, protesters took to the streets in Abuja, Nigeria's Capital; Accra, Ghana's Capital; and London on May 10, 2019 to challenge the impunity during the raids, carrying placards with inscriptions like "Sex for bail is rape"; "Police everywhere justice nowhere"; "Arrest not assault, protect not molest." The activists said the women suffered despite the Violence Against Persons Prohibition (VAPP) Act applicable in the FCT prohibiting all forms of violence against all persons irrespective of gender, and regardless of whether it was committed in private or in public, while stipulating punishments for offenders and remedies for victims.
The security agents' reprehensible and inhuman degrading treatment of the women placed Nigeria's constitutional principle of equality and non-discrimination in a precarious state, Ogechi Ogu, a lawyer and development worker at Prisoners Rehabilitation & Welfare Action (PRAWA), an organisation looking into the plights of prison inmates, said in an interview with HumAngle.
Landmark judgement
After their ordeal, six of the women decided to sue the police and the AEPB task force through the help of the coalition of civil society organisations.
On Aug. 5, 2021, two years after the first trial at the Federal High Court in Abuja, Justice Evelyn Maha ruled  that the arrest of the six applicants lacked any merit in the first place and said the molestation, dehumanising treatment, and the detention of the applicants, without legal representation, were a violation of their rights as guaranteed under the Constitution of the Federal Republic of Nigeria.
The judge awarded between two to four million naira in damages against the Abuja Environmental Protection Board (AEPB), the Nigeria Security and Civil Defence Corps (NSCDC), the Inspector General of Police and Inspector Thomas Nzemekwe (Yellow) in favour of the six applicants, totalling ₦15 million.  
Ajare, the applicants' lawyer, said the judgement was cheerful news to the six women who had lost hope in the country's broken justice system to ever deliver justice for them.
Ogu said the judgement marked a touchstone in the pursuit of justice for survivors of sexual violence.
"The fact that the court condemned the action of AEPB is a big win for Nigerian women on its own. It is showing that perpetrators are beginning to account for their actions," she said. 
"You know that the greatest incentive for crime is knowledge that one would not be caught or made to pay for his crime. Most serial rapists have been emboldened by the fact that rape victims do not come out to follow up on their cases, so these decisions of the court will be helpful in changing the narrative."
However, no person including Inspector Thomas Nzemekwe (Yellow), who was widely named, has  faced prosecution for sexual violence.
For activists like Hassana Maina who is also a lawyer, survivors of sexual harassment should be compensated monetarily for what they go through even though "it may not substantiate their suffering."  She also hinted that until a shared commitment to changing culture is adapted, the problem might not go away.
According to her, the scale of sexual harassment accusations in Nigeria is indicative of the pervasiveness of sexual violence.
In 2019, a national survey by NOI found that every three girls living in Nigeria had experienced at least one form of sexual assault by the time they reach age 25, with approximately 70 per cent reporting more than one incident.
Not the first time
Nigeria is a signatory to many international and regional human rights treaties including the Convention on the Elimination of all Forms of Discrimination Against Women (CEDAW); and the Protocol to the African Charter on Human and Peoples' Rights on the Rights of Women in Africa (Maputo Protocol), which protects the human rights of women to dignity, equality, liberty and freedom from violence.
Dorothy Njemanze, a Nollywood actress and broadcast journalist, knows only too well the consequences of being arrested on false accusations and denied of these rights.
Njemanze was forcefully arrested twice— in the last quarters of 2012, and again in 2014— by the AEPB after being labelled a prostitute. Both times, she was taken to Utako Police Station where she was released on bail. 
The first time it happened, she was fighting for the rights of the victims of gender-based violence in the hands of AEPB after she had narrowly escaped such experience in 2011 that buoyed her to start documenting sexual and gender-based violence cases. Then, she became a victim herself.
"I was brutalised and sexually harassed," Njemanze told HumAngle.
The second time, in December 2012, the actress who is now a women's rights advocate, said she met women who were raped and robbed of all their savings and phones at the River Plate Park in Abuja.
"They were stripped naked and raped," she said. "That's one of the most horrific things I've ever seen in my life."
When she was arrested the third time, Njemanze believed she was being targeted for being vocal in deconstructing abuses of women by the same task force.
In all her ordeals, she said she was never formally charged. Then, she challenged the arrest in a lawsuit against the Nigerian government.
In 2016, two years after her last assault, she and three other women brought charges against the FCTA before the Economic Community of West African States (ECOWAS) court in Abuja.
"Before we got to the ECOWAS court with my own case, files were getting missing because the people who were doing these things were highly connected to the seat of power. I felt I had exhausted my local remedy and I headed to the ECOWAS court," she said.
In 2017, the court ruled in their favour that their arrests were discriminatory, constituted gender-based violence, and were in violation of the victims' human rights, awarding N6 million to Njemanze and two other women. However, the third plaintiff's case was thrown out due to lack of merit.
Although Njemanze's court victory set a precedent, it was not enough to deter the task force from its course.
Police, AEPB silent on judgement
Ajare said the police, AEPB and others named in the judgement were yet to react three months after the court ruling.
"We have written to the AEPB, the Police and the Hon. Attorney General of the Federation for the payment of the damages awarded. We await the response from them as we are ready to go the whole hog to ensure that the ladies get the fruit of their judgment," Adejare said.
Ogu added that a garnishee proceeding should be initiated against the agencies' banks to ensure compliance with the court order.
---
Asterics have been used to protect the identity of the victims.
---
Support Our Journalism
There are millions of ordinary people affected by conflict in Africa whose stories are missing in the mainstream media. HumAngle is determined to tell those challenging and under-reported stories, hoping that the people impacted by these conflicts will find the safety and security they deserve.
To ensure that we continue to provide public service coverage, we have a small favour to ask you. We want you to be part of our journalistic endeavour by contributing a token to us.
Your donation will further promote a robust, free, and independent media.
Donate Here