Emergencies
News
Medical Doctors In States Get The Raw Deal, Go Five Months Without Pay While Fighting COVID-19
While governments and members of the public are celebrating medical workers across the world for their professional sacrifices in battling COVID-19, many doctors in the employ of the government in Nigeria are facing starvation and frustration.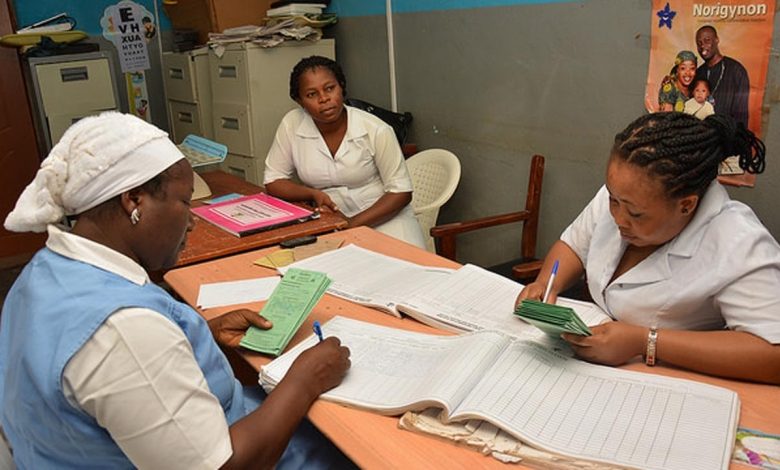 Last November, Victoria was full of high hopes as she resigned from her job at a private hospital where she was not being paid well. She had just been offered employment by Alex Ekwueme Federal University Teaching Hospital, Abakaliki (AEFUTHA) and, for her, a federal appointment meant higher and promptly paid salaries. But she was right only about the former.
The young resident doctor spent nearly all her savings on renting an apartment and relocating from Imo to Ebonyi State. Not a problem, she had thought, "All I have to do is work for a month to become financially stable again." She received her first shock when, during their orientation exercise, the Chief Medical Director, Dr Emeka Onwe-Ogah, informed the newcomers they would not be paid for the first three months after which they would then get a lump sum. Older employees told her it was customary because, "You know, this is Nigeria."
"Okay," she contemplated, trying not to panic. "It is not that bad. All we have to do is exercise patience for three months and then we will be fine."
This is the sixth month since her appointment and Victoria has still not been paid a dime. By the end of March, she and her colleagues were expecting credit alerts of at least over N800,000 that never showed up. Second shock.
When they asked for an explanation, the hospital management said they had yet to be enrolled on the federal government's Integrated Payroll and Personnel Information System (IPPIS), introduced in 2007 but implemented more strictly from October 2019. The management added that IPPIS officials could not visit the hospital to capture the staff's biodata as a result of the COVID-19 pandemic and restrictions on inter-state travelling.
"They told us that we should bear with them and hope the pandemic ends soon," Victoria says, recalling the third and final shocking moment.
"So, what if the pandemic lasts until December or even next year? Does it mean we will be without salaries throughout that period? How are we going to feed? How are we going to take care of our families?"
She describes her experience over the past six months as "really terrible". She has had to stop using her car because she cannot afford to fuel it and has been getting to work through motorcycles and tricycles. At some point, she recalls, she could not even afford the alternative means of transportation. Whenever they are broke, some of the doctors stay at home under such excuses as illness or food poisoning.
"The motivation to work is not there," she adds with a shaky voice. "Some of my colleagues even slipped into depression; they just lost interest in life entirely. A lot of them were working in very good places and left because they got 'something more promising', only for them to be told stories that they cannot be paid."
Victoria, who is the eldest sibling of four and whose dad is retired from service, has not been able to fulfil her obligations to her family.
Her story was echoed by half a dozen other resident doctors who spoke to HumAngle. In November, about 100 doctors were appointed by the federal teaching hospital. Together with nurses, laboratory scientists, pharmacists, and hospital orderlies, the workers who are affected by the non-payment of salaries are estimated to be well over 300 — between 30 and 40 per cent of the facility's workforce.
Doctors in debt, doctors in tears
While many of the doctors are themselves battling debts that keep piling up and hunger, some of them have even more to worry about. In the case of Ugochukwu, that includes his wife, little sister, and aged mother. Unable to cater for their basic needs, he had to send the three to his village in Enugu.
"My wife can't feed because she is not working yet. I am currently eating once or twice a day. One time, I fell ill and could not buy drugs. It was my neighbours who fed me," he narrates sadly.
"If I die now, all the money they're owing me will be gone."
Last year, right before he resigned from his old workplace, health complications (osteoarthritis and urinary tract infections) suffered by his mother took all his savings.
"Then I got this job only to be told that I can't be paid until the COVID-19 pandemic is over," Ugochukwu expresses his disappointment. "My mother's health could deteriorate any moment and if I can't fund her treatment, I don't know what will happen."
If her condition worsens, not only will he need more money to pay for her treatment, he will also have to take over as the family's breadwinner.
Paula, another doctor at AEFUTHA, says the increase in commodity prices and general scarcity due to the pandemic has put them in even greater hardship. She had also resigned from a different facility before joining the teaching hospital. "Imagine the joy in my heart and that of my family members when I got this offer," she says.
Months down the line, she has only been able to survive thanks to loans from friends and families. Other doctors with similar complaints often add that general economic hardship has reduced the goodwill they have enjoyed from others in the past. Add to that, many of their friends now tell them they are not creditworthy.
"I have exhausted all I have," Paula says. "I am eating from hand to mouth, borrowing from every Tom, Dick, and Harry to sustain a livelihood. Even the borrowing is not so easy because nobody wants to give their money out."
"Some of us who are catering for our parents and siblings are tired of giving the excuse that we've not been paid. The agony I am passing through, the tears and regrets are beyond comparison. You are a doctor, yet you can't take care of yourself."
She adds that her experiences have made her realise there nothing worse than being broke and without hope.
Doctors without shelters
Many of the unpaid doctors who relocated to Ebonyi from various parts of the country were able to get accommodation and settle down. But not everyone was that lucky. According to the health workers, some of them have had to sleep in the hospital's call rooms because they cannot afford to rent apartments of their own.
"I know one who doesn't have an apartment yet, so he keeps his things in the call room, takes his bath there, and sleeps there whether he is on call or not," Ugochukwu informs HumAngle.
"He is basically homeless," he adds.
"Normally we are only meant to sleep in the call room when we are on call because it is not a conducive place. But when a doctor is homeless, he has no other option but to pass his nights there."
Another group of doctors are living somewhere between the two extremes by lodging with relatives and friends. Since he moved to Abakaliki in December, John has been staying with a kinsperson as he is unable to afford his own space. The arrangement, he says, has been inconvenient for everyone.
"I was working at a very reputable hospital in Lagos where I got paid promptly," he says.
"I had planned that, by now, I should have settled down on my own and faced my training squarely. Sadly, my savings have been stretched thin."
Full of regrets, he adds that his transition to the teaching hospital in Ebonyi has been nothing short of hellish and that he would have stayed back if he knew what was coming.
"I was never desperate to start residency even though I wanted to," John says.
 "A lot of other people are not even as lucky as me to have a relative or close friend to stay with, and those that do are already feeling guilty that we have overstayed our welcome."
Efforts in futility
The resident doctors themselves have taken steps to seek a remedy. They reached out to friends who were employed at other hospitals around the same time and, unlike them, have been receiving their salaries. Those working at the Federal Medical Centre, Owerri; University of Benin Teaching Hospital; and Aminu Kano Teaching Hospital said even though they also faced difficulties getting enrolled under IPPIS, their employers decided to pay them using the previous structure: the Government Integrated Financial Management Information System (GIFMIS). AEFUTHA's management has, however, insisted doing this is illegal.
"We said okay but, on the basis of compassion, just do this to alleviate the suffering of some of us so that we can find something to eat; they refused," Victoria says.
Also reacting to the hospital's position on the GIFMIS option, Ugochukwu protests, "They could pay us via the old platform, but they say it is illegal. Imagine. But, starving us is what is not illegal?"
The doctors reached out to the National Association of Resident Doctors (NARD) for help. In a letter written to the national body in April and obtained by HumAngle, the resident doctors observed that AEFUTHA is the only tertiary hospital in Ebonyi and "any industrial disharmony at this period will be devastating for the state in the fight against COVID-19."
NARD, in turn, wrote to the Minister of Health, Dr Osagie Ehanire, on April 28, appealing to him to intervene by reaching out to the hospital's CMD as well as the Office of the Accountant General of the Federation. These efforts have, however, yet to yield any results.
The affected staff also emailed IPPIS for clarification and the department replied that the problem is not from them and they should rather get in touch with the hospital's payroll unit.
Victoria recalls, "In one of the meetings one of our leaders had with the CMD, he said he does not want to have any discussion with him if it does not have to do with the pandemic.
"It's terrible. Does it mean the COVID-19 pandemic is more important than the people you have employed? These doctors you have not paid for five months, aren't they part of the frontline workers? Are they going to work on empty stomachs?"
No response yet from health ministry — NARD
NARD's Publicity and Social Secretary, Dr Stanley Egbogu, informed HumAngle on Thursday that the association's letter to the health minister has not been replied to the best of his knowledge. He urges the management of Alex Ekwueme Teaching Hospital to hasten the process of paying its workers as others, including the Federal Medical Centre in Owerri, have done.
"Even though it might be difficult to get IPPIS to capture them, we know that if the hospital management does the right thing, they will be able to get money through the GIFMIS payment platform; but they have refused to do that," he says.
"I don't know how long they are going to continue to starve these people of funds. Whether they use the IPPIS or GIFMIS platform, the most important thing is they should hasten up and pay them. They can't continue to work like this; it is totally unacceptable.
"What if this COVID and the lockdown continues into the next five months, are you saying they will go 10 months without salaries? Something urgently has to be done."
He adds: "FMC Owerri was able to pay because the government and the hospital management took their workers seriously."
Efforts to get comments from the hospital CMD, Dr Onwe-Ogah, were unsuccessful. Calls placed to his phone on different days were not answered and texts sent to him have also not been replied.
One of the resident doctors tells HumAngle they are restrained by conscience not to go on strike and are also afraid to speak up because of the fear of losing their jobs.
"We are not happy with what is going on here because we strongly believe this issue is something the management can easily take care of," says Victoria.
"It is really a big issue for us. We considered embarking on industrial strike but some of our senior colleagues said it is not really a good time because the health sector needed all hands on deck due to the COVID-19 pandemic. But we cannot continue to work on empty stomachs."
*Names of the health workers have been changed to protect their identities
---
Support Our Journalism
There are millions of ordinary people affected by conflict in Africa whose stories are missing in the mainstream media. HumAngle is determined to tell those challenging and under-reported stories, hoping that the people impacted by these conflicts will find the safety and security they deserve.
To ensure that we continue to provide public service coverage, we have a small favour to ask you. We want you to be part of our journalistic endeavour by contributing a token to us.
Your donation will further promote a robust, free, and independent media.
Donate Here