Features
Humanitarian Crises
News
Maiduguri IDPs Caught In Throes Of Hunger As More Deaths Are Recorded
Hunger bites harder within Gubio IDP camp in the northeastern Borno state capital, causing many of the displaced people to lose their lives.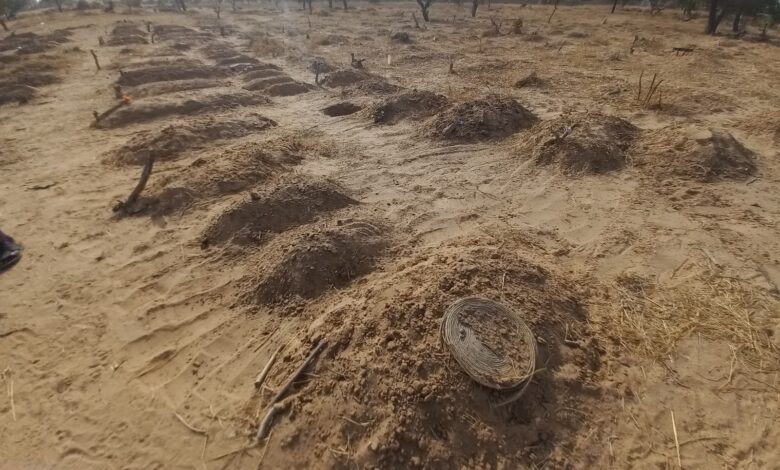 "We have lost count of the number of displaced people at this camp who have so far been buried, but the most recent ones are over 50," said Musa Idris. 
Idris is a leader at Gubio camp, one of the government-recognised sites set up for Internally Displaced People (IDPs) in Borno, Northeast Nigeria, whose dwellers are yet to be resettled. But being able to temporarily remain at the camp has not been a source of joy for the IDPs who have stopped receiving humanitarian support and have been battling severe hunger, neglect, and sexual abuse.
The camp has over 30,000 residents, who hail from different areas in Borno, including Abadam, Bama, Kala Balge, Gwoza, Konduga, Kukawa, Jere, Maiduguri, Marte, Monguno, Ngala, and Nganzai.
"We have never been so lucky as IDPs when you talk of getting support from the government or NGOs. Since our displacement over seven years ago, we have seen all shades of ill-treatment from our leaders," Idris told HumAngle.
He said after the first six months of their settling in the camp when they received constant food supplies, they have since put up with lack and hunger. When a Non-governmental Organisation (NGO) was assigned to provide support, he added, not all the IDPs were captured in the scheme. Meanwhile, complaints to the authorities have not yielded results.
Explaining the reason behind the increased fatalities, Idris said the IDPs often had minor ailments, which they normally would have recovered from but couldn't because "they lack what to eat to make the medications they use work for them".
Idris, a fisherman from Baga, Kukawa Local Government Area (LGA), said hunger at the camp had caused many IDPs at the camp, especially children and aged people, to lose their lives.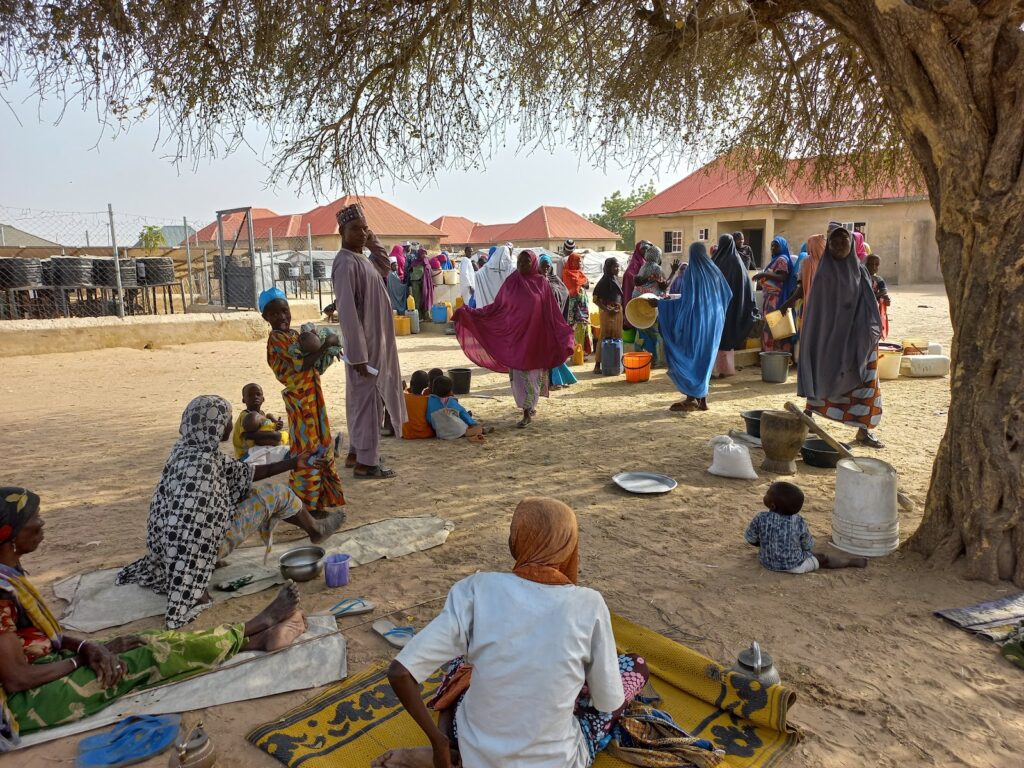 At noon, the camp was a bit quiet except for the women defying the scorching heat as they queued at the public water point to fill up their jars and pots. There are a couple of water points that run only when the solar-powered batteries are charged.
The emergency management agencies recently coordinated the donation of food to the camp. It was the first time in months that the IDPs would get such support. However, the distribution exercise of Friday, Feb. 28, did not go around the 4,116 households in the camp.
"IDPs from three major areas, Kukawa, Kala-Balge and Marte, did not benefit from the distribution of the food items," Idris said.
The World Food Programme (WFP) that previously had a feeding programme at the camp had ceased its monthly donations following the state government's ban of humanitarian support activities in all the 16 official displacement camps within Maiduguri.
"We have IDPs that have never benefited from any food or cash support in this camp. We have others whose support stopped about eight months ago. And then all of us stopped getting food support from October last year until last week when SEMA and NEMA brought some few bags of rice, maize, salt and cooking oil that reached only about 25 per cent of the camp population," Idris mentioned.
"We are living a life less than that of prisoners here in this camp. The government came to take the headcount of us in July last year so that we would be returned to Kukawa soon, and since then, our plight has worsened. No one cares about us again," he added.
"People hardly feed even once a day in this camp. Many parents have developed ulcers and other hunger-related ailments. At a time, we buried more than three persons who died in their sleep due to hunger or some sickness."
Fatima Saidu, a protection specialist working with an NGO in Maiduguri spoke to HumAngle on the hunger situation in the camps.
"We were in two major camps, including Gubio IDP camp and the hunger situation there was so bad," she said.
"I've seen women and children who had not eaten in the past two days. I've seen children going out of the camps to beg while their mother waited in the expectation that the kids could bring them leftovers to also eat from.
"I won't be shocked if I'm told that people are dying daily, because the situation is very bad," she said.
Residents of the camp had in 2019 taken to the streets of Maiduguri to protest days of hunger as officials failed to provide food to them.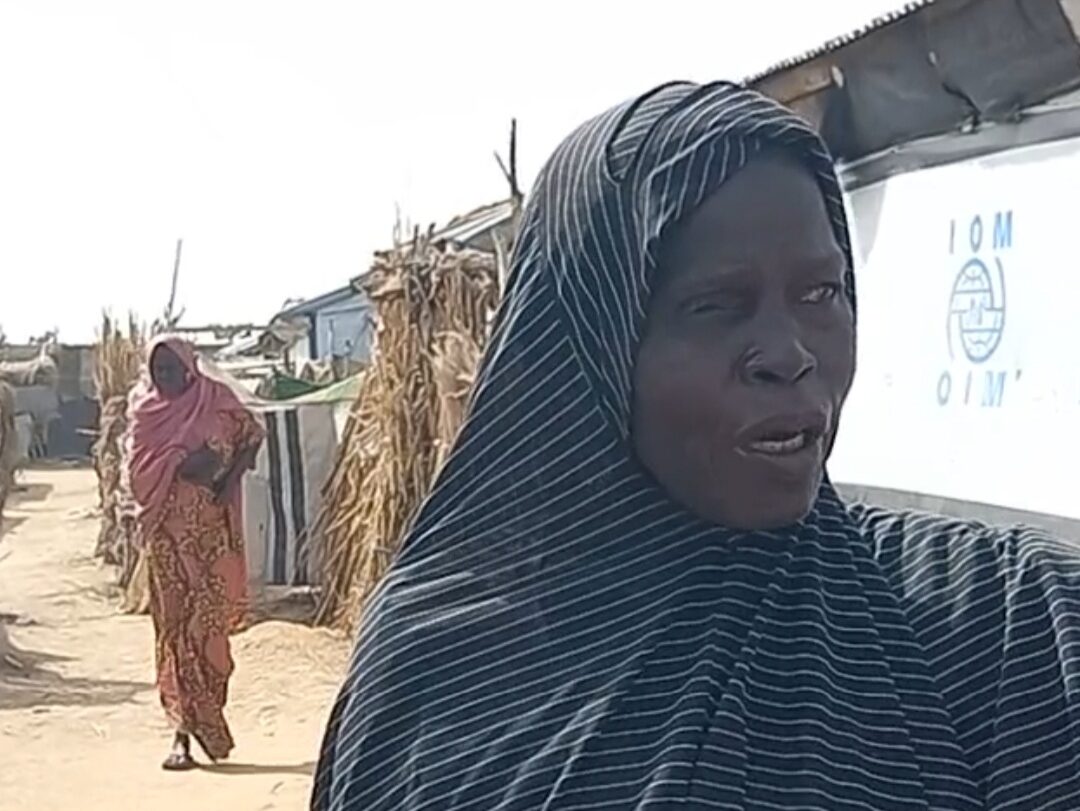 Yabundi Modu, 60, a grandmother and indigene of Marte LGA, told our reporter her family last got any food from aid organisations about 10 months ago.
"We have sold our good clothes, some footwear, and even our pots and other kitchen utensils to get food to eat. No one has anything more to sell. No food in the bush. No one buys the firewood we fetch. Some days ago, children died of hunger. After some days, parents too died of hunger," she said.
"I have no husband nor a child that would struggle for food for me. The last time they brought food, we all ran towards the gate and, for two days, we were there, but we still didn't get any food. They said it had finished."
Yabundi suspects that the aid was stopped to encourage the IDPs to return to their ancestral communities, but says Marte is not safe yet to be inhabited by civilians.
"Even if you take us there, where are we going to get the food from when the whole place still has a large Boko Haram presence?" she asked. "The government should come to our aid. Small children are dying here. The elders are dying or getting sick. We need food for the sake of God."
Filled-up cemetary
A cemetery where the IDPs bury their dead is located about 500 metres on the opposite side of the camp.
HumAngle learnt that the piece of land used as a burial ground was half a hectare of farmland donated to them by a local landowner.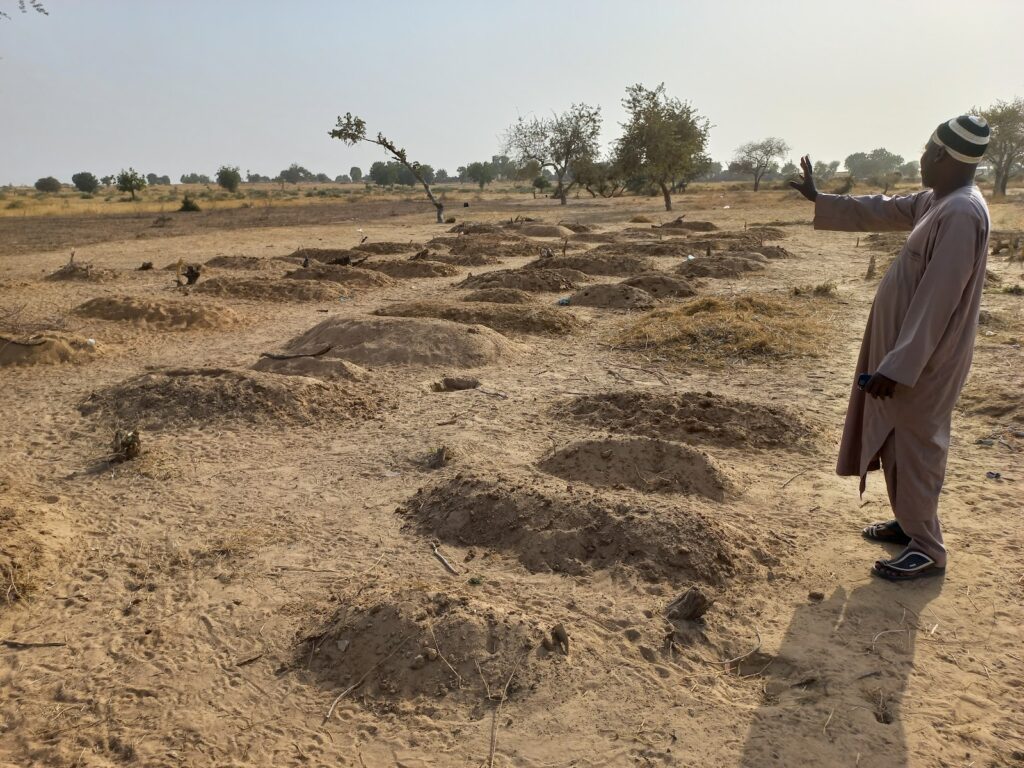 "As you can see, it is already filled with graves; so we have to recycle some of the older gravesites due to the increasing number of deaths," said Idris. 
HumAngle saw graves, mostly of kids, that were dug recently. It was also observed that a demarcation line was recently created between the graveyard and the empty farm by the landowner to prevent the IDPs from expanding the cemetery's perimeter.
"The person that donated the graveyard to us had warned us not to encroach further by burying more deceased people beyond what he allowed us due to the high rates of mortality being recorded recently. As you can see, they have cleared and burnt the bush around the graveyard to indicate the limit."
Baba Zakari, another camp leader, urged the government to respond to their cries for help.
"We are dying here, and they know very well that there is no magic to surviving without food," he said. "In this camp, I can easily fish out dozens of homes that have not been able to light their stoves for about two weeks now because they have nothing to cook."
Bereaved IDPs speak
Mahama Ramadan, 52, said he buried his senior brother, Di Ramadan, 55, after a partial stroke had hit and killed him six months ago. Di, a retired civil servant, is survived by a wife and four children, and Mahama believes his death is not unrelated to the rising food insecurity among the IDPs.
"As a former palace secretary who had lived a good life, he could not bear the reality of losing everything he had worked for back in Gwoza only to end up living like a beggar in the IDP camp," he explained.
"He took to constant thinking until he developed a stroke. The situation became worse when he could not even struggle to feed his family. Despite his ill condition, there was food for him to eat to make him get well; and that was how he died. He died due to hunger which worsened his ill health."
Mahama is now burdened with providing for both his family and that of his late brother and says his pension does not come close to being enough.
Muhammed Mustapha, an IDP from Baga, has lost a loved one too. His younger sister, 27-year-old Bintu, died some three months ago after a mild illness suspected to be fever. Muhammed had been her caregiver because she had a physical disability, but he was away to farm when she became ill.
"I got bitten by a snake at the farm in Damasak and was rushed down to Maiduguri. I came to meet my poor sister whom I have been fending for since the death of our mother some years ago. She was very sick and we didn't have money for drugs and food for her to eat. Her condition worsened as we sometimes went to bed with an empty stomach. She eventually died," he said.
"As I am talking to you now, I doubt the same fate won't befall me because we have not even lightened our stove or eaten any meal for two days now."
Mustapha Ladan, another IDP from Gamboru, informed HumAngle his 25-year-old daughter, and mother of three kids, Ya'anta, died recently while in Gubio camp. And the cause of her death, he claimed, was not unconnected with the austere situation in the camp.
"After giving birth to her last child, my daughter became sick as the situation worsened. No adequate food for her, as a breastfeeding mother, and the children. She became very sick and all that we had was used to buy drugs, but there was the issue of hunger. She eventually died some months ago. I had to bury her at the graveyard outside the camp with bitterness inside me because I knew what led to her death and I had no idea how to help her."
---
This report is produced in partnership with the Centre for Democracy and Development (CDD), West Africa.
---
Support Our Journalism
There are millions of ordinary people affected by conflict in Africa whose stories are missing in the mainstream media. HumAngle is determined to tell those challenging and under-reported stories, hoping that the people impacted by these conflicts will find the safety and security they deserve.
To ensure that we continue to provide public service coverage, we have a small favour to ask you. We want you to be part of our journalistic endeavour by contributing a token to us.
Your donation will further promote a robust, free, and independent media.
Donate Here