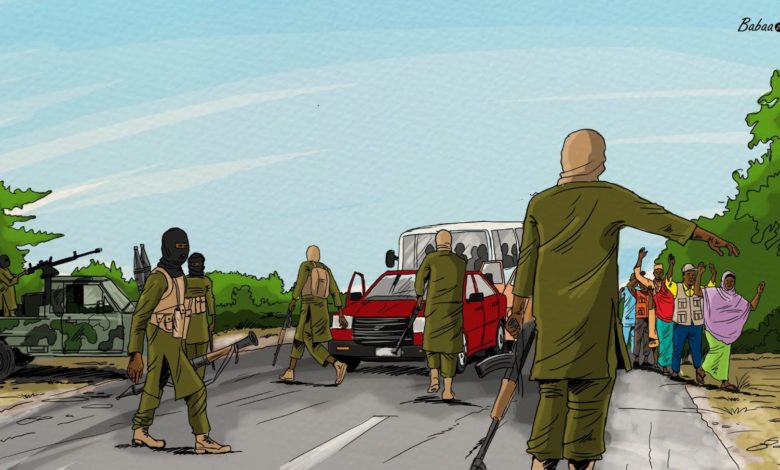 On Monday, December 21, an outraged Governor of Borno state, Babagana Zulum, captured the mood of many residents about the worsening security situation that had recently befallen his state. In his outburst, the governor alleged that the Nigerian military had "failed" the people of his state. 
Zulum, a Professor, was reacting to the recent spike in attacks and abduction of travellers along the highway that links Maiduguri and Damaturu, the capital of Yobe state. The road is officially known as the Kano-Maiduguri road.
Four days to the governor's statement, some gunmen suspected to be members of Boko Haram faction known as ISWAP carried out their biggest attacks at a location between Auno and Jakana villages. They burnt several vehicles, including a Dangote truck, before abducting about 35 passengers. The incident was just one among what turned out to be a daily affair.
So far, it is estimated that over 50 of such attacks have taken place on the highway this year alone, based on multiple accounts. Many travellers, including security personnel and humanitarian workers, have either been killed or abducted by the armed insurgents. It has become a new norm for travellers to expect an attack by the insurgents who usually dress in full military attire and drive in vehicles painted with colours associated with the military. They no longer ambush but mount roadblocks to carry out stop-and-check operations as though they were government security personnel.
Many survivors of such illegal roadblocks have given accounts of how the insurgents watch out for only security personnel, humanitarian workers, or non-Muslims.

The United Nations Humanitarian Coordinator, Edward Kallon, had on several occasions raised concerns about insurgents mounting "illegal vehicular checkpoints set up by non-state armed groups along main supply routes."
Mr Kallon had said in July while reacting to the execution of five aid workers earlier abducted by the insurgents: "These checkpoints disrupt the delivery of life-saving assistance and heighten the risks for civilians of being abducted, killed or injured, with aid workers increasingly being singled out." 
Hostile Highways
The Kano-Maiduguri highway is not the only route that links Borno state with other parts of the country. Maiduguri, being the capital of Borno and the largest cosmopolitan city in Northeast Nigeria, has six major highways linking it with other parts of the country. For now, the Gamboru-Ngala, Gubio, Monguno, Bama, and Damboa routes are either no-go-areas for commuters, or require special military escorts to move through them.
Apart from the 2014 bombing of the bridges on the major highways leading to Maiduguri, the insurgents had effectively taken over the routes after sacking all the communities along the roads.
Even with the liberation of some of the communities in 2015 and 2016, and the subsequent reopening of the roads by the military in December 2018, military escorts are still essential to travel 15 kilometres outside Maiduguri.

Before now, the only safe road for travelling without the need for military escorts had been the Maiduguri-Kano road. The 135-kilometre-long route from Damaturu to Maiduguri has been given different names due to its strategic usefulness. While the civilians call it the Gateway Route, those in the military refer to it as the Golden Gate.
Since the inception of the insurgency, there was never a time that the route was taken over by the insurgents. Even though several attacks had taken place in Benishek, headquarters of Kaga Local Lovernment Area in 2013, then in Mainok, Jakana and Auno, the insurgents could not blow up the Benishek bridge.
People travelling to Gwoza and Yola axis, as well as those going to the Biu and Askira Uba axes of southern Borno, had to pass through the Maiduguri-Damaturu route in a long detour that takes a whole day.
With the spike of deadly attacks taking place on the only safe route for civilian and commodity haulage, travellers are left with no option other than to take the risk.
It is also on record that the 185-kilometre federal road that links Maiduguri and Biu, the biggest township in southern Borno, has not opened for civilian use since 2016. In between Biu and Maiduguri is Damboa, an agrarian community, and a local government headquarters situated 85 kilometres away from Maiduguri. But to get to Damboa required a special military escort for the convoy of travellers. But even some of such escort trips ended up bloody with insurgents staging ambushes on the convoys.

The route of about 100 kilometres from Damboa through Sabongari village up to Mandaragirau has been a no-go location for travellers.
Bloody Ambush and Illegal Roadblocks 
Many soldiers and officers of the Nigerian Army, who were either patrolling or providing escort services along the Maiduguri-Damboa road, have lost their lives in deadly ambushes by the insurgents.
On June 28, a young officer, Lieutenant John Malgwi, and about 10 other soldiers, were killed in an ambush after their vehicle hit a landmine along Damboa road.
Similarly, On September 20, a widely respected officer, Colonel Dahiru Bako, and three other soldiers, travelling with him along the same route died after running into a deadly ambush by the insurgents.
Many travellers, especially those going to Damboa or Chibok towns, would rather embark on a tortuous trip through Yobe, parts of Bauchi, and then Gombe. 
The road that links Maiduguri with Gamboru-Ngala Local Government Area, as well as the one leading to Mobbar through Gubio are equally hell holes for both military and civilian road users.

The Maiduguri-Monguno road has been one of the most notorious routes where insurgents freely mount roadblocks, demand for money from drivers, and occasionally abduct passengers suspected to be members of or found with ID cards belonging to a non-governmental organisation, the police, or military.
"Just like I am sure the sun will set today, so am I confident of being accosted by Boko Haram at their checkpoint every day I drive my commercial cab along the Maiduguri-Monguno road," said a local driver who identified himself as Bashir. 
Bello Danbatta, a chieftain of the Civilian Joint Task Force (CJTF) and a security attaché at the State Emergency Management Agency (SEMA), informed HumAngle that "no road is safe now in Borno". 
"All the six roads that lead to Maiduguri have become flashpoints for attacks, abduction and killing by these terrorists," he lamented. 
"But our biggest worry now is the unfortunate happenings along the Maiduguri-Damaturu highway. That is the only route that was guaranteed as safe for all when other routes became a death trap. But in the last two months, the attacks along Maiduguri-Damaturu road have become even worse than other dangerous routes." 
A Threatened City 
A top security source who spoke to this reporter on condition of anonymity mentioned that "the insurgents are not only taking over the roads but also reducing the safe spaces around the city of Maiduguri."
"People cannot venture for about 15 kilometres without running into Boko Haram. That is why many farmers are being killed almost on a daily basis because the insurgents are not far away," he noted. 
"The recent massacre of farmers in Zabarmari is just a clear confirmation that these insurgents are not far away from the city of Maiduguri. This has clearly suggested that the Maiduguri-Mafa-Dikwa up to the Ngala axis is not safe!"  
He continued: "If you go towards Damboa, the moment you pass Molai, you are strictly on your own, because you are sure of being attacked by insurgents. Before now, the flash along the Maiduguri-Damaturu highway used to be between Jakana and Mainok and between Mainok and Benishek where there are known cattle routes. But now the attacking point has shifted to between Jakana and Auno, which means it has even inched closer to Maiduguri. 
A Governor's Frustration
Governor of Borno state, Babagana Zulum, had while lamenting over the lack of safety along the Maiduguri-Damaturu road confirmed that the attacks had shifted closer to the capital city. 
"It is sad and mind-boggling how innocent commuters are being kidnapped and killed on this Maiduguri-Kano road, especially the road linking Maiduguri and Damaturu. It is also very annoying to note that these atrocities are being committed between Jakana and Auno, a distance of only 20km," he said.
"Surprisingly we have a Brigade Commander with his team in Jakana; we also have a commanding officer with his battalion in Auno; both teams covering a distance of only 20 kilometres, and they have failed to protect the commuters. 
"The Nigeria Army has failed us; they have failed in discharging their role of protecting the commuters."
He said while he was travelling from Maiduguri to Auno through Jakana that morning, he did not come across a single soldier or officer of the police-led Rapid Response Squad (RRS). Instead, he added, the operatives were busy harassing and extorting civilian travellers.
"The federal government has to listen to the voice of the people. This is embarrassing. Just look at the number of vehicles that have been burnt here, yet we have our soldiers there watching and collecting money from commuters," the governor said.
"The irony of the whole thing is that no one dares to speak the truth; if you do, they would soon be out to condemn you. If the army cannot protect people travelling within a distance of only 20km, then I cannot foresee the capacity of the Army ending this insurgency any time soon."
With the rising insecurity along the routes leading to Maiduguri, prices of commodities in the markets have continued to skyrocket. The economic situation has plunged many residents in double jeopardy as they have to battle with recession as well as an insecurity-induced hike in prices of commodities.
"The roads are bad and transporters willing to pass through the dangerous highway charge more because it is not everyone that would want to risk it," said Mamman Ibrahim, a local businessman.

High Cost of Airfare and Dangerous Road
Flying in and out of Maiduguri has been a non-negotiable option for many, especially those in the middle class, including government officials and business entrepreneurs. But with the recent hike in airplane tickets, not all could afford to pay, for example, over N100,000 for a one-way trip to Abuja. And this has begun to have a crushing effect on the economic activities in the already jaundiced business environment. 
"Airfare from Maiduguri to Abuja is now N120,000; only people with money fly to avoid possible abduction. But for those that cannot fly but must travel, Allah ya kiye (may God protect them)," said Jack Vincent, a prominent Maiduguri-based social commentator.
Maiduguri currently has the largest military presence in Borno. All its entry points have been fortified by mega checkpoints manned jointly by soldiers and other security agencies, as well as the CJTF. Deep ditches and sand parapets have been dug around the city's perimeters to prevent any form of incursion by enemies.  
But all this fortification, in the face of rising threats around the city, do not give residents the desired assurances that they are safe. "How can one have rest of mind when a town like Maiduguri now lacks safe access routes?" asked Rebecca Adamu, a local restaurant operator. 
"Where would one get the rest of mind when people can no longer safely go to their farms and return, when commodity goods can no longer safely come into the city, and when those who venture to move out are either kidnapped or killed?" 
---
Support Our Journalism
There are millions of ordinary people affected by conflict in Africa whose stories are missing in the mainstream media. HumAngle is determined to tell those challenging and under-reported stories, hoping that the people impacted by these conflicts will find the safety and security they deserve.
To ensure that we continue to provide public service coverage, we have a small favour to ask you. We want you to be part of our journalistic endeavour by contributing a token to us.
Your donation will further promote a robust, free, and independent media.
Donate Here