Displacement & Migration
Featured
Features
News
Lives Have Been Torn Apart By The Boko Haram Insurgency. So Have Marriages
The ripple effect of the Boko Haram insurgency in Adamawa goes beyond deaths, displacement, and destruction. HumAngle spoke to two displaced persons separated in the flesh but tied in their hearts.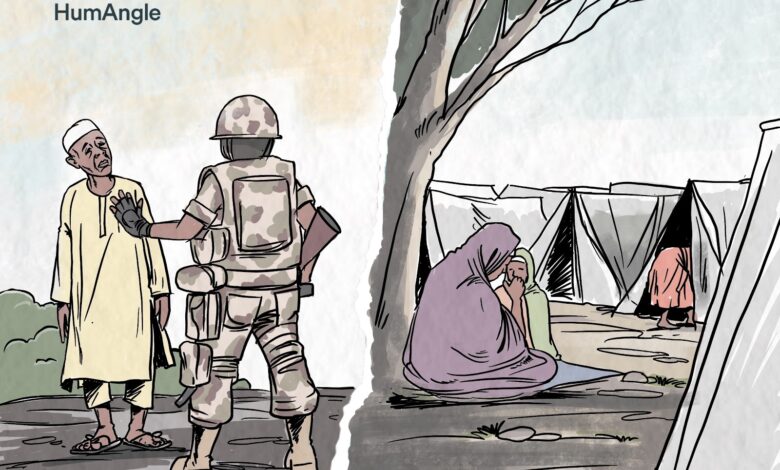 When Adamu, weary and drained from a trip, reached his tent in Malkohi, a community in Adamawa, northeastern Nigeria, he expected the tent to be dark, plain, with his straw mat folded and tucked away in a corner just the way he had left it. But instead, he found his stepbrother's corpse.
"I called his name 'Yakubu! Yakubu!' but he was still. I nudged him with my foot thinking he was deep in sleep. That was when I realised he was lifeless," Adamu remembered.
This single incident, although beyond his control, would break the wholeness of his marriage.
Cut apart
A common occurrence would continue to test and determine Adamu's relationships and marriages. The death of his father was one of them.
Adamu Usman, 44, was born in Chakawa village in the Madagali area of Adamawa. His late father, from Gwoza in neighbouring Borno State, had moved to Madagali as a charcoal burner and started a family.
As a young boy, Adamu was introduced to the business of charcoal making; he and his father heated wooden scraps and other organic materials in local pit kilns, processed them into lump charcoal, and sold it. But while that aspect of his life was happening, Adamu liked a girl from the neighbourhood named Rahmatu, and she liked him back.
"We grew up in the same neighbourhood. Even then, our parents always said if we came of age, we would be married to each other, but my father died," Adamu told HumAngle.
After his father was buried, one of his uncles from Gwoza adopted him and his siblings. "He said we are originally from Gwoza, and it was just work that brought my father here [Madagali]. Because of that, we left everything and moved to Gwoza."
Adamu would not set eyes on Rahmatu again until two years ago.
Rahmatu's life went on
Rahmatu, 33, married a man named Hamidu years after Adamu had left. The couple lived in Chakawa and farmed and fed and bore five children. "We stayed in Hamidu's family house, and our life was [good]; alhamdulillah," Rahmatu said, recounting moments that seem long gone.
She and Hamidu, who she described as kind and hardworking, led a productive life with a blissful marriage. There was nothing to be distressed about regarding food and well-being until 2014, when Boko Haram insurgents invaded their village.
Boko Haram's activities primarily affected Adamawa's northern senatorial zone, comprising Madagali, Michika, Mubi North, and Mubi South. Hong and Gombi Local Government Areas (LGAs) also experienced, although to a lesser extent, these terror attacks, which killed and displaced thousands of people.
From the end of 2015 to early 2016, most communities that were invaded and under the control of Boko Haram were recaptured by the Nigerian military. However, in Madagali and Michika, insurgents still hold sway. As a result, many people, including women and children, have fled the territory to Yola, the state's capital city, and other towns bordering Cameroon, Chad, and the Niger Republic.
In Malkohi IDP camp, also located in Yola, about 70 per cent of the 1,240 internally displaced persons (IDPs) are indigenes of Madagali and Michika, according to the camp chairman. Rahmatu is one of them.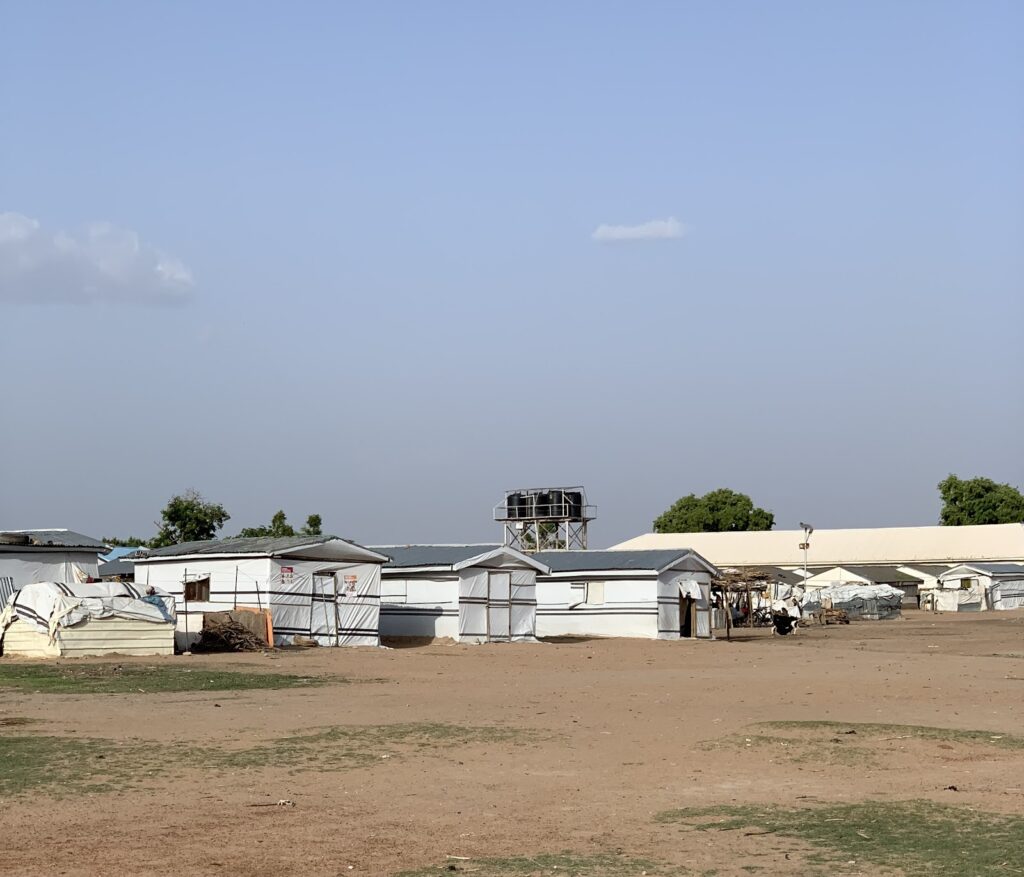 The day Boko Haram insurgents entered Chakawa, they headed straight to the chief's house, shooting sporadically until they reached. Rahmatu recounted that the terrorists met him trying to flee.
"They asked him where he thought he was going to and brought him out to the centre of the village. They gathered some of us there and shot him," she relayed.
The terrorists proceeded deeper into the village with seven cars and six motorbikes and went to the village's biggest church. They shot at everyone around the vicinity. It was then chaos unfolded.
"We ran into the bushes, but they followed us with their motorbikes and shot at people. There was a baby tied to his mother's back and a bullet completely detached his arm. I ran deep into the bush. I ran, rested, and ran without direction for five days."
Rahmatu was pregnant with her fifth child at the time. "I slept under trees, the ground was damp and cold, and I didn't have a single wrapper. I was hungry. I was thirsty."
On the fifth day, as she continued running, she heard the sound of someone pounding with a mortar and pestle, indicating that she was close to a settlement. But it was not another village. Instead, she had run full circle back to Chakawa.
"I didn't even recognise the place. Houses were burnt down and deserted. I only met one person who told me I had come back to Chakawa," Rahmatu said.
By then, the insurgents had left the village, and she went back home. One after the other, her family members returned before the state government decided to evacuate them to Mubi, then to Yola, but Hamidu, her husband, remained missing.
"I came with my four children. I was on the lookout to see if my husband would eventually join us, but it's been seven years now."
Adamu's journey back to Adamawa
Life went on, too, for Adamu. While in Gwoza, he continued to make charcoal and eventually married. Then, his hopes of ending up with Rahmatu were long gone, but as he sits across from this reporter, he says that he knew they were always meant to be.
Like Madagali, Gwoza is one of the core areas impacted by the decade-long insurgency. In 2016, when the insurgents attacked the town, Adamu attempted to flee too.
"We met soldiers who stopped and searched us. They asked us what was going on, and we told them what we knew. I told them it was Boko Haram that entered our village, but they said we were with them."
His plea that he was not a terrorist landed on deaf ears as 52 of them would be arbitrarily locked up in a cell. A few days later, a coordinator of the Federal Government's deradicalisation programme, codenamed 'Operation Safe Corridor' (OSC), would order them to be taken to Maiduguri.
Luckily for Adamu, he did not go through the process of staying in Giwa Barracks as those who have been accused, without proof, of being Boko Haram fighters often did. "Immediately we reached Maiduguri, we were taken to Maimalari Barracks, then we were taken to the airport and flew straight to Gombe," he recalled.
The OSC program aims to deradicalise, rehabilitate, and reintegrate repentant Boko Haram fighters. HumAngle has, however, reported how innocent civilians who are victims of the insurgency often wind up there.
In 2018, after spending a year and five months in the programme, Adamu was elated to return to Gwoza, reunite with his wife and children, and continue with his life. However, nothing prepared him for the angry and disapproving looks people carried whenever they saw him walking by.
"They started saying we were the ones that destroyed the town and killed their people. I showed them the certificate given to me in Gombe, where I swore with the Quran that I was not a terrorist, but they refused to listen. They said they couldn't live with us."
Adamu left his wife, eight children, and the life he was so comfortable with and found his way to Yola. "I came to the [Malkohi] camp with some of my friends, but they too said the camp was full." Adamu believes he had gotten 'bad blood' from going through the OSC programme even though he was falsely accused.
He settled in the Malkohi host community, about 2km from the camp.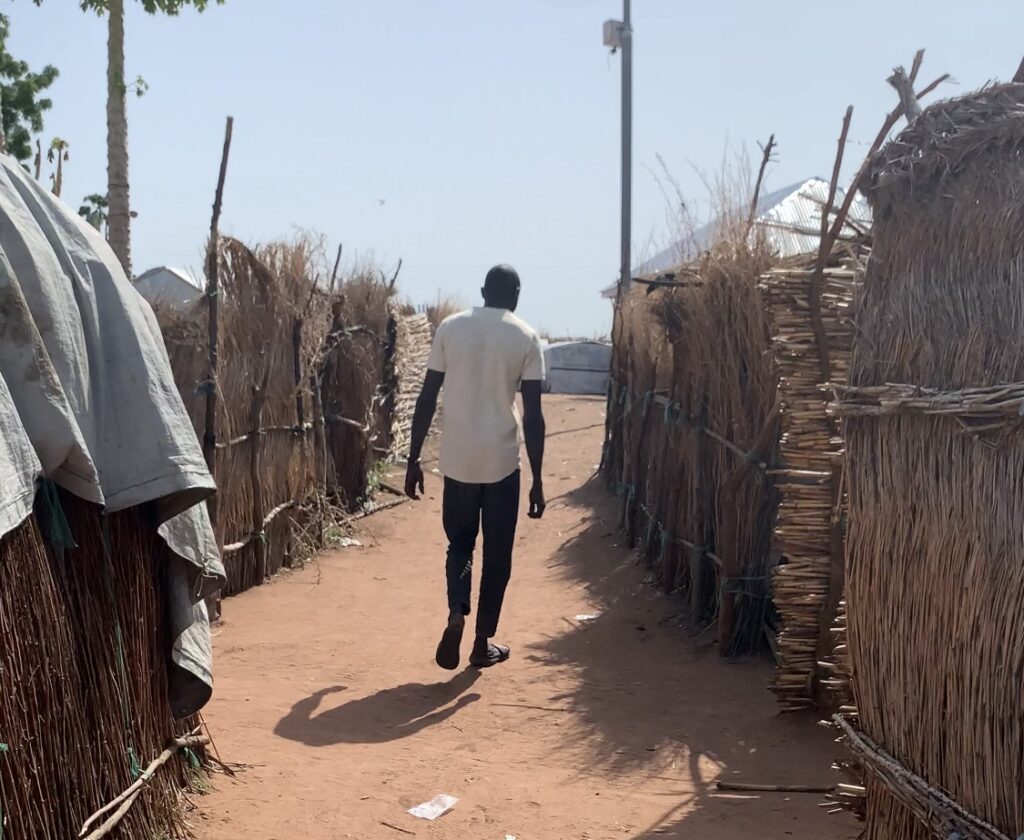 Rahmatu's life in the IDP camp
When Rahmatu started living in the camp, the Adamawa State Government often fed and gave them relief materials. However, this has since stopped as such interventions occur only once or twice a year, allowing hunger and starvation to prevail.
Many of the IDPs' means of feeding is through engaging in manual labour for the town's residents who own farms. "Food never comes unless we go to beg for work. Sometimes we don't get paid and come back empty-handed," she said.
During the dry season, when farming activities slow down, the IDPs settle for kale (remnants) which they get from going to already-harvested rice fields and picking rice stalks that might have been left behind.
As the dry season increases the risks of hunger, the rainy season brings diseases, and triggers underlying illnesses. Many IDPs who reported that their children suffer from pneumonia said it worsens as rain becomes heavier and more frequent.
"My fifth child was born with pneumonia because I gave birth to him in this camp," Rahmatu said. "When it rains, our tents get flooded. Water drips in from the top and comes in through the ground. So what can we do?"
Destined to be together
His stay in the host community was relatively peaceful. Adamu tells HumAngle that he maintained friendliness with the community members but avoided getting close to anyone because he had lost enough.
"My wife and children are still in Gwoza. Since I left, I only visited them twice, and I barely stayed for two days," he said.
Adamu occupies a tent with nothing but a straw mat and a worn pillow. He thinks that moving his family to the community without providing better shelter will be a disservice to himself, and he'd rather send them money for food.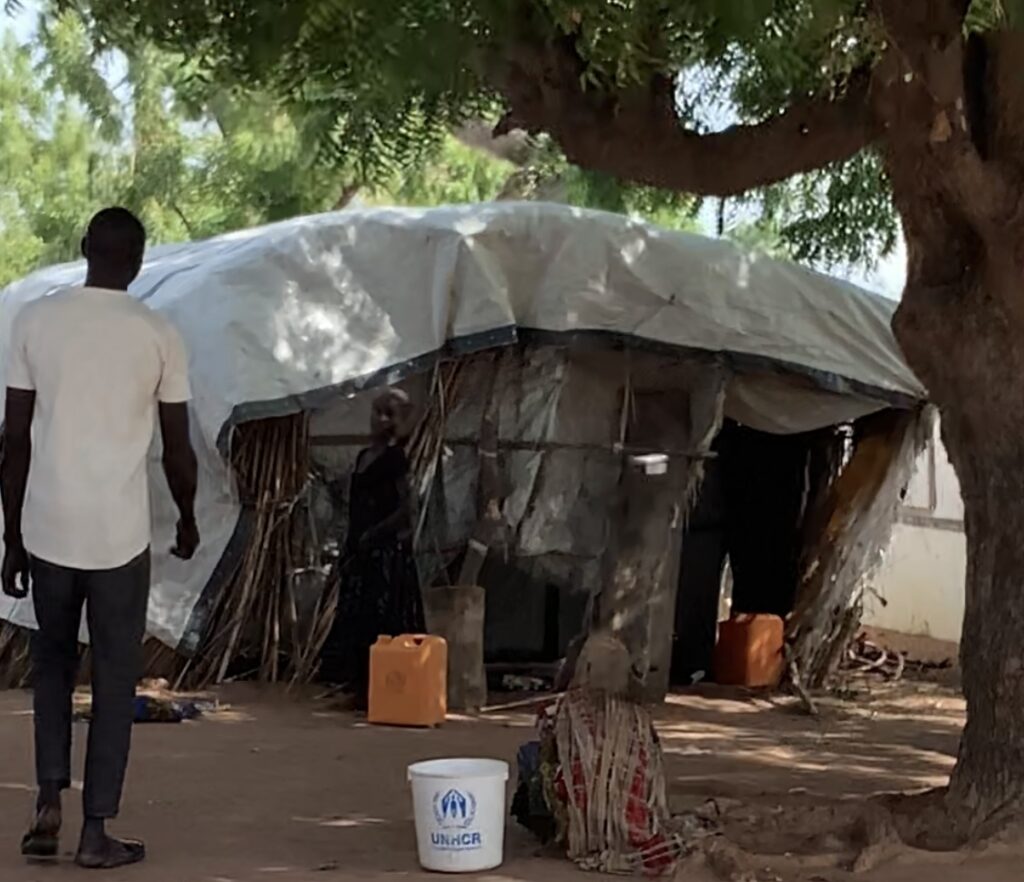 For the first two years that Adamu had been living in Malkohi, he had no idea Rahmatu was just across the road from him but like the sun and the moon, which continually gravitate around each other but only intersect during a rare eclipse, Adamu and Rahmatu's fates connected once again.
Adamu, who kept a low profile, was also known as the charcoal maker. People, including soldiers who guarded the camp, would hire him to make charcoal for them. He and the soldiers had a rapport, so they let him fetch water from a water pump within the camp.
"One day, I went in to fetch water and she saw me. She said, 'Who am I seeing like Adamu?' And I said, 'Yes it is me, Adamu.' I couldn't believe my eyes," he beamed.
He asked her how she became displaced and, through their conversations, he learned she was a widow with five children under her care. They instantly picked up from where they had left off. "I reminded her what our parents intended for us and asked her to marry me."
But Rahmatu hesitated.
Despite the poor living conditions of the camp, she did not want her and her children to leave. At the very least, it gave them a sense of security and she was already used to the people who were around her. "She said she would only accept to marry me if I let her stay here inside the camp with her children and I agreed."
Adamu and Rahmatu got married in 2020 and have since then enjoyed their union. Adamu would go out to work in the morning and come back in the evening with food items. Rahmatu would prepare the food and serve it. She had forgotten the hunger she usually felt when she could not find any work to do or when employers refused to pay her. Once again they had found joy in living.
Until Adamu's stepbrother died.
Separated, again
Deaths have tested and determined Adamu's relationships throughout his life.
First, it was his father's death which initially separated him from Rahmatu; then it was Boko Haram attacking his town killing hundreds and eventually affecting his first marriage; and then the death of his stepbrother happened, compromising his second marriage.
When Adamu found Yakubu's corpse, he did not tell the people within the host community because he never really maintained a friendship with them. Instead, he reported it to the soldiers that guarded the IDP camp, who he thought knew him well. "They said it was not their job and I should report it to the police."
But before he could get to a police station and report the incident, someone in the host community, who had already seen Adamu walk into the tent, entered and found the corpse. Yakubu, the late stepbrother, had been an occupant of the camp until weeks before his death when he left and moved into Adamu's tent outside the camp since Adamu usually slept at Rahmatu's.
"The news travelled fast and when they [the camp officials] found out that it was Yakubu who died in my tent, no one wanted to reason with me, including the soldiers," he explained.
From then on, Adamu has not been allowed to enter the camp. They can only talk outside the camp's gate for an hour.
Malkohi IDP camp operates with rigid rules, one of them being a 6 p.m. curfew. IDPs are not allowed to move in and out of the camp after this time, so Rahmatu cannot leave and spend the night with Adamu in the host community.
According to the camp chairman, Lawalu Wada, this is to ensure that the camp is safe and crooks who may inflict harm do not come in. In cases of marriage, Wada said the camp follows the custom of a wife following her husband to his house and not the other way round.
A frustrated Adamu said he had begged and pleaded with the officials for close to a month to let him into the camp, even if it was for a night, but this was met with rejection.
He recalled that part of the oath he took in Gombe was to never indulge in an altercation, but each time he went to plead, he got closer and closer to breaking that part of the promise. "The last time I went, I told them I had left her for them. I was very angry."
For Rahmatu, her greatest worry is losing the joy and security their marriage had offered her and her children. "He barely visits now and his frustration is building up, he says it would be better if we just divorced."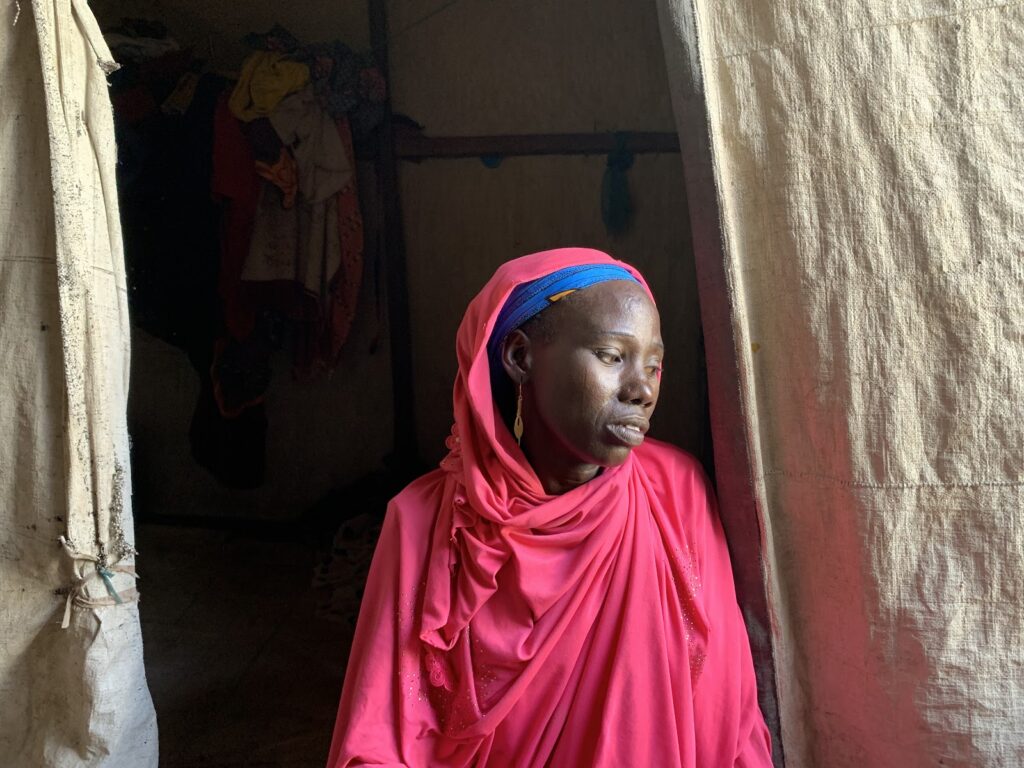 Although the camp chairman insists it was just protocol, other IDPs allege that the abrupt change in the official's stance towards Adamu and Rahmatu's marriage is greatly due to Adamu's association with the OSC programme. This is because other visitors from inside the town of Yola still went into the camp without restriction.
Whatever happens, though, Adamu has resolved he would look after Rahmatu.
"I have promised her that I will not go to bed with a full belly and allow them to sleep on an empty stomach. I will still take care of her children, I promised her. I just don't see the purpose of this marriage anymore."
---
This report is a partnership between the African Transitional Justice Legacy Fund (ATJLF) and HumAngle Media under the 'Mediating Transitional Justice Efforts in North-East' project.
---
Support Our Journalism
There are millions of ordinary people affected by conflict in Africa whose stories are missing in the mainstream media. HumAngle is determined to tell those challenging and under-reported stories, hoping that the people impacted by these conflicts will find the safety and security they deserve.
To ensure that we continue to provide public service coverage, we have a small favour to ask you. We want you to be part of our journalistic endeavour by contributing a token to us.
Your donation will further promote a robust, free, and independent media.
Donate Here