Armed Violence
News
Lake Chad Conflict: Why Troops Are Vulnerable To Boko Haram Attacks — Report
Some of the factors highlighted include the lack of adequate equipment, corruption, and the dampened morale of soldiers.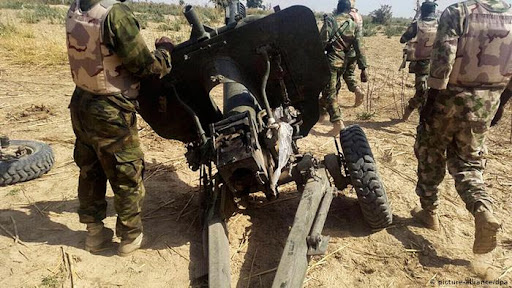 A recent study has identified four key reasons government forces fighting the Boko Haram terror group in Northeast Nigeria and the Lake Chad region suffered frequent attacks. 
Published last week by the International Peace Information Service (IPIS), the study identified the lack of working equipment, accountability, adequate training, and the low morale of troops as the bane of military operations in the 12 years old conflict.
Though the Nigerian troops as well as the Multinational Joint Task Force (MNJTF) have in recent months recorded successes against the insurgents, the author of the study, Eric G. Berman, maintained that the stated factors may have contributed to making the war protracted.
HumAngle earlier reported other findings in the report, including how more soldiers have lost their lives in recent years than the death toll recorded by UN Peacekeeping missions since 1947 as well as how the Boko Haram factions obtain their arms and ammunition.
The study acknowledged that "peacekeepers and security personnel working in an active conflict zone face grave threats" mostly because "they have something militants want: materiel. And they represent the state, which the militants want to, if not defeat, then certainly embarrass and demoralise." 
Berman, a researcher on small arms proliferation and Director at Safeguarding Security Sector Stockpiles (S4) Initiative, said it is natural for troops to find it hard to defend themselves against guerrilla tactics like "ambushes against patrols, convoys, troop movements, and escort duties."   
The report, however, insisted that "lack of (working) equipment, leadership, training, and morale are all more prominent causal factors for the loss of life and materiel among security sector actors."
Lack of (working) equipment 
The report noted that the inadequacy of both lethal and non-lethal material for the security sector "represents a long-standing issue" for troops on Lake Chad. 
Citing a publication by Robert Postings that summarises the scope of the problem in Nigeria, it said soldiers were often aggrieved "about insufficient body armour and ammunition" and then they complained about "tanks only firing twice, armoured personnel carriers running for 10 to 15 minutes before overheating, machine guns jamming, and mortar shells failing to detonate." 
Endemic corruption
Another factor that the report pointed out as the reason for the vulnerability of troops to insurgent attacks is corruption which "goes a long way to explaining why equipment is lacking." 
It emphasised that corruption "is endemic within Nigerian society," the reason current President Muhammadu Buhari pledged to tackle it as a central part of his presidential campaign in 2015. "But the challenge facing the country is enormous and progress has been slow and uneven," the author said.
"Borno governor Babagana Zulum has railed against entrenched corruption within the military, ranging from extortion at checkpoints to implicitly accusing the military of purposely prolonging the conflict for their ends."
Meanwhile, Berman said corruption in the defence sector is not just present in Nigeria but observable in a lot of countries. He added that the military is not unaware of the problem.
"For example, an article in a Nigerian Defence Academy publication acknowledges the adverse effect logistical shortcomings have had on the performance of Operation Zaman Lafiya," it said. Also, a government audit in the Niger Republic "determined that corruption resulted in $120m being misappropriated in recent procurement practices for military hardware."
"Also in Niger, a prison director, with the aid of an army official, sold weapons to Boko Haram." 
Berman said, "Corruption is a widespread problem among public sector actors in Cameroon, and security forces reportedly have engaged in numerous illegal activities including gun running and embezzlement of state funds."
"Reports of improprieties persist. In June 2017, for example, Cameroonian soldiers serving in the MNJTF blocked a main road in the Far North to protest and bring attention to their allegations that senior officers had stolen their pension money."
Diminished morale 
The previously stated factors, asides affecting the level of resources available to state actors, have additionally impacted how troops behave in the frontline of Lake Chad. 
"These various shortcomings have had a marked effect on morale among men and women in uniform," Berman said. 
"Corruption that results in unserviceable, non-existent, or rationed materiel clearly would be demotivating for those serving on the front lines. Corruption also leads to having to find creative solutions to operational challenges that can be more than sub-optimal: they can have very deadly consequences."
The study added that soldiers' morale has generally been dampened due to "extended tours." There are numerous reports of soldiers serving on tours for years, only to be redeployed after a short respite.
"Even elite troops have shown ill-discipline due to treatment they deemed to be unacceptable, with fatigue from incessant deployments reportedly a contributing factor," the report stated.
"And payments are often partial or delayed. Besides being inadequately armed and paid, soldiers are also poorly fed and housed. Soldiers have reportedly asked humanitarian officials for food and bedding supplies. Soldiers also deem the medical care they receive to be unacceptable." 
Lapses in battle readiness
The fourth dynamic that affects the efficacy of the troops to protect their base from attacks, according to the study, is the issue of operational lapses. 
"Uniformed personnel have also at times made the jobs of attackers easier, even when such personnel possess the skills and materiel required to tackle enemy forces," the study said. 
"For example, there have been reports of trenches having gone undug, and rudimentary but effective perimeter barriers having gone unbuilt. Lapses in battle readiness (such as a failure to wear furnished protective gear) and a reduction in the number of patrols and soldiers serving on sentry duty are said to partially explain the casualties Boko Haram was able to inflict on soldiers during an attack on a Cameroonian military base."
Another example cited in the study is the attack on Jilli military base in Yobe state on July 14, 2018. 
"The base was home to the 22nd Task Force Brigade of the Lagos-based 81st Division. The attackers arrived in vehicles painted in army colours and wore army uniforms. The gates to the base reportedly were opened for them," it recalled.
"The base was not prepared to defend itself. The unit, which arrived at the site less than a month earlier, was at considerably less than full strength. Tanks meant for the force were still being serviced elsewhere at the time of the incident. Crew-served weapons existed, but machine guns were old and unreliable: they would stop intermittently when being fired." 
"Soldiers' assault rifles were no match for the attackers' weapons, which included anti-aircraft guns. Moreover, soldiers were caught unawares: uniforms were being distributed at the time of the strike. To make matters worse, mortar shells fired in defence failed to explode. Bunkers and defensive obstacles meant to deter entry into the facility had yet to be built. Many of the contingent's soldiers had only recently completed training and were not battle-hardened. A sergeant who survived the attack described morale at the base before the incursion was at its lowest point."
"Soldiers in Nigeria complained that they could not be expected to fight Boko Haram, a better-armed adversary when issued just 30 bullets and having received no food rations." 
Berman noted that the above-captured scenario explains the frequent incidence of large numbers of troops going missing when their positions are attacked. He, however, added that it is not a problem unique to Nigeria. 
"In Niger, the government identified dozens of uniformed personnel, including officers, who were determined to have performed poorly or to have deserted their positions after a militant attack on the Bosso military base. The loss of both personnel and equipment during the attack exacerbated pre-existing tensions among the soldiers on their hierarchy's mismanagement of the war effort." 
The International Crisis Group (ICG), he further stated, has written of similar problems facing Cameroonian soldiers who are serving in the Far North, including of an instance when a soldier shot and killed his commanding officer.
---
Support Our Journalism
There are millions of ordinary people affected by conflict in Africa whose stories are missing in the mainstream media. HumAngle is determined to tell those challenging and under-reported stories, hoping that the people impacted by these conflicts will find the safety and security they deserve.
To ensure that we continue to provide public service coverage, we have a small favour to ask you. We want you to be part of our journalistic endeavour by contributing a token to us.
Your donation will further promote a robust, free, and independent media.
Donate Here