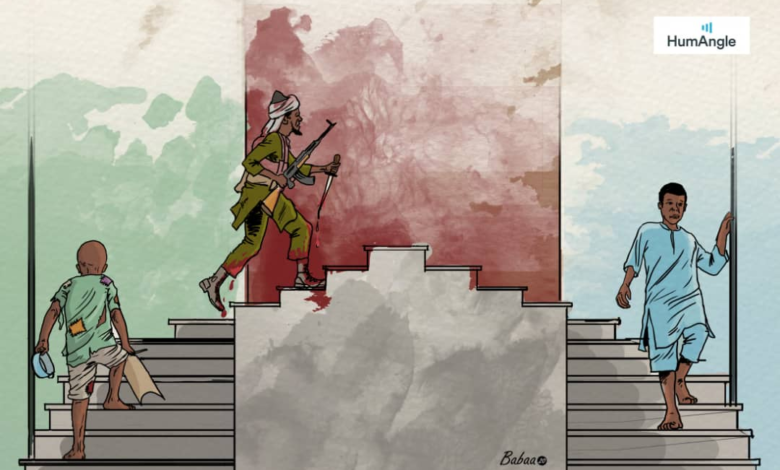 News is one of the mirrors of reality that tells a consumer about interesting happenings around him with the potential of changing his views and influencing his decisions. It deals with how we understand contemporary issues and relate to our conditions. 
In news stories, what others may consider an interesting and important story may be read by others with casual indifference. The first image of a black hole was a milestone in the scientific community but is of no significance to an Almajiri roaming the streets of Sokoto. 
However, among all the categories of news shaping the conditions of individuals and altering their views, the tragic stories of violent attacks, horrifying massacres, terrifying displacements and series of abductions are particularly taken more seriously by everyone — including those who prefer lighter or less serious reports. 
Conflict is ubiquitous and that makes its reporting a huge field in journalism. It starts from when tensions between two or more parties start, to post-violence and resolution stages. Like in quantum theories, our emotional lives are seldom disconnected. An attack in the vast forest of Sambisa, Borno State, has an indirect impact on businesses and economic activities in Delta State. 
My one year experience of working at HumAngle has taught me the good, the bad and the ugly side of conflict reporting. My reports on Boko Haram and translation of videos were appreciated by many readers and followed by troll attacks from other angles. Others questioned my "controversial job" without knowing what it entails and loved ones have often asked me to quit due to its narrow escape route when there are possible push backs from the terrorists and the terrorised. 
The accusations of being mouthpieces of terrorist organisations and the allegations of undermining the success of government forces have been some of the major sources of concern for conflict reporters who are most familiar with happenings at the frontlines. While the service we offer intends to raise the voice of the voiceless and to portray the real image of the victims, some readers, intentionally or unintentionally, decide to overlook the hard work we do. 
Conflict reporters are faced with the deepest dilemma of professionally reporting the true picture of happenings that have direct consequences on the lives of people and extinguishing terrorist propaganda who are looking for the media to disseminate their messages. Reporters weigh the consequences of hiding the stories and making them known so that ample attention is given to the voiceless victims of terror. 
In my one year with HumAngle, I came to understand that the main objective of portraying the human angle of conflict reporting and the stories of resilience, hope and successes in the hardest-hit areas are often looked at with contempt. The first knowledge illusion of the propaganda targeting its publisher worked in distorting the real image of what it has been doing. 
As an African media outlet and the first of its kind in Nigeria, if not the whole continent, HumAngle has a deeper understanding of conflicts occurring in communities where our reporters, fixers and freelancers belong. Our in-depth reports have gone beyond the distorted version of secondary sources promoted by wheelchair researchers and foreign journalists. 
I and other colleagues at HumAngle have often discussed how people are being misinformed by the distorted reality and our attempts to make the record straight were followed by trolls and allegations of sympathy for terrorists. 
The ordeals of a conflict reporter 
Conflict reporters are constantly providing opportunities for parties in conflict to communicate, not only with each other but also with people who are not directly involved in the conflict. They amplify the works of the mediators and narrate the stories of unarmed victims who are always on the ground that suffers the fights between two elephants. 
By speaking to people on all sides of a conflict, a reporter has the capability of acting as a bridge until peace reigns, for the benefit of victims that include women, children and elderly. This, as we know, does not mean bringing them together face to face, but rather offering them a platform for communication.
However, in most cases, parties involved in conflict attempt to use the media as a way of getting their point across and applying pressure on their opponents without giving the other a chance to communicate. While this is clearly a form of communication, it is not necessarily constructive. Conflict reporters have always been faced with this kind of dilemma from both angles. 
To allow one party to hijack and use your platform for propaganda and concealing truth is against contributing to peace-building in communities. A conflict reporter is expected to provide fair, balanced and accurate coverage without becoming pawns in someone else's strategy.
In Nigeria and Africa, conflict reporters trying to contribute their own quota in peacebuilding come across different potholes in conveying their messages. Their attempt to ensure peace and stability through conflict-sensitive reporting have often faced different demands that are against their professional ethics. 
In the war against insurgency in Nigeria, for example, authorities in the country consider conflict reporters a nuisance who detract from the "efforts" being made to respond and extinguish the fire of violence, by releasing more stories on conflict outbreaks and portraying the country as "ungovernable". The political authorities who rely on propaganda to achieve domination think conflict reporters holding them accountable are obstructing their ways to permanence in political office. 
Professor Johan Galtung has acknowledged the importance of the conflict reporter. He, according to him, is an outsider who "very often sees things the parties [involved in conflict] don't see themselves as they're too close… You may wonder whether the people will be willing to talk with you, and my experience is they are, because they love to talk about their conflict, and they love to try to explain what's going on." 
"Each time you listen to a new conflict party, the conflict changes colours and you see it from a new angle, and a new angle, and once again a new angle. And since they often don't talk with each other, the mediator gets a much better overview than they have themselves."
However, instead of appreciating the works of a journalist making efforts to resolve a conflict or build a bridge between opposing parties, an honest piece attempting to narrate about happenings can be interpreted by some groups as strategic manoeuvring to support one group over the other. 
While we all know the first stage of solving a problem is understanding it, an honest and unbiased report aiding people to understand conflicts as they occur might be seen as an insincere attempt to legitimise or sympathise with the activities of terrorists. 
Ahmad Salkida, the Editor-in-Chief of HumAngle, is a very good example of how conflict reporters face double jeopardy from two groups looking for media domination. His social media accounts are full of hate comments and allegations of being the spokesperson of the same group that issues threats on his life.
In May 2020, Abubakar Shekau, the factional leader of Boko Haram, publicly and specifically threatened Mr Salkida and the HumAngle team after a report on the success of the Nigerian army against the terrorist group was published on the platform. 
Shekau decided to issue the threat in public after his soldiers sent numerous threat messages to the reporter on the phone and social media platforms. 
The Boko Haram threat came four years after Mr Salkida was arrested by Nigerian authorities for the false allegations of having ties with terrorists after he released a video showing the abducted students of Chibok. 
Human-angle journalism 
As from the coinage of its name, HumAngle concentrates on the human interests in conflict reporting. Our stories resonate with the members of conflict-affected communities. The aim is not to amplify the stories of violence and move on to another story. It is about making the voice of the muted, heard. 
HumAngle stories have been at the forefront of raising the concerns of common people and exposing the conditions of hard-to-reach communities and the internally displaced persons (IDPs) who tell their own stories. 
From the highly misunderstood Almajiri child to the women in the Knifar movement looking for their husbands, HumAngle projects victims of conflicts and human rights violations in their own stories, and gives them a platform to send first-hand information in turn shared with different audiences. 
While some platforms report conflicts and move from one story to another, HumAngle follows victims and amplifies their message until their voices are heard, given the attention they need, and they get responses to their demands. 
Continue reading …
Download the full report here!
---
Support Our Journalism
There are millions of ordinary people affected by conflict in Africa whose stories are missing in the mainstream media. HumAngle is determined to tell those challenging and under-reported stories, hoping that the people impacted by these conflicts will find the safety and security they deserve.
To ensure that we continue to provide public service coverage, we have a small favour to ask you. We want you to be part of our journalistic endeavour by contributing a token to us.
Your donation will further promote a robust, free, and independent media.
Donate Here