Displacement & Migration
Features
News
Lack, Hunger, Neglect Dot Lives Of Abuja-Based Almajirai
Almajirai in Abuja, North-central Nigeria, face lack, hunger, and neglect but the enthusiasm levels to remain in the system (or not) is interestingly based on several factors.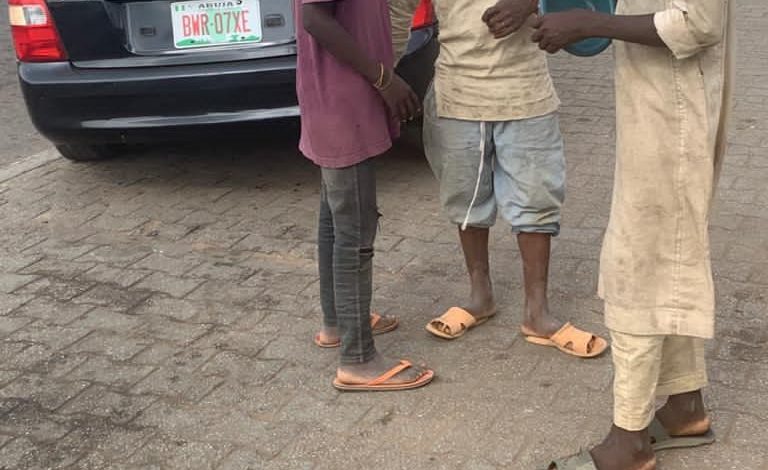 Every day, nine young boys – between the ages of ten and thirteen – walk from Dei-Dei to Kubwa in Abuja, North-central Nigeria. The boys; Musa, Aliyu, Salisu, Umar, Abba, Usman, Saminu, Aminu, and Yusuf make the journey in hopes of gathering enough alms for survival. 
The boys are Almajirai, often found wandering around town with plates as they roam the streets begging for alms.
Almajiri (plural: Almajirai) is a Hausa term for referring to young boys in an informal education system where the boys acquire Islamic knowledge from scholars. The students are sent to faraway cities for this acquisition.
The practice is done across the Muslim majority in West African communities. The state and emirs adequately funded it, alongside parents of the children, and other organised platforms, and this covered shelter, clothing, and feeding for the students. The system has since deteriorated after the British invasion.
A simple google search for the word 'Almajiri' will produce search results of scruffy looking, plate-wielding boys in filthy clothes. The images, in reality, are not much different. 
The nine boys, who share the same Mallam (teacher), said they make the long journey on foot because they are not given transport allowance or any allowance at all. They told HumAngle that they would love to go home, as combining Islamiya (Islamic classes) with begging has been challenging for them. 
Almajiri is a local corruption of the word "Alhumajirun" meaning an emigrant who travels, usually to a well known Islamic scholar in search of Islamic knowledge.
Up until the arrival of the British, the Almajiri in Nigeria fared well. There was a system called Tsangaya; here, Almajirai lived with their families, and all the schools were well within their vicinity. They also acquired skills in between their Islamic lessons.
The system created masons, fishermen, farmers, and other professionals. Some of the farmers, it was said, contributed to the stock of farm produce which helped form the famous groundnut pyramids that Northern Nigeria was known for.
The Tsangaya system collapsed and the old funding became non-existent, the boys now roam in search of alms as their teachers can not take care of their welfare.
The Almajirai beg for food and alms all day, then find their way home in the late hours of the night walking back to their Mallam. 
"We leave Dei-Dei early in the morning and then go back only when it is time to sleep. When it is night around 10 p.m., we all trek the distance together till we get home. We do not like to beg. We also have to supplement what we get by carrying wares across the bridge," they said.
Speaking on behalf of the boys, Musa and Saminu told HumAngle that they do this to get by as they do not get nearly enough to feed.
"I help people to carry their loads across the road and to their various destinations," said Saminu whose eyes occasionally darted across the bridge in search of a potential client.
When asked to make an estimate of what they get from helping passers-by carry their wares, Musa said that they do not have an idea as the payment they get in exchange for their labour depended solely on the individual employing their help. 
"We do not charge them. They just give us whatever they feel like giving," Musa explained.
We want to go home
When this reporter asked if they would like to return home, at first, the boys all answered affirmatively but after some consideration, they wondered if their parents would welcome them back home.
"We would like to go home, but we may not be welcomed. If given the opportunity, we would like to go home," Musa said. 
According to them, one reason why they yearn for home is to receive care like other children around their ages. Unlike other children whose parents would make a mighty fuss over a headache or flu, the Almajirai who spoke with HumAngle said that when they are sick or injured they do not receive treatment. When they are sick, "we just lie down and sleep. Later we get better and continue with our begging," Saminu said. 
The treatment, Musa noted, is a far cry from the promise the Mallam had made to him and some of the other boys before they came to Abuja about nine years ago.  Apart from the promise of better care, "he initially told us that when we get to Abuja, we will someday be enrolled in the school," Musa said. 
They told HumAngle that they would love to get formal education like other children their age. 
While these nine young boys long for home and stability, some younger Almajirais are excited and enthusiastic about the prospect of a new life in the nation's capital.
The enthusiastic newcomers
Just a few metres away, six much younger boys -Bashir, Umar, Salisu, Kabiru, Abba, and Mohammed- new to Abuja express excitement as they lay out their hopes and dreams. 
They were brought to Abuja in Dec. 2020 and do not yet possess the worn-out looks of their older colleagues nor did they show the same lack of interest. When they spoke with HumAngle, they did with giddy excitement and moved about in a carefree manner.
Unlike the other boys, they do not want to go to get formal education because they want to enjoy their new life. 
"We used to attend a regular school back home. But we left our schools to come to acquire Islamic knowledge in the city," Umar said. 
The boys explained that they enjoy the Islamic knowledge that they acquire from their Mallam. They added that although they miss their parents, they do not wish to go home. 
According to them, the only thing they miss is having regular meals without having to beg. 
For how long? 
One of the older boys, Musa, moves around hunched with worry and constantly wearing a scowl.  He is always worn out and barely speaks except when specifically spoken to. 
When the boys were asked if they wanted to go home, Musa was the first to affirm, and when they were asked to describe how people generally treated them, he was the one who explained that they were merely tolerated by people and not loved. 
The difference in the demeanour of the two sets of Almajirai is distinct, but so is Musa's sadness. He appeared broken down by the activities he did to survive, and the lack. Among 10 Almajirai who wanted to go home to their families, Musa's silent affirmation had resounded more than the others; his exhaustion and sadness were distinct. 
Despite the differences in perspectives, both groups of Almajirai had shared pains they explained to HumAngle. The most prevalent are hurtful words from adults, daily pangs of hunger and the sheer tiresomeness of begging daily.
---
Support Our Journalism
There are millions of ordinary people affected by conflict in Africa whose stories are missing in the mainstream media. HumAngle is determined to tell those challenging and under-reported stories, hoping that the people impacted by these conflicts will find the safety and security they deserve.
To ensure that we continue to provide public service coverage, we have a small favour to ask you. We want you to be part of our journalistic endeavour by contributing a token to us.
Your donation will further promote a robust, free, and independent media.
Donate Here