Armed Violence
Displacement & Migration
Featured
Features
News
Katarma: How Kaduna's 'Forgotten' Settlement Fought, Lost Battle Against Terrorists
In Katarma, a settlement of about 15 villages under Chikun Local Government Area (LGA) of Kaduna State, locals fought to protect their families from terrorists, a battle they finally lost in April 2021. Today they seek refuge in Sarkin Pawa, Munya LGA of Niger State, where they continue to count their losses.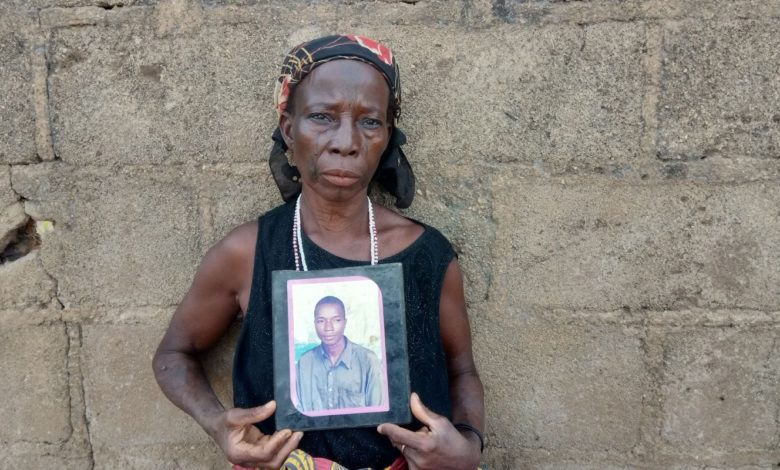 The 80-person armed civilian squad responsible for stopping terrorist attacks in Katarma, Kaduna, Northwest Nigeria, relied on locally made guns they call bindigar toka (loosely meaning a gun that uses gunpowder).
This weapon they relied on would help for a while but they were soon to learn it took more to push back the intruders who raped, kidnapped, and killed them. 
Katarma comprises villages such as Kuduru, Jankasa, Sabon Gida Jankasa, Kudimi, Bokale, Boko, Zango, Sabon Gari Katarma, Unguwar Sarki, Kofa, Duba Gari, Unguwar Bonno, Katarma, Jigodo, and Hayin Gada.
The first gunfight
Aged 21 and commander of Katarma's security squad, Bulus Yari has a few hidden scars from previous confrontations. But this occasion was different. It involved the protection of Katarma, his home village, and of his wife and two children.
"We set up at one of the villages called Unguwar Sarki in 2020," Yari narrates.
All they had at the camp were some clothes, mats, and their locally made guns. The community played their role by supplying them with food while they remained on the lookout for enemy movement within the area.
Then the first major offensive came. "Four youths were killed. But we fought gallantly and drove them back," Williams Yahaya, who played an important advisory role and ensured everyone's welfare, said.
The squad prevented the terrorists from entering their camp, a move the latter made to reinforce control over the villages. But that was just the first round.
Midnight visitors
Asabe Danjuma, a petty trader, heard dogs backing around midnight and peeped through her window. This was in April 2020, before the settlement's security outfit was formed.
"Then I heard my husband say 'kidnappers have come,'" she told HumAngle. They had heard of many incidents before then and there had always been some kind of foreboding among residents.  
When her husband opened the door, the intruders who were eight in number, fired at him. The shot had missed but he lay on the floor faking dead. This, Asabe would find out much later. 
But they were not done.
On hearing the gunshot, her son came out of his room running and was shot dead.
So, Asabe and her sister-in-law were abducted, beaten as they travelled across multiple streams when they said they had nothing to give their captors. They were held for more than three weeks before being released.
Traumatised by the experience, the family of four children, now three, moved out of the village in October that year to Sarkin Pawa, a border community in Niger State. Today, Asabe trades in grains while her husband keeps goats and poultry for sale.
Another experience, as early as Jan. 17, 2020, was that of Pastor Bitrus I. Uchara. Uchara was chatting with his wife and physically disabled 21-year-old son on the premises of his local church.
"From nowhere we heard the sound of motorcycles," Uchara began. By the time they heard the noise, there was barely enough time to flee. A grinding machine had muted the motorcycles' noises.
There were about 40 motorcycles with three men on each. Forming groups, they sped in different directions, chasing people down. 
"They wore masks and were dressed in black outfits," he recalled.
Uchara hid around the church premises but stepped out when he noticed that his wife and son were already captured. "They started beating me," he said. "By then they also had our church secretary and his father."
That day the intruders shot one man who tried to run away, left with Uchara and three others, and captured about 30 more people as they went.
They took them as far as Kusaso, close to Birnin Gwari LGA. "We were somewhere between River Kaduna and Shiroro Dam," Uchara explained. "We trekked for eight days to get there and spent another week at the boundary of Zamfara State."
A total of N3 million was paid before they were released. But back in the village, they had already robbed Uchala of his motorcycle and some money.
Like many other residents, Uchara could not say exactly how many times the terrorists have ravaged the village he has lived in for four years. "Sometimes they come in the night, almost on a weekly basis," he continued. "They ride from one village to the next unchallenged."
But the people of Katarma did not start their mass exodus to Sarkin Pawa this time. They still hoped things would change; another resident, Mallam Markus Yusuf, pointed out.
Yusuf who lived in Duba Gari (another village in Katarma) said while they heard of attacks in other Katarma villages way back in 2019, they were fortunate not to have recorded any. But this was not to last forever.
In April 2019, a house was attacked where people were shot, some injured, and four others kidnapped. "There was no effort by the police," Yusuf emphasised, and several others confirmed this including the village head of the entire Katarma, John Sarki.
But multiple reports show that security agencies and the Kaduna State government were aware of Katarma's plight since 2020.
Kaduna State Commissioner for Internal Security and Home Affairs Samuel Aruwan made it known in a statement last January that the government was informed by security agencies. This Day newspaper confirmed the attempts of "local vigilantes who defended the village before troops were mobilised."
According to Aruwan, "in response to the attack, air platforms were swiftly mobilised for armed missions over Katarma village and Kusasu village in the neighbouring Niger State."
But the inhabitants said otherwise.
All efforts by HumAngle to get an official statement from the police on this matter through calls and texts to ASP Mohammed Jalige, Kaduna State's Police Public Relations Officer (PPRO), and Aruwan were unsuccessful. 
Traitors from within
What happened to Asabe Danjuma's family was one of many tragic cases that led to the formation of the local security squad in the latter part of 2020.
After the first round of battle, and after burying their dead, the youths' morale dropped. 
With their locally made guns, they could only shoot a bullet at a time, reload, before shooting again. But this still did not lead to their instant defeat. With time, a sad discovery gave the group pause. After the attack, they had begun to suspect that someone amongst them was giving information to the terrorists.
"We caught three people from Kartama who, during interrogation, confessed to meeting the terrorists at a designated place and giving away our plans," Yahaya said.
Aside from the three, there was also suspicion that a high-ranking member of the outfit was dining with the enemy. But this was hard to prove.
Then came the second major attack
Broken and working at picking up the pieces, the squad moved their camp to a primary school.
But when the terrorists attacked in early April 2021, at about 3:00 p.m., there were less than 76 men to resist them. With four killed in the past, their numbers had dwindled when the youths realised help was nowhere in sight and their enemies had superior firepower.
The attackers searched houses but found many homes empty because residents had fled to Sarkin Pawa. This time five men were shot dead and the camp was abandoned. 
"We tried our best. But we did not get help, particularly from the government. The chairman of Chukun knew about our efforts and yet…" Yahaya said. "The only available police station is in Sarkin Pawa."
"That day, they kidnapped people and ensured they collected ransom before they released them," Yari added.
But not every abducted person got to go home. From Sarkin Pawa, some men had to summon the courage to return to their deserted village and search for one corpse. They finally succeeded on the third day.
Mass exodus
By the last quarter of 2020 and early 2021, most Katarma residents, who are mainly of the Gbagyi ethnic group, decided it was time to flee.
Amongst them was the village head, John Sarki, who relocated his family from Unguwar Sarki to Sarkin Pawa on Jan. 9, 2021. The Jan. 6 invasion where five people were killed was the last straw for him.
"People are unable to go back and get foodstuff from their houses because the attackers have taken over the villages," he lamented. "They find it hard to feed, and we are still negotiating for some of those kidnapped right now while we are here." On April 12, the terrorists kidnapped nine people and killed one among those who snuck back home to get some foodstuff.
As the traditional head, Sarki says he always reports to his superior, the district head, and sometimes sends text messages to the Secret Service director of Chikun LGA. "But so far, nothing has been done," he revealed.
Some, like Jummai Sabo's son, who dared to sneak into Katarma to get foodstuff, were killed.
"And this was after negotiations and ransom that was paid. The first time, it was N100,000, but they refused to release him. The next time N60,000, and they still refused. That day, they killed him," a teary-eyed Mrs Sabo narrated. "They also kidnapped the person who went to give the money."
Following her son's death, her daughter had high blood pressure and died after a couple of weeks.
There were more in that category, like Joshua Bulus who had successfully left Katarma only to meet his death because he returned to get foodstuff. Yohanna Daniel, 57, told HumAngle: "my other nephew is now in the hands of the kidnappers."  
HumAngle visited a compound in Sarkin Pawa occupied by former Katarma residents who are making efforts to move on with their lives. Some of them keep a few animals, while others are involved in petty trading. Their major source of livelihood, farming, is practically impossible because of the risk they may face when they go to Katarma.
A few, like Happy Joshua who was kidnapped and released in March 2021, managed to move from Duba Gari with her husband to Sarkin Pawa with foodstuffs that will soon run out. "We don't know how we will survive this year without farming," she said.
Strange demands
Handing out hard-earned money and losing loved ones and property are not the only things Katarma residents have to contend with. Their aggressors have other pressing needs they must meet.
When Emmanuel G. Daniel's 80-year-old father was whisked away to the forest, the terrorists communicated, among other things, some strange demands.
"They wanted three jerricans of petrol, two Boko Haram motorcycles, N5,000 call cards, and eight jerricans of engine oil," Yahaya said.
But that was not all; they also wanted what they called aluran sojoji (a Hausa corruption of a kind of drug, like opioids, used as a painkiller or energiser).
After delivering these goods, Yahaya and his three-man delivery team were detained while those earlier kidnapped were freed. "We stayed there for 23 days before N180,000 was paid for our release," he said.
Like some kidnap incidents that began on highways before the terrorists became bold enough to go into residential areas, Kartama's was no different.  
Charles Samson Dangana, pastor of a local church in Kuduru, not far from Shiroro Dam, said kidnappings started on the routes leading to their village. For this reason, roads were shut down and residents relied on boats.
But when the abductors made their first successful attack on Jan. 4, 2020, where they killed and stole cows, they seemed to become bolder. With time it became clear that this was not without reason when Dangana had his first experience negotiating with them.
"They called the sarki's secretary and said they wanted N20 million or they would attack. They knew who they were speaking to even without an introduction," Dangana explained. The terrorists rained insults and boasted that they knew everything about the village.
True to their word, they did attack in Dec. 2020, killing 10 people and injuring some. After that, people in the community could not sleep at home. Because the village was close to a river, they rowed their boats and slept in a cold place until daybreak. Although some have left that part of Katarma today, Dangana revealed, there are those who have gone back though the attacks have not ceased.
Then there was also a time the terrorists came, guns slung or in their hands, to negotiate in the village.
"They proposed that people should pay a certain amount in order to be left alone," Dangana narrated. "Before the meeting, they searched everyone and ensured they had no weapon."
Once, they asked for N3 million. But they still attacked afterwards and claimed another group was responsible.
HumAngle learned that there are different groups of terrorists operating within Chikun LGA of Kaduna State and beyond.  
"They claim to have four groups, including Dogojide, Ambrose, and Yellow," Dangana said. These are recognised based on the names of their leaders.
Some are known as the boys of Dogojide, which appears to be the largest and most powerful group because their leader is said to have gone to terrorise in Zamfara and returned. He also has a large herd of cattle. Among other atrocities, the Dogojides are popular for raping women and stealing properties as ordinary as clothes.
"Once, they slaughtered animals, used oil right there in people's homes and prepared meat to eat before they left," Dangana revealed. While they were at it, residents hid until they left.  
"The people don't have anywhere to go to. Some tried to move to Sarkin Pawa but had to return because they had no source of livelihood there. They basically depend on agriculture and don't know how to live elsewhere without their farms," Dangana said.
But even those in Sarkin Pawa, under Munya LGA of Niger State, are not safe. HumAngle learned that several rivers separate Sarkin Pawa from Katarma and it may be only a matter of time before the terrorists venture further.
Although there are a few checkpoints with police officers, soldiers and vigilantes with patrol vehicles, this has not guaranteed calm in the area.
As of the time this report was filed, HumAngle gathered that residents had started moving out of Sarkin Pawa, a place with vast unoccupied land on almost every side.
---
Support Our Journalism
There are millions of ordinary people affected by conflict in Africa whose stories are missing in the mainstream media. HumAngle is determined to tell those challenging and under-reported stories, hoping that the people impacted by these conflicts will find the safety and security they deserve.
To ensure that we continue to provide public service coverage, we have a small favour to ask you. We want you to be part of our journalistic endeavour by contributing a token to us.
Your donation will further promote a robust, free, and independent media.
Donate Here