Development
Features
Kano's Problematic Welfare System For Minors Caught In The Web Of Divorce
The Kano State Hisbah Board in Northwest Nigeria aims to cushion the blow of divorce on children. But many things have crippled these efforts, exposing the young to neglect.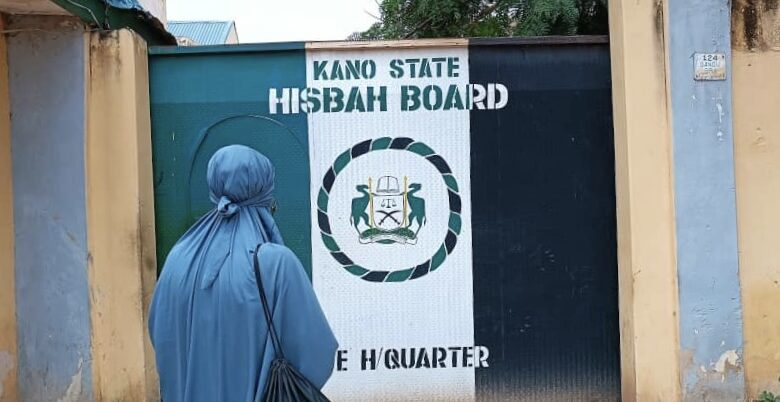 Habiba Nasidi was seated in the corner of her humid kitchen, separating weevils from beans, when she heard the rushing of footsteps coming through the main entrance. Before she could set down her tray, two girls – one gripping a young boy's legs and the other holding his arms – had dragged in an unconscious Mubarak, Habiba's grandson. 
Mubarak's clothes were drenched in foul-smelling water, and his skin was smeared with mud. A leech sucking on his toe. "They found him in a gutter. I took him and put him inside my room and thanked them," Habiba said in her home in Tukuntawa, Kano state.
It was not the first time Mubarak had collapsed, and it was not the first time Habiba had taken him, bathed him, and washed his clothes before sending him back to his father's house. It would also not be the last time Mubarak would lose consciousness.
The genesis of Mubarak's ordeal
Kano is one of the 12 Muslim-majority states in Northern Nigeria that have incorporated Sharia – Islamic religious laws – into their civil and criminal legal system. This allows it to create various Islamic legal institutions, including the Hisbah, which refers to accountability or 'upholding community morals.'
In Kano, the Hisbah board pushes against things deemed immoral in any Islamic society and handles familial problems such as divorce, child custody, and child welfare. But HumAngle has found that the system allows children to fall through the gaps. By sticking to a dogmatic approach to who has rights to look after the children, they end up being neglected.
In terms of child custody, the Kano State Hisbah Board gives the mothers full rights over the children, no matter how many, and then requires the fathers to provide for their upkeep. Mallam Hussaini Ahmad, the assistant commander of the board, explains that the men are ordered to pay for their children's food, clothes, healthcare, school fees, and other essential items that will ensure the children's well-being as part of their responsibilities.
"We do this because we look at the children's morality and upbringing," Mallam Ahmad says. The board believes that children get better home training from their mothers rather than fathers who are occupied with earning an income. It was the same arrangement made for Mubarak's parents, Danlami and Hauwa, when they broke off their union.
Hauwa had taken custody of their three children while Danlami provided. However, things took a drastic turn when Hauwa remarried. Habiba tells HumAngle that Hauwa's new husband refuted the idea of his new wife bringing another man's children into their marriage, "so we took them back to their father. That was when he stopped providing, and things got really bad for them."
Habiba said she had no idea how her grandchildren were faring until a few months later, when Mubarak fell ill.
Huwaila Nasidi, Mubarak's aunt, tells HumAngle how he was rushed to the hospital when he came down with a severe fever and was later diagnosed with Meningitis. "The doctor told us that it was getting worse. He prescribed an injection and warned that if it was not administered immediately, it could permanently disrupt the brain's normal function."
Danlami was informed and given the prescription card. After three days of waiting for feedback, Huwaila decided to remind him about the situation, to which he claimed that he had lost the card and had no money to give. "We went back to the hospital to get another prescription so we could get the injection ourselves, but we could not find the doctor that prescribed them in the first place," Huwaila says. She explains that before they could acquire enough money to consult another doctor, Mubarak had already experienced his first seizure.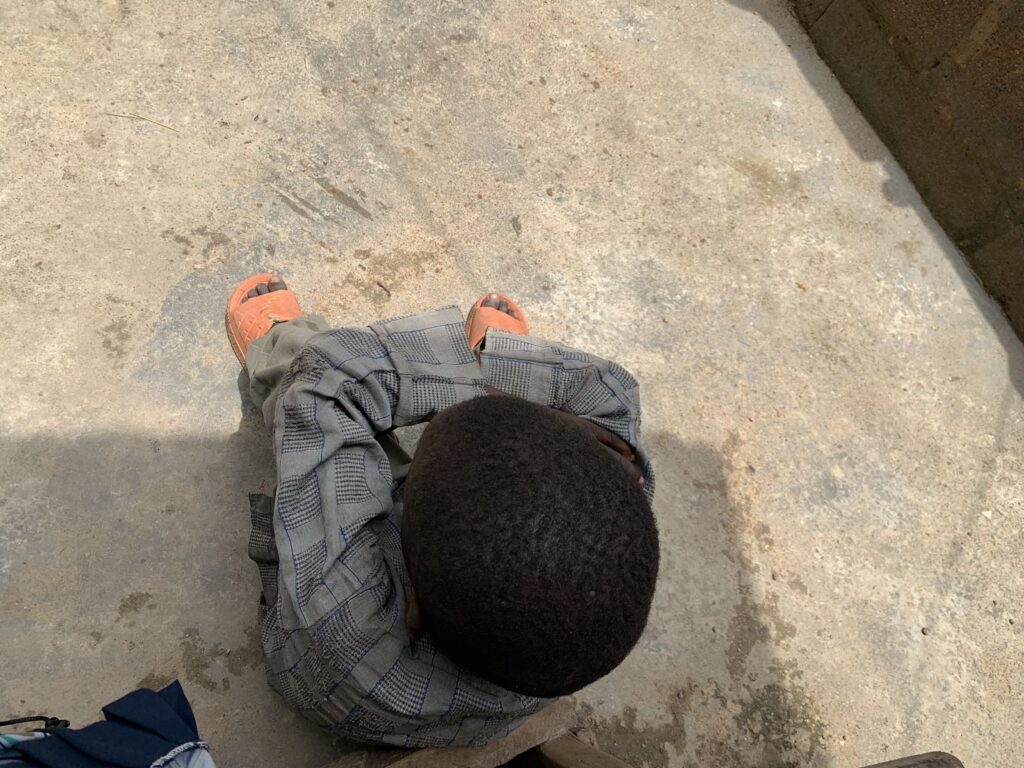 "They are no different from orphans," Habiba says. "They have a father and a mother, but circumstances have made them like orphans. They roam the streets. Sometimes, they beg. It is in these instances that Mubarak passes out anywhere."
Habiba says she had tried to bring them under her care, but Danlami had continuously dismissed the proposition. "When they come here to eat sometimes, he would call us saying we should give him back his children." She believes he had grown spiteful due to Hauwa's remarrying.
A closer look at child custody in Kano
Kano Hisbah's system of sharing parental responsibility towards children of divorcees is based on the Sharia. The basic principle is that the mother is the first point of custody after a divorce, and if she is unavailable, the maternal grandmother takes over. This especially applies to girls before marriage and boys before puberty. In the absence of a maternal grandmother, the maternal aunts take on these rights before even the father.
Women having custody of their children is a right, Mustapha Saleh, a family lawyer practising in Kano, explains, referring to it as Hadanah. He added that the men's obligation is to give financial support, which he referred to as Nafaqah. "These rights are non-negotiable," he says.
However, Hisbah is not the enforcer of these obligations, and the person obligated to look after the children can change if circumstances change after the divorce. Saleh tells HumAngle that Hisbah's mandate is to inform the splitting couples on what is required of them and that the compliance agents are the Sharia courts and upper Sharia courts.
Yet, several circumstances make this system fall short. This reporter found that it is not as easy in practice, and complications that occur while carrying out these rights could undermine the children's overall well-being.
Saleh expands on this. When a divorced mother remarries, custody of her children falls out of her hands. He says that in Mubarak's situation, the custody would have shifted to his grandmother but her returning him to his father meant she had surrendered her rights toward him. Saleh says this forfeiture is forever, "even if they decide to lodge a complaint against him, it will be turned down by the court."
The lawyer noted that if, for instance, the mother's family still had rights over Mubarak and his siblings, and their father had failed on his end of the bargain, lodging a complaint would be the way to go. "It costs ₦200 to put in a complaint against erring fathers to the Sharia court or upper Sharia courts that both have jurisdiction to hear such cases."
Another instance of how the system was compromised is when Aisha, a 23-year-old divorcee, also living in Kano, and her husband, Hussaini, 32, divorced. Before they went their separate ways, Aisha recalls how they had several disputes, which led to their families intervening and seeking assistance from the Hisbah to resolve the problems.
On the day they were invited to relay their distinctive grievances, the board ordered them to go home and return after a week — an opportunity for the couple to reflect.
"I was at my family's house. We decided I would stay there so I could think clearly," Aisha tells HumAngle. "We were not in contact, I did not call him, and he had not called him, and then suddenly I received a text that read 'Assalamu alaikum, I hope you are doing alright. I want to end this marriage once and for all. May Allah give us spouses that are right for us.'"
She adds that her family had already soothed her and convinced her that when everything was settled, she would have to be more patient and make the most of her marriage. They had been eager for the week to elapse so they could return her to her matrimonial home, but Hussaini's text message had infuriated them.
Aisha's uncle, who raised her, vented that he had married her off alone and would take her back alone — implying that he would not receive her back alongside the children. Aisha was nursing a month-old baby at that time and had to forfeit the custody of her other two children.
Mallam Ahmad says that such situations are common as families to parties involved often make the processes harder than they could be, damaging the children's well-being.
There are also instances where no forfeiture of custody was made, yet, fathers withheld financial support. Fatima, 44, had been married thrice, bearing children with two of her ex-husbands who have had no hand in their children's wellbeing since the divorce.
Fatima provides for her and her children by cleaning houses and doing laundry in the city's affluent neighbourhoods. "I pay for their food, their islamiyya, their school fees. Both of them [her ex-husbands] don't give any significant support. One of them, from time to time, sends ₦3,000 to ₦4,000, and that is meant to be for his three children. The other one, who we have a daughter with, only sent, if I am not mistaken, ₦1,ooo, on a very rare occasion."
The lawyer states that when this complaint is lodged in the courts, "the claimant then has to prove their claims before procedures are taken up until the court arrives at a judgement." The judgement for the plaintiff is determined on the father's yearly income and the number of children, as there is no fixed amount.
But the procedure may come with a cost. Saleh noted that divorced women who are occupied with making ends meet may delay seeking justice.
The societal impact is jarring.
Forfeiture of rights, poverty, noncompliance, and the general lack of awareness creating gaps in these systems have pushed thousands of children, like Mubarak, to be affected by their parents' split-up. Many of them are uncared for, so they wander off to anywhere they can find means to survive.
The streets and highways of Kano, especially the capital city, are dotted with children and adolescents in tattered clothes, hawking and hovering over cars for alms. While residents and guests often believe that these children are almajirai (itinerant children enrolled in an informal Islamic education system), Mallam Ahmad says the majority are stray children with no parental supervision.
"Immediately you are stopped in traffic, many flock to your car windows. They are meant to be in school, some of the girls are old enough to be married, but they are in the streets," he adds.
He explains that girls are worst-affected, especially those approaching adolescence who are sexually exploited before they are given food or assistance, exposing them to sex work. Some of these children are affiliated with criminal gangs, Mallam Ahmad says, and are spread across the town to perpetrate various criminalities. In Jan. 2021, about 53 teenagers were arraigned by Hisbah officers over involvement in the selling of hard drugs and intoxicants in the capital city. The suspects consisted of 27 males and 26 females, all of whom were between the ages of 17 and 19.
In a phone conversation, Dr Maikano Madaki, a professor of sociology at Bayero University, Kano (BUK), said that neglected children often grow to become a problem in society.
"Nobody was sympathetic towards them, so how do they know how to be sympathetic towards unsuspecting members of the society?"
---
Support Our Journalism
There are millions of ordinary people affected by conflict in Africa whose stories are missing in the mainstream media. HumAngle is determined to tell those challenging and under-reported stories, hoping that the people impacted by these conflicts will find the safety and security they deserve.
To ensure that we continue to provide public service coverage, we have a small favour to ask you. We want you to be part of our journalistic endeavour by contributing a token to us.
Your donation will further promote a robust, free, and independent media.
Donate Here