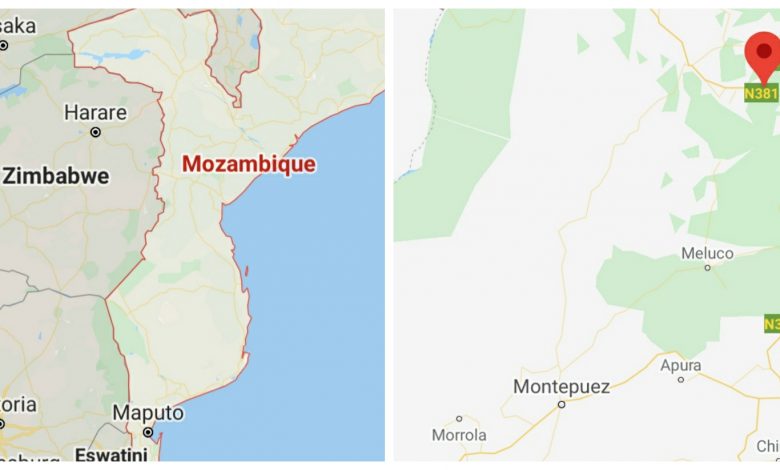 Communities in Muidumbe District in Cabo Delgado Province of Mozambique, Southern Africa, are still reeling in the shock from the attacks by an Islamist terror group on Saturday, April 11.
The invaders overran Namacunde, the district capital of Muidumbe, massacred over 50 people and occupied the district police command office.
The terror group wants to strike Mozambique where it hurts the most.
Cabo Delgado is a Muslim-majority province where recent deposits of oil and gas were discovered in commercial quantity. Consequently, the new international oil business status of the province has attracted conglomerates.
Probably because of western presence and their control of businesses in the oil and gas ecosystem, the terrorists will harbour the desire to uproot them.
The people in Cabo Delgado have not been great fans of the government in Maputo and have frequently felt a sense of abandonment by the state.
Reports say that the insurgents had earlier been routed in a confrontation with independence war veterans in the country who reportedly killed about 30 of their members.
The insurgents, however, regrouped in Xitaxi village and called for a meeting with villagers and when the people turned up, several of them were seized and beheaded.
Since October 2017 attacks by the insurgents have been on the increase across large swathes of Cabo Delgado Province.
Their trademark has been to target, kill policemen, steal weapons and ammunition, and briefly occupy towns and villages before disappearing into the bush.
Their stated objective is to turn Mozambique into a shariah state but they express no intention to harm the local people or civilians.
They claim they are only out to fight the government represented by the police and other state agencies.
Their members and followers are not permitted to use state health and education facilities and must not pay taxes to the state.
In effect, the children of their members and followers must not enrol in the state education system or consult health services when afflicted by any ailment.
The insurgents currently control mosques in the province from where they issue orders for civil resistance to the state.
To underline this the insurgents have hoisted their flags, the islamist black flag, in all public space in the villages they have taken.
The police in Mozambique in 2018 identified six men as leaders of the insurgents in the province.
They are Abdul Faizal, Abdul Raim, Abdul Remane, Ibn Omar, Salimo and Nuno Remane.
In a recent video message, following attacks on government targets, the insurgents reiterated that their objective was to overrun the government in Maputo and replace it with Sharia.
"We are calling on (those who see this message) to come here and fight under this Islamic state (ISIS) flag … we do not want the Frelimo (Mozambique Liberation Front) flag," declared a masked man clad in military uniform, referring to Mozambique's ruling party.
The insurgents have largely moved to cripple economic activities in the commercial oil business sector, strike fear in government and generally disrupt operations.
They unleash terror on strategic coastal towns like Mocímboa da Praia, which is close to Mozambique's natural gas production installations.
Other places include Quissanga, Muidumbe, Macomia, and Ibo Island.
The government has responded by sending in the military to stamp them out amid growing public suspicions over the presence of foreign fighters in the country .
The fighters from Tanzania, Kenya, and the Great Lakes region are seen as ruthless on the local population with possibility of further radicalizing local youth.
HumAngle investigations revealed that over the years the government in Maputo had treated the threat as if it did not exist.
The authorities initially denied the existence of the insurgents. But when the attacks came to the open the government launched into a monologue about its claim of sovereignty and how that status remained inviolate.
Thereafter, the state deployed military forces, including foreign mercenaries from Russia to overwhelm the terrorists.
The Russian mercenaries brought in 2019 proved ineffective and had to leave.
The government is also cautious in respect of the use of foreign mercenaries, fearing a backlash.
However, the government is currently soliciting international help to defeat the terrorists. It has reached out to the African Union (AU) and the sub-regional economic bloc, Southern African Development Community SADC) for intervention and assistance to eliminate the insurgents.
Mozambique has some military pacts with Zimbabwe and Tanzania. Already, Tanzania has deployed troops to fight side by side the Mozambican forces against the insurgents.
Cooperation between both countries is strong and has provided some good results.
Working together, both militaries have demobilized several islamists' threats, disrupted their weapons supply chains and shared intelligence.
Mozambique also has strong ties with Russia but the mercenaries from the country have performed abysmally and had to go.
HumAngle obtained indicators from sources who are familiar with the requests that AU and SADC are reviewing the Mozambican requests with a view to giving some support towards stamping out the crisis before it festers.
Sources hinted that leaders of the two strategic bodies on the continent are concerned and determined to ensure another manifestation of the festering insurgency in the Lake Chad Basin does not rear its head in the Southern African economic sphere.
Internally, Maputo seems to be toying with outright imposition of extra-judicial state of emergency rules and suppression of public information as part of the response to the insurgency.
President Filipe Nyusi's government is equally considering non-military solutions such as negotiating with the terror group and possibly announcing a new development agency for the north of the country where the feeling of marginalization is high, according to sources.
Some sources who rank among the politically exposed in the country but who would not want to be named said that for Mozambique to get out of the quagmire, a national strategy for countering terrorism must be in place.
Such strategy, which would counter radicalisation, violent extremism and trans-nationally organised crime will need to be pursued with vigor and transparency, sources said.
They said such a strategy should be based on a holistic approach that combined intelligence-led military tactics and surgical strikes (in order to spare the civilian population) and backed by effective investigations and prosecutions.
Along with security and justice interventions, the strategy would require combating extremism with inclusive approaches to governance, democracy, development and education, the sources added.
Meanwhile, many have been forced to flee their homes and relocate elsewhere in the province, usually to live with families or relatives.
According to the International Organisation for Migration more than 60,000 people have been displaced and moved to larger urban areas, thus expanding the circle of influence of poverty in the areas.
Local media reports say that in many districts of Cabo Delgado, civil officials were recently replaced by military officers as the security situation deteriorated.
Recent major oil and gas discoveries and new explorations in the area have generated many expectations but the host communities are disillusioned.
They have not seen any direct benefits from the new economic status, particularly in the rural areas.
Oil and gas giant Exxon Mobil announced last week it would not take a final investment decision on its massive 30 billion dollar liquefied natural gas project in Mozambique.
Anadarko, Exxon, Total and Eni are the major players in the oil and gas sector in Cabo Delgado.
South African helicopter gunships arrived in Cabo Delgado recently. They had Light helicopter gunships strafing the base of the insurgents in the Mueda area.
They also attacked their other bases in Mbau in Mocimboa da Praia and in Muidumbe according to Peter Fabricius in Daily Maverick on April 9.
A Gazelle gunship and a Cessna Caravan fixed-wing personnel carrier arrived in Pemba last weekend.
On Wednesday they were joined by three helicopters – another Gazelle gunship, a Bell UH I "Huey" and a Bell 406 Long Ranger – and one fixed-wing Diamond DA42.
The attacks were carried out by the South African private security company, Dyck Advisory Group, according to Daily Maverick.
A Mozambican daily, Moz24h, reported that the South African fighters were based at the Pemba Naval Base and were involved in the attack on the Quirimba invaders on Friday morning.
Pinnacle News, another Mozambique newspaper, reported that one of the Gazelles was shot down and that at least one insurgent boat was sunk.
Dyck Advisory Group (DAG) replaces the Russian Wagner Group which withdrew, defeated, last month.
According to Daily Maverick DAG is owned by former Zimbabwean military colonel Lionel Dyck who is believed to be close to Zimbabwean President Emerson Mnangagwa.
Lionel Dyck was involved in Zanu-PF politics and various projects from 2002 to have Mnangagwa replace Robert Mugabe as Zimbabwe's president.
Max Dyke is part of the group, and according to its website (https://www.dyckadvisorygroup.com/) was a guide on the Zambezi River and was involved in demining in Mozambique in 1997.
The website says DAG has undertaken security-based operations in Mozambique and has counter poaching operations … currently running in Mozambique.
Zitamar says Dyke helped Mozambique take Renamo's Gorongosa base in 1985.
---
Support Our Journalism
There are millions of ordinary people affected by conflict in Africa whose stories are missing in the mainstream media. HumAngle is determined to tell those challenging and under-reported stories, hoping that the people impacted by these conflicts will find the safety and security they deserve.
To ensure that we continue to provide public service coverage, we have a small favour to ask you. We want you to be part of our journalistic endeavour by contributing a token to us.
Your donation will further promote a robust, free, and independent media.
Donate Here