Development
Features
News
Investigation: Ticketing Corruption by Railway Staff, Soldiers, Policemen Derailing Abuja-Kaduna Rail Project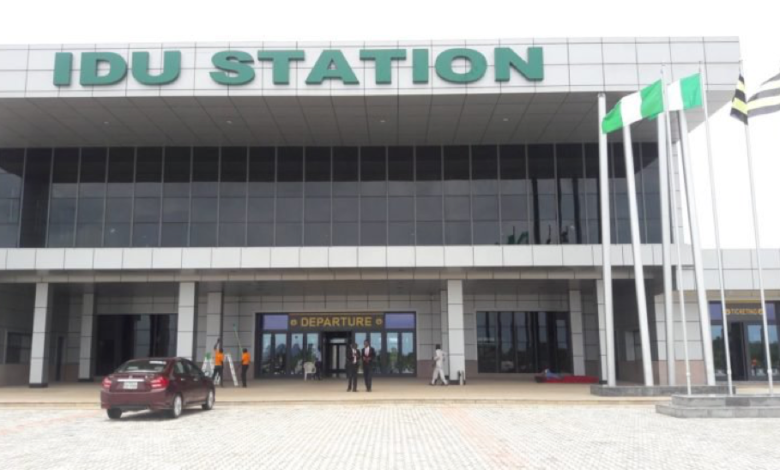 When I arrived at the Idu Railway Station in Abuja at exactly 6:17am and was quickly sold a 'sitting' ticket for an Abuja-Kaduna train trip, I immediately thought I had fallen for a hoax.
Over the preceding four months, five Abuja residents and another two from Kaduna had complained to me about how the common Nigerian could not access the ticket for an Abuja-Kaduna train trip, and vice versa, unless they queued up in the simmering sun for several hours or submitted themselves to extortion by railway officials, their proxies and their collaborators in Nigeria's most powerful city. But this wasn't my experience.
At exactly 6:25am, a dark-complexioned lady sporting artificial eyelashes and a checkered T-shirt had sold me the Economy ticket without demanding a kobo more than the N1,300 it normally went for. I was still studying her shiny, silver necklace and bracelets when a thinly-built young man walked in to request for two tickets; he got them too.
I stood by to observe proceedings for the next 15 minutes and all was seamless. Someone was trying to ruin the Federal Government's good works, I reasoned. A part of me wanted to hop on the next available flight to Lagos, but the other wanted to stay the entire day at the train station to gather more evidence about this grand anti-government gang-up. Thankfully, I stayed put.
It was Friday December 13, 2019 and the ticket I purchased was for a 7:am ride. I watch the last passengers disappear into the boarding area and the officials recommence the sale of tickets for the 9:50am ride few minutes after. One, two, three… I start to count as the passengers are let into the ticketing office. At the count of 15, at exactly 7:30am, the gates shut. At this point, I count 49 people standing in the fast-building queue. The gates of the ticketing office would not open until 8:15am — a clear 45 minutes after — and only for five seconds. Ten prospective passengers are allowed in and the gates shut again. I count 53 intending travellers now lined up, another 22 scattered under the shade. That's 75 in all. Shortly before 9am, one passenger declares he has been told 'sitting' tickets are no longer available.
Anyone wanting to get on that train must be prepared to stand throughout the two-hour journey.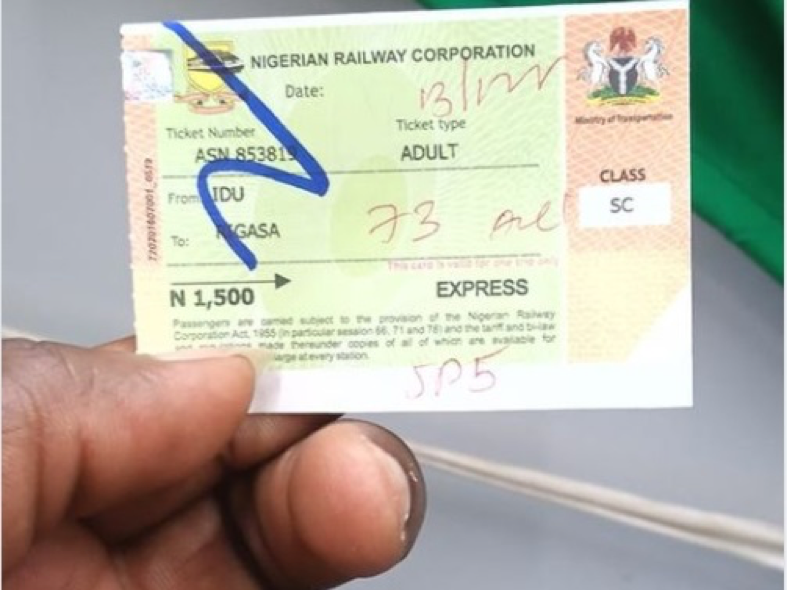 I was personally shocked. I could swear on my life that no more than 25 passengers had bought tickets. Meanwhile, the train has 14 coaches, each of which can seat 88 passengers; that's 1,232 seats! What, then, happened to the outstanding 1,207 tickets? As I would soon find out, such huge numbers of unaccounted-for tickets were lost to ticketing corruption involving railway officials, soldiers, senior military figures, politicians, senior civil servants and numerous cadres of people who qualify as 'Abuja big men and women'.
FROM 'HOLISTIC DEVELOPMENT' TO FATALISTIC CORRUPTION
In October 2006, then President Olusegun Obasanjo set out his vision for the revitalisation of Nigeria's 3,500km rail network knowing that "no nation has achieved holistic development without a coherent, integrated, efficient and reliable transportation system".
The Council of State had recommended "complete reconstruction and conversion of the 1067mm gauge to standard", at a cost of $8.3bn. Work was to begin with the 1126km Lagos-Kano corridor, to be undertaken in five stages over four years for $1bn, funded by a $2.5bn soft loan from China. A new 100km line was to be built from Minna to Abuja, continuing for 205km beyond the federal capital to Kaduna. Phase II would see a reconstruction of the Port Harcourt-Jos route. It was an ambitious project.
In the final months of Obasanjo's reign, Nigeria signed an agreement for the China Civil Engineering & Construction Company (CCECC) to build a double-track line from Lagos to Abuja and Kano. But the project was halted few months into the tenure of late President Umaru Musa Yar'Adua, with Minister of Transport Diezani Alison-Maduekwe admitting the programme was "posing challenges to the current administration". The intention to source funds from the country's crude oil surplus had "constitutional limitations", she said, while an anticipated $1.28bn loan from China had "crashed for a number of reasons". The summary: there was no money.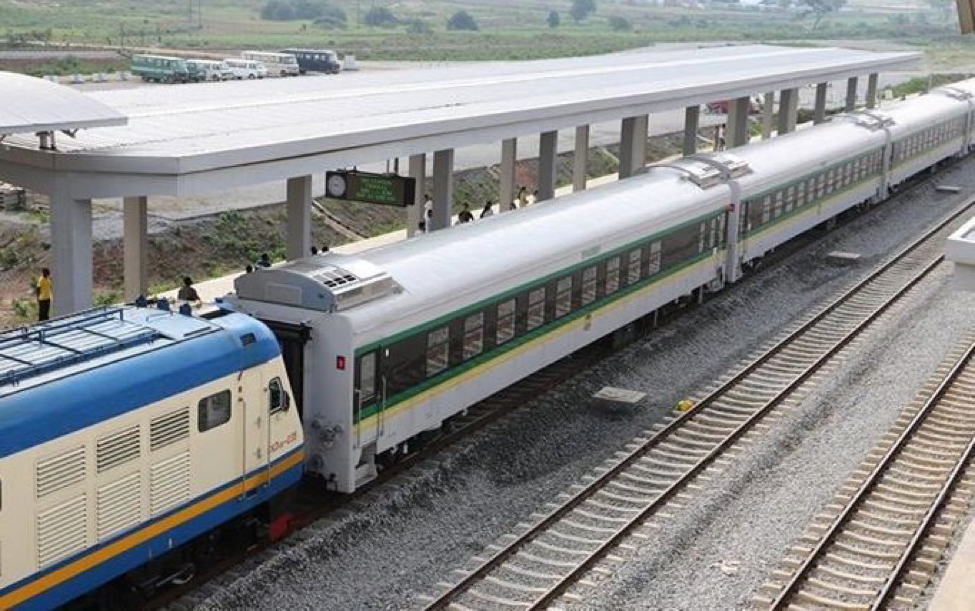 This meant the project was subsequently re-scoped into different standalone segments and the existing 1,124km narrow-gauge Lagos-Kano line was rehabilitated. A second, the 312km-long Lagos-Ibadan double-track standard gauge line for which a $1.53bn contract was awarded to CCECC in August 2012, is scheduled for completion in 2020.
It wasn't until 2009 that the Abuja-Kaduna project was eventually finalised, with the contract for building the new line awarded in December 2010. The construction of the single standard gauge line kicked off in February 2011, while track laying was officially launched in July 2013, with the construction finished in December 2014. In July 2016, President Muhammadu Buhari officially inaugurated the line for commercial services, prompting heated conversations about which administration exactly should be credited with the success.
'BLOOD-STAINED' NAIRA NOTES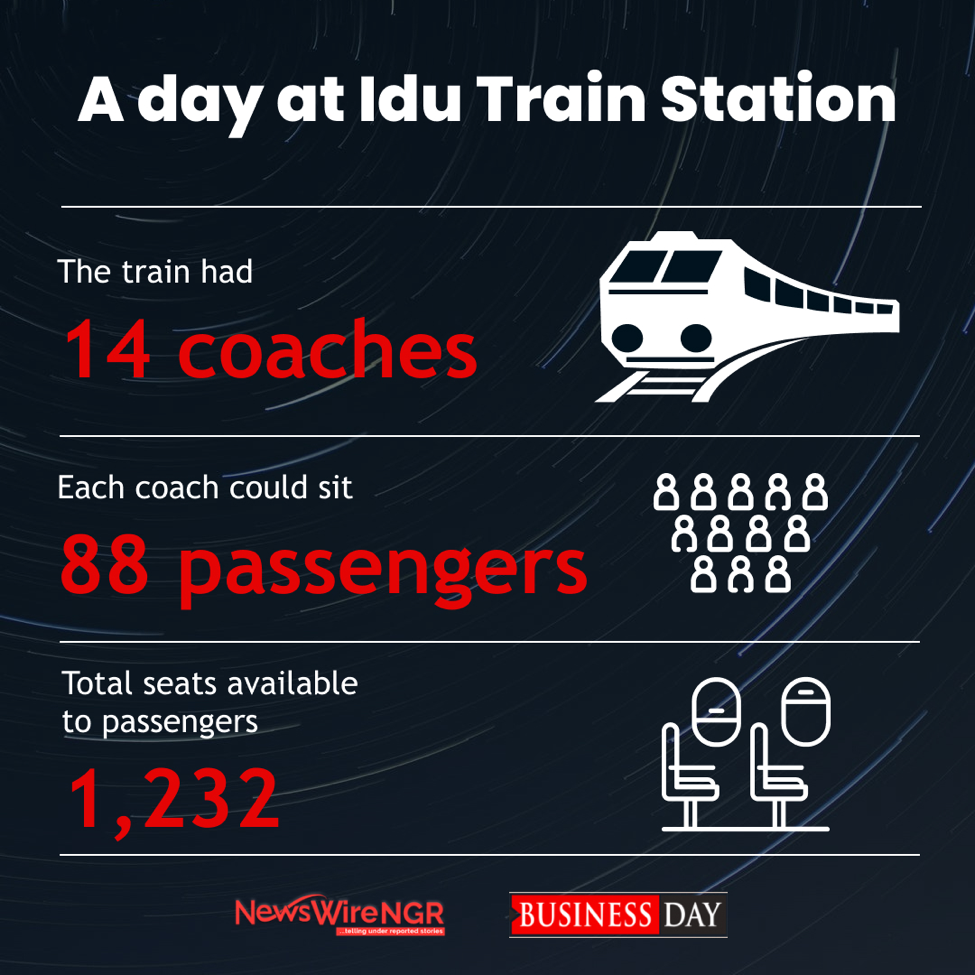 When it started running, the Abuja-Kaduna rail line was an unpopular means of transport in those two states. Understandably, therefore, its carrying capacity at take-off was 1,000 passengers daily across two shifts. Nigerians, accustomed to road transport over short distances, stuck to their old ways. Soon there was a problem: Commuting Abuja-Kaduna or vice versa by road was becoming unsafe. Bandits and kidnappers had started territorialising that highway and terrorising the people. Within two years, crowds had started thronging the Idu and Kubwa train stations in Abuja and the Rigasa station in Kaduna.
By the time the train kicked off operations in 2016, the terror visited on commuters by bandits had become too frequent to track, the highest-profile of which was the abduction of Alfred Nelso, the Sierra Leonean High Commissioner to Nigeria. The year 2017 was deadlier. In November, Sheriff Yazid, son of prominent northern technocrat Abidu Yazid, was killed and his wife kidnapped, regaining freedom only after the payment of part of a N10million ransom.
In April 2018, gunmen abducted Shedrach Madlion, Managing Director of Kaduna-based Safari 54 Farms, and his son, demanding a ransom of N50million but eventually receiving N10million before freeing them. The following month, bandits attacked travellers on that highway, killing and injuring dozens, and abducting others.
In July, more than 10 armed gunmen laid siege to the expressway, killing Halimatu Sadiya, a professor and former Katsina State commissioner for Education, as well as an army officer, his daughter and a police officer. Later that year, a 42-year-old confessed to killing 10 people and rustling over 100,000 cattle in the preceding year.
In April 2019, Muhammed Mahmood, Chairman, Board of the Universal Basic Education Commissions (UBEC), and his daughter were travelling in their Land Cruiser SUV when they were intercepted by gunmen along the expressway. Their driver was shot dead and the rest abducted. That day's raid also left several motorists and passengers unaccounted for. In August 2019, bandits killed three people and kidnapped several others on that expressway.
The same month, seven persons, including three final-year Law students of the Ahmadu Bello University, Zaria, were kidnapped on the notorious highway. In October, Musa Rabo, an Area Commander and Assistant Commissioner of Police, was abducted by kidnappers along the road but was eventually rescued by operatives. That happened days after troops of the Operation Thunder Strike rescued six students of Government Day Secondary School, Gwagwalada, who had been abducted along the highway.
"The expressway is like a death trap now, so nobody wants to risk being killed or kidnapped," one high-ranking civil servant told TheGuardian at the Idu train station in 2018.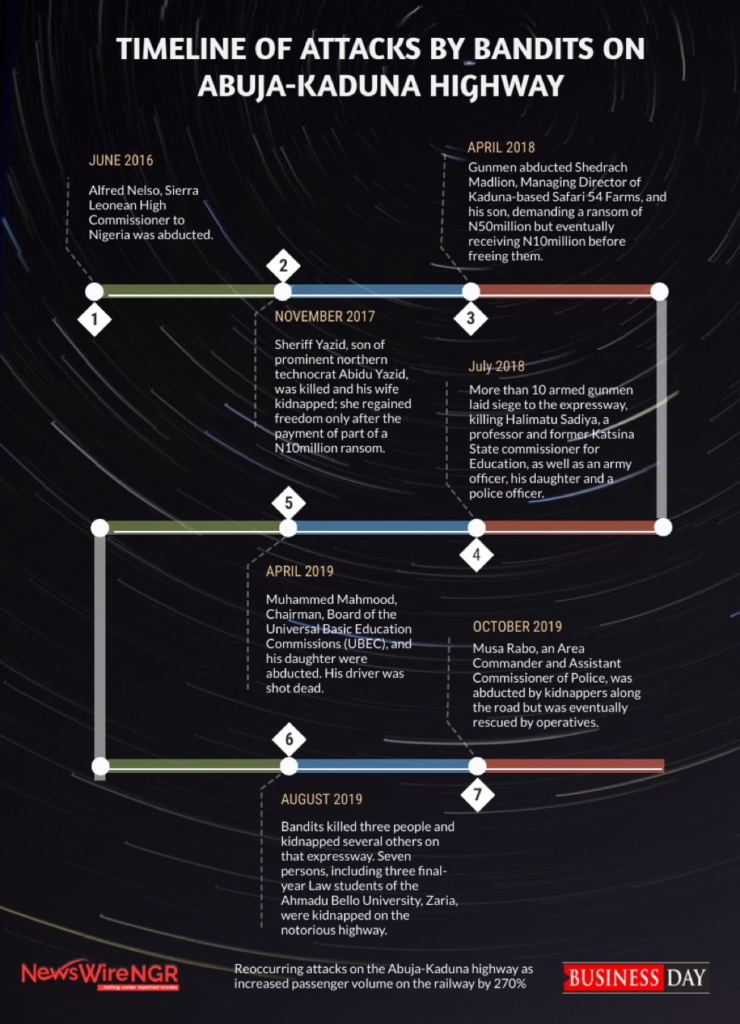 So, even though the 150km road trip between Abuja and Kaduna costs N1,500 and typically lasts 2hours 40minutes, much like rail travel, the train would eventually become the favourite means of journeying to one of the cities from the other. By October 2019, passenger volume on the railway had risen by 270%.
After he was abducted on the highway and held for five days, Mannir Awal Addo, an Abuja-based trader who visits his family in Kaduna every weekend, told the BBC in 2019 that having paid his abductors a ransom of $1,300, he resolved never to travel by road again. It is for the reason of the killings, maiming and abduction that the ticket racketeering in Abuja and Kaduna is especially abominable.
"Blood-stained naira notes" was how Nike Ajulo, a passenger who had been stranded for five hours without getting a ticket, described the money the railway officials and soldiers fuelling the scarcity were raking in.
"They know that if we don't get the tickets we will risk travelling by road, yet they do it," she lamented. "They're sending us to our killers, to our early graves. They're heartless; the money they receive in exchange for this wickedness on the common man is blood-stained, I tell you."
'YOU PEOPLE SHOULD RESPECT US'
Back at the Idu train station, just before 9am, a passenger decides to confront officials for abandoning the people in the sun. He had noticed the byway through which backdoor sale of tickets was ongoing.
"What rubbish is this?" he screams. "Don't keep us standing. Are you doing us a favour? We've been standing all this while; nobody said anything. Are they going to sell tickets or not? You people should respect us."
"We are sorry, sir," a female official replies him.
"You ought to be sorry!" he blurts before storming back into the queue.
Despite the altercation, nothing changes — not until exactly 9:30am when a station official flings the gates open, waving in passengers willing to stand all through the journey. 'Standing' tickets only. As anyone would imagine, the hall is quickly filled to the brim. A moment before 10am, the gates are locked once again. It's about time the train moves; the next ride is for 2:20pm. Scores of passengers, including me, refrain from buying the ticket.
"I cannot stand in that train for two hours," a lady explains to someone at the other end of a phone call. "I've been ill for weeks; my condition only started improving this week and I'm not going to worsen it by settling for a standing ticket."
NO MERCY FOR PREGNANT PASSENGERS
I ask an official for guidance on when ticket sales will commence for the 2:20pm ride. "Just a moment," he tells me. "Once they finish mopping the floor, they'll start selling."
That was a lie. The gates remain locked for the next 1hour 45minutes, and when they open, less than 30 people get the chance to be ticketed. Soon, a lady and her pregnant friend confront officials selling tickets underhand through the sideway. The lady had attempted to purchase a ticket with her pregnant friend's ID card but she was turned back. Seeing that others were getting the same tickets she was told she couldn't have unless her pregnant friend personally queued up, she tells one of the train officials off. "Corruption for Nigeria, na train station e dey happen," one female onlooker begins to sing.
Some minutes past noon, the crowd start to get impatient. The Abuja sun was scorching their heads and their feet were aching. Some of them bang the glass gates; and when nothing happens, they peek into the building to get a sense of what was going on. Seen through the class inside are a dozen people buying tickets, among whom are two train station security officers, a soldier and an officer of the Nigeria Security and Civil Defence Corps (NSCDC).
N4,500 FOR A N1,300 TICKET
Soon, it becomes clear that the gates won't be opened until all seat tickets are gone. I start to look for alternatives. Four of us, actually. Two of those women make calls that end up yielding no result; a third insists she will force her way through the side door; I spot a porter pottering about the station in a manner suggesting he could have some control over tickets, so I approach him on how best to get a regular ticket.
"I'll arrange a ticket for you but no be normal price. It's N4,000." Biodun, the young man, tells me, although he would later demand an extra N500 as his own "personal gain".
That's more than triple the original price of N1,300. But it's 12:45pm and I know I must act fast if I indeed want to get to Kaduna that Friday, so I agree. Fifteen minutes later, Biodun returns to break a sad news to me: the tickets for seats have finished.
"They're not going to open that gate again," he says with considerable assurance. "They won't open it until all the seat ticket holders have finished boarding.
To get one, he explains, I have to wait for the 6pm ride. Well, I make him realise that for me to trust him enough to wait another four hours for the 6pm ride, he has to convince me that he has the wherewithal to indeed secure me a ticket.
"We work here as potters; we help people carry their bags, their luggage," he explains. "That is our work and they [senior train officials] know that we have access to customers [sic]."
'N24,000 FOR SIX ECONOMY TICKETS'
After missing two rides while queuing up for tickets that never came, a lady travelling as part of a seven-member entourage reveals the promise of an official to sell her tickets for N3,000 each. The prices are later reduced to N2,500 per ticket.
Disappointment was soon to come, though: only two tickets are available, meaning my emergency friend must now raise five tickets from nowhere. "I got only two tickets," the woman, speaking in thick northern accent, tells me. "So, if your man can sell five tickets for N2,500 each, I will buy. Tell him. Even if it's 'standing', I will buy."
An extra man joins the travelling party, meaning a total of six tickets are now needed.
"Number 1, I cannot get up to six tickets," Biodun would eventually tell me. "Then Number 2, N2,500 won't work at all. The minimum I can do is N4,000."
That's N24,000 for tickets that should cost only N7,800!
'THEY'RE JUST LIKE AGENTS' — TICKETING CORRUPTION EXPLAINED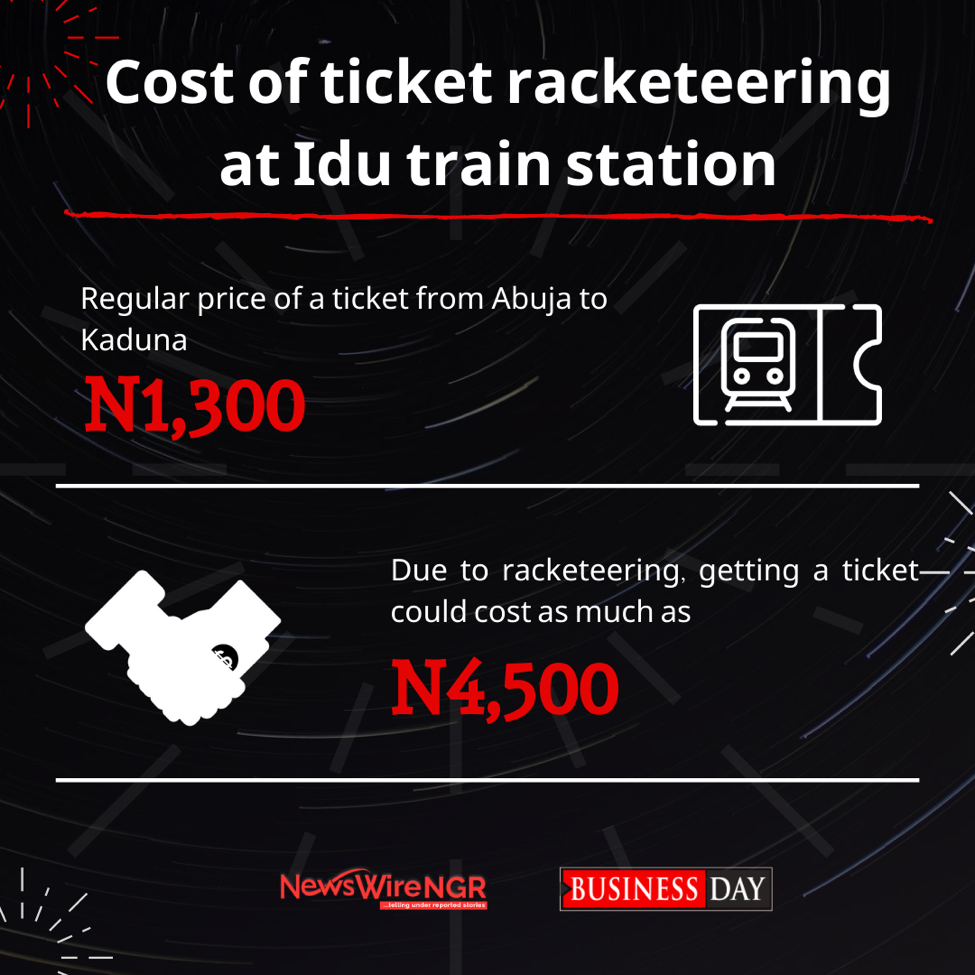 One frequent user of the Idu train station explains that the porter who sold me the ticket is one of several "agents" who buy directly from source at inflated costs then resell to passengers at "re-inflated costs".
"It's a thriving business because the rail officials know that passengers aren't going to buy directly from them at exorbitant prices," he says. "Only the agents can buy at those prices — because they will resell."
Biodun himself would later confirm this. In explaining why he is unable to go lower than N4,00, he says: "I get the tickets from insiders who have originally bought them, who then sell to me so I can resell. They themselves resell, too.
"There are people who have the access to buy the tickets from source. Actually, they don't buy from the ticketing counter here; they buy in abundance from source. Those ones resell to railway staff, then the staff resell to me so that I can also resell."
GOODBYE TO IDU… A SEPTUAGENARIAN IN THE BURNING SUN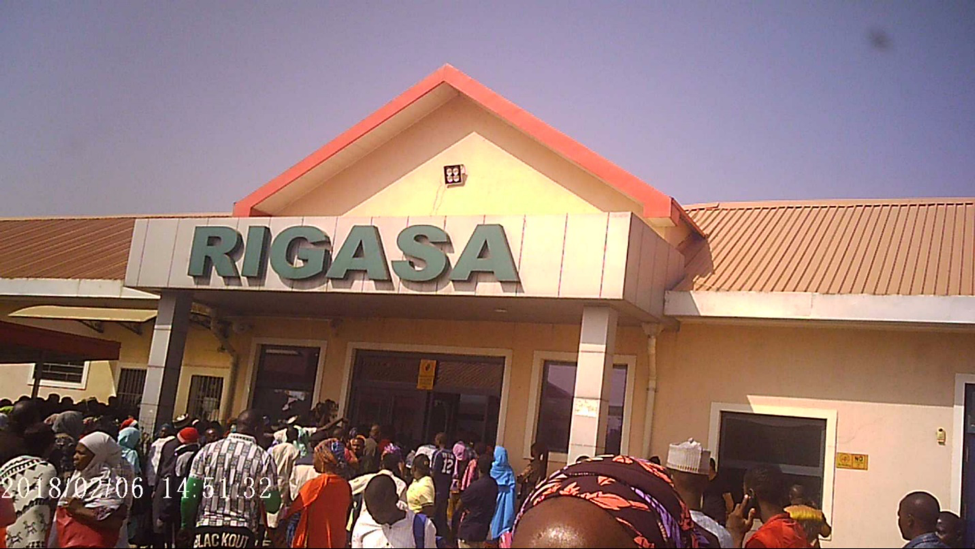 As I had come to expect, the ticketing officers do not open the gates until exactly 1:47pm, some 33 minutes before the next ride. The six friends of my emergency friend all settle for 'standing' tickets. As the queue of the commoners files in to purchase those 'standing' tickets, I notice a haggard, grey-haired man who, alongside his last daughter, refuses to move.
"I am too old to stand for two hours, so I'll wait for the 6pm train," Babagana, the 73-year-old, tells me. "It's such a shame that we ruin almost everything in this country with corruption… so bad that railway officials will see an old man like me standing for hours in the burning sun yet they they'd rather hoard the tickets."
Knowing he surely wouldn't get a ticket, I promise to hand him mine if he is able to secure a standing slot for his daughter. Unfortunately, shortly before 5pm when my driver arrived to pick me, Babagana was nowhere to be found. It was during the fruitless search for him that I noticed a lady who had refused to board the 9:50am ride because she couldn't endure the torment of standing for hours. She was there angling for a 6pm ticket she probably wouldn't get.
I tap her and gift her the ticket. And before she can muster "thank you", I vanish into the thin air.
ABUJA TO KADUNA
Abuja being the laid-back 'civil service city' that it is, 7am tickets are readily available when I return on Sunday December 15; the tickets quite easily outnumber the passengers ready to travel at that hour. That there is no queue at all makes it unnecessary to hoard tickets. I walk to the fourth paying point and pick up a ticket with such ease that belies the scramble for tickets two days earlier.
The ride to Kaduna was smooth. Shortly after 9am, we arrived at the Rigasa Railway Station from where I needed to find a ticket back to Abuja. It was already too late to meet the 6:40am trip, so the available ride times were 10am, 2pm and 6pm. I would soon learn that the Abuja ticket hoarding was merely a tip of the iceberg.
'ARMY GENERAL BUYS 30 TICKETS'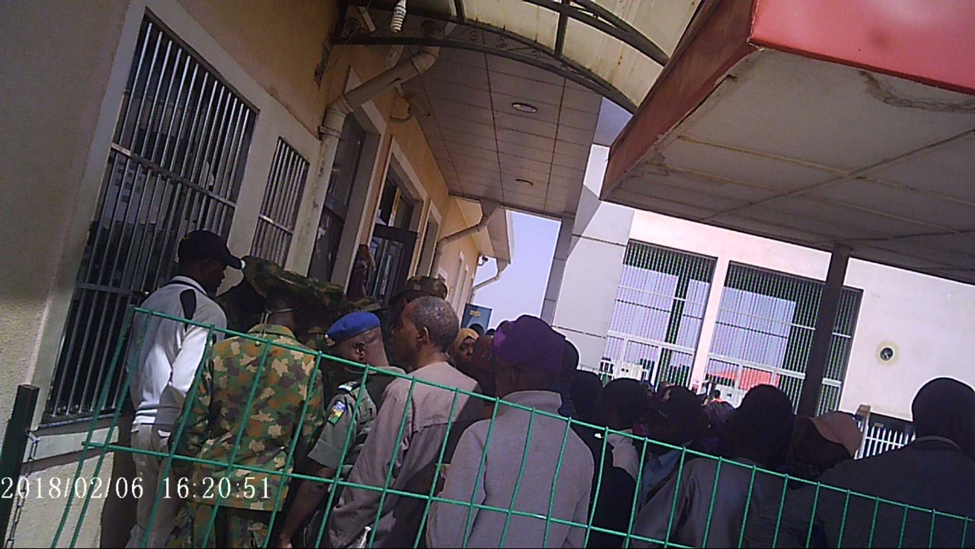 I step out of the train knowing, without being told, that securing a 10am ticket is impossible. If there was a long queue in Abuja, here there are two longer ones, male and female, each tailing into a curve rather than the straightforward line I witnessed in Abuja. Mariam Mohammed, a frequent train user, tells me I have no hope of securing even the 6pm ticket if I join the queue without "pressing buttons". I heed her advice but I also join the queue. I soon discover that even though it was just 9:30am, the last-resort 'standing' tickets for the 10am trip were unavailable for sale.
The 10am ride flies past and anticipation of ticket sale for the 2pm ride starts to build. We all wait for 30 minutes but nothing happens: 10:40am, 10:50, 11:00, 11:15, 11:30, 11:45am; still no-show. At this point, I dial the phone number of Ahmad Attahiru, Mariam's go-to person for tickets. Attahiru tells me he's run out of tickets but sends me the contact of one 'Habu', another ticket peddler with links to railway officials. Habu tells me I am a few minutes too late.
"I would have had tickets for you," he says. "But an Army General just called to buy 30 tickets."
The very surprising thing is that when the train eventually takes off, there are no 30 soldiers in it. So, for whom did the said Army General purchase the 30 tickets?
LIKE ARMY GENERAL, LIKE SOLDIERS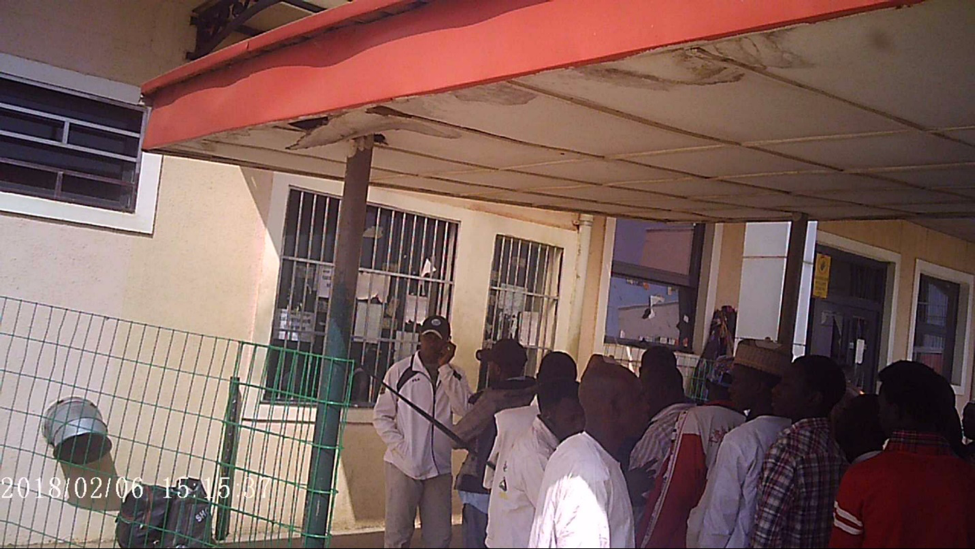 Due to the unwieldy size of the crowd at Rigasa, the authorities put a soldier in charge of the queue. Dressed in a fez cap and white tracksuit with a little opening for a glimpse of his camouflage, his real job is to puncture any potential crowd commotion in the race for tickets but it turns out he is the ringleader of illegal ticket purchase and resale. When he is not watching over the crowd, he is busy negotiating deals on the phone with prospective ticket buyers. Finally, at exactly 11:55pm, the windows open for the first-ever sale of tickets for a train ride scheduled for 2:20pm. In anticipation of ticket sales, more than half a dozen soldiers and policemen bulldoze their way to the front of the queue. This agitates the patiently-waiting crowd.
CROWD TURNS ON POLICEMAN, SOLDIERS
When the sale of ticket finally commences, it is exclusively to soldiers and policemen. It doesn't take too long before the crowd develops the needed bellicosity to challenge the officers. One policeman emerges from the sales point with six tickets, much to the consternation of the men in the queue who can only buy one ticket per time.
"Are they above the law?" one passenger asks.
"They're the ones who should uphold the law but they're the ones breaking it," one adds. "Imagine? What will he do with six tickets if not to resell them?"
While many of those passengers do nothing but grumble, one particular passenger, seen in the video as spotting a white vest and blue pair of jeans, confronts the officers.
"I've been here before 10am; [it's almost 1pm] and I'm still way back in the queue. Meanwhile, some officers here are buying 10 tickets, 15 tickets," he laments.
Soon he walks towards the sales point and tells the railway officials: "See, what you people are doing is not good o. I'm here in the sun while some idiots are in their house yet they'll get tickets."
RIDING TO ABUJA WITH GHOST TICKETS
Not wanting to risk missing the 2pm ride since there was no assurance of securing tickets for 6pm, I approach Isa, a young man whom I had noticed was speaking to stranded passengers in hushed tones. I had made friends with two other stranded passengers, so we were three listening to his instructions. The young man promised to "help". He told us we would pay N1,500 each; we would receive a ticket; however, the ticket would not be marked used. For this to happen, we would, at the boarding gate, identify his partner in crime who would collect the ticket from the first passenger but wouldn't mark it. The same unmarked ticket would be brought back to clear the second passenger and also the third.
"You see that tall guy in black shirt by the gate, the one standing on the left? He's the one you'll give your ticket. Don't give anyone else," says Isa.
My friends and I all follow his directive. At the boarding gate, the tall guy waves us in without ticking the ticket. A third man further inside asks to see the ticket but the moment he has a look, he motions us in. Isa joins us moments after to lead us to two seats on Coach 8. He disappears to bring in the third guy, then reappears to demand his and his bosses' payment.
"Let me go settle my bosses outside," he says, before adding: "Anything for your boy? You no go show me love? This one na my oga go collect am, highest na small thing go reach my hand."
A CONVERSATION ON 'HELP'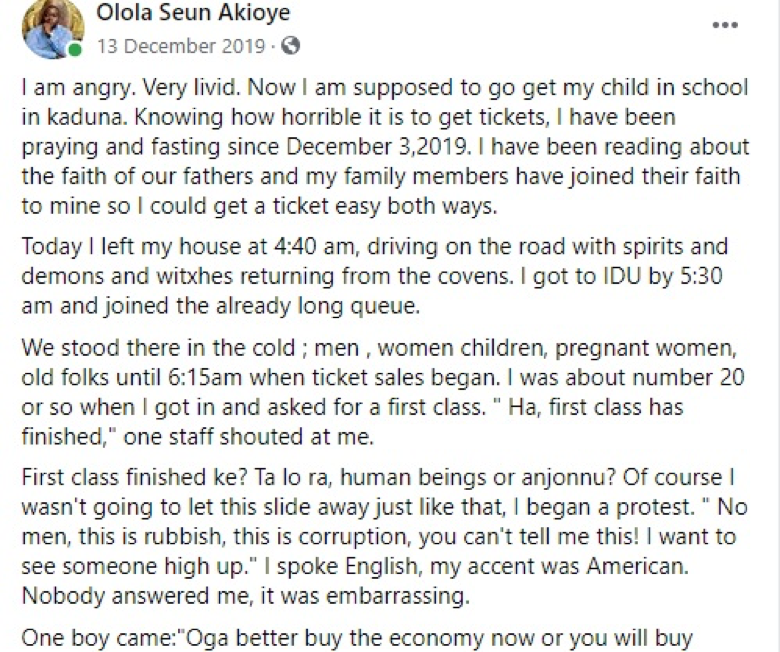 Just before the journey kicks off, some railway officials embark on a routine check of passenger tickets. Seeing we couldn't produce any tickets, one threatens to eject us unless we pay him. We protest vehemently, reminding him we had paid Isa hence we weren't going to make a second payment.
A lady seated nearby says we shouldn't have mentioned Isa's name. "He was only trying to help you," she argues, thus sparking a lengthy argument about the difference between 'help' and 'exploitation'. "If he didn't help you with those fake tickets, you would still be there in that queue by now."
But the guy right next to me was having none of it. This was a nine-coach train with 88 seats each; that's 792 seats, yet the number of seat tickets sold for this trip was nowhere near 100.
"To hell with help!" he yells. "This train seats 792 passengers but those who got seat tickets by queuing up were probably between 60 and 80. The number of people in that queue was between 400 and 600. If the train officials sold to everyone in that queue, every single person would get a ticket without anybody's help. You must be really myopic to think those who hoarded tickets to make money off you were indeed helping you."
'A LOT OF DISTRUST'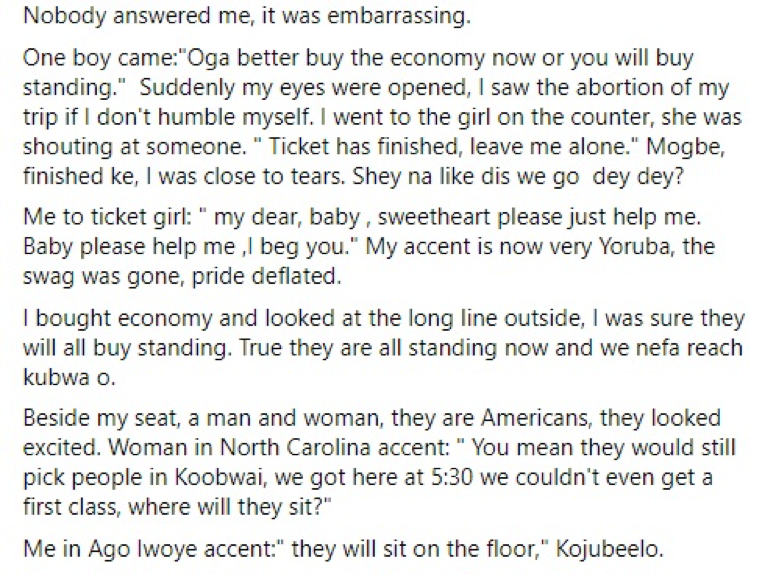 Mairo Ibrahim, a frequent user of the Abuja-Kaduna train service, believes one of the damages caused by ticketing corruption is the "immense distrust" passengers now have in the system.
"The passengers no longer trust the system," she observes. "There is a complete lack of trust in it."
Restoring sanity to the system, though, isn't rocket science. "People should do their jobs with integrity," she says. "If you're selling tickets, just do it the right way. The NRC should be organised. People see that the ticketing system is disorganized; that is why they try to find shortcuts."
TRANSPORT MINISTRY PASSES UP THE CHANCE TO SPEAK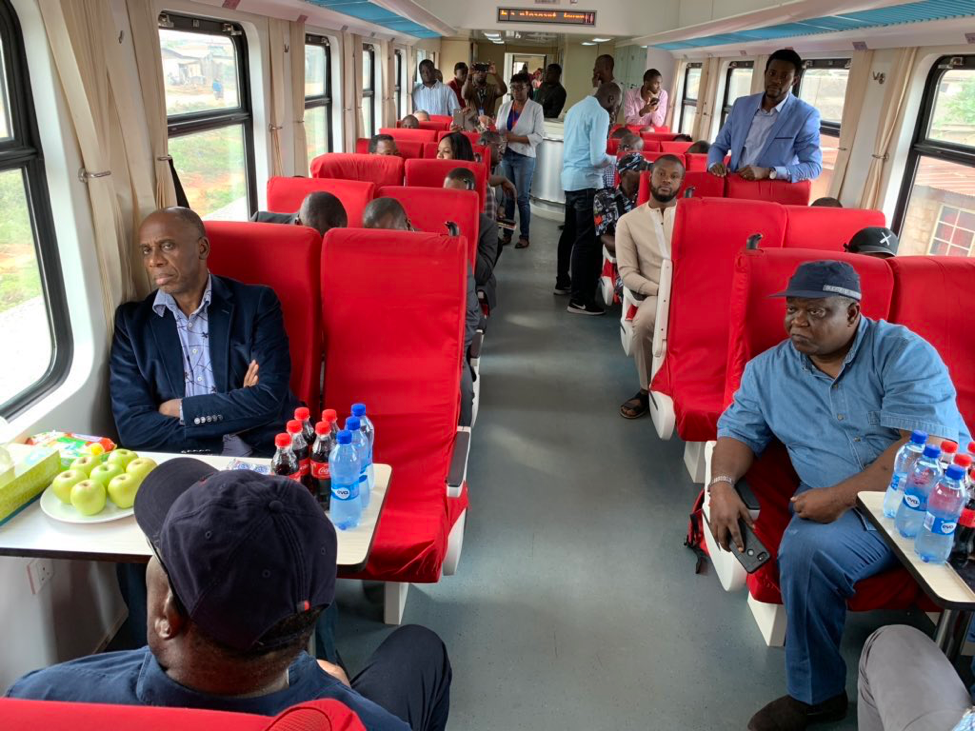 There was an attempt to contact Rotimi Amaechi, the Minister of Transport, but his media aide David Iyofor said all enquiries should be directed to Eric Ojikwe, Director of Press of the Transportation Ministry. However, when contacted, Ojikwe told the journalist to come to the office immediately. When the journalist asked to speak on the phone since he was based in Lagos while Ojikwe was in Abuja, he was told to visit the railway station at Ebute Meta, Lagos, to speak with one "Alhajia Mahmoud".
ONLINE TICKETING IS THE WAY TO GO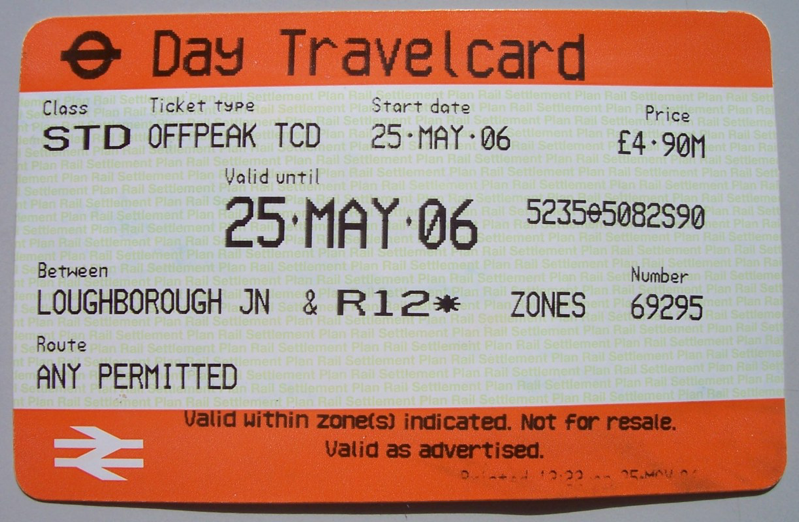 Dr. Bola Oyesola, a Nigerian who has lived in the UK and has recently completed her Ph.D. at Cornell University, Ithaca, United States, believes the NRC can eliminate ticketing fraud by modelling its operations after the famed train system of the UK.
"Cards valued for a month can be made available to passengers travelling a route every day; they buy the card, swipe it every time they pass that route, then the fare is deducted," she says. "Passengers can also be made to buy the tickets online outright. People can buy cards, get their receipts online and only show up at the station to swipe the cards."
Typically, tickets for all London Overground trains and many National Rail services in the UK are purchased with a Visitor Oyster card, Oyster card or Travelcard, as well as contactless payment cards. Oyebola reckons there will always be people who prefer buying the tickets in person, but the strategy for discouraging them is to cheapen the online tickets. "If online tickets are half the cost of in-person tickets," she argues, "less people will fancy physical purchase of tickets, which in turn bypasses fraud".
CHANGES AFTER LOCKDOWN BUT TICKETING CORRUPTION STILL THRIVING
Some things have changed in the operations of the Abuja-Kaduna rail line since the start of the Coronavirus pandemic that momentarily grounded almost everything in Nigeria, including original plans to publish this story back in March. For example, on resumption of train travel after a four-month suspension, President Muhammadu Buhari approved a 100 percent increase in fares, with economy class now N3,000 instead of N1,500, business class now N5,000 instead of N2,500, and the VIP coaches that went for N3,000 now going for N6,000.
However, the ticketing corruption remains constant. After travelling from Kaduna to Abuja by rail on Monday September 14, 2020, Aliyu Dahiru Aliyu, a Co-founder of Hausa Wikipedia, moaned about his endless wait for a ticket.
"I was at Rigasa Station to board a train to Abuja yesterday. I couldn't get ticket for 10:00am train so I waited for the 2:00pm one. They started selling the tickets at around 12:30 and didn't sell it to more than 30 people when this woman [points down] came and asked them to stop selling!" he tweeted.
"They told us the tickets had been sold out! A train that could accommodate more than 300, even with the social distancing! I was about to cry when someone that I was there with since 10:00am sold his ticket to me because he couldn't get two more tickets for his family."
'THE TRAIN HAS DERAILED'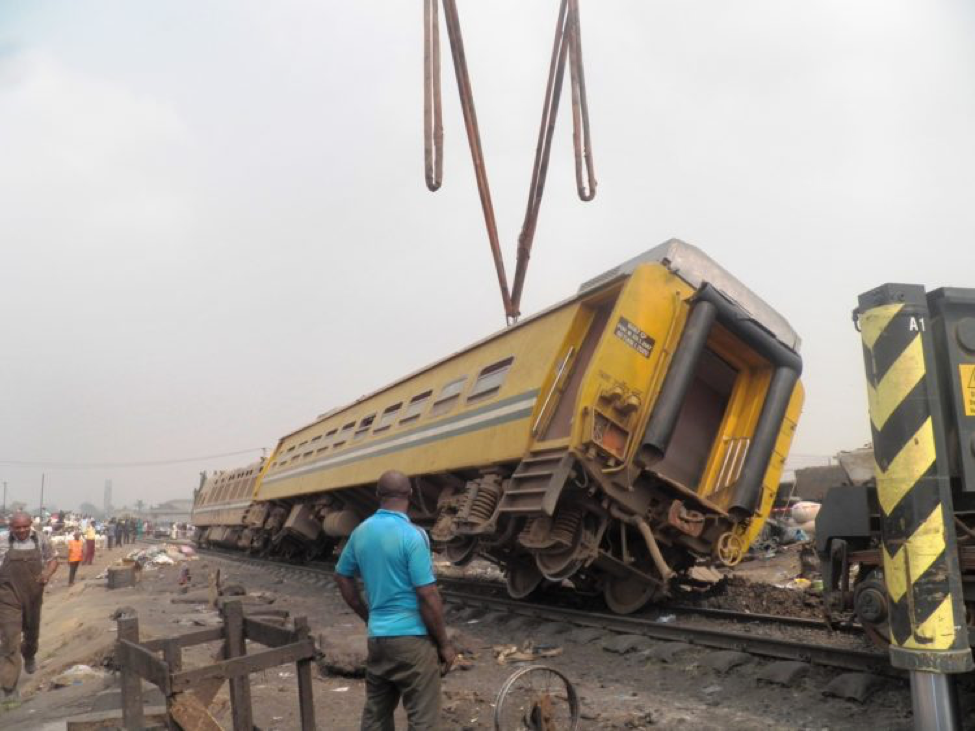 Every major government pronouncement on rail transport is always about the comfort of the people and ease of doing business. From Obasanjo to Goodluck Jonathan and now Buhari, these were always the tag lines.
Just last month when the Nigerian Railway Corporation announced that the "Lagos-Ibadan railway line will grace the newly acquired 24 coaches", with the trains to "run 16 trips daily when operations begins next in September", it gleefully added: "With this, you comfortably reside in Ibadan and work in Lagos."
But the ordinary people can scarcely be counted among the beneficiaries of the ongoing expansion of rail travel, says Idris Yesufu, a frequent traveller based in Kaduna. "Rail transport is meant for the people but with ticketing corruption, it is now reserved for the rich and powerful."
"With ticketing corruption, the focus has been lost," he adds. "Quite simply, the train has derailed!"
This report was authored by 'Fisayo Soyombo', award-winning investigative journalist and former editor of TheCable, ICIR, and Sahara Reporters, with support from Business Day and NewsWireNGR.
---
Support Our Journalism
There are millions of ordinary people affected by conflict in Africa whose stories are missing in the mainstream media. HumAngle is determined to tell those challenging and under-reported stories, hoping that the people impacted by these conflicts will find the safety and security they deserve.
To ensure that we continue to provide public service coverage, we have a small favour to ask you. We want you to be part of our journalistic endeavour by contributing a token to us.
Your donation will further promote a robust, free, and independent media.
Donate Here