Analyses
Armed Violence
Extremism
News
Investigating The 'Boko Haram' Presence In Niger State
The testimonies from Shiroro and Munya suggest a complex and deteriorating situation in Niger State, North-central Nigeria, involving multiple sets of militants.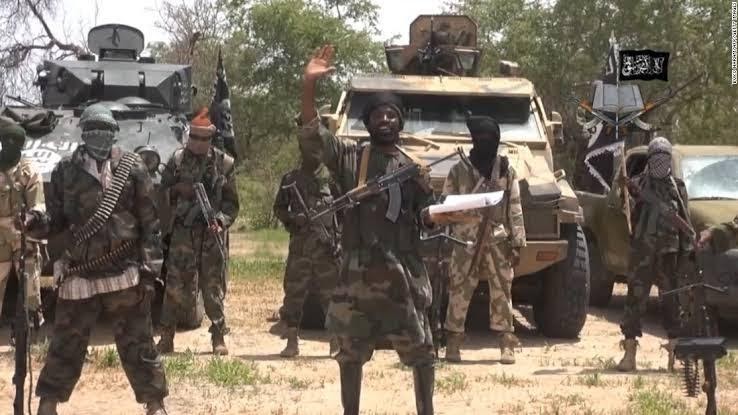 After a string of attacks on villages in Shiroro and Munya Local Government Areas (LGAs) of Niger State on Sunday (April 25) evening and Monday (April 26) morning, Governor Sani Bello stood in front of the press to issue a stark warning: the attackers included not only bandits but also Boko Haram members—and their next target would be Abuja, a mere two hours away by road.
The governor claimed that in one village in Shiroro, Kaure, the attackers had raised a Boko Haram flag and were now in control of the area.
While Boko Haram's operations have largely been confined to the Northeast since 2014, Governor Bello's statement does not come entirely out of the blue. Abubakar Shekau's faction of Boko Haram (Jama'at Ahl as-Sunnah lid-Daw'ah wal-Jihad or JAS) has attempted to woo fighters in Northwest and North-central Nigeria over the past year. Additionally, there have been rumours of a growing jihadist presence in Shiroro in this period. This has been buttressed by two videos that JAS purported were filmed in Niger State.
The initial picture of the attacks in Munya and Shiroro LGAs painted by residents, vigilante forces, and security officials is a complex one that suggests that jihadists—likely JAS—are indeed operating in Shiroro, but that insecurity in the wider state has been driven more by the type of ostensibly non-ideological "banditry" that has rocked Nigeria in recent years. 
That said, the lines between banditry and terrorism are increasingly blurred, and many questions remain unanswered about the militancy in Niger State.
The attack in Kaure had several hallmarks of a jihadist operation, particularly bearing a resemblance to the soft-target attacks of JAS. No formal claim from JAS has been forthcoming, however, and it worth considering other possible explanations for the violence. 
For example, certain bandit outfits might have adopted more of a religious modus operandi on their own initiative or through limited contact with jihadist elements. Several security sources have also suggested to the author that Ansaru, which broke away from JAS in 2012, might be operating in Niger State, though the group has historically avoided indiscriminate attacks on civilians.
In contrast to Kaure, the attacks in neighbouring Munya LGA appeared to have little in the way of a religious dimension. Given what is already known about the nature of banditry in Nigeria, it seems likely that the militant landscape along the Niger-Kaduna axis is somewhat fractured, involving multiple armed groups whose motivations might vary and whose alliances might shift. 
The nature of the relationship between the ostensible Boko Haram elements that attacked Shiroro and the bandits that attacked Munya is yet unclear, though it is interesting that their attacks occurred at roughly the same time.
In Kaure, the attackers arrived on Sunday riding motorbikes, wearing military and mobile police uniforms, and carrying a combination of AK-47s, RPGs, and machine guns. They took cattle, kidnapped women, burned buildings in the area (while occupying others), and destroyed any foodstuffs they did not themselves take.
The attackers were a "mix of Nigerians and outsiders" according to eyewitnesses, speaking Hausa, Fulani, and French (or French-tinged Fulani), with some attackers having hair or head coverings that appeared foreign. (It is worth noting that there are a number of expatriates from Francophone West Africa in Niger State—illegal gold miners from the Niger Republic, for example—which should be factored into any assessments about possible foreign elements among local militants.)
The attackers chanted "Allahu akbar" and indiscriminately killed the residents of Kaure, who are of the Gwari community and are both Muslim and Christian. While they burned a church in a neighbouring settlement, they left the local mosque untouched and used it for prayers, according to one resident.
The attackers also raised a flag in the area, as the governor reported, more specifically between Kaure and the neighbouring village of Kusaso. The flag's exact design is unclear. Several eyewitnesses described it as black with simple, white Arabic writing, while several others were adamant it was white with more sophisticated Arabic calligraphy written in black. A commander in the Niger State Vigilante Corps who received reports from the area also claimed it was the latter. 
Whatever its design, the presence of any jihadist-looking flag in the village certainly sends a signal: rather than being mere bandits in the bush, the militants are staking claim to territory and justifying it in the name of religion.  
In the same period as the Kaure attack, bandits attacked a longer string of villages in neighbouring Munya LGA, starting in Sarkin Pawa on the Kaduna State border (where there was reportedly another attack on Thursday, according to one senior government source), down through the villages of Kapana, Kuchi, Guni, and Chiri along the eastern and southern flanks of the Shiroro dam reservoir. 
Local residents described a less religiously infused form of violence. The attackers stole cattle, kidnapped several dozen people, spoke Fulani, and relied on paid informants from various ethnic groups to infiltrate the communities in question. 
There were no cries of "Allahu akbar," nor were any flags raised. A church was burned in one community, but so were all the other buildings in that area. "We cannot say they are Boko Haram," noted one resident who fled the attacks.
The question of what proportion of militants along the Niger-Kaduna axis are "bandits" as opposed to more ideologically driven jihadists is an important one for analysts and policymakers to grapple with. 
But we should not let these distinctions obscure our understanding of the compounding security challenges that the region faces. Boko Haram's name grabs attention and instils fear, but the suffering of those communities afflicted by banditry-cum-terrorism is no less significant.
"They come without fear," said one resident of Munya displaced by bandits. Indeed, like their counterparts in Shiroro, the attackers in Munya wore military uniforms and carried better weapons than most local security forces. 
"We need government for security… they are not taking action," remarked another displaced person, one of roughly 3,000 who fled to the state capital. For their part, several security officials lamented to the author that forces in the area are overstretched.
The testimonies from Shiroro and Munya suggest a complex and deteriorating situation in Niger State involving multiple sets of militants. Governor Bello may have invoked the prospect of jihadist attacks in Abuja to raise the alarm, but the reality in his state is frightening enough as is.
---
Support Our Journalism
There are millions of ordinary people affected by conflict in Africa whose stories are missing in the mainstream media. HumAngle is determined to tell those challenging and under-reported stories, hoping that the people impacted by these conflicts will find the safety and security they deserve.
To ensure that we continue to provide public service coverage, we have a small favour to ask you. We want you to be part of our journalistic endeavour by contributing a token to us.
Your donation will further promote a robust, free, and independent media.
Donate Here