Development
Features
News
Inside Southwest Nigeria Communities Where Residents Wallow In A Decade Of Darkness
For over 10 years, 40 communities in Osun State, Southwest Nigeria have been without electricity and efforts to get it restored have been futile.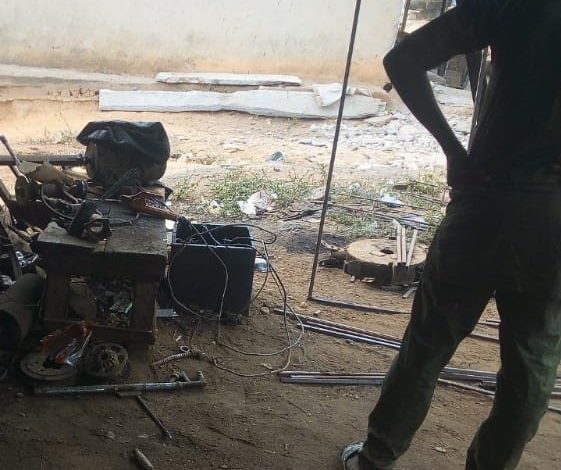 It was a Monday morning; Ishola Olaoti is hunched on a white plastic chair beside his makeshift shop as a deafening sound from a nearby generator set that powers the shop pervaded the air.
Olaoti runs the shop as a charging point for residents to power their rechargeable electronic gadgets, particularly mobile phones, for a token.
According to a Bloomberg report, an average home in Nigeria gets national grid power for about nine hours daily. It could be worse in some communities and homes.
Residents of Olode community in Ife South Local Government Area of Osun State, Southwest Nigeria have lived without power supply for over a decade. For about 40 hamlets that make up the Olode community, darkness is a norm. They have endured darkness for years despite repeated efforts to get electricity restored.
As a result, Olaoti's makeshift shop has become a Mecca for residents of the community. Though he earns close to N30,000 in a day, about the minimum wage for a civil servant, from charging other people's phones, the father of three says he wants a better living condition for the community.
"I know that each day, I earn nothing less than N30,000 from this business and I've become an independent man since I started this business.  But, I cannot say this should continue because of my own pocket since it's really affecting everyone," he says, revealing that he also spends as much as N5000 on fuel everyday to power his noise-making generating set.
But unlike Olaoti, Chuemeka Idoma who runs a soft drinks kiosk in the community is currently on the verge of closing down her shop due to the years of blackout in the community.  According to her, she spends most of her proceeds on fuel.
"I'm into the soft drink business, and it's not possible to sell any drink that's not cold, especially during this hot season," Idoma says.
"To satisfy my customer, I used to buy fuel to turn on my generator so that I would produce cold soft drinks for my customer. This is really affecting me because sometimes, I could buy fuel with my gains. I pray government should come and solve this problem.''
A community's many challenges
The Federal Government of Nigeria has so far spent over N1.7 trillion on the already privatised power sector in the last three years.
Despite this, about 80 million Nigerians living in 8000 villages across the country lack access to electricity.
With large oil, gas, hydro, and solar resources, Nigeria has the potential to generate 12,522 megawatts (MW) of electric power from existing plants but on most days, generates 4,000 MW, which is insufficient for the country's teeming population.
Only 57 per cent of the country's 200 million population have access to electricity. While just 31 per cent of people living in the country's rural areas have access to electricity, 82 per cent of people living in the urban areas that have access to electricity still usually experience persistent power outages.
Abdullahi Issa from Iyodun Community under the same Ife South Local Government, recalls that it has been 10 years since the community last had electricity.
"This issue is really unbearable. The last time that we had electricity in the whole Olode Community was 10 years ago," Issa laments. According to him, the problem of electricity is also affecting the provision of potable water in the community.
People in his neighbourhood rely on water from a borehole drilled by the community's central mosque but fights often break out among residents who struggle to get water from the facility.
A resident from Mayour site community who pleaded anonymity narrated how the youth of the communities in Olode formed a group to curb the lack of electricity but the plans went unaccomplished.
Efforts in the past by youths in the community, including moving against the celebration of the nine years coronation of the traditional ruler to get the government to intervene, failed.
"Some years ago, we, the youths in all communities created a movement, and we stood for the developments of our communities," said a youth who did not want to be named.
"Then, we turned against an occasion that they did to celebrate the king's nine years' coronation. We suggested that Olode-day could bring different development to this community and our local government."
"We conducted different campaigns about the problem that we are facing in Olode – which later made the leaders of the community declare us wanted. Some of us ran out of the town. We later met with them and the traditional ruler and some appointed youths went to see Ooni of Ife on how to restore the power. for the reviving of our electrification. Upon all the struggle, nothing was done till this moment.''
Some years back, the community leaders mandated residents to contribute money to fix the problem.  Though the contribution was mandatory and failure attracted punishment like flogging at the king's palace, nothing was achieved. "They collected N1500 from each household," he added.
A resident, Habeebullahi Rasheedat lamented how lack of electricity has affected the economic and social life of the people.
She said: "We're using generators to charge and some who are financially buoyant are using solar panels. Some people have relocated due to this problem of electricity."
Rasheedat also recalled how the power problem forced a Chinese company that was producing plywood to relocate from Olode.
Dying small scale businesses
As the community wallops in darkness, many small scale businesses that depend on power to operate are folding up and many are being pushed out of jobs. All hopes seem to have been lost as relics of electric installations across the community are eyesores. Many wires and cables are now serving locals as drying lines for clothes.
Artisans like Kabiru Ademola who is a welder, find it hard to cope. "This issue is so painful to me because I'm a welder, and I can't work without electricity," Ademola laments.
Mama Kudirat, a middle-aged woman who sells soft drinks, said she spends a lot of money to buy iced blocks to make her stocks cold.
"We usually buy blocks that the people who are residing at Ile-Ife bring to this community to sell. We buy a bar of an iced block at the rate of N150," Mama Kudirat said.
The lack of electricity for 10 years in the 40 communities has retarded their growth and development. Many small scale and big enterprises have since collapsed while some have relocated to other states. According to a youth leader in one of the communities, "this problem has made some people become jobless."
Mutiu Agunbiade, a computer engineer and owner of an internet cafe, said he left the business because he could not cope with the high cost of running the cafe on diesel.  
The lack of power in these communities has also fueled insecurity. According to one of the residents, it has become increasingly unsafe to send their children on errands in the evening or at night for fear of being robbed. 
Ismail Adedayo told this reporter that once night falls and everywhere is enveloped in total darkness, criminals lurk around corners to attack residents. 
He said young ladies are often sexually harassed, as several people have been robbed by some urchins who take advantage of the total blackout. 
"This lack of electrification has caused a lot of things in all Olode Communities. Here in Afunbiemu, we can't send our children on an errand in the night because some have lost their children and they're nowhere to be found till today," Adedayo said.
"We're not safe at all. My family and I would have relocated from here to another place but we can't leave our families here," he added.
No end in sight
Though locals have made relentless efforts to get out of their perpetual blackout, there seems to be no end in sight.
Adeyemi Olajide, Chairman of all Olode communities who, with others have been at the forefront of the crusade to get electricity back to all the affected communities, said the problem started when the power sector was privatised. According to him, the 40 communities were cut off from the power grid due to a huge debt they reportedly owed to the Power Holdings Company of Nigeria (PHCN).
"Initially, that's what they were told that caused the problem some years ago," Olajide said.
According to him, the community was told by the Benin Electricity Distribution Company (BEDC) that it owed PHCN a huge amount of money.
But several attempts made to get management of the BEDC to speak on this development did not yield any positive results. Calls put through to the official line of the company were not answered while messages sent through its verified social media accounts were also ignored. 
The chairman hinted that the case is already before the National Assembly, exuding confidence that power may soon be restored to the communities.  "Recently, we heard that our issue had been tabled before the National Assembly, we're part of those they want to assist," he said.
"According to what I heard from a reliable source, it's confirmed that we may have our electricity back soon."
That may be a tall dream as transformers located in parts of the affected communities have either been vandalized or carted away. Cables connecting many poles have also been carted away.
Ganiu Adeshina, a community leader at Olode recalls how the communities raised a sum of N2.5milllion to address the power problem but it was a drop in the ocean.
"Even all communities contributed about N 2.5 million; but it was not enough to embark on the electrification project because some transformers had been carted away and the wires were stolen," he said.
The Osun State Government has not been proactive in helping the communities. When contacted by his mobile phone, Ismail Omipidan, spokesperson to Gboyega Oyetola, Governor of Osun State did not respond to enquiries by this reporter. Calls to his phone were not answered while SMS sent as alternatives were equally not replied to.
Funke Egbemode, the state's Commissioner for Information also did not answer calls to her phone. This reporter messaged the Commissioner with her verified Whatsapp number, she replied greetings but didn't respond to questions concerning Olode non-electrification problem.
---
Support Our Journalism
There are millions of ordinary people affected by conflict in Africa whose stories are missing in the mainstream media. HumAngle is determined to tell those challenging and under-reported stories, hoping that the people impacted by these conflicts will find the safety and security they deserve.
To ensure that we continue to provide public service coverage, we have a small favour to ask you. We want you to be part of our journalistic endeavour by contributing a token to us.
Your donation will further promote a robust, free, and independent media.
Donate Here