Development
Emergencies
Features
Inside Nigeria's Stinking And Dilapidated Police Barracks
The collapse of a building housing police officers and their families has brought a spotlight on the poor conditions of police barracks across the country. Many officers, charged with protecting citizens' lives and property, themselves live in little more than slums.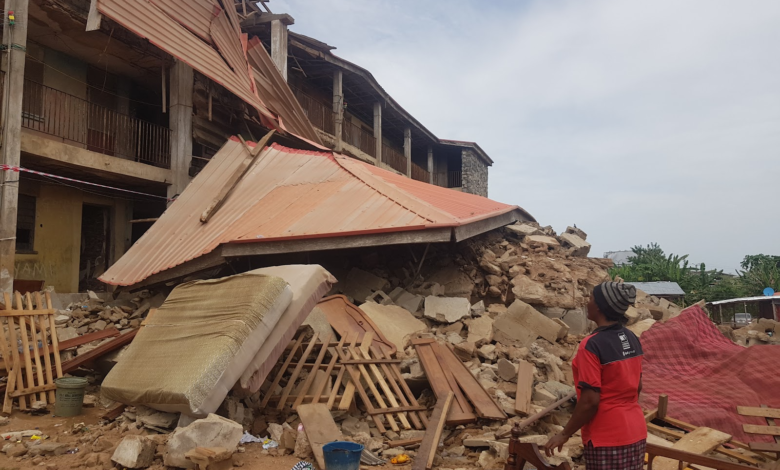 "I no longer believe in the police force," said Stephen Amos, an inspector who has served his country for over 20 years.
"No one cares about our welfare. They just want to continue to use us."
Amos's frustration was triggered by the partial collapse of a block of flats on April 22 at the police barracks located in the Sango area of Ibadan, Southwest Nigeria.
After heavy rainfall, part of the three-storey block of flats crumbled and gave way. The walls and the roof fell in, leaving much of the 100-year-old building just a pile of rubble. As it came down, it destroyed millions of naira in property belonging to police officers.
What hurts Amos the most is that occupants had complained about the building's poor state of repair on several occasions.
According to the National Emergency Management Agency (NEMA), the rest of the building is no longer habitable and will be demolished as it failed "integrity tests".
"This police barrack has been in shambles for years," said Amos. "We have complained to our superiors on several occasions but they chose to neglect us despite deducting rent from our salaries," Amos was visibly angry as he spoke to HumAngle during a visit to the collapsed building.
Squatting
While it was standing, most residents were scared that the building might fall apart at any time.
When it rained, hardly any of them stayed in their rooms. This is what saved the 168 occupants from serious injury or being killed when it collapsed late last month.
Aside from losing multimillion naira properties still under the rubble, the police officers occupying the building and their families have been displaced. Eighteen families had to find somewhere else to live.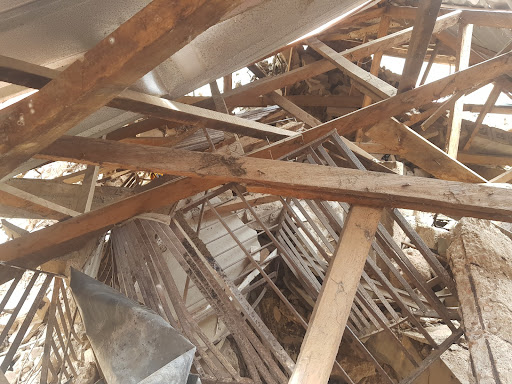 "Where exactly do they want us to go? They evicted us without providing an alternative. We are more or less displaced officers. Almost all police facilities in the country are in poor condition. Police authorities continue to embezzle renovation funds while low-rank officers suffer," Amos said.
The families from the building that collapsed have squeezed into other buildings on the grounds of the barracks.
"After the collapse, people continue to squat. But how long are we going to do this? I am scared of the entire building in the barrack but there is nowhere to go with our wives and children."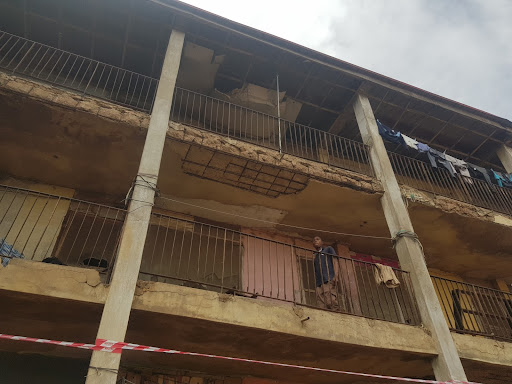 After observing the incident, NEMA promised to bring relief materials such as mattresses, mosquito nets, and others, but the promise is yet to be fulfilled many days after.
Glorified slums
While police officers are major actors in the criminal justice system, they have been left to suffer in decaying barracks. For decades, police authorities failed to build new barracks or properly renovate existing ones.
One of the reasons for erecting barracks is to address the housing challenge confronting military and paramilitary institutions. However, barrack accommodation is akin to living in a slum, residents say.
Most buildings in police barracks across the country lack basic amenities such as toilets and even potable water.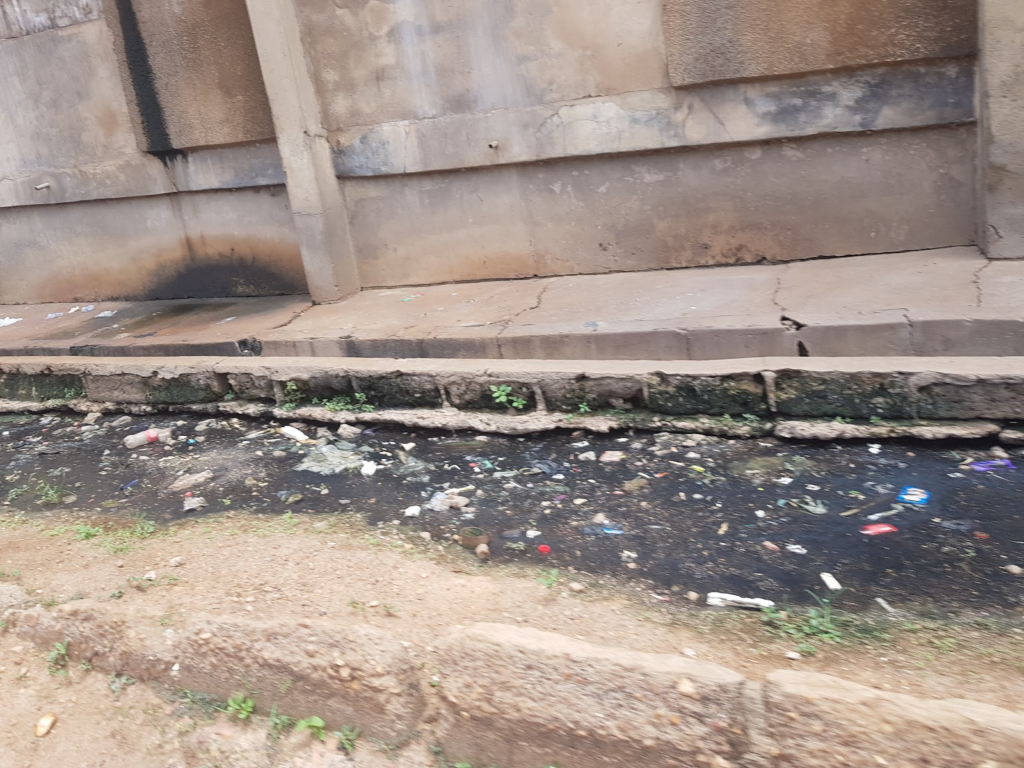 Officers go out every morning with rifles to enforce laws and return back to dilapidated homes at night. This development arguably hinders justice as many of them are in a race against time to get money for their upkeep rather than support human rights or respect fair hearing.
HumAngle observed large cracks on the walls, leaking roofs, and broken and smelly soak-away channels during our visit to other barracks in the course of researching this story.
Depressed police
In Osogbo, Aisha Muraina also says she prefers to stay outside when it rains than remain in the barrack because of fear of collapse.
When the soil becomes saturated with water, the foundations of buildings can move. The extra weight of the water can tip a crumbling building over the edge.
"Human beings should not be expected to stay here. I have been in the barracks since 2020 and I hardly sleep with my two eyes closed. I am in pain because my husband is also a police officer. We face challenges outside securing lives and properties but our own lives aren't secured by the government," Muraina said.
"I have four children that run out with me each time it rains. I prefer to stay in the rain than being indoors because I don't know the gravity of what may happen."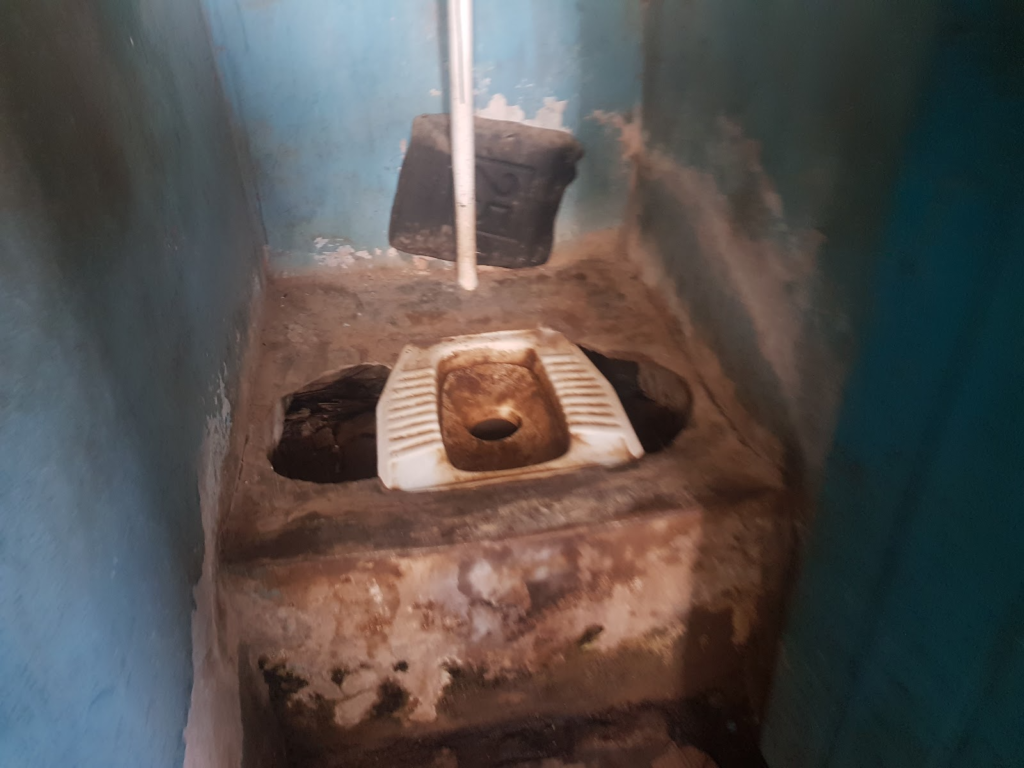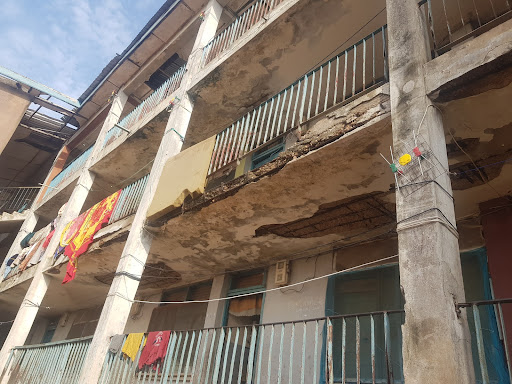 A senior officer who spoke under anonymity because of fear of backlash expressed his displeasure. The poor conditions of police barracks across Nigeria have received little or no attention for far too long, he said.
"With these sorry conditions, it is not out of place to expect that officers would not discharge their duties efficiently. The barracks pose danger to our families and leaving outside the barracks is even more dangerous, considering the peculiar nature of our jobs."
Officers scared of victimisation
HumAngle's visit to the police barracks in Obalende, Lagos shows that many personnel are afraid to speak about their difficulties in the decayed barracks. They told our reporter that they are unauthorised to narrate their sufferings to the public.
"What happens in the police stops in the police. If you want us to speak with you, bring a note from police authorities," one of the officers said at Obalende barrack.
Most of the officers who live in the dingy, dampened rooms of the dilapidated structures were seen patronising water vendors due to the lack of potable water in the barrack. In some cases, personnel queue to use toilets and bathrooms.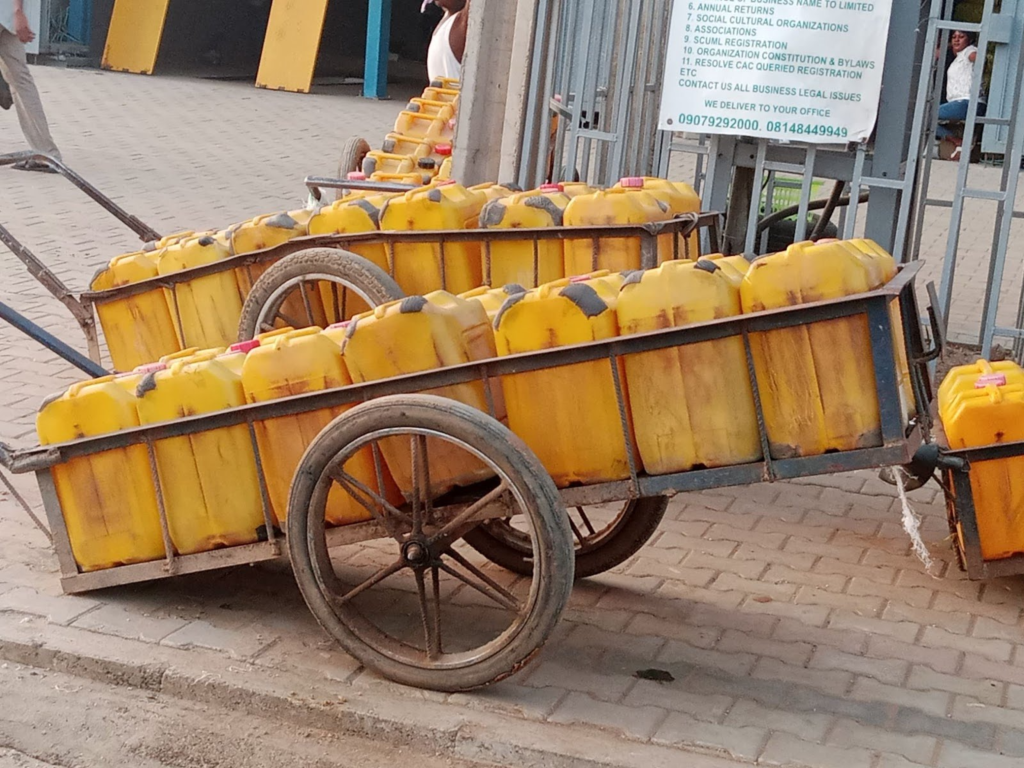 Officers say they continue to live in dangerous buildings, risking the lives of their families, because they do not have the financial means to rent apartments outside the barracks. 
In 2019, a joint development agreement was signed between the Police Force and a property development company, Echostone Nigeria Limited, to develop 100,000 homes for officers nationwide at a total cost of ₦750 billion ($1,625,135,400.00).
While the Nigerian Police Property Development Company (NPPDC) was said to make provision for land, Echostone was billed to serve as the developer and the Nigerian Police Force Mortgage Bank (NPFMB) will provide the mortgage facility.
Though Muyiwa Adejobi, spokesperson of the Police Force, is yet to respond to enquiries seeking updates on the project, two senior police officers who spoke with our reporter under the condition of anonymity because they are not authorised to speak with the press, say that construction has begun at sites across six geo-political zones of the country. The buildings are nearing the roofing stage, they said.
But junior officers who spoke with HumAngle say with their current salaries, they fear they may not be able to afford these houses.
Police authorities
The leadership of the Police Force are aware of the sorry state of police barracks but little or nothing is done to address it.
For instance, Usman Baba, an inspector-general of police (IGP), in 2021 admitted that the force is facing a gross housing deficit. According to the police boss, less than 10 per cent of its personnel in barracks have proper accommodation.
"With a workforce of over 350,000 in staff strength, the NPF has less than 10 per cent of its personnel quartered in befitting barracks accommodation," he said during a public-private partnership units consultative meeting organised by the Infrastructure Concession Regulatory Commission (ICRC) in Abuja.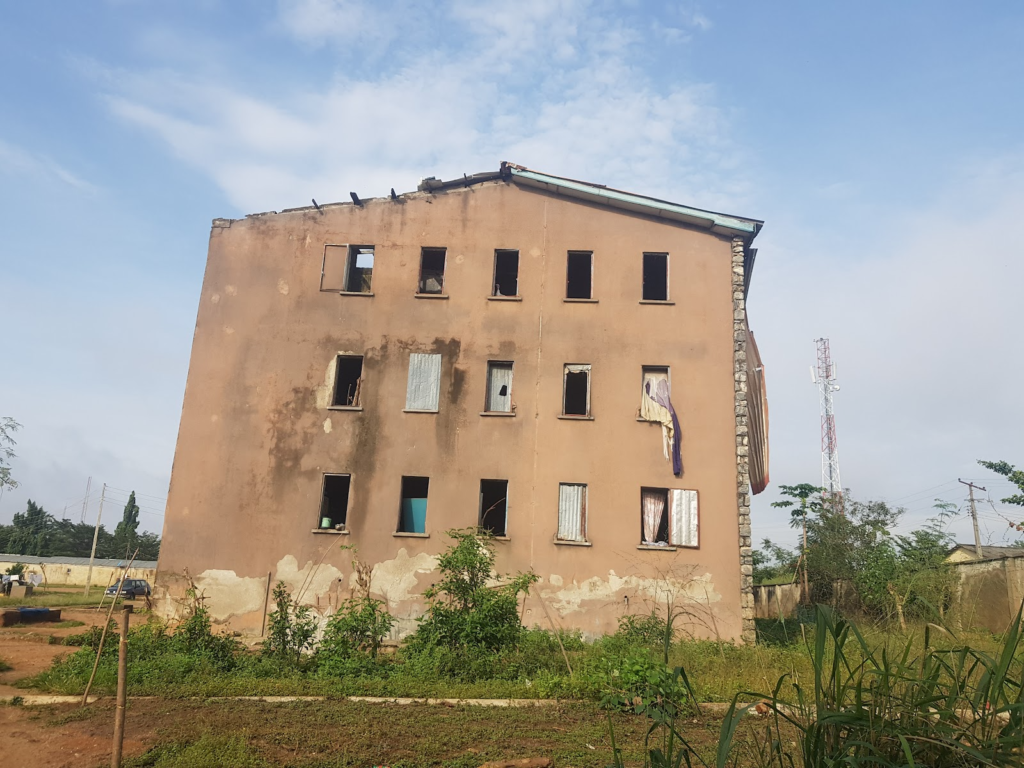 Reacting to the recent collapse in Ibadan, Adejobi, the force public relations officer, told journalists in the state: "There are some of them [barracks] that we are thinking of demolishing outrightly. The IGP is discussing with the Police Trust Fund and relevant MDAs – Ministry of Police Affairs. The IGP has taken the bull by the horn to make sure that we access most of these things and discuss with relevant MDAs to see what we can do."
But personnel living in the barracks told HumAngle that they do not trust police leadership with their welfare.
"Sure, decent housing and improvements in our welfare would motivate us but we do not trust the police force leadership. They deceive us with paintings of nearly collapsed structures each time they claim to do renovation of barracks," one of the recent building collapse victims in Ibadan said.
"I regret the day I joined the police force."
---
Support Our Journalism
There are millions of ordinary people affected by conflict in Africa whose stories are missing in the mainstream media. HumAngle is determined to tell those challenging and under-reported stories, hoping that the people impacted by these conflicts will find the safety and security they deserve.
To ensure that we continue to provide public service coverage, we have a small favour to ask you. We want you to be part of our journalistic endeavour by contributing a token to us.
Your donation will further promote a robust, free, and independent media.
Donate Here