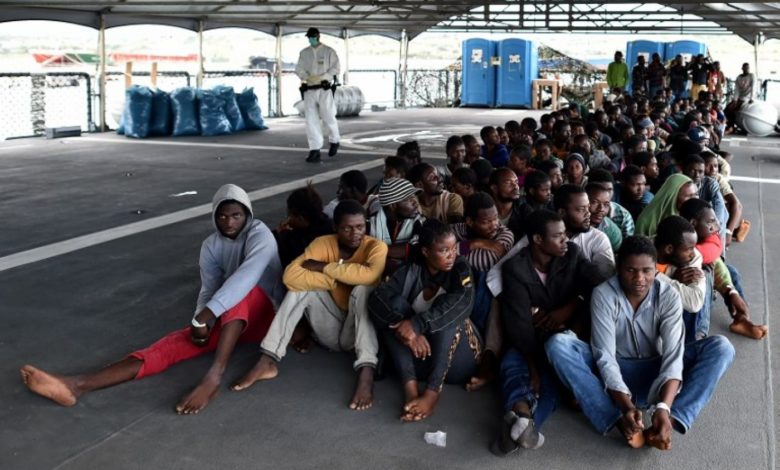 The illegal migration trend does not seem to have an end in sight as some young people in Edo State look forward to making their own trips to Europe, return home and become influential in their communities despite the risks involved.
HumAngle investigations revealed that travel plans are still being made during the COVID-19 pandemic period.
With the ban on international travels through airports, more people, who cannot wait, have resorted to travelling by road.
A travel agent, who simply gave his name as Jonathan, said "there is no time again. Usually, some people will go by air but with this COVID thing, the people travelling by road have increased.
"I have just sent some now with my people. They should have reached Niger (Republic) by now.
"With the things happening at the Nigerian borders, they should not have a problem getting to Bamako," he said, referring to the terrorism in Nigeria's Northwest region.
He added that the conflict in the region had made the borders more porous and put Nigerian migrants ahead of others from some African countries.
With the Niamey road cut off, the travel route has changed and somehow favoured Nigerians.
Niger Republic is the key transit route for thousands of African migrants trying to reach the Mediterranean. The city of Agadez lies at the centre of smuggling operations.
Under European Union (EU) pressure, the Nigerien government adopted a harsh law banning human trafficking and cracked down on decades-old desert trade routes.
The crackdown had the effect EU officials wanted. Migration through Niger Republic to Libya fell from more than 300,000 in 2016 to about 10,000 in 2018, according to the European Parliament.
When HumAngle asked if the pandemic and the new restrictions in Niger Republic did not hurt the business, Jonathan explained that places were opening up in Agadez.
"I will not lie to you. It is a little harder but Nigerians have luck. People cannot sit waiting for airports to open and the country is already hard.
"I take care of my people. I put them in groups that easily reach Europe so they don't have to fear," he said.
Due to the crisis in Nigeria's Northwest region, several indigenes at the border towns are fleeing to Niger Republic.
The agent added that the porous borders gave leverage to leave the country, although there were some restrictions in Niger Republic.
"It is getting harder in Niger (Republic) but people are still going through. It is just determination," Jonathan said.
Reports, however, show that several immigrants are stuck in Agadez without food or water, especially with the COVID-19 pandemic.
Meanwhile, the average young person in Edo State willing to travel has agents like Jonathan who are not completely honest about the turmoil they stand to face during the journey.
More teenagers look forward to migration
"I want to go to Spain or Malaysia. I want to leave this town and this country. I am tired," 17-year-old Osedebamen Ehizojie said excitedly, slightly shrugging his shoulders.
This is his life dream and the Senior Secondary 2 student is certain nothing is wrong with his dream. The dream that he shares with thousands of other young people in the interiors of Edo State and Nigeria.
Young Nigerians make up the largest population of the growing flow of migrants from Africa to other countries, especially in Europe.
In 2016, over 20,000 involved in the Mediterranean Sea crossing were reported to be from Nigeria.
In addition, from 2017 until late 2019, hundreds of Nigerian migrants were deported from various destinations, including Italy, Libya and South Africa.
Ehizojie is from Ihumudum in Esan West Local Government Area of Edo State. Like him, lots of teenagers around the local government areas that make up Edo Central Senatorial District want to go abroad to hustle, but illegally.
They do not know another way to travel abroad than crossing the dessert, using a ship or flying with incorrect documents after which they will sneak around till they "make it big and come home".
Ehizojie told HumAngle that his cousin, who was only two years older, travelled when he was 17 too and he was now doing well for himself. He pointed at an uncompleted bungalow with lots of pillars that his cousin was building for his parents.
"His brother carried him there and he is doing well. He is in Spain and he is working there. God is really blessing him there," he said.
When HumAngle asked if his cousin completed secondary school before he left, Ehizojie replied, "No, what does he need the certificate for when he gets there? That is why I am not bothering myself with school."
In a focus group with 10 teenagers aged between 15 and 19, all told HumAngle that they wanted to go abroad and could not wait.
They had a vague idea how it is done but they affirmed that the gains looked like it outweighed the risks.
"My big brother had done it. He said he went in a lorry and followed the dessert but he will send aeroplane ticket for me. I don't need to pass the desert and river," another teenager, John Anetor, said.
Like the rest, he was excited at the prospects that his brother promised him. At 19, he was the oldest in the group and has finished secondary school.
He told HumAngle that he was reluctant to enter university because "there is no need since I am going abroad soon. Since I am using a plane, I will chose Malaysia."
'I have not seen my children'
The teenagers, like many others, are not deterred by the scores of people still missing and whose families have not heard from them since they travelled.
Mrs Lucy Osologo told HumAngle that she wished she had not supported two of her sons when they decided to travel.
She sold her piece of land and gave the money to the boys – Lucky and Prince – four years ago and has not heard from them since.
"The people they travelled with said they are in prison but nobody has contacted us. They said they are stuck somewhere in Libya but we have not heard from them.
"They came to meet me and said they wanted to travel. It was supposed to be a good investment. What is land? Won't they return to build me a big house?" she asked rhetorically.
The widow said she was obliged to support their travel plans because "that is what everyone knows to do. The children travel abroad. Everyone's children does it. Why is my own different?"
HumAngle gathered that, like the two young men, several others were trapped in border towns in Niger Republic and Libya; some in prison.
For others who manage to escape, they return to the villages carrying the trauma of the beatings and the strain of the journey, mostly under cover by road.
In Ubiaja, Esan South East Local Government Area, the HumAngle correspondent met Lucky Okogun who returned from Libya in 2019. He was stuck the country for months.
"They tell you it is hard if you don't use plane but they don't tell you how hard it is. I saw hell. I was stuck in Libya. Some people are in prison and have no way to contact anybody.
"By some miracle, I was able to contact home and asked them to send me money which I used to bribe my way out," he said.
Okogun's release and journey home cost his family about N600, 000 which was way more than they bargained for.
The subject of travelling abroad is not one they love to talk about as the only person they tried to send as a family failed.
His mother told HumAngle that it was bad luck and "the enemies do not want me to enjoy what my mates are enjoying. They attacked Lucky but they will not succeed."
Okogun, on his part, is clear on his intentions of never attempting the journey again, although his family wants him to try. This time, by air.
His reluctance is seen as weakness but he told HumAngle that it was because he did not "understand the worth".
"They should send another person, I have suffered enough," he said.
Fancy cars, houses and societal relevance
Okogun is a lone voice and as far as the teenagers in the focus group were concerned, his experience and those of others missing was as a result of their weakness.
"Dem no get mind," Osezele Akhidenor said in pidgin, meaning 'they are not brave'.
"The people that are making it, do they have two heads? I am already working my way. When I come back with a lot of money, I will set up a business and help people," the 18-year-old said.
The teenagers have their heroes. People who have been to Europe and back with wealth. They have set up businesses and achieved local relevance as opinion leaders.
It is easy to spot returnees, even as the respondents pointed them out to HumAngle. They start off by sending some money home for their family to buy plots of land.
Thereafter, they return, throw a big party sometimes and build massive houses, buy flashy cars and open businesses in the hospitality sector mostly.
The towns are littered with steam car washes, event centres, guest houses and restaurants owned by returnees.
HumAngle learnt that the prestige and notoriety these people gather act as massive inspiration for the younger ones who look forward to being like them.
"When did Oga Bello come back and he is already a chief in Uromi? A real chief for that matter. Look at his houses and cars. He is enjoying life," Akhidenor said.
---
Support Our Journalism
There are millions of ordinary people affected by conflict in Africa whose stories are missing in the mainstream media. HumAngle is determined to tell those challenging and under-reported stories, hoping that the people impacted by these conflicts will find the safety and security they deserve.
To ensure that we continue to provide public service coverage, we have a small favour to ask you. We want you to be part of our journalistic endeavour by contributing a token to us.
Your donation will further promote a robust, free, and independent media.
Donate Here