Human Rights
Investigations
News
Ikeja Bomb Blast: Buried Hopes And Fresh Wounds 20 Years After
Many Nigerians who lost family in the Ikeja Military Cantonment Bomb Blasts of Jan. 2002 are still looking to the government for the support promised to them.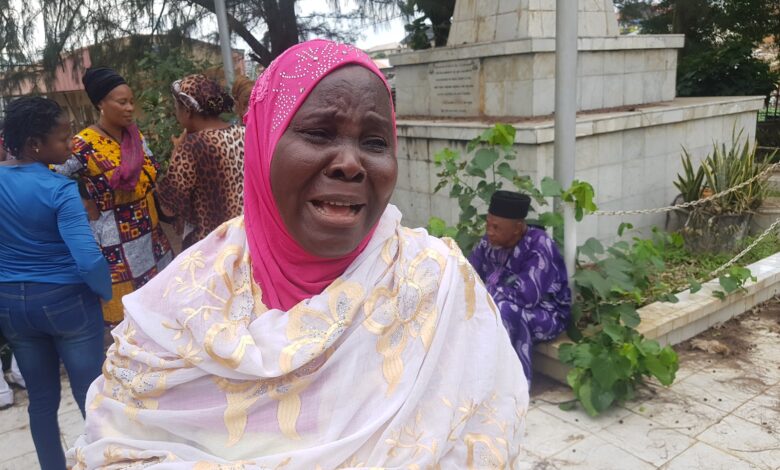 Though the rain had just fallen and a cool breeze passed under the trees, it was not enough to calm Sauli Adunni's nerves. Her eyes were filled with tears that spoke volumes of the pain she had passed through in the last two decades.
Before then, she and her husband had been blessed with six children. With most of their plans falling into place, there was no reason to fear what the future held.
Then on Jan. 27, 2002, she lost four children.
"I remember everything that happened," she says tearfully during a visit to the Oke-Afa Memorial Arcade where victims of the Ikeja cantonment bomb blast are buried.
"Wasilat was in her shop when the bomb blast occurred. My other three daughters, Raliyat, Raheema and Monsurah, were all living in the Makinde area in Oshodi. They all scampered for safety alongside hundreds of people.
"When they got to Oke-Afa, Raliyat jumped into the canal thinking they were going to survive and others followed. That was the beginning of my predicament and I have since then not recovered from the trauma that followed the incident."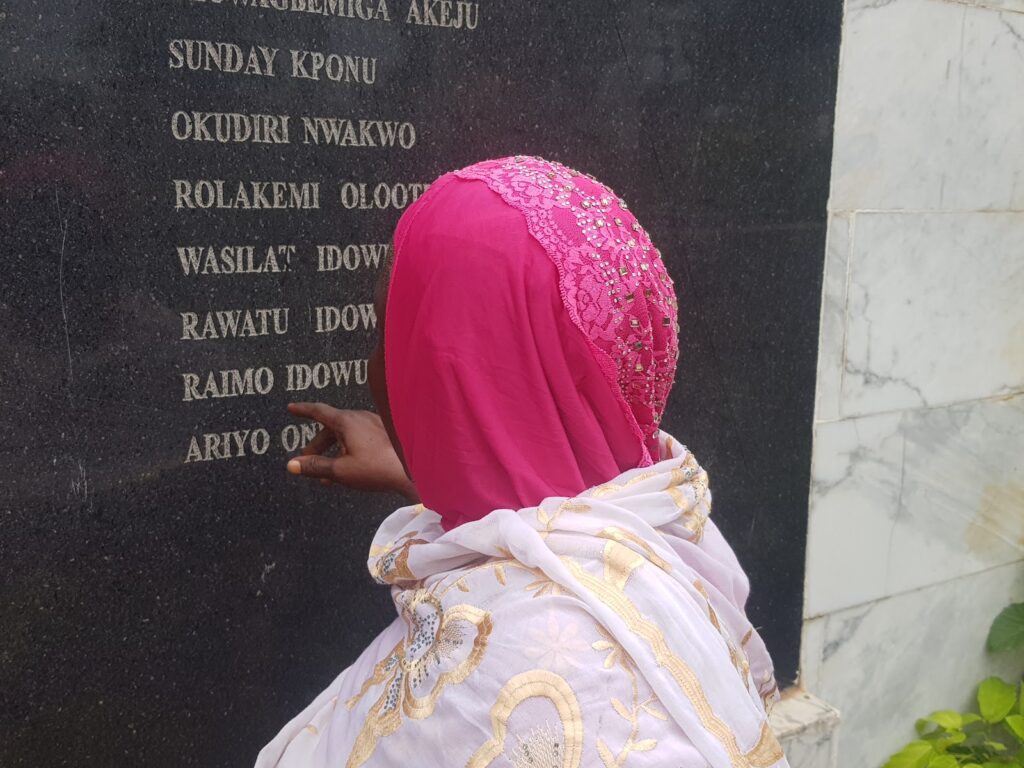 While Adunni tried to speak further about what her family experienced, she couldn't. Only tears came out.
The bomb blast
At about 5 p.m. on Jan. 27, 2002, an explosion rang from the Military Cantonment in Ikeja, the capital of Lagos, the effect akin to that of an earthquake. Bombs and other explosive items had mistakenly been set off in the armoury section of the barracks.
The explosion, which sounded about seven times, led to the destruction of properties in and around the area. It was an unprecedented occurrence, so people scampered for safety.
While running helter-skelter, they heard several other explosions of the same intensity, and many thought a war had broken out. Aside from people who lost their lives directly to the explosion, the stampede also led to the deaths of others. Minute after minute, the death toll was rising.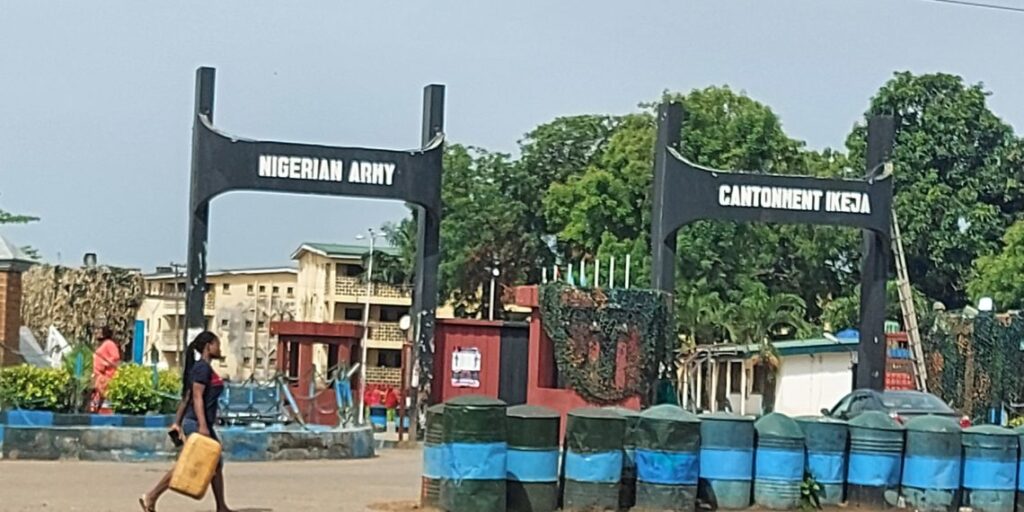 As different streets were littered with corpses, a location that seemed to record the highest number of deaths was a large canal at Ajao Estate which links Oke-Afa in Isolo.
The surface of the canal was covered by water hyacinth so people running for safety thought it was dry land covered by bush. But as they jumped on it, they sank and drowned. The outcome was a mass grave with some families completely wiped off.
By the time the dust settled the following day, more than 1,000 lives had been lost. While some went missing and are yet to be seen to date, many became displaced and others sustained various injuries. Our reporter met with dozens of the victims.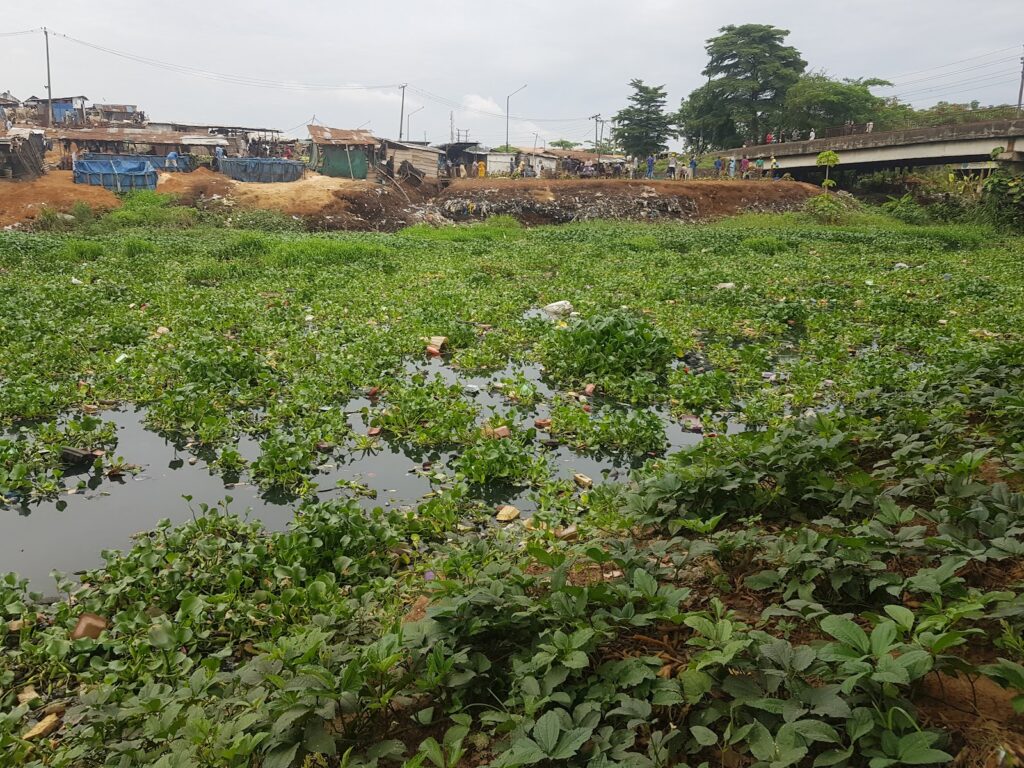 As of the time of this report, Adunni's and other families are still grieving and many displaced by the incident remain homeless.
The anguish
Once a proud electrician on the streets of Lagos, Surajudeen Kareem, 67, said the incident represents the darkest day of his life as he lost his 19-year-old son, Shakiru to the explosion. Shakiru was a student at Lagos State University.
"We were living in Mushin. My son went to visit his aunt in Apapa but was called to return home as a result of the heavy noise across the city. We didn't set our eyes on him on the said day. The next day, I heard that some people perished in the carnal.
"I came there and saw many dead bodies but my son was not included. I later trekked to Apapa Police Station to lodge a complaint and also went to mortuaries to see if I could find his body but I never did," he sighed.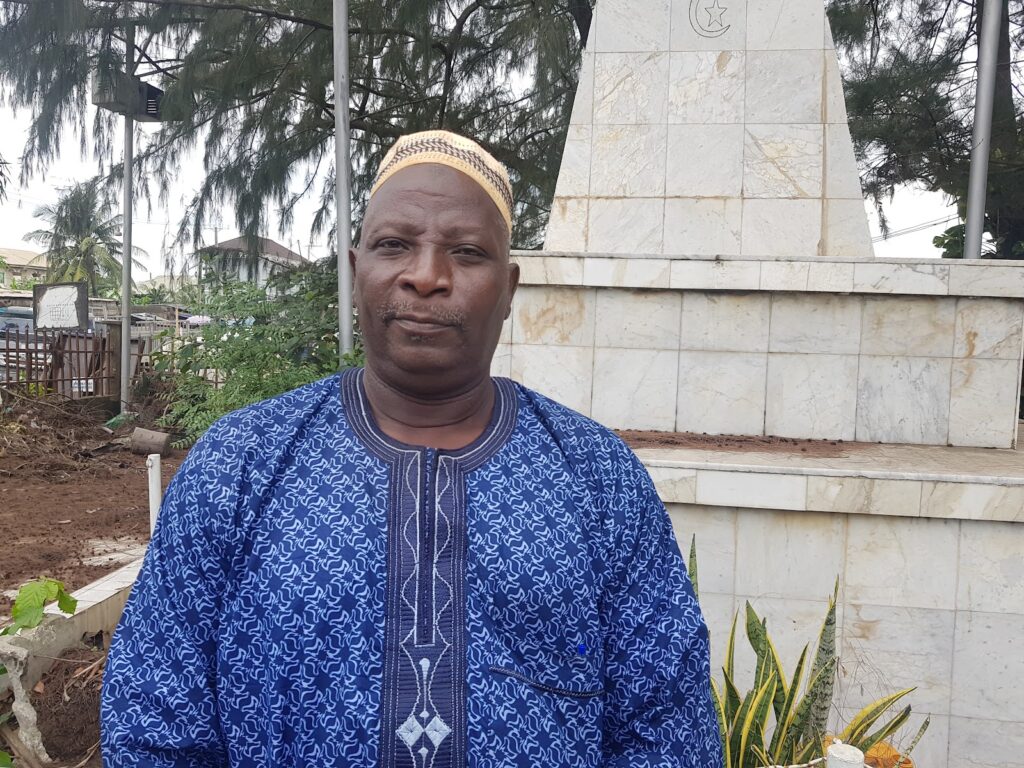 Kareem's wife also died in 2013 after years of battling hypertension, a condition that came after the incident. "Life has since been horrible because he was a promising child. At some point, people said I was going mad because of how I usually talked about his disappearance. Losing my wife also complicated my pains."
Grieving mothers
Akinyemi Felicia, 67, flicked her eyes at the sky before taking a deep breath. The long passage of time is not enough to dry her tears and, though she has told the story repeatedly, she is eager to share it again.
She lost her daughter to the blast. Taiwo, 22, a secondary school graduate, had plans at the time to study Medicine. She had gone to the wedding ceremony of her friend when she got trapped. Felicia and her family members visited various hospitals and mortuaries in search of Taiwo but their efforts were futile.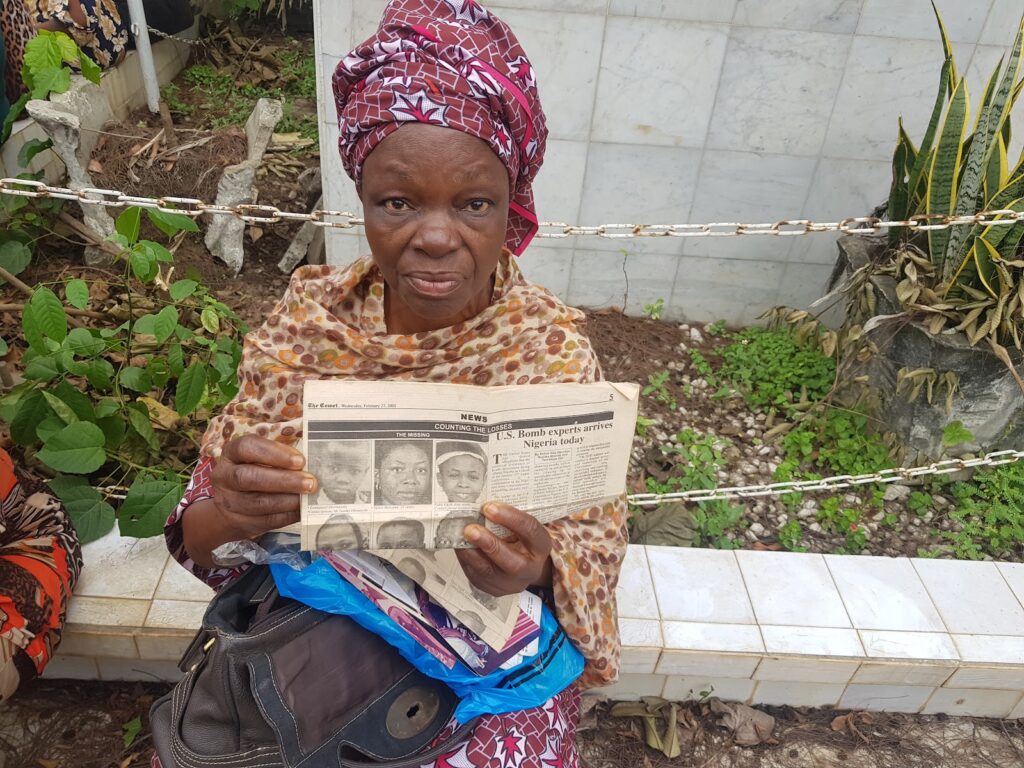 While waiting to be admitted into the university, late Taiwo worked at a pharmacy and was always giving her mother her salary with the promise to continue to do so when she became a doctor.
"Taiwo promised to make me live a luxurious life when she became a doctor and also be in charge of my health. I suffered as a caterer to raise her and her twin sister but all the dreams she had vanished 20 years ago."
Oyebamiji Moji, 50, has been left distraught since her daughter, Florence, died. She had left home when many people scampered for safety. Her parents became apprehensive when she did not return. Soon, hours turned into days and Florence was nowhere to be found.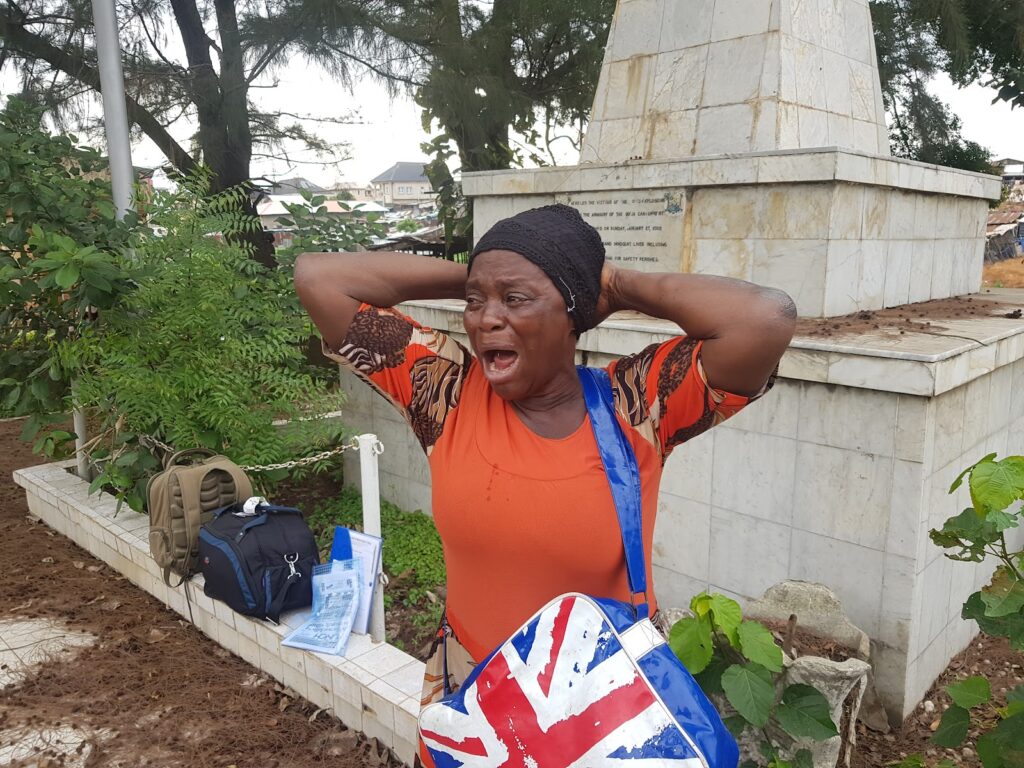 After several desperate searches, Florence's lifeless body was seen at the Oke-Afa canal. According to Moji, "The story is a very sad one for me and my family. My entire family was displaced as a result of the incident and are yet to find shelter many years after."
She told HumAngle that her husband died as a result of the illness that followed Florence's death. Today, she mourns the loss of the duo. "There are days I still peep through the window to check if my husband and daughter would bring back sunshine into my life. Unfortunately, they couldn't and the wound inflicted by the loss has refused to heal."
The anguish on Bose Jenrola's face was noticeable as she narrated her story. Her joy was turned into mourning after the loss of her six-year-old daughter, Oyindamola. Like others, they did not know a safe direction to turn to when they fled their home.
Jenrola saw her neighbours heading to Oke-Afa but it turned out to be a point where a deadly end awaited them. "I gave birth to my child after secondary school. So she was staying with her father while I was running my undergraduate study in Ogun State. I came back from school to celebrate her birthday when I heard the bomb blast."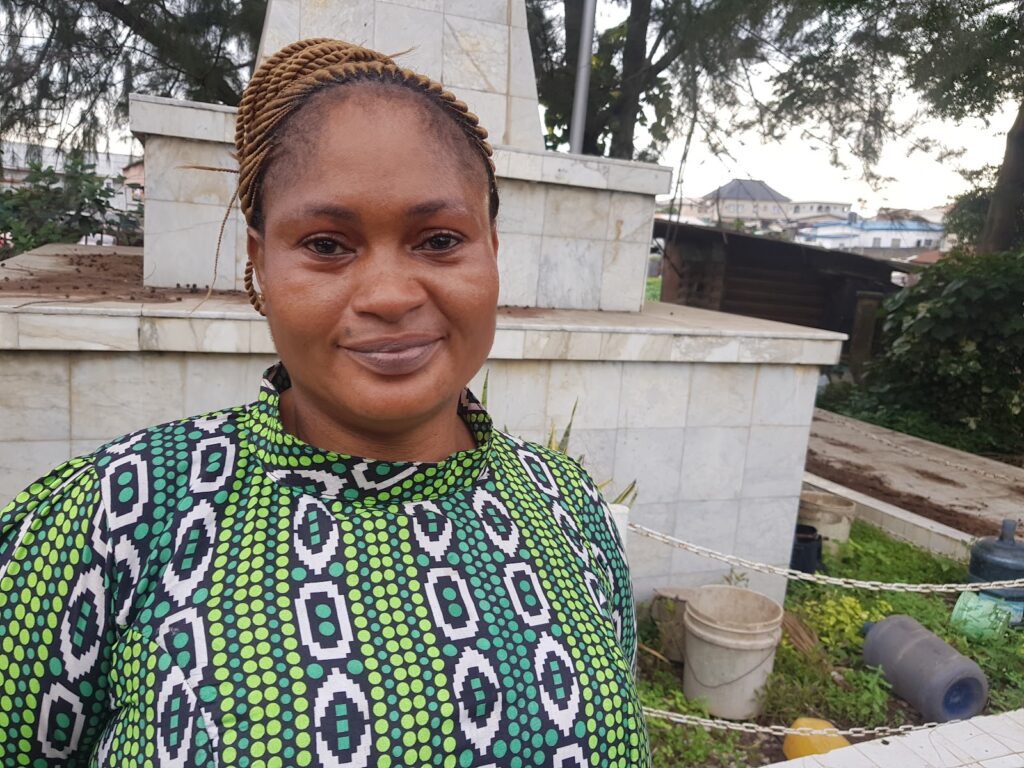 "The canal looked dry so we thought we would jump and continue running for safety but we sank instead. I woke up at the hospital the next day asking for my child. I was told by the medical personnel attending to me that I was rescued in the canal where many people perished. I swiftly removed the intravenous injection used for passing water into my body and started running to Oke-Afa."
Two days later, the picture of her daughter appeared in the newspaper as one of those whose bodies were recovered from the canal and taken to the mortuary. It took Jenrola over 10 years to move on with her life, marry, and give birth again.
Echoes of sorrow
Ise Christopher, 75, said the bomb blast robbed him of his six-year-old daughter, Adesuwa, whom he called the star of the house. He said the youngster was already showing signs of a promising future and, shortly before her death, her school had promised to offer her a scholarship, having won several awards.
"Unfortunately, her death did not allow her to take the scholarship. She was the hope of our family. As I speak, her mother is yet to recover from the shock," he said.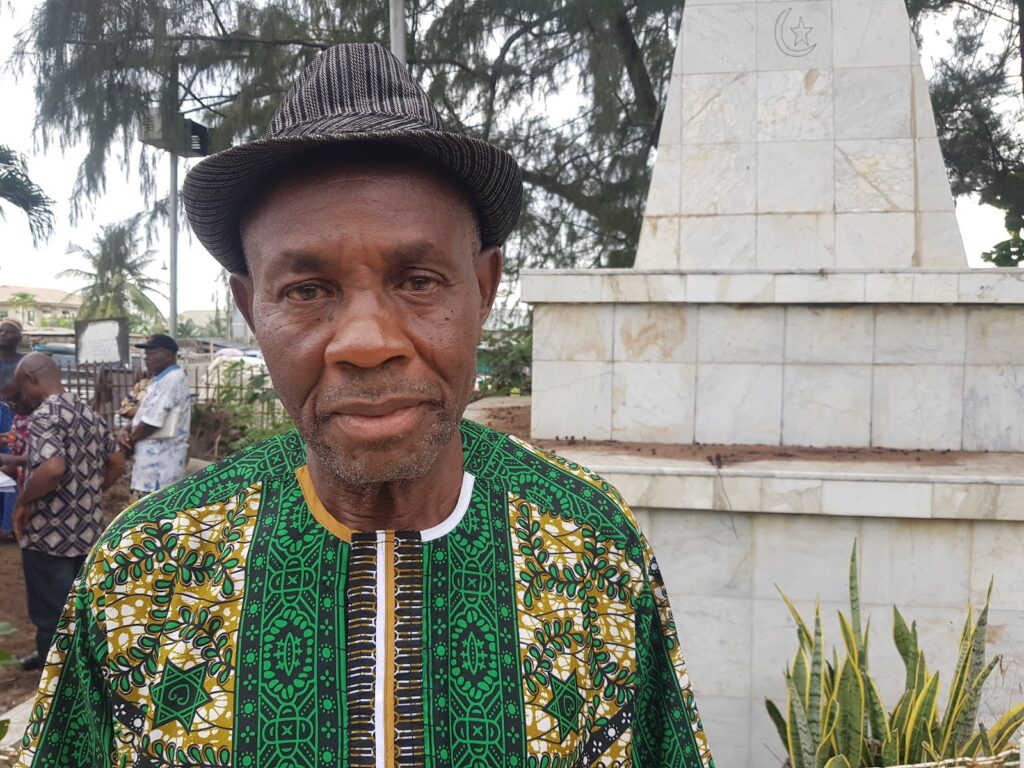 Narrating how his daughter died with a tinge of sadness in his voice, Christopher said: "We were returning from evening church service when the explosion occurred and everyone tried to find their way. By the time we ran back into the church, something landed on the roof and it exploded. We could not also go home because our house had been destroyed. By then, I didn't see any member of my family again.
"One of my sons who carried Adesuwa ran towards the canal, thinking the way was an escape route. They both fell but only Adesuwa did not make it out of the canal. All I saw the following day was her lifeless body being brought back to me on a motorcycle."
He said his daughter promised to build him a new house and she would have fulfilled the promise if the blast did not occur.
Obasi Micheal, 38, a journalist, also lost his brother and only sibling to the incident. "Dele would have been 34 if he was to be alive," he said. "I went to see a friend at Oshodi when the blast happened. We followed the crowd because it was more or less like a mini war. The last thing I heard of him was, 'Egbon mi (my brother), save my life.' I can't recall how I survived because we sank together."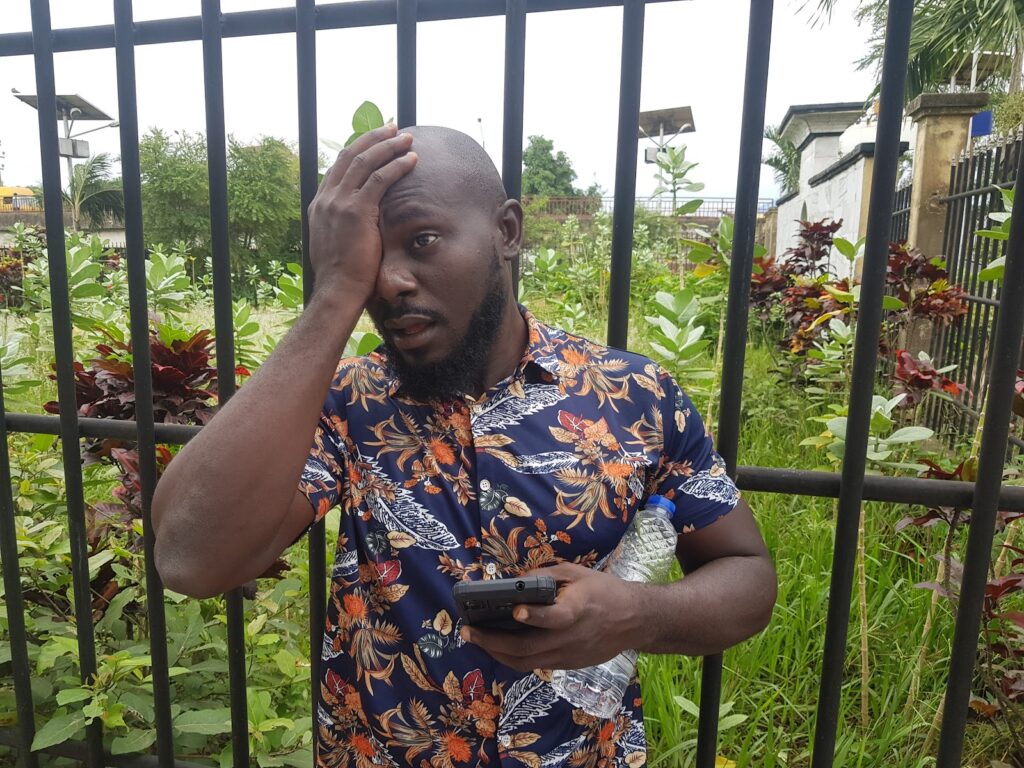 Devastated, Micheal told HumAngle that it was the next morning that he saw Dele's lifeless body.
"My mum was almost mad because she was always recalling the incident so we had to move her to Calabar, in Cross River State. The authorities failed to help the families of the victims and they failed to fulfil their promises. My mother has been in tears since I told her I am here to speak with a journalist on the matter that happened many years ago."
Neglected by authorities?
After two hours of continuous blasts, former Lagos governor, Bola Tinubu, addressed residents on a state-wide live broadcast, and the Federal Government under the leadership of Olusegun Obasanjo pledged support in various forms for relatives of the deceased victims. A memorial site was built in their honour close to the deadly canal in Oke-Afa.
HumAngle understands that since the explosion was caused due to negligence in the military cantonment, the Obasanjo-led administration set up a committee on Lagos Explosion Disaster Relief Fund (PC-LEDREF), headed by the then Secretary to the Federal Government, Ufot Ekaette. The committee later paid an instant relief package of ₦500,000 ($1,197) per deceased person and ₦250,000 ($598) per missing person for the families to take care of immediate expenses.
Ekaette subsequently said the government would pay adequate compensation.
"Since then the Federal Government has not paid any compensation to any of us. After waiting fruitlessly for them for years to fulfil the promises, we consulted Femi Falana who wrote the government but nothing still," said Nurudeen Oyegbemi, chairman of the association of victims, who also lost his son to the explosion.
"We called on President Goodluck Jonathan to intervene in our plight in order to rekindle our hope, but no one has listened to our demand for long-awaited compensation or brought an end to our anxiety."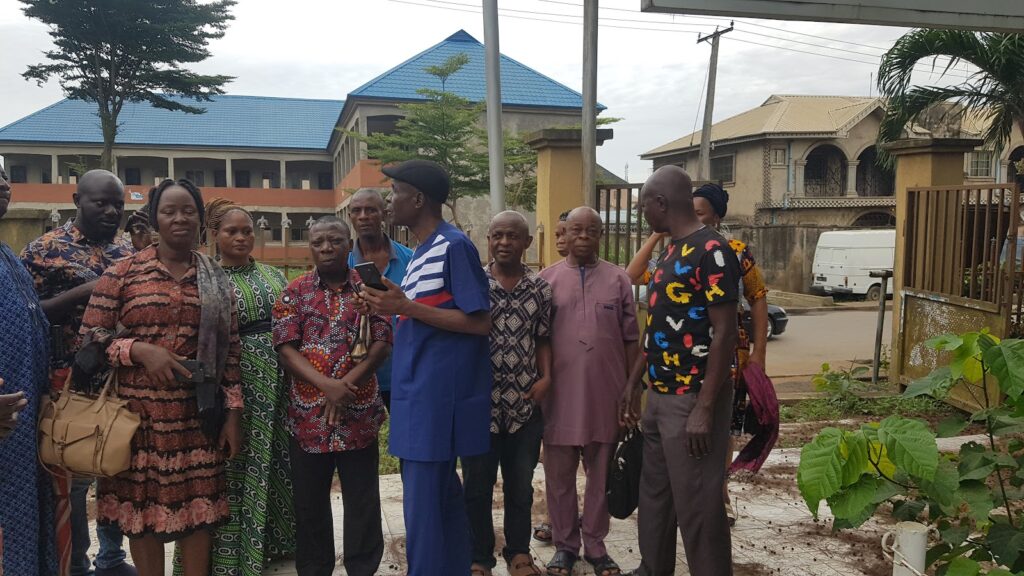 HumAngle obtained acknowledgement copies of various letters of appeal and reminders sent to the Federal Government over unfulfilled promises to provide compensation. Since efforts to reach former President Jonathan proved abortive, the victims wrote to the Lagos State Government under the administration of Babatunde Fashola.
During the 10th anniversary of the tragedy in 2012, Fashola said his government would, on compassionate grounds, give the family of each victim stipend to soothe their loss but only a few families were paid, leaving many unattended to.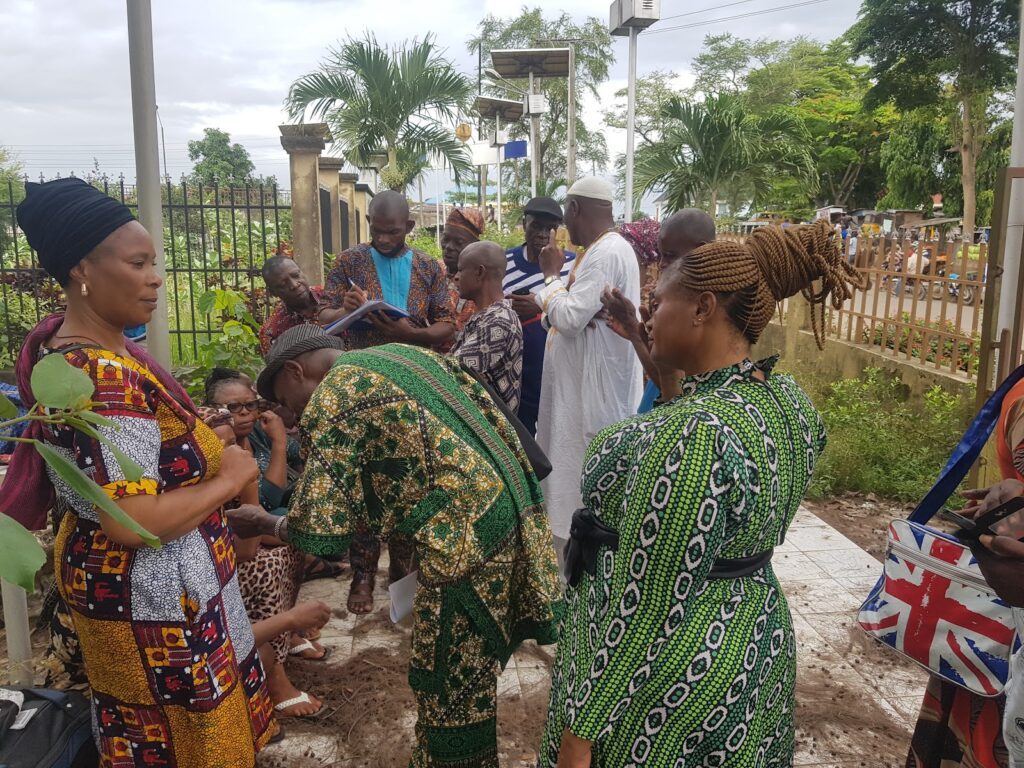 "The Lagos government gave ₦500,000 to each family whose child was killed in the incident and ₦250,000 to each family whose child was missing. The sad thing is that we were able to identify 154 families and the State Security Service (SSS) did their discreet investigations to confirm that the families were genuine. Unfortunately, only 70 families got the money, while the other 84 families got nothing," Oyegbemi explained.
The families were invited by the House of Assembly over the matter and they went with the list of 87 families yet to be compensated but with no success still. "We feel cheated by the government for neglecting us. It has been a life of trauma for us," he added.
For three days, HumAngle contacted Gbenga Omotosho, Lagos Commissioner of Information, for comments, but he did not respond to calls and text messages.
Decay at the memorial site
Aside from alleged neglect of the families, the Lagos State government has also left the memorial site to decay. Situated close to the canal bridge linking Isolo with Ejigbo, the site has been taken over by cobwebs and tall grasses. Also, the solar panels supposed to provide light are not working and the signposts have been left to rust.
Lagos Commissioner of Physical Planning and Urban Development, Idris Salako, did not also respond to calls and text messages on the neglect of the memorial site.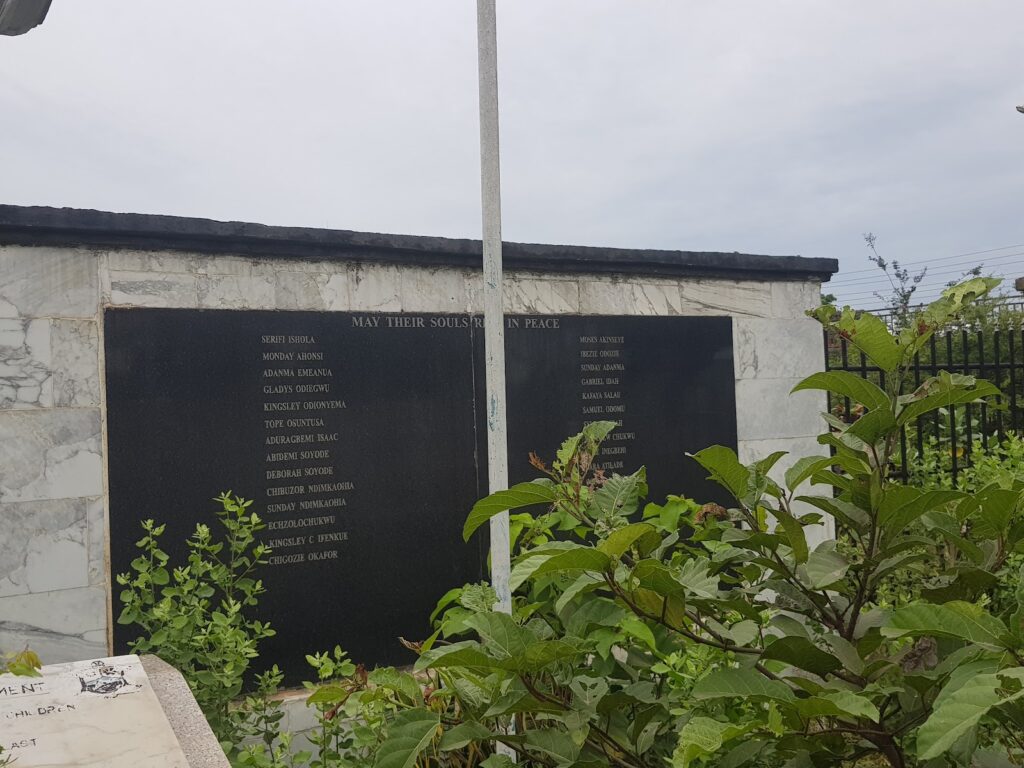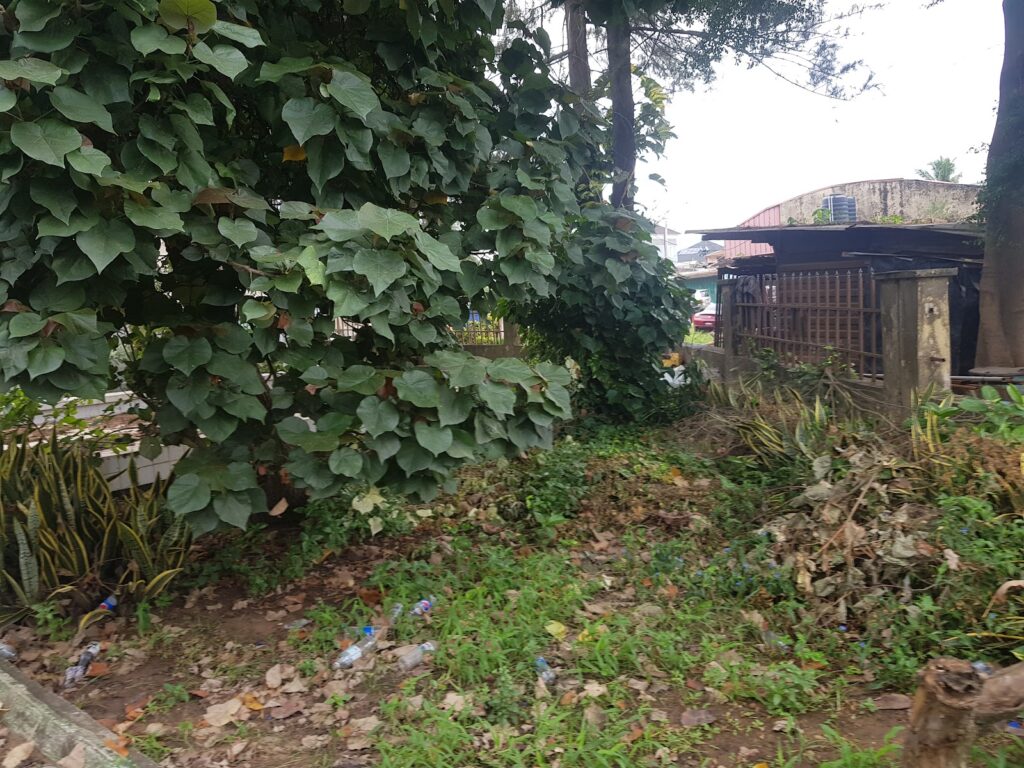 "Many of our people died because authorities neglected them. My son, Sunday Omale, was 15 years old. He was in Mafoluku and he followed people running. I lost my job and my wife died as a result. Seeing this place looking dirty and unkempt makes me sad. Even a dog should not be kept here. We are being denied appropriate compensation and our children are left here," a frustrated father who simply identified himself as Alhaji Omale said.
"The poor state of this memorial site is a disrespect to the deceased and this disregard really hurts. Coming here to see this mess compounds my woes."
Gaius Elechuku, 52, also said his daughter, Merit, deserved "a befitting place as her last home and not a smelly and abandoned memorial site".
HumAngle learnt that an elderly man who used to look after the place quit the job after the government's failure to pay him his ₦10,000 monthly salary for about six months. "The old man was asked to leave if he's tired of taking care of the place because they did not have money to pay him," one of the relatives of the victims said.
---
Support Our Journalism
There are millions of ordinary people affected by conflict in Africa whose stories are missing in the mainstream media. HumAngle is determined to tell those challenging and under-reported stories, hoping that the people impacted by these conflicts will find the safety and security they deserve.
To ensure that we continue to provide public service coverage, we have a small favour to ask you. We want you to be part of our journalistic endeavour by contributing a token to us.
Your donation will further promote a robust, free, and independent media.
Donate Here