Armed Violence
Featured
Features
News
#Igangan: Inside Story Of Southwest Nigeria Community's Horrific Night
A farming community in Oyo state, Southwest Nigeria is mourning, following a night attack by criminal herders. This has heightened ethnic hostility in the region.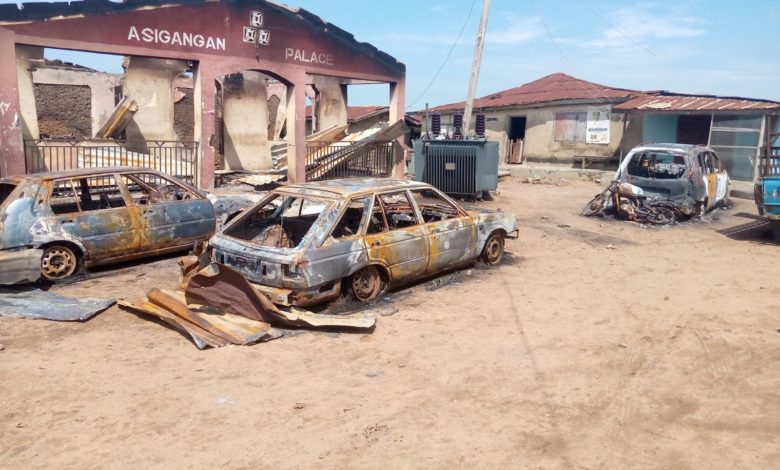 It was a night 25-year-old Ewebiyi Ismail wishes to never experience again.  What started as a peaceful, breezy night on Saturday June 5, 2021 at Igangan community in Ibarapa North Local Government Area of Oyo State, Southwest Nigeria, ended up as a bloody one.
His father, Ewebiyi Ramon, 45, a night guard at a nearby filling station was also getting ready to resume duty. Around 8 p.m. WAT, the senior Ewebiyi had a chat with Ismail before bidding the rest of the family farewell as he left for his duty post.
Two hours later, Ismail was jolted from sleep by heavy gunshot sounds. The sounds were separated by bitter cries of pain and anguish. Like many residents in the community, he laid on his bed paralyzed by fear.
The next morning, he was summoned to the filling station to carry the body of his father who was murdered by a marauding armed gang suspected to be criminal herders.
Like Ramon, 30-year-old Akindele Akin also died on that night. Akin was jubilant hours before the attack after holding a befitting burial ceremony for his father as is customary with the Yorubas.
According to his nephew, Akindele Kayode, Akin was all over the place throughout the day and was full of life while attending to guests who had come for the final burial of Pa Akindele. 
"Who would have thought that he would join his father in a divine journey that night?" Kayode asked.
"We just finished the burial ceremony of his father. So, he escorted some of the guests who came from Lagos to a hotel in Jabele. He was returning from the hotel when he ran into the assailants  and he was killed," his nephew narrated to HumAngle.
The Night Attack
Residents told HumAngle that the attackers  invaded Igangan between 10:30 p.m. and 11:00 p.m. on that fateful Saturday. They looted, killed, and maimed for hours, before they were repelled by local hunters and members of the O'odua Peoples Congress (OPC).
While the attack was on, some of the residents, glued to their sleeping mats, prayed to the deities they served, some dialed numbers of persons that could possibly be of help, others ran, while the rest summoned courage to confront the attackers.
Eyewitnesses told HumAngle at Igangan that at least 14 members of the community were killed, shops were looted and razed, cars, motorcycles, and a filling station were also burnt.
During a visit to the community by HumAngle  on Wednesday June 9, residents said  the attack was concentrated in three neighborhoods in the community.
The suspected criminal herders, alleged to be heavily armed, brought death to each doorstep in the three neighborhoods. There is hardly a house that did not lose a child or a parent or at least a valuable item.
"Four people were killed in Ile Agbaa, six in Ile Alubata, and four in Ile Pamupamu," a resident who sought anonymity said, while listing the losses of each neighborhood.
Traditional ruler's house, others burnt
HumAngle observed that no fewer than 30 shops, five cars, six houses, and numerous motorcycles were burnt by the invaders, while goods worth millions were allegedly looted.
The house of the traditional ruler of the community, Adewuyi Olaoye, was also destroyed  but he managed to escape.
"I can only thank God for rescuing me. The governor has met us, and has assured us that such would not happen again," Olaoye said in a chat with HumAngle
HumAngle observed that some houses have been abandoned in the community, as the occupants have been killed, badly injured or hospitalized, or fled after surviving the attack.
One of those who fled is the pastor of a Methodist Church. His car was burnt and his house sprayed with bullets. He escaped through a back door before the invaders broke into his house.
"He acquired the car just a week before the incident. He left with his family the next day," a resident said.
Local hunters, OPC members repel attack, as police ignores distress calls
In what seemed like a well coordinated  attack, the invaders were said to have attacked from three fronts.
"I was doing night watch with the children, when we heard gunshots from a far distance but while we were still trying to make sense of the sound, they had already closed up on us. We had to run inside or die," Adelere Olanrewaju, a resident, narrated his experience to HumAngle.
Some of the residents, especially women, said they thought the invaders came with bombs as the sounds were deafening.
The community leaders rang the Nigeria Police Force and notable people in government but they soon realized that they were on their own.
"I kept calling the Divisional Police Officer in Ibarapa and he assured me that they were making plans, they didn't finish making the plans until the next morning. If not for the local hunters, the situation would have been worse than this," Azeez Adelere Saminu, the Vice Chairman of Igangan Community Development Association whose car was also burnt, recounted to HumAngle.
About two hours after the invaders had had a free show, the local hunters, and members of the O'odua Peoples Congress, a militia group in the southwest, mobilised for a defense.
One of those who stood back and fought the attackers was Moshood Adisa, the OPC leader in Igangan. He narrated to HumAngle how he coordinated the defense and personally faced a large number of the invaders with his local rifle.
He said he would have been killed if not for his metaphysical powers and the support of his deity.
"Some minutes to 11 p.m., I got a call from the head of hunters in Igangan. When I got the call, I started calling my members. Many did not want to come out, especially due to the incident involving Wakilu, the Fulani man that was released after we arrested him for kidnapping. Those that carried out the arrest are still in police detention," Adisa said.
"Well, I came out and God so good, we met ourselves. They were very many. Only someone that could count the sand on the ground would be able to count them."
"Other OPC members and local hunters joined me and we succeeded in repelling them. We thank God and we thank our ancestors for revealing our enemies to us."
Six attackers allegedly killed
When asked how "God and his ancestors revealed their enemies," he said among those killed by his defense team was a relative of Salihu Abdukadir, a Fulani leader evicted from the community in January.
While he claimed to be unsure of the number of the attackers killed by his men in the operation, a source who did not want to be named said six of them were killed.
Oladiran Oladokun, convener of Igangan Development Advocates  also disclosed to HumAngle that some of the attackers killed by the local hunters were identified as the Fulanis evicted from the community.
A tensed atmosphere: civilian checkpoints litter Igangan
While many residents have fled the community, those who stayed back wore fear on their faces. This is not peculiar to Igangan alone but the whole Ibarapa zone.
In the one-hour ride en-route Igangan from Eruwa on a motorcycle, this reporter counted two police checkpoints and seven civilian checkpoints before getting to Igangan.  The number of civilian checkpoints within Igangan were more.
Many youths were seen clutching local guns to their shoulders. They were angry, watchful, and suspicious.
"Remove your mask Ogbeni (Mr.). Are you Yoruba or Fulani?" This reporter quickly removed his nose mask and greeted the group in the Yoruba language. "I am going to visit a friend in Igangan," he responded, not sure whether it was safe to identify himself as a journalist. 
This happened in Tapa, the community next to Igangan. In other checkpoints, the motorcyclist was identified as a 'son of the soil'. He is from Eruwa but has lived his adult life in various Ibarapa communities.
"Every youth in Igangan and even the whole of Ibarapa is a security agent now," the motorcyclist mentioned to this reporter.
Genesis of the problem
The Yorubas of Southwest Nigeria are often credited for their hospitality and tolerance of other ethnic groups, including the Fulanis who are pastoralists. Both ethnic groups had coexisted peacefully for many decades until recently.
The relationship between the two groups have been soured by recurrent clashes between Yoruba farmers and herdsmen alleged to be of Fulani extraction.
This was followed by allegations of kidnapping, raping, and killing allegedly by the herders.
The situation degenerated into ethnic hostility against the Fulanis living in the region as the Nigerian government did little or nothing to restore peace. 
It has also resulted in the rise of unexpected 'heroes.' Most prominent of them is a controversial 45-year-old Sunday Adeyemo, popularly called Igboho.
Igboho rose to prominence when he issued an ultimatum on Jan. 16, 2021 that all Fulanis should vacate the Southwest region.
At the expiration of the seven-day ultimatum, Igboho stormed Ibarapa with his supporters to evict the Fulanis living in the area. Emboldened by Igboho's visit, some angry youths in the area attacked settlements inhabited by Fulanis.
It was reported that they destroyed vehicles, buildings, and finally evicted Salihu Abdukadir, the head of the Fulani group known locally as Seriki Fulani, and his family from Ibarapa.
Abdukadir, who has relocated to Kwara State, North-central Nigeria said seven of his kins were killed in the attack.
Community leaders finger evicted Seriki
Igangan residents believe that Saturday night's invasion was a reprisal by the Fulanis that were evicted from the community.
"When they were shooting, they challenged us to come out. They said, 'call Igboho to come and fight for you'," Risqat Ganiyu, whose shop was looted and burnt, explained to HumAngle.
Azeez Adelere-Saminu, the Vice-Chairman of Igangan Local Community Development Association, also shared this sentiment. He alleged that the evicted Seriki had issued threats after his eviction that he would avenge.
"The cause of the attack may be the rift between the Seriki Fulani and the locals. We have been hearing that he said he would avenge his eviction."
I have no hand in the Attack – Evicted Seriki
When contacted, Abdukadir swore that he had no hand in Saturday night's attack, as well as others blamed on the Fulanis.
He said he had written numerous correspondences to both state and federal governments but none had granted him audience.
"The government has failed to listen to me. I have no hand in these attacks. I will never have a hand in the killing of my fellow man," he said.
"Do you know how long I lived in Igangan before I was forcefully evicted? Do you know how many of my people were killed when the Yoruba youths invaded my house four months ago? Do you know how many Fulanis have been killed after that time?"
"The government has failed to listen to me, so I have turned to God to exonerate me. Let God be the judge."
He expressed his sadness over the last attack on Igangan but stressed that neither he nor his children had a hand in the attack.
When asked if his children or relatives may have carried out a reprisal on his behalf, he said, "that is not true. All my children are here with me. We have no reason to avenge, only God can avenge justly."
---
Support Our Journalism
There are millions of ordinary people affected by conflict in Africa whose stories are missing in the mainstream media. HumAngle is determined to tell those challenging and under-reported stories, hoping that the people impacted by these conflicts will find the safety and security they deserve.
To ensure that we continue to provide public service coverage, we have a small favour to ask you. We want you to be part of our journalistic endeavour by contributing a token to us.
Your donation will further promote a robust, free, and independent media.
Donate Here