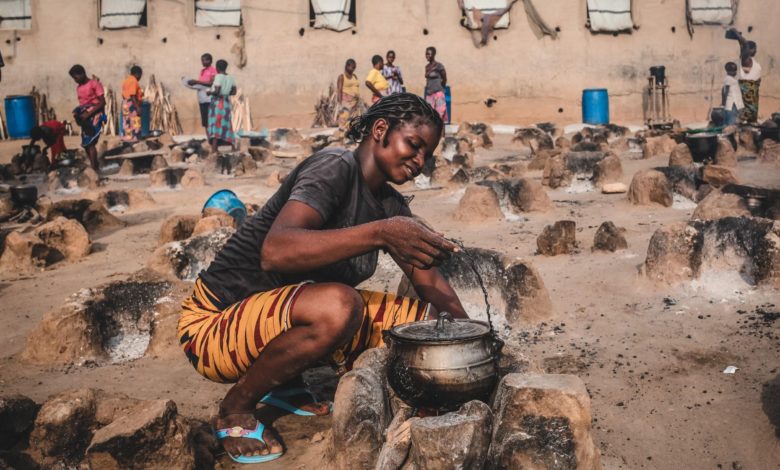 The number of Internally Displaced People (IDPs) has recently doubled in some communities in Benue State, research conducted by the Médecins Sans Frontières (MSF) has shown. 
This is amid widespread hunger, rising infections, and inadequate shelter.
Estimates by the International Organisation for Migration place the number of IDPs in Benue was 160,000 as of 2019.
Most of them are victims of the ongoing farmers-herdsmen conflict across the Middle Belt and northern region. 
The state also hosts over 8,000 refugees from Cameroon. Majority of the displaced people are scattered across informal camps, schools, or live with residents in the host communities.
MSF, an international humanitarian organisation which extended its operations to Benue in 2018, shared the accounts of some of the IDPs with HumAngle.
Emmanuel Ugber, who now serves as the secretary of Mbawa IDP camp, was one of many displaced people who first sought refuge in a nearby school, taking advantage of the holiday period, in 2018. 
His town, Kasayo, had been attacked by herdsmen on New Year's Day, during which many of his relatives had lost their lives. 
When the school they camped in reopened, they moved to Mbawa and built tukuls (cone-shaped mud huts) before MSF supported by providing better shelters.
John Alenda, chairman of Old Market informal IDP camp, also moved to the camp in 2018 with 12 members of his extended family after herdsmen repeatedly attacked Guma, a Local Government Area in Benue. 
At first, community members sent the women and children while the men stayed back to continue farming. 
But when his brother was shot dead, Alenda had had enough and finally decided to join others at the camp. 
Between January and June 2018, they sometimes sneaked back to the farmlands for food. It has since become too dangerous to do so, however, and they have had to depend on support from humanitarian organisations, which is a drop in the bucket. 
With rising insecurity, the number of IDPs has increased sharply in the past months. Some of those who tried to return to their hometowns were shot dead or injured by gunmen and many had their houses razed. So, for a good number of the IDPs, they are in a unpleasantly sticky situation.
MSF stated that in its project areas, IDPs have doubled in number from over 6,000 in January to nearly 12,000 by July.
"When I left home, I was nearly killed – they shot at me, and I heard the bullet strike a nearby tree," narrated Elizabeth Ordoon, who is from the inner regions of Mbawa. 
"I had already moved six of my children to this camp, and it was just me and my 18-year-old daughter left to go. We took nothing with us. We were cooking when we heard the gunshots and saw the herdsmen coming.
"When we left, we went straight to the next village, where my daughter lives with her husband and his family. We stayed there for a few months, but then the same thing happened there. Four of his family members were killed in that attack."
Hungry
Alenda noted that the two major challenges facing the IDPs are the lack of food and shelter, especially since the spread of the COVID-19 pandemic to Nigeria. He said he has complained to the State Emergency Management Authority (SEMA) many times about the problems but with no result.
The last time food was distributed to Old Market camp was in November 2019 and the 5,000 people residents generally face difficulty getting supplies because the camp is not recognised officially.
"Now we either work on other people's farms for food or money, or we try to find other jobs so we can buy food. But there are few jobs and a lot of competition," he said.
Ugber said that even with assistance from MSF, food remains a major challenge for the IDPs. "Some people go to the market and scoop up the grains that fell to the ground, then they sieve them to remove the dust and earth. Other people sell firewood, or work on other people's farms for money or food," he lamented.
Ordoon, a single mother of seven, said her family has been working to get some food and money. One time, she returned to the village with her brother-in-law to see if they could salvage any valuables but all the food was gone.
"Now I go to the forest to look for locust beans to sell," she told MSF.
"My oldest daughter is 40-years-old. I have a large family now, including my grandchildren. I have no hope of returning home. After three years here, the word 'hope' has been overstretched."
Edward Nyam, another IDP at the Mbawa camp, said a bag of corn used to cost N5,000 at the market but the price has tripled. 
Because of the food shortage, he eats only once a day but makes sure his grandchildren can have two meals. 
"We can't plan ahead when it comes to food, things are different now and we have to adapt and use the things we have," he noted with pessimism.  
Homeless
Asides the lack of food, the IDPs are also desperate for a conducive places to rest their head. Ugber said when his family and townsmen first arrived at Mbawa, there was no shelter available and many of them had to sleep in the open. When it started raining, they moved to the school for protection.
"We know about the coronavirus, but social distancing is hard with limited space. Some rooms accommodate two families. There are still people arriving. Even last week there was another attack that forced people to leave home and come here," he said.
Alenda similarly complained about the lack of adequate shelter but added that IDPs also needed mosquito nets for the windows.
Ailing
The inadequacy of shelters and mosquito nets coupled with the presence of stagnant water bodies has led to a rise in malaria infections.
"My mother is elderly – it was just two days ago that I managed to bring her to the doctor's clinic, but I had to pay 3,000 naira," recalled Orchi Godwin, an IDP at Naka camp. 
"She was dying – she had malaria and typhoid and needed urgent treatment. To pay for the treatment I needed to borrow money from a farmer – I will work on his farm to earn it back."
MSF currently provides primary healthcare services to the IDPs, focusing especially on treatment for malaria and gender-based violence. It also helps with sanitation services, water supply, provision of soap and so on.
More help needed
Though MSF has helped the IDPs in Benue with food supplies, shelter, and access to healthcare since …, it says more still needs to be done.
"This humanitarian crisis can no longer be ignored. As MSF, we intend to do more, to reach impacted communities on all sides of this crisis; to reach beyond Benue, further into the middle belt," the organisation said, adding that it cannot do it alone.
"At a minimum, basic water, sanitation, shelter, healthcare and protection measures must be introduced. Achieving this requires engagement and commitment, both financial and physical, from Nigeria's state and federal governments, humanitarian agencies and the United Nations."
Alenda said they have received assurances from the authorities that the crisis will soon come to an end and they will be able to return home. He added that only God can, however, determine their fate and they hope to make the best of their present circumstances.
"I hope that people will hear my voice; I am not loud enough when I speak alone," he said.
---
Support Our Journalism
There are millions of ordinary people affected by conflict in Africa whose stories are missing in the mainstream media. HumAngle is determined to tell those challenging and under-reported stories, hoping that the people impacted by these conflicts will find the safety and security they deserve.
To ensure that we continue to provide public service coverage, we have a small favour to ask you. We want you to be part of our journalistic endeavour by contributing a token to us.
Your donation will further promote a robust, free, and independent media.
Donate Here