Displacement & Migration
Features
News
IDPs Barely Surviving In Displacement Camps As Food Prices Skyrocket In Maiduguri
The humanitarian support given to IDPs in Maiduguri, Northeast Nigeria, is often meant to last a month. But the displaced people say, with generally worsening economic conditions, they are now hardly enough for one week.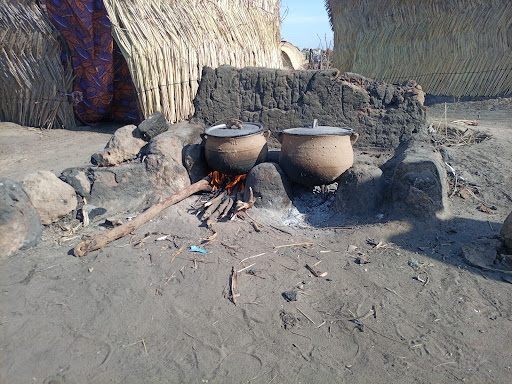 It was late in the afternoon in Maiduguri, capital of Borno State. Muhammadu Buhari camp, one of the town's less prominent IDP camps, was mostly quiet — except for the intermittent giggling of kids playing under the shade of Neem trees. Understandably, at this time, most of the Internally Displaced People (IDPs) had gone elsewhere to make ends meet.
Yagana Bukar, a middle-aged mother of eight, had just finished pounding dried okra and was scooping it out of the mortar. A blackened aluminium pot was placed on burning firewood nearby.
"This will be our first and probably the only meal for the day," she said with a dry smile.  
Many households at IDP camps in the town are going through a grim period of economic hardship due to the increasing cost of living. The Boko Haram insurgency and a blackout that hit the city of Maiduguri have contributed to the inflation.
IDPs at the Muhammadu Buhari camp, which houses more than 1,600 people, depend on monthly meal tokens given to them by the Danish Refugee Council (DRC). 
Yagana's household gets a food allowance of N30,000 monthly. But she complains that the foodstuff she can buy does not last a week due to the high costs of commodities. 
"More than ever before, our dilemma has never been so bad like what we have gone through this year," she said in an interview with HumAngle. 
"Our biggest problem here in Muhammadu Buhari camp is the lack of enough food. We don't get support from the government except for the DRC who usually come to this place every month to give us some money and every woman gets the cash according to the number of her children."
"But these days the money given has grossly become inadequate because it can no longer buy anything meaningful in the markets where the price of every commodity has doubled and even tripled rippled now."
Yagana said the price of a measure of rice has jumped from N800 to N1,200, a jar of groundnut from N500 to N1,100, beans from N130 to N1,000. Her family also has to buy washing soaps and condiments such as salt, pepper, and onions.
"The food items I bought with the ration money I collected this month have just finished and we have no option but to wait till month end," she said.
Yagana's dried and nearly scaled lips gave the impression that she could, possibly, have been fasting. But that was not the case, as she was seen testing the brew on fire after dropping some condiment into the steaming pot. 
Two little children, both under the age of 10, slept by the side of the door. A white pattern of dried tears indicated that they had cried before falling asleep. 
"After feeding them with a warmed remnant of the previous day's meal for breakfast, the kids had not taken any other thing for lunch as they returned home from the playground," she said. 
"I have to delay the cooking a bit so that it can serve as a late lunch and dinner. It is not easy cooking meals three times a day. Even with this shortened ratio, we still find it difficult to manage the foodstuffs we bought till the end of the month." 
Zainab Jafaru, another displaced mother of eight, said, in the three years and four months she has so far spent at the camp, her greatest headache has been how to feed her family. 
"I have to supplement what I get from the DRC by sending kids out to beg for alms or sometimes I send them to Baga road to sell sachet water or do some errands in the homes of people around the host community," she said.
"I have eight children plus three others from the late wife of my husband who died here in the camp, which makes it eleven mouths to feed. Our monthly ration money from DRC is N35,000, and that was supposed to feed 13 stomachs including my husband and me. But the prices of commodities in the market are way beyond our reach now. The money buys nothing tangible."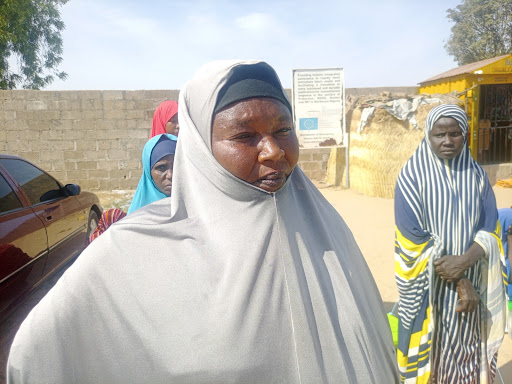 Yagana, who is a widow, said whenever they run out of food, she and her children would be left with no option other than to go out to seek menial jobs to earn small amounts to keep body and soul together.
"There is hunger here," she lamented. "I cannot recall when we had three square meals per day."
Sometimes at night when the children are fast asleep, Yagana said she would break down in tears whenever she remembered the "good old days" in her hometown, Abadam.
"It is over three years now since Boko Haram chased us out of our community and destroyed all that we have had in life. Five years back, I had never imagined the coming of a day that I Yagana Bukar would have to wait for a handout before feeding myself and my family," she recalled with deep nostalgia. 
"I was a modest but successful businesswoman back then. I sold all kinds of local incense and jewellery. I used to buy broken gold earrings or chains and bring them here in Maiduguri for repair and then return and sell them off."
"In Abadam, we were proud farmers and businessmen. We used to cultivate pepper and maize. But here in the camp, we have nothing to do except idling away. We wish we could return home. There, a child of 16 or 17 years old can boast of growing pepper or onions and sell at good prices and earn good money. But here we are; no decent home and meal in our stomach." 
Yagana wants the government to come to their aid by supporting what the DRC is doing with capital to start small businesses, which would empower them to take care of themselves.
Worsening food insecurity is not restricted to Muhammadu Buhari camp.
IDPs at the Muna Albadawi camp lamented that though they don't get any monthly cash palliative, and only periodically receive foodstuff donations, the austere economic life of Borno has exacerbated their state of hunger.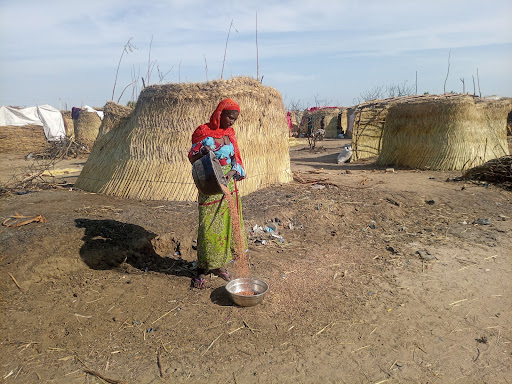 Abdu Modu, one of the sub-village heads at the camp, said hunger defines the life of many IDPs because the monthly food ration given to them by government relief agencies hardly last a week. 
"What the government gives us every month in this camp is six measures of grain rice and six measures of rice maize for a household that comprises about eight persons," he said. 
He added that they have had to resort to helping themselves with farming in safe locations outside the city. 
"But the high cost of things in Maiduguri still eats up most of the little produce that we get from the farm. For example, the price of engaging labourers is high, cost of transporting to the farm is crazy. Then after harvest, transporters still charge more," he said.
Even after harvesting the food crops, about a quarter or more of the harvest is taken away by transporters who lament the high costs of fuel and vehicle maintenance.
"We need money for condiments to cook the raw food that is given to us; we need cash to cook or to grind some of the food grains we bring in from the farms. So, it is either you sell part of the palliative or farm produce before having little cash to buy other things. But one can only buy so little for high priced items in the market." 
Bashir Ba'malam, an IDP from Mafa, said, "Things were a bit better in the past when we used to get some cash support for cleaning and sweeping the IDP camps under a World Bank programme."
He said such support had stopped a long time ago, "and what we get now is a food ration that comes after 40 or 60 days." 
Abubakar Lawan, who is one of the youth vigilante group members at Muna Albadawi camp, said, "It is not everyone that gets even the food palliative that comes every two months when it was supposed to be on monthly basis." 
"For us who are young adults and cannot be part of our parent's households because we too are now married with children, we just have to pick paid labour jobs in people's farms," he continued.
"I earn between N1000 and N1500 for a day's job on the farms. But the money cannot buy anything significant in the market because the price of commodities has gone high and is almost beyond one's reach. With N1500, earned after a hard day's labour, I can only buy a few cups of rice, some condiments and the money's gone. I cannot even save for the days I don't get a farm job to do.  It's really difficult for us because there are more days that we go to bed hungry due to a lack of food to eat." 
There are 32 official IDP camps in Borno state of which half of them are domiciled in Maiduguri. But the number of unofficial camps exceeds the government's recognition. The state government had only shut down two major camps in Maiduguri in its move to return all IDPs to their communities by the end of Dec. 2021. 
Maiduguri has about a million IDPs, a population that largely depend on handouts from government and humanitarian agencies for food and other life-saving support. 
Already, due to the food crisis, Maiduguri now has more women and school-age kids roaming the streets and begging for alms.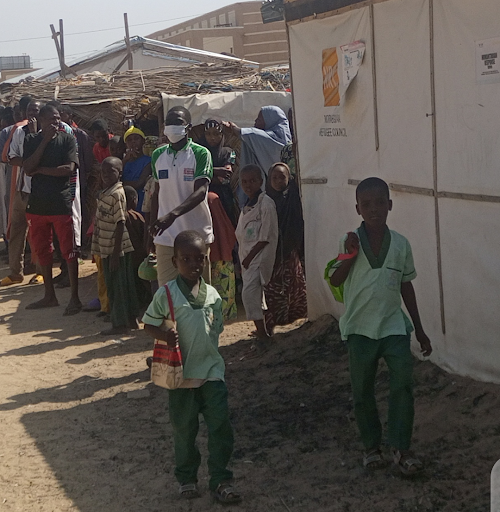 Before now, there have been many cases of sexual exploitation and abuse in the IDP camps due to hunger and an inadequate supply of lifesaving support for vulnerable IDPs. 
The Borno state government had on Friday issued an ultimatum to IDPs at Bakassi Camp, one of the largest, to vacate ahead of its Dec. 31 deadline.
To address the issue of hunger, the state government provided the sum of N100,000 to each male household head and N50,000 to a female head. 
"The situation at the IDP camps in Borno is not palatable; there is increasing prostitution in the camps, food racketeering among IDPs," the governor recently said. "The government is relocating the IDPs in conformity with laid down procedures, particularly the Kampala convention for voluntary, safe and dignified return and resettlement of alongside some food supply for each of the over 3,000 households at the camp."
———————————————————————————————————————————————
This report is a partnership between HumAngle Media and Premium Times Center for Investigative Journalism (PTCIJ) under the 'Accountability Journalism & Investigative Reporting for Deepening Democracy and Development' project.
---
Support Our Journalism
There are millions of ordinary people affected by conflict in Africa whose stories are missing in the mainstream media. HumAngle is determined to tell those challenging and under-reported stories, hoping that the people impacted by these conflicts will find the safety and security they deserve.
To ensure that we continue to provide public service coverage, we have a small favour to ask you. We want you to be part of our journalistic endeavour by contributing a token to us.
Your donation will further promote a robust, free, and independent media.
Donate Here