Development
Features
News
Hunger Amidst Plenty (1): Benue In Search Of Solutions
While hunger rules in many parts of Nigeria, particularly in IDP camps in the Northern part of the country, Benue State, proclaimed to be the nation's food basket, and one of the epicentres of farmers-herders conflict, has food to throw away.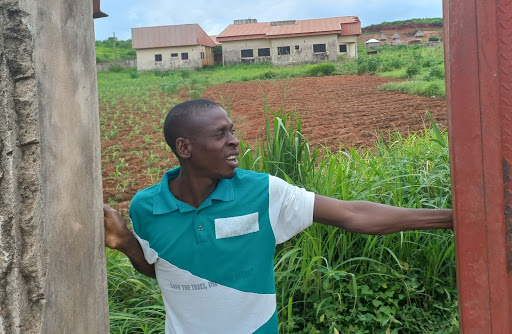 It is almost impossible to guess that Dr Mary Luga, 62, has a doctorate degree in Educational Administration and Planning as she supervises the harvest of oranges in her orchard at Tyowanye, a village in the Buruku Local Government Area (LGA) of Benue State, North-central Nigeria.
Working outside her home, an uncompleted concrete-built bungalow surrounded by mud huts, one furnished as a sitting room, and the others as bedrooms, the retiree creates the perfect picture of an elderly rural woman who has paid her dues as a farmer.
Saving Benue's fruits
The Luga family house is surrounded by a wide landmass, most of which is dominated by an orange orchard run by Dr Luga's husband before he fell ill.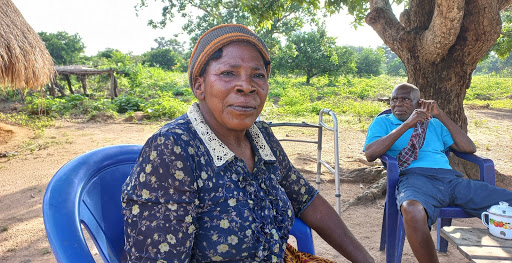 So far, the family has kept the farm for about 39 years without any significant change in the entire process, from harvest to sale.
The only way the family avoids wastage of its abundant oranges is when they wait patiently for buyers before they harvest. Here, hired workers shake down oranges using a harvesting knife also known as go-to-hell. Some workers prefer to climb up and shake the branches, but the Lugas often opt for the former approach.
However, it is not all the time that the oranges hang on till they are harvested. Sometimes they plop to the ground until there are many of them lying there, split open and rotten in a little while.
But then again, other times they waste this way because "buyers don't pay well," Dr Luga says. Then there is the situation where the trees get old and the fruits fall at will.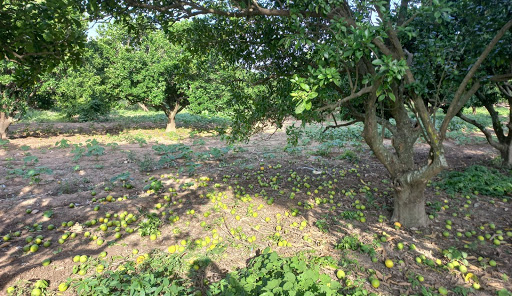 On the growth side, owners who have the money to go the extra mile make ridges in their orchards or apply fertiliser to enable them to produce more. "Without doing this, just a few trees produce and it won't be much," she adds. "So, it's difficult to maintain, especially when the orchard is big."
But after a bountiful produce, what next?
The Lugas do have a big orchard, and because Dr Luga and her husband's pensions are not consistent, she tries as hard as she can to keep the business going.
Yet, after 39 years of toil, the family still has not considered alternative ways to avoid wastage.
Farmers now grow fewer tomatoes
Oranges are not the only fruits that go to waste between July and Sept. in Benue.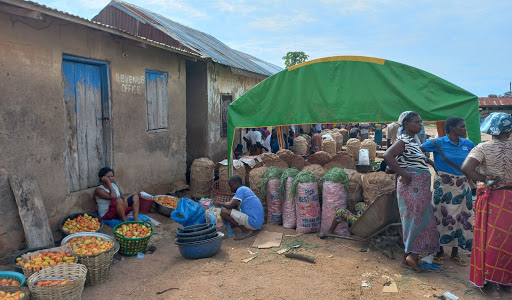 Botanically a fruit, tomatoes are generally eaten and "prepared like a vegetable." Unfortunately, like oranges, they are also thrown away or left to rot except for some effort by locals.
Madam Damaris Goon Ikyor, a tomato farmer, explains to HumAngle how they try to minimise this wastage.   
"We boil, wash it, remove the seeds and dry it," she says. "Sometimes we seal it in a plastic container and cover it with a polythene bag. Even if you boil it fresh and cover it well in the plastic container, no germs will enter for at least six months."
But the problem is hardly solved. After they have made their sales for the day, the farmers – who are also traders – select and throw away tomatoes because they are in abundance.
"We can't preserve all. The small ones are thrown away. We need only the big ones," Madam Ikyor explains.
Sometimes, if they are fortunate, restaurateurs collect most of what would have been wasted. But this is not usually the case.
This fear of wastage hinders farm expansion. When they harvest around April, May, or June, their aim is now to have fewer tomatoes because supply is always greater than the demand.
Big versus small fruits
James Ikyernum, a lecturer at Benue State University (BSU) Makurdi, who is also a farmer, visited his sister's orange orchard at Igboo in Ushongo LGA and witnessed an event that surprised him.
Buyers were at the farm. They selected small oranges and discarded the big ones. "And this was not because they were bad. They were fat and juicy," he tells HumAngle. They preferred medium-sized and small oranges simply because they fit into sacks better.
"So, the big ones are thrown away and become fertilizer. That is how they are being wasted and nobody cares," Ikyernum adds with a shake of his head.
Igboo is several kilometres away from Tyowanye, where the Lugas keep their farm. Here, Ikyernum's sister, Benedicta Ango Abunde, and her husband dedicate their time to tending their orchard.
Some of the Abundes' orange trees were planted in 1987, and she explains the process this way: "After planting the seeds and they germinate, we uproot the plant after it has sprouted. They are then replanted and a rope is tied to ensure the trees grow in a straight line. This depends on how many you want on the same line. It could be 10 or more."
To avoid oranges splitting open during harvest, the Abundes ensure ropes are tied in the space around the trees and the ground dug until it is soft enough to cushion their fall. When they do bust open, they are left there to serve as fertiliser.
"People who need them can pick them up and suck the juice. But we, the farmers, don't need them," Abunde says. "Another way the oranges can become useless is when they are sucked by insects while still on the tree."
Not far from the Lugas's orchard, Matthew Oze harvests and sells his oranges at N4,500 per bag. To avoid selling in desperation, he tries to preserve them by placing them on thick grass which helps keep them fresh, but not for long.  
The CEFTER intervention
BSU Makurdi is home to the Centre for Food Technology and Research (CEFTER), described as the centre of excellence for control of post-harvest food losses. A recipient of a World Bank grant, it is aimed at "solving developmental challenges in West and Central Africa," the Director, Dr Barnabas Ikyo, says.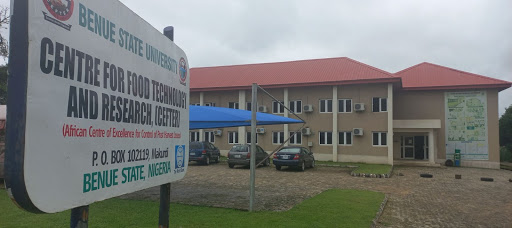 Dr Ikyo points out that CEFTER has trained over 8,000 Africans, mainly from Cameroon, Ghana, Gambia, and Liberia. "Amongst these, we have trained more than a hundred PhDs, that is top high-level skill development manpower. Also, over 400 master's students, including short-term courses involving skills like pest control, produce management, and post-harvest loss control."
In addition, over 5,000 Africans have been trained in basic food hygiene and food storage.
In Benue State, in particular, the Centre trained "all the people in the Home-Grown School Feeding Programme," Dr Ikyo explains. "Children are vulnerable and people who were to cook for them in primary schools did not have the basic food handling techniques such as food hygiene. Issues of food poisoning would have arisen a lot and the population affected would have been much."
"We have also taught a lot of food processing techniques and developed new products. For example, our star product is cassava biscuits because we were able to get a binding agent for cassava so we could bake it into biscuits."
Due to this initiative, CEFTER got a contract from the federal government where they supply up to N1.8m worth of biscuits per month to primary school pupils in the National Home-Grown School Feeding Programme (NHGSFP).
"It takes up to about 30 tons of cassava off the Benue market every month. So, we think this is a big intervention," the Director says. 
The Centre claims to have taught a lot of Benue farmers what to do with cassava so it can have added value and so they would sell and reduce waste.
"At the moment we are testing a special bag meant for garri processors," Dr Ikyo says. "Jointly produced by the University of Greenwich, it extends the shelf life of cassava for at least two weeks."
He adds: "If you uproot cassava and keep it without using it immediately, it loses its value and may not give you the desired product, whether it is fried or for garri."
CEFTER has also trained 300 aggregators on how to make cassava biscuits and some of them are funded monthly to produce for the Centre, the Director says.
"One of our staff is at the University of Greenwich, on a fully funded project called FaNSI, Food and Security Initiative, jointly won by CEFTER and Natural Resources Institution of the University of Greenwich," Dr Ikyo tells HumAngle. "She is working on extending the shelf life of mangoes using a special bag. We hope that in the next two years she will return and we will distribute the bags."  
Lack of infrastructure, redundant factories
As regards tomatoes, Dr Ikyo points out that simple techniques can be implemented at the farm level.

"We have a very huge land mass in Nigeria. A few industries will not help because there can be so many tomatoes that they could even waste at the industry gate," he says. "So, we are developing a method where you can process tomatoes, store it and sell it as it is after six months."
The Director adds that this initiative has not yet reached the farmers. "But we have started a new phase of our project, African Centre for Excellence for Development Impact. It means all the technologies that we found would be tested through the farmers."
In Makurdi, Teragro Commodities Limited, a juice producing company started "very well," Dr Ikyo explains. "But it could not even meet the demand of the juice that Coca-Cola alone was requiring for its own production. Reasons being that the varieties of oranges produced here differ from their standard requirement."
There is also the method of marketing oranges in Benue which is dependent on "normal consumption" and when the people in the far North need them. "And they need to come by road to buy," he points out.
"So, the infrastructure for such link-up [transportation] is not so much there," Dr Ikyo says. "If someone who is producing juice in Lagos wants to come and pick oranges in Benue, he won't be able to make it."
The Director explains that investors may not find Benue State worthy of their presence, hence the problem of food wastage. "Teragro who tried isn't surviving very well. For the few that would have survived, lack of capital was the problem," he points out.
As far as Dr Ikyo is concerned, Nigeria lacks the capacity to manage huge infrastructure. "Most that are thriving are managed by foreigners because of some traditional and cultural traits that are inbuilt in us," he says, adding that small-scale industries will survive and serve better because of the geographical spread.   
Dashed hopes
A 2015 Facebook post by Ayayatu News24 shows pictures of Governor Samuel Ortom on a visit to the abandoned Wanune Tomato Factory.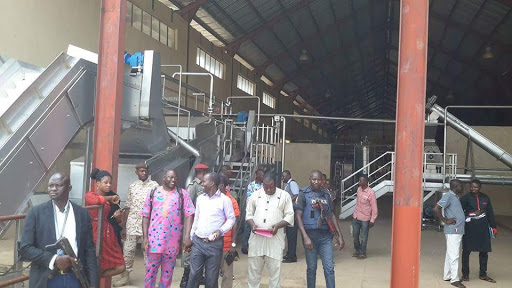 In 2017, the State Commissioner for Industry, Trade and Investment, Dr Tersoo Kpelai, said in an interview that industries, including Wanune Tomato Factory, would be privatised. 
When HumAngle visited the Wanune Tomato Factory, the premises had been turned into farmland with two security men who ensured there were no trespassers.
Dr Ikyo points out that "before you have a factory that would be turning out 10 tons per week, the power plant that you need to build may be more expensive than the cost of the industry because you need high voltage power supply. How is that going to work?"
But on the bright side, he adds that CEFTER has partnered with a small-scale industry in Gboko called P and I Agro that produces mango chips.
"We are trying to support them in the aspect of packaging and making it into other forms that can be used and exported," he says.
Saving lives
A nutritionist with BSU, Adeleke Oluwapelumi, explains that the foods that waste away in Benue State could provide the much-needed nutrition IDPs lack.
Benue State is one of the epicentres of the farmers-herders conflict. Currently, there are several Internally Displaced Persons (IDP) camps in the area including places like Cse-yandev, NEPA Quarters, Daudu, IDP one and two in Guma LGA, and Agibegbe, HumAngle gathered.
Reports have shown that, after security, the search for food and a source of livelihood in order to meet this need is arguably the greatest struggle IDPs face in Benue and other parts of Northern Nigeria.
Oluwapelumi points out that tomatoes are micronutrients that cannot be neglected because they shield the skin from the sun's harsh impact, a situation many underprivileged Nigerians and IDPs are exposed to for an extended period of time.
Mangoes, on the other hand, "are a source of water-soluble vitamins apart from other minerals. They are essential to the body," she says.
Then there are oranges, which supply a large amount of vitamin C, and "help in the process of breaking down food, particularly in the pathway. So, it is very essential in the body and is supposed to be taken daily. Because it's a water-soluble vitamin, the body can't store it. This is why it needs to be replenished daily."
---
Support Our Journalism
There are millions of ordinary people affected by conflict in Africa whose stories are missing in the mainstream media. HumAngle is determined to tell those challenging and under-reported stories, hoping that the people impacted by these conflicts will find the safety and security they deserve.
To ensure that we continue to provide public service coverage, we have a small favour to ask you. We want you to be part of our journalistic endeavour by contributing a token to us.
Your donation will further promote a robust, free, and independent media.
Donate Here