News
HumAngle's 'Stories We Wish We Wrote' List
We read them. You should too.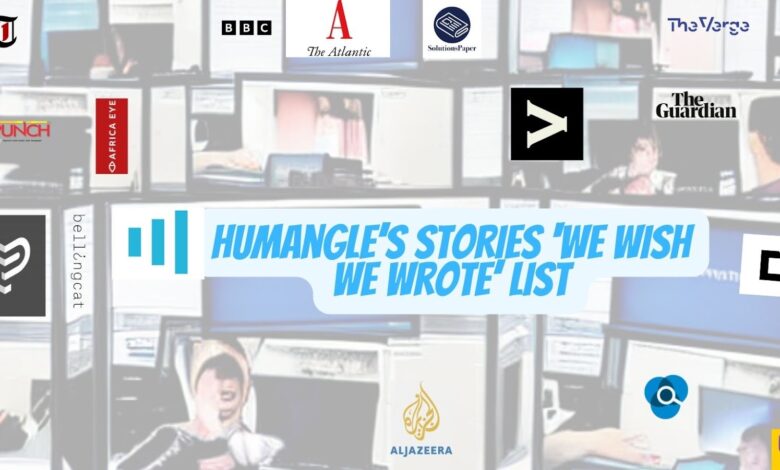 Since we launched in March 2020, HumAngle has ventured into several storytelling formats to cover insecurity, development, and humanitarian issues across Africa. Our formats include Podcasts, Documentaries, HumAngle Interactive, Newsletter and Policy briefs, HumAngle Tracker, Missing Persons' Dashboard, and the soon-to-be-launched HumAngle Membership Programme.
As a newsroom committed to constantly learning better and more inclusive ways to tell stories, we often challenge ourselves to look for outstanding reports that may push us to improve. While we have shared some of these amongst ourselves over time, this year, we thought to include you in our knowledge-sharing process.
Here is a list of stories some of our contributors wish they had written themselves. Here is a list of stories our journalists enjoyed this year. Hope you find them stimulating too.
Andrew Walker, Editor
These are the stories I wish I — as a journalist — had been able to cover this year, though they are not really in HumAngle's niche:
The Death of Queen Elizabeth II by BBC: If you turn to the 2022 page of some future almanack of news, the headline story — the one that will cement this year in the history books, is the death of Queen Elizabeth II. You might say, well, he's British and nationalistic and is just nostalgic for some old time that wasn't so great, really. I realise some people will say that, but I feel it's untrue and not particularly fair. Whatever your thoughts on the Queen, her death will come to stand for the passing of one age and the dawning of another, a living link with a world that most people today do not know and do not fully understand, has passed. There is already a new age coming, with new assumptions and new ways of doing things. This year will always be known as the watershed between those two. I think many Nigerians will want to make valid points about colonialism and how the British extracted themselves from this and other countries during her lifetime, but I suspect they will also understand the importance of monarchs to their subjects, even cynical ones like me.
The second story I wish I had covered is much more lighthearted. It's the "Wagatha Christie" Trial by The Guardian. One footballer's wife (known as a 'Wag' in England, short for "Wives And Girlfriends" of footballers) sued another in the High Court, with disastrous results. Who knows what monstrous hubris led Rebecca Vardy to issue the defamation writ against Coleen Rooney after Rooney told social media she had executed a complex sting operation to expose Vardy as the one who leaked personal information to the tabloid media. But after two years of pretty relentless bad news, it really was the amusing media circus we needed.
Kunle Adebajo, Investigations Editor
I was waiting to board a flight when I read Absolute Power by The Atlantic, and I remember taking several screenshots as I continued to scroll. I like the balanced reporting, the incredible depth, the ease that comes with reading despite the length, and most of all, how humour was deftly woven into the paragraphs.
If I write a story as good as 'You Are Not Honourable Anymore' by Al Jazeera, I might just hang up the pen and start organising masterclasses. I have always adored multi-sourced investigative reports. But this, this is something different. It has a lot of layers and voices — all relevant, and brings them together beautifully. There's the getting embedded in a police operation. The undercover at nightclubs. The interview with the judge (whose importance many journalists would have dismissed). The reporter even saved some components exclusively for the video documentary. Despite the absolute depth and width of the research, it is far from an exhausting read. The best part is the long stretch of the timeline: from the arrest to the trial/sentencing to the reunion. Months-long, at least. It takes patience to write an article this good. ("Hang up" is tautological, isn't it? 🌝)
Hauwa Shaffii Nuhu, Head, Migration and Displacement desk.
Now That the River Has Come for Us by Vistanium. The title, the way the story begins with an internal focus, and the way that focus shifts slowly and artistically to the external while darting now and then back to the internal, were excellently done. It is a story about the disastrous flood that has displaced hundreds of thousands of people in Nigerian this year; the long history of floods in communities in Kogi state where the River Niger is, this year's epsisode, and how it has affected people in acute, devastating ways. The language was fluid and brilliant too. I am glad this story exists in the world.
Murtala Abdullahi, Planning Editor
The Remote Control Killers Behind Russia's Cruise Missile Strikes on Ukraine by Bellingcat. The technique and idea explored here could be valuable for using OSINT tools to uncover people behind atrocities or providing fuel, such as the trail behind arms or drug smuggling. Exposing arms trafficking is a difficult and important task. I think OSINT tools would be integral to any work.
Muhammed Akinyemi, Interactive Editor
Who's in Your Wallet? by The Pudding. It only makes sense that one of my favourite stories is an interactive report. But my preference for this particular story is because it is an intersection of three things I love: history, innovative reporting, and multimedia. And it is playful. I love making solid information fun. I wish it were me. Why was it not me who wrote it? What have I been doing with my career?
Welcome to Hell, Elon, by The Verge. I love the sassy and the dramatic, especially when it is done in a way that covers important topics (like the world's richest man acquiring the biggest information-sharing platform of the day) without losing nuance. This story will ring true for a while, depending on how fast it takes Elon to take Twitter to the Moon or Venus.
Nathaniel Bivan, Regional Editor North West/Central
Elephants' Invasion: Zimbabwean Farmers Adopt Alternative to Protect Crops by Solutions Paper. So, basically, elephants are invading farms in a Zimbabwean community close to a national park, thereby making life unbearable for the farming community. Mildred Mwangana and her husband moved to the community in 1995, and life has been a hassle for this reason. Then she hatches a plan. She makes a mixture which contains garlic, ginger, chillies, and neem leaves. She then puts it around her farm to repel them. And it works! ☝️
Prophets of Their Pockets (I): At Celestial Church of Christ Headquarters, There Are Over 100 Prophet-Scammers by FIJ. This investigative report, the first in a series, unravelled the fraud in a Lagos church and how some 'prophets' seek to make money out of desperate Nigerians. In this story, an investigative reporter goes undercover as a homosexual seeking to get rid of his sexual preference.
Anthony Asemota, Multimedia Editor
Yusuf Anka's documentary, The Bandit Warlords of Zamfara by BBC Africa Eye, is one of my favourites because I wish I had edited it. The quality of materials, the interviews, and the fact that it was all conducted by him, and I could follow him through the process (on bikes). The access to footage he got and, of course, the bombshell revelations that happened during the course of the documentary. It brought meaning, depth and a different eye to viewing the crisis. Interviewing the vigilantes and bandits. Showing the thin line that can easily be crossed from being a hero to a villain. I've always been fascinated by that thin line.
My second story is an interactive story by Al Jazeera Contrast. It's called Yemen's Skies of Terror. I wish I did it solely because it let the victims tell their stories themselves. I'm a fan of minimal to no narration and letting the people who experienced what you're telling tell the stories themselves (I'm a big fan of Patagonia on YouTube because they do exactly that). In Yemen's Skies of Horror: the sound design, the animated graphic design, the storytelling, the walk through history, it was all brilliantly done and as interactive as can be. The use of a 360-degree camera was the icing on the cake. The whole cake I wish I had baked. I'm sure in the near future, the very near future, HumAngle will take the mantle of chef and bake more phenomenal stories and documentaries.
[Editor's note: I am allowing this story, although it was published in 2018, due to my personal bias toward the said story. Also, Tony's a cool guy.]
Damilola Lawal, Products and Engagement Editor
Inaccessible Cities: The Experience of Those With disabilities | Health News by Al Jazeera. This report put me in the shoes of someone living with disabilities in a way that I had never bothered to think of before. The interactive elements were dynamic, immersive, and innovative. I often think of this report when I create designs.
When Women Make Headlines by The Pudding. This story is extremely innovative in how it represents its data. Not only does it have an overwhelming amount of graphical data, but it also represents it in such a colourful and interactive way that makes me look forward to the next interactive feature within the story. I love that I can digest information from the report merely by interacting with the game-like graphics.
Adejumo Kabir, Asst. Investigations Editor
Why Terror Attack on Nigeria's Kuje Prison Was Successful by Premium Times. The report exposed how the attack on the Kuje prison showed a lacuna in the general preparedness and armed reaction capacity of Nigeria's security services. It further explained how the secret service, SSS, warned of a possible terrorist act.
Living in the Shadow of Death: Ibadan Communities Where Children Boycott School to Avoid Soldiers' Bullets by Punch Newspaper. First, I love it because it is a rare human rights story about residents of several communities in Oyo State who have consistently escaped death's snare in the form of flying bullets from a shooting range inside an Army barrack for over 12 years. The reporter gives a riveting account of how education has been disrupted, fuelling fears that it might add to the state's out-of-school children and Nigeria's ballooning index.
Zubaida Baba Ibrahim, Senior Reporter
'The Hospital Has Nothing' by The Guardian. This article talks about the flood devastation in Pakistan and how it affected the healthcare system hindering vulnerable women and children to health care. It opens with how a pregnant woman struggled to get to a hospital due to roads being damaged, and then upon reaching the hospital, was devastated. It presented a deep humanitarian situation beyond being displaced and farmlands being destroyed. Flood disasters also worsen infectious diseases, skin infections, respiratory diseases etc. However, with destroyed hospitals and other healthcare facilities, people may not know where to go to get help. I love this story because, in Nigeria, we experienced the worst flooding disaster this year, and no one pinpointed the destruction of hospitals and how it presents severe health risks, especially with our already mediocre health system, plus how hospitals being flooded can exacerbate more diseases due to medical waste being carried to different places in the water.
How Are We Grieving? by Notes from America. This podcast talks about how two women, one Hispanic and one black, grieved the gun violence on their daughters. It made me curious if we are highlighting enough of the grief of vulnerable groups, e.g. IDPs. I think we tend to talk about how they lack food, shelter and basic amenities but do we talk about their grieving processes like we do to people who have the privilege to openly seek justice on social media?
Umar Aminu Yandaki, Staff Writer
Who Are the 'Bandits' Terrorising Nigeria's 'Wild Wild West'? by Al Jazeera. This story is about the phrase 'bandits' used to describe the armed groups terrorising Northwest Nigeria. It offers an analysis of the nature of the groups and the inappropriateness of using the term 'bandit' to describe them. I wish I had written a report like this. I love the story because it demonstrates how terms and discourses are used to trivialise the terror of these groups.
Unpunished Crimes, Poverty, and Others Fuel Banditry in Nigeria's Northwest by Premium Times. This report demonstrates the number and strength of terrorists and the magnitude of the violence they are unleashing on defenceless citizens in Northwest Nigeria. It x-rays how the poor criminal justice system, ethnic cleansing and poverty has sustained armed violence over the years. I wish I had written a similar report to incorporate how lawlessness and impunity have been fuelling armed violence in the region.
Oluwaseun Adebowale, Multimedia Reporter
'My Mother Announced That I Had Become a Woman' by The Guardian. The story focuses on the reality of women after seeing their first menstrual cycle, the transition, and the expectations after that day. Also, it points to the pain and irritation of becoming a woman which society forgets while describing women as pretentious. The article talks about what women go through, and I could relate.
Between Us by Al Jazeera. The multimedia content highlights journalists' experiences in the field. It gives insights into the horrific journey of helpless people exposed to war, natural and man-made disasters, sexual violence, and migration. Each documentary gives an open-book experience of what reporters face in telling stories.
Hawwa Bukar, Multimedia Reporter
Acid Attack Survivor Helps Victims Heal from Their Scarred Past by The Quint. This is the story of Daulat, who was attacked with acid by her sister over a house that she refused to give up. The house was then sold to pay for the surgeries of Daulat, her two sisters, and her niece, who were attacked. They all survived, and now she has an NGO where she supports victims like her to heal from their shared past. I wish I had done this story because I find it ironic how the property that was being fought on was actually sold to pay bills. I would be proud to do it because surviving brutality and helping victims afterwards is inspiring.
Mansir Muhammed, GIS/Open Source Specialist
Five Kilometres of Destruction: Satellite Imagery Reveals Extent of Damage to Civilian Convoy in Burkina Faso by Bellingcat. I thought that I could have written the report if I had gotten to it first. [Now, that's the spirit of competition we like!] I liked it because it gave me an idea of the angle I should use to approach some OSINT stories in the future.
How we Geolocated a Photo of a Russian Missile Programming Team by Bellingcat. I love this story because of its procedural detective style of investigative reporting. It not only talked about what the open-source investigators did but also how they did it. With the war going on in Europe, I had the thought to contribute to public understanding through OSINT. This report made me realise what that idea looks like.
---
Support Our Journalism
There are millions of ordinary people affected by conflict in Africa whose stories are missing in the mainstream media. HumAngle is determined to tell those challenging and under-reported stories, hoping that the people impacted by these conflicts will find the safety and security they deserve.
To ensure that we continue to provide public service coverage, we have a small favour to ask you. We want you to be part of our journalistic endeavour by contributing a token to us.
Your donation will further promote a robust, free, and independent media.
Donate Here