Analyses
Armed Violence
News
HumAngle's 2021: A Fulfilling Year In Review
With 2021 coming to an end, HumAngle is reflecting on some of the top feats achieved this year.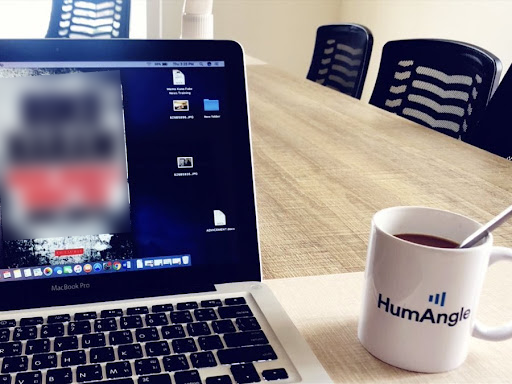 As the year comes to a close, we are reflecting on what HumAngle has achieved in 2021, and when reviewed, it won't be overselling to say it's a lot.
With 2022 around the corner, HumAngle will be entering its third year in March since its launch in 2020, when the COVID-19 pandemic hit in full force and marched the brakes on a hitch-free take-off. Despite this, we have achieved major milestones thanks to the dedication and hard work from an outstanding team, support from our donors, and sticking to our niche of reporting the issues of conflict and humanitarian crisis.
To highlight the milestones reached in 2021, we're compiling some of our greatest achievements in the period.
The Knifar women
Perhaps the biggest achievement would be our work with the Knifar women in Borno, Northeast Nigeria, through numerous in-depth and multimedia reports and advocacy done by our reporters with — thanks to funding support from the MacArthur Foundation through the Africa Transitional Justice Legacy Fund (ATJLF).
The consistent advocacy done, which included the release of video interviews with members of the women's advocacy group every Monday between January and October, arguably contributed to the largest single batch of releases since the Boko Haram insurgency started over 10 years ago. The Nigerian army, earlier this year, had cleared over 1000 people who had been wrongly detained at the Giwa detention facility and the maximum-security prison in Borno state, reuniting many of the Knifar women with their husbands after so long.
"The victims had mostly been arbitrarily arrested, accused of ties with Boko Haram, and then kept in inhumane conditions under detention without trial or access to their families. In their absence, their wives and children suffered tremendously as well, many of them uncertain whether they were still alive," Kunle Adebajo, HumAngle's Head of Investigations, said.
Asides from this, many of the women have been trained and mentored, providing immensely valuable resources serving as reporters and also gathering information key to the work done at HumAngle. They have been the people behind the scenes contributing to our recently released IDP Diaries series, the Vestiges of Violence podcast, and a number of special reports as well.
To top the icing on the cake, donations from private individuals have been made to the internally displaced persons in Borno and Zamfara state in Northwest Nigeria after our extensive reporting of the ongoing insecurity plaguing these regions.
"The donations to IDPs in Borno were given to women who suffered one ailment or the other, including those living with HIV, and those sent for IDPs in Zamfara were channelled through the non-profit, Zamfara Youth Charity Organisation," Adebajo explained.
Changing the narrative of reporting
As journalists, we have a responsibility to report news, good or bad. But most times, that reporting leads to providing the perpetrators with a platform to amplify their work. Our platform has always put it at the forefront to put the victims first and give them a voice. 
To relay a human touch to all reports coming from conflict zones, thereby shifting attention to the victims, instead of the undeserving actors. Our reporting this year has done exactly that; by ensuring that the stories of those afflicted are heard, and, in turn, those responsible are brought to justice.
Donor support 
Media organisations have faced great financial difficulty due to the coronavirus pandemic. This is why support from donors who believe in your mandate and provide financial support must be acknowledged and appreciated, for, without them, many would have gone under.
The story of HumAngle's survival through the height of the pandemic last year and subsequent successes in 2021 is, for instance, not complete without a mention of the aid provided by the Open Society Initiative for West Africa (OSIWA), which has since continued to back us.
Also, without the helping hands extended by organisations such as the ATJLF, carrying out the vital reports done by our organisation would have been very difficult. These organisations believed in us and recognised the pressing need for our reports to be supported and put out there for the public to read, not to mention the financial support required to keep this new media organisation afloat during such tough times.
As stated above, the partnership between ATJLF and HumAngle produced a large chunk of the IDP stories in Borno state, going a long way in narrating their plight, and this year seeing those efforts yield positive results.
Our organisation additionally received financial support from the Center for Collaborative Investigative Journalism (CCIJ) for investigations on climate change and desertification and also from the Premium Times Centre for Investigative Journalism (PTCIJ), the Centre for Democracy and Development (CDD) for reporting insecurity in the Northeast and the Northwest, and Civic Media Lab to promote transparency accountability in the grassroots. 
The past year has proven how partnering with development organisations can help our organisation to achieve great strides in reporting issues that continue to plague Nigeria such as insecurity, human right violations, development and reform; giving room for both sectors to achieve their goals without influencing or interfering with one another, with accountability and transparency driving the mutually beneficial relationship between the two.
Recognition for humanitarian reporting
Being a pioneering news outlet, reporting on humanitarian crisis and conflict was initially challenging as it was new in the Nigerian media landscape. Penetrating the Nigerian audience during our year of launch was difficult.
This changed in 2021. Some of our reports gained recognition on both the local and global stage, winning prestigious awards. A fact-check published in January was shortlisted for the 2021 African Fact-Checking Awards, while The Deradicalised, a five-part series released between November and March, was declared winner of the online category of the Wole Soyinka Award for Investigative Journalism.
On another note, four solution journalism stories written by the head of the desk, Nathaniel Bivan, and one of our student journalists, Abiodun Jamiu, were included on the Solutions Journalism Network's Solutions Story Tracker – an international database curated of rigorous reports in response to social problems. HumAngle was also the first media organisation in Nigeria to establish a Solutions Journalism desk.
Student journalism
We were also able to mentor upcoming talent in the industry and give an opportunity for student journalists to contribute to HumAngle, creating a platform for youth across the country with an interest in journalism to build on their interests. These students have benefited from this open-door approach to capacity building, with some of them being paid to freelance for the platform. Some have gone on to win awards for reports published by HumAngle as well.
Readership and exposure
Our reports this year were read far and wide, with the report of Shekau's death, which HumAngle was first to break reliably, being the most read this year. Readership peaked in May. But due to the Twitter ban that came into effect the following month, the reach of our reports tanked due to the setback in the number of Twitter users able to access our platform from the microblogging site, equally affecting us as an organisation as it did many others.
Internal growth as a team
The HumAngle team experienced a rocky start to the year, as shortly after resumption from the holidays, the office had to close again due to coronavirus cases, requiring staff to work from home. However, this did not adversely affect productivity. And if our team has proven anything, it's that sometimes the hurdles faced as a team only make the team stronger.
We had new additions to the team, particularly the Finance and Compliance Department, leading to fiscal prudence and compliance on part of the employees in respect of financial processes.
"We also saw the department play a huge role in application processes and ensuring the financial health and status of the company through thorough external audit processes," Hameeda Buhari, the People Operations Lead, explained.
"The Operations Department was key in establishing policies and orientation for employees, ensuring they were aware of their rights and responsibilities within the workplace, while creating a safe, conducive and toxic-free work environment," she added.
2021 proved to be a learning curve for the team, as structure gaps were identified, addressed head-on, and team members learned from experiences. This internal restructuring also boosted productivity and efficiency.
The People's Operations Lead said this meant listening to employees and pinpointing any grievances, concerns, or ideas anyone had and ensuring that all voices were heard.
"Going into 2022, we expect to see a more hands-on approach by the support departments in ensuring mistakes made in 2021 are not repeated, and guaranteeing strict adherence to laid down policies or procedures where we find lacking. Also, developing incentives and morale boosters, to increase productivity and efficiency," she added.
---
Support Our Journalism
There are millions of ordinary people affected by conflict in Africa whose stories are missing in the mainstream media. HumAngle is determined to tell those challenging and under-reported stories, hoping that the people impacted by these conflicts will find the safety and security they deserve.
To ensure that we continue to provide public service coverage, we have a small favour to ask you. We want you to be part of our journalistic endeavour by contributing a token to us.
Your donation will further promote a robust, free, and independent media.
Donate Here