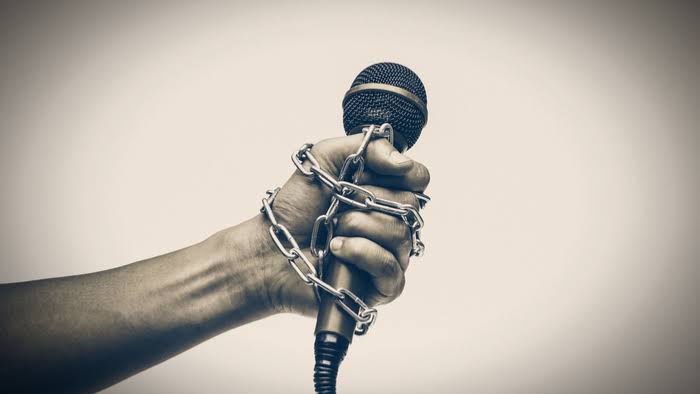 The global index on the "most dangerous countries for journalists" ranked by the Committee to Protect Journalists makes its rating for countries on account of the fatalities suffered yearly. But the threats, tortures, bullying and other instances of cruelty, often meted by state officials, are not ranked.
The routine cruelties meted out to journalists by state and non-state actors only count for the dramatic plots in the build-up to the fatalities. But when the actual threats against journalists get into the ranking, Nigeria may feature on the ignoble podium position.
On Wednesday, May 13, 2020, irked by a series of reports on the insurgency in the Northeast of Nigeria, by HumAngle, Abubakar Shekau, the leader of Jama'atu Ahli Sunnah Lil Da'awatu Wal Jihad, also known as Boko Haram, released an audio recording in which he threatened HumAngle and its editor-in-chief, Ahmad Salkida.
HumAngle is a media start-up that reports insecurity and crisis in Africa and has barely been out in the newsstands for two months.
Within that period , threats and attempts at intimidation have come in many forms, often subtle, veiled and, in some cases, explicit but usually delivered through phone calls and messages.
The threats have come from state actors who appear unsettled by the newspaper's mission to amplify the human pains and desolations associated with insecurity and crises in the Northeast of Nigeria, particularly. The non-state actors, clearly disturbed by the paper's disclosures of their most guarded intelligence, have been issuing threats.
The above highlighted example from Shekau is the first time, however, such a threat is being made public.
Running riot with Islamic doctrines, Shekau seems to have effectively frightened Islamic scholars in Nigeria from raising a voice to call him out on account that he freely snitches on the doctrinal pillars of Islam and has been deviously applying the same as a foundation of his bogey religious affront on society.
Respected Islamic scholars have surprisingly shied away from, even detested, any responsibility to open up the Holy Book, draw from the true doctrines of Islam as a ground to disprove his messages which informed sources believe are growing in popularity among young Northern Muslims.
Such reluctance, even abdication, by respected clerics in speaking out strongly for the fidelity of the sacred message, continues to boost the popularity of Shekau's message thereby expanding the frontiers of the new, steady recruitments to his ranks.
Neither have the state actors applied a strategy of interrogating and disabling Shekau's doctrines, seeing that the foundation of the insurgency is doctrinal. How else can the aura and mystique in his messages be blunted, cutting him off from his growing teeming following?
That the content of Salkida's tweets or the reporting of gross human tragedies in the Northeast by HumAngle creates greater concern in military circles than the continued relevance of Shekau's messages among youths in the North tugs at something awful.
These gaps which constitute a smokescreen in the war on insurgency point to the evident drag in the war. They are the reason HumAngle reports abhorrent and tragic happenings in the Northeast.
In the audio message, Shekau had admitted that people deploy anything, including, "war of words… war of deceptions," and "many ways to fight anyone". Why are state actors and Islamic clerics not confronting Shekau's use of doctrine?
His threat was directed at Bulama Bukarti, a lawyer and researcher based in London, a frequent guest at the BBC Hausa radio.
"And Wallahi, you Bulama Bukarti listen [to me], just because you are placed in England you speak against those who are waging jihad, bi'iznillahi ta'alah. You are in trouble."
He then shifted attention to HumAngle and Salkida, issuing the following threat: "Angle (HumAngle), Wallahi, you should listen. Or even you, Salkida, who we already know for a long time, wallahi, you should be careful. Wallahi, you should be careful."
Whether the threats against independent journalists in Nigeria come from terror groups fighting the state or, as often is the case, from agents of the state and their hirelings, the country continues to live up to her reputation as the Golgotha of journalists, the place of unrelenting suffering and persecution.
For HumAngle and Salkida, the development is neither new nor surprising. Salkida has been the butt of state sponsored campaigns of intimidation and threats over the years for his independent expository reports on insurgency in the Lake Chad Basin.
In 2013, following escalating threats, he fled the country with his family. In August 2016, following his exclusive publication of a video of the abducted Chibok girls, the Nigerian Army declared him wanted, together with two other individuals, Ahmed Bolori and Aisha Wakil.
In its official release, the Army said: "…the Nigerian Army hereby declares the two gentlemen and the lady wanted for interrogation. We are relying on the relevant laws of the land and in particular the Terrorism Prevention Act 2011 (as amended) where Nigerians could be punished for failure to disclose information about terrorists or terrorists activities."
The statement further concluded that: "there is no doubt that these individuals have links with Boko Haram terrorists and have contacts with them…"
Salkida, in accepting to travel back to Nigeria to clear his name, declared in a statement: "my status as a Nigerian journalist who has reported extensively, painstakingly and consistently on the Boko Haram menace in the country since 2006 is an open book…"
In the seeming cat and mouse relationships between journalists and powerful groups, it has not gone without noticing, the instances in which journalists themselves choose to run with the hare and hunt with the hounds.
For instance, on February 17, 2019, Bayo Onanuga, a veteran journalist who at the time was Managing Director of the state run News Agency of Nigeria, picked on Salkida for excoriation.
Onanuga tweeted: "Ahmad, your tweets do not show any palpable concern about our military being targets of Boko Haram attacks. That does not sound patriotic. It is treason."
He proceeded to suggest a course of action for the state: "in the military era, Salkida would have been charged with accessory to treasonable felony."
Such a set-up, carefully laid, was enough to make Salkida an easy toast for the military that was already baying for blood. But it rightly triggered a public outrage.
That a presumably senior editor in Nigeria could borrow a page from a junta playbook against a journalist was unsettling for independent journalism practice.
It was challenging enough for Salkida that state security forces were literally laying mines on his path repeatedly. But to see presumed senior colleagues egging on his adversary was altogether gross.
It even got worse when, Punch, a reputable newspaper based in Lagos, reported on the frustrations of Mr. Sharibu, father of Leah Sharibu, the Christian girl abducted by the Islamic State West Africa Province, (ISWAP), and awarded as slave girl to one of its fighters, on government's failure to free his daughter.
The newspaper wrote: "Ahmad Salkida, known for being the courier and media relations expert for the dreaded Islamist Boko Haram terrorist group." The newspaper management however apologised later.
Salkida's founding partner at HumAngle, Obiora Chukwumba, also not a stranger to official cruelty associated with independent media reporting in Nigeria, was, while editing the now rested African Concord, routinely hounded, arrested and detained without trial by the General Sani Abacha military government.
Journalism in this part is a minefield but we at HumAngle promise to navigate through the field by upholding the tenets of the profession to serve humanity, particularly the underprivileged in the society.
---
Support Our Journalism
There are millions of ordinary people affected by conflict in Africa whose stories are missing in the mainstream media. HumAngle is determined to tell those challenging and under-reported stories, hoping that the people impacted by these conflicts will find the safety and security they deserve.
To ensure that we continue to provide public service coverage, we have a small favour to ask you. We want you to be part of our journalistic endeavour by contributing a token to us.
Your donation will further promote a robust, free, and independent media.
Donate Here