Emergencies
News
How We Sustained Transitional Justice Projects Despite COVID-19 Crisis – ATJLF Director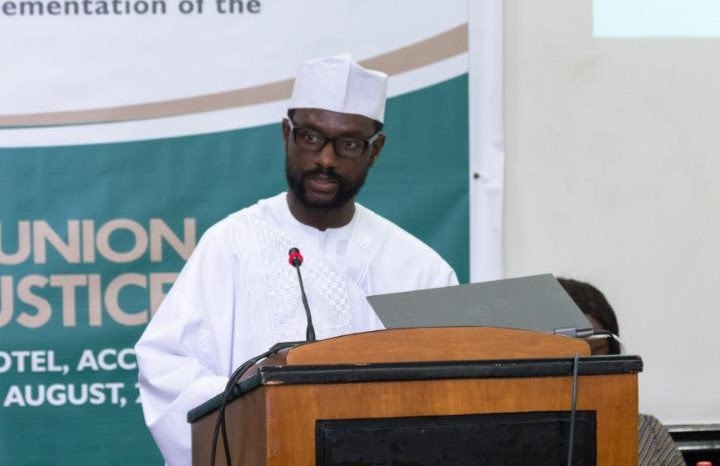 The world has not been the same since the outbreak of the novel coronavirus in late 2019, with the widespread imposition of restrictions on movements and other crucial activities. But in the middle of that chaos, 42 organisations across West Africa have shown resilience as they address the fallout of conflicts with support from the African Transitional Justice Legacy Fund (ATJLF).
A survey conducted last year covering 44 African countries revealed that as many as 98 per cent of civil society organisations in the region were adversely affected by the pandemic and 56 per cent reported experiencing losses in funding.
ATJLF project director, Makmid Kamara, says it was because of this backdrop his organisation decided to swim against the tide in how it related with its grantee-partners. It was best, it concluded, to adopt creative and flexible approaches in order not to frustrate the public-interest projects being implemented.
The public charity was established in 2018 by the MacArthur Foundation and another US-based private organisation to support transitional justice efforts across Africa, beginning with the West African region. It is currently providing about $1.5 million in funding to 42 organisations from seven countries including Cote d'Ivoire, Guinea, Liberia, Mali, Nigeria, Sierra Leone, and the Gambia.
The grants had been announced in two batches between February and July, 2020–in the heat of the raging pandemic.
"A number of our grantee-partners reached out to us that because of the restrictions, social distancing measures and ban in movements, some activities had been on hold and they were worried about the withdrawal of funds or cutting down … but we didn't do that," Kamara said in an interview HumAngle on Friday.
In addition to not slashing the grants, the ATJLF offered ideas on how the projects could be sustained using technology. So, instead of organising town hall meetings, some organisations shared messages through radio programmes and social media, thus reaching wider audiences.
"The alternatives that they used were also supported by us," the ATJLF boss noted.
"We have been having virtual meetings with them just to provide suggestions that can help them navigate the COVID-19 challenges in their countries. In all these, we kept the funding, we kept supporting them and we did not change our approach to being open and being flexible, and this helped a lot."
The Legacy Fund is supporting survivor-led groups, community-based organisations, and other civil society organisations to advance transitional justice issues. While some of the countries have a history of violent conflicts, others such as the Gambia have just exited decades of brutal dictatorship.
The grants provided have various objectives, from bringing perpatrators of human rights violations to justice to documenting the conflicts, healing old wounds, and ensuring victims get justice. While some of the projects are coming to an end nearly a year after, others have just entered the implementation phase.
"We are hoping there will be a third round of grants that will come sometime later this year," Kamara hinted.
So far, the ATJLF says it is excited about its choice of grantees and projects. The organisations are focusing on all the pillars of transitional justice from truth recovery to accountability, institutional reform, reparations, and reconciliation.
"For instance, in Liberia, we are funding organisations that are in process of advocating for warlords to be brought to justice and we are giving them support to enable them not just advocate in Liberia but also to encourage and lobby countries outside to hold those Liberian warlords who are seeking refuge or asylum to be brought to justice," the project director explained.
"In addition to that, they support grassroots efforts to increase people's awareness of what justice actually means and ensuring that these people are brought to book for the crimes they committed during the Liberian war."
The West African country grappled with two ruthless civil wars between 1989 and 2003 that led to the death of nearly 250,000 people and have since left a huge scar. In 2005, Liberia set up a Truth and Reconciliation Commission (TRC) to "promote national peace, security, unity and reconciliation" and hold those responsible for war crimes accountable. The commission submitted its final report four years later but its recommendations have largely been ignored.
In 2019, Liberian president George Weah wrote to the legislature to set in motion the process of implementing the TRC report and establish a special judicial body, the Economic and War Crimes Court. With the help of the ATJLF, survivor groups in the country are identifying "a lot more massacres" previous not covered by the truth commission and are hoping these can serve as information for potential prosecutions among other purposes.
"We also have the other element around institutional reform where we are supporting civil society to work with government institutions to strengthen their systems and develop policies that will prevent a recurrence," Kamara told HumAngle.
"In the case of Sierra Leone, we are supporting digitisation of war records and members of the public are able to access these materials through the Peace Museum and National Human Rights Commission to use it not just for research but for institutional building. A lot of times, we forget about the wrongs of the past and it is only when we keep reminding ourselves that we are able to prevent their recurrence."
One of the ATJLF's great successes is the discovery and support of traditional initiatives. For instance, there is the Fambul Tok project in Sierra Leone where the organisation is exploring a "women-led alternative dispute resolution platform to address communal conflicts and contribute to social cohesion".
In the Gambia, Beakanyang's Badingbung (family house) initiative is using "traditional methods of seeking truth and justice to give both victims and perpetrators an opportunity to sit together at a village square known locally as Bantaba, to tell their respective stories and reconcile". In the same country, Womenin Liberation and Leadership (WILL) is providing psychosocial support and transitional justice to victims of gender-based violence using dialogue as well as such native methods as the Kaneleng singing.
"These are the things we want to promote," Kamara said with conviction. "At the same time, we want to make sure that these traditional methods are amplified by the state to become mechanisms supported by policy and adopted across the countries."
Another major focus for the ATJLF has been getting different grantees working on similar issues to share ideas and collaborate. Already it is getting results in countries like the Gambia, Sierra Leone, Liberia, and Nigeria and hopes such partnerships, in the near future, are not only in-country but transcend national boundaries.
One lesson that has struck Kamara in the course of overseeing these projects, he notes, is how the issue of trauma is often overlooked when transitional justice is discussed, while stakeholders invest more in judicial and institutional processes.
"The work we are doing in Nigeria with the Kishimi Foundation is very touching and close to my heart in the sense that being a victim and survivor of the war in Sierra Leone myself, I know how trauma, especially post-conflict trauma, can have a debilitating impact on people's lives for a long period," he says.
"Another thing that also touched me recently is how one of our grantee-partners in Sierra Leone, the Centre for Memory and Reparations, has been doing a lot of work in reidentifying mass graves in the country that had been abandoned, some turned into dumpsites.
"They got the communities to come together to rebuild these mass grave sites, perform the traditional rites, and also encourage people to do community service as a way of memorialising about the war so that they know what has happened and don't get into situations that lead to war."
Similarly, in the Gambia, some grantee-organisations are engaging with victims of former leader Yahya Jammeh's witch hunt campaign, unravelling cases not previously open to external support, working towards reconciliation, and reintegrating the victims back to their home communities.
"The support will continue," the ATJLF director said about expectations for 2021.
"We will continue to also explore new ideas for traditional methods of transitional justice. We are hoping to do another round of grants. But we also have some other exciting projects on the way which we will not mention now until we are fully certain."
The organisation will also continue to work with the African Union Commission to publicise the African Union Transitional Justice Policy (AUTJP), which was adopted by member-states in February 2019. Through the AU's Department of Political Affairs, it will support various countries to domesticate the AUTJP and develop their own transitional justice frameworks. It will also be engaging with civil society actors to ensure they are abreast of existing policies and know how to deploy them at various levels.
In Kamara's words, "We also want to serve as a repository of knowledge for transitional justice in West Africa. But even though our operations are primarily focused in West Africa, we have a continental aspiration."
He emphasised the need for governments and civil society organisations to work together in attaining transitional justice objectives.
"Transitional justice efforts take time, communal healing takes time, institutional reforms and strengthening do not happen overnight. So we need partnerships and genuine collaboration to ensuring that transitional justice objectives in those countries are met and are fully owned by the communities," he said.
The ATJLF's vision for Africa, he stressed, is for the continent to be peaceful, prosperous, and united. The organisation wants to see a region where the institutions are strong enough to prevent the repetition of past excesses and where governments can be easily held accountable.
Finally, Kamara urged the Legacy Fund's grantee-partners not to relent in their efforts.
"The work is huge. There is a lot of work to be done to repair societies from the wounds of the past, to deal with the trauma that the society is experiencing, to deal with past human rights violations and crimes against humanity," he admited.
"But the work needs to be done and the civil society needs to be at the forefront of that. And survivors need to keep speaking out, because we can only get the change we want to see if those who are affected are ready, willing, and capable to speak out because the government alone cannot do the work."
---
Support Our Journalism
There are millions of ordinary people affected by conflict in Africa whose stories are missing in the mainstream media. HumAngle is determined to tell those challenging and under-reported stories, hoping that the people impacted by these conflicts will find the safety and security they deserve.
To ensure that we continue to provide public service coverage, we have a small favour to ask you. We want you to be part of our journalistic endeavour by contributing a token to us.
Your donation will further promote a robust, free, and independent media.
Donate Here