Armed Violence
News
How Misinformation Aggravates Farmers-Herders Conflict In Nigeria
The crisis between farmers and herders in Nigeria is fundamentally a land-use contest but it is fast sharpening ethnic, regional, and religious polarisation due to weaving destructive conspiracy narratives and fake news on social media.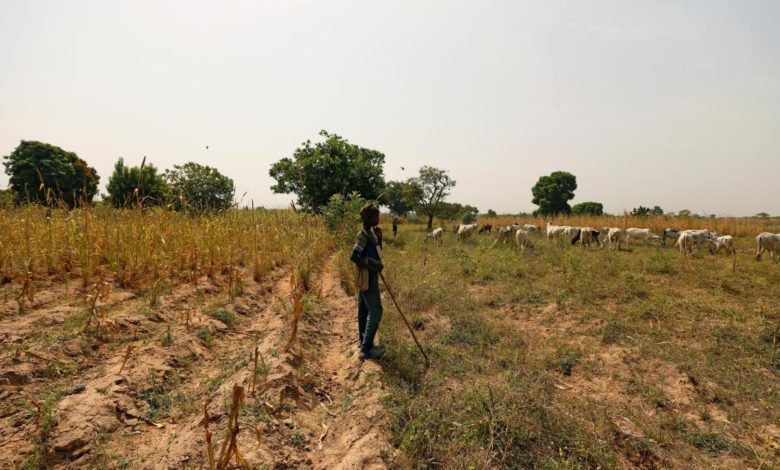 The crisis between farmers and herders, which has claimed thousands of lives, has become one of Nigeria's gravest security challenges in recent years. The conflict, which is fundamentally a resource control problem between farmers and herders across the country, is fast sharpening ethnic, regional, and religious polarisation. 
While most of the herders can be said to be Muslim-Fulani, who are traditionally nomadics, the farmers are often found across Christian denominations of various ethnic groups. Some of the problems identified are related to land and water use, obstruction of traditional migration routes, livestock theft, and crop damage. 
A 2017 report by the International Crisis Group said "drought and desertification have degraded pastures, dried up many natural water sources across Nigeria's far-northern Sahelian belt and forced large numbers of herders to migrate south in search of grassland and water for their herds. Insecurity in many northern states also prompts increasing numbers of herdsmen to migrate south…" 
Amnesty International in a report published in 2018 said about 3,641 persons were killed in various farmers-herders clashes between Jan. 2016 and Oct. 2018. The report also revealed that no fewer than 406 people were injured and 182,530 persons displaced following the destruction of 5,000 houses in various states across Nigeria.
In its research published in May, France 24, a French state-owned international news television network based in Paris, said clashes between farmers and herders in Nigeria have killed more than 10,000 people in the past decade and displaced 300,000.
HumAngle understands that truly, killings persist in many states of the country but the conflict has been laced with weaving destructive conspiracy narratives and fake news on social media. When wrong information is shared on social media, it inflames tensions because online users, on their part, accept any information that goes in line with their beliefs without even reading beyond the headlines. Sometimes, sharers of fake stories are simply not ignorant, but their bias shapes their conclusion.
Trends 
Earlier this year, Igangan community in Ibarapa area of Oyo State, Southwest Nigeria, was propelled to national attention  following the death of Fatai Aborede, a large-scale farmer and politician in the area in late Dec. 2020. The widely circulated report on his death was that he was killed by Fulani herdsmen while returning from his farm.
While there have been cases of killings and kidnappings in the axis before then, Aborede's case stood out; it led to the unlawful intervention of separatist agitator, Sunday Adeyemo, also known as Sunday Igboho. He visited the Igangan community in the Ibarapa area of Oyo State to evict Seriki Fulani of Igangan, Salihu Abdulkadir, an action that was condemned by the state and federal governments.
Igboho claimed that Abdulkadir was responsible for the kidnapping and killing of farmers and residents of the community. Even after his denial, the Fulani leader and his subjects were forcefully sent out from the community they had lived in for decades. For the authorities, Igboho went above the roof because "no citizen has the right to eject others from wherever they wish to reside in the country." However, many argued that he was filling the vacuum the government failed to fix.
Igboho later proceeded to neighbouring Ogun State to purportedly evict herders residing there. Months later, there was a reprisal attack. While the police claimed that 11 people died in the attack, residents said over 20 people lost their lives in the battle.
In solidarity with the people of Igangan, Nigeria's former Minister of Aviation, Femi Fani-Kayode in June, attached a picture of a man holding a burnt child to his tweet and he described the picture as a casualty from the Igangan crisis in Oyo State. Before the end of the day, the controversial post with a misleading picture, had garnered over 1,800 likes and 1,100 retweets. 
A fact check on the post showed that the picture was not from Nigeria but from the Southern Cameroon crisis in Feb. Interestingly, an independent investigation into the deaths of Aborede months after revealed that his death had nothing to do with farmers-herders crisis as painted by a section of the media.
While Aborede's death was a focal point to justify the eviction of head of Fulani in the community, investigation by Neusroom, an online newspaper quoted the deceased's father to have said his son's death was a political assassination, disguised as herdsmen murder. The police later said his death was sponsored by his political opponents and a suspect has been remanded.
Other misinformation
The British Broadcasting Corporation (BBC) in a report published in 2018 said its research showed that fake news in the social media fuels the farmers-herders crisis in Nigeria.
The international media outfit stated then that "fake pictures circulating on social media which users are falsely claiming depict inter-communal violence are inflaming already high tensions in Nigeria" but a fact check revealed that the picture first appeared on the internet in 2011 in a story about domestic violence. Unfortunately, it surfaced online as a picture of farmers/herders crisis seven years after.
"Another image appears to show half a dozen people who were killed in the attacks. On closer inspection it becomes clear that the picture was not taken in Nigeria, and is actually the scene of a 2015 traffic accident in the Dominican Republic. They are both too graphic for us to display and were accompanied by highly inflammatory comments," BBC explained.
In Sept. 2018, Jay Sekulow, a personal lawyer to U.S. ex-President Donald Trump wrote on Facebook that 60,000 Christians have been killed by "Fulani Herdsmen" in Nigeria, since 2001, in a "jihad" against Christian ethnic groups. Interestingly, a fact check by AFP proved him wrong.
At a point in Nigeria, there was a widely circulated doctored image of President Muhammadu Buhari justifying herders attack in Benue which angered the public. The presidency debunked this but it was after it had traveled wide. 
A short video report by Root TV in late Jan., claimed that "Nigerian Government was offering Herdsmen N100 Billion so they can stop criminal activities." The video was shared by many social media users including Dele Momodu, the publisher of Ovation magazine. Momodu tweeted saying, "Incredible things happen in this country" Alas! Africa Check ran a quick check on this and its findings revealed that the video was first recorded in 2019 and was even debunked then.
HumAngle in a fact check published in Feb. exposed how prominent media outfits published a picture of a bare-chested herder posing with an assault rifle for a report on the bitter tales of residents of communities in Niger and Kaduna states. This newspaper did a reverse image search and our findings showed that the picture originated from CBS News in a 2014 photo gallery about the crisis in South Sudan.
The danger 
The danger in posting or reposting information online without verifying is that even if retracted or fact checked, the message has already been sent; opinions have been shaped and violence may occur. 
Speaking with HumAngle on these ugly developments, Taiwo Adebulu, winner of African Check Awards in 2020, told our correspondent that the media is the only saviour that can make things right.
"The farmer-herder crisis in Nigeria has been there for a long time and the advent of new media has aggravated the issue. People now post all sorts of things online to make the situation worse and I think the best way newsrooms or journalism can help is to continue to put out fact checks on radio, television and social media."
"People need to know that certain videos and pictures are not true. People easily believe what they see, people with an agenda go a long way to convince people that what they are pushing out is real. The fake news surrounding the farmer-herder crisis is so massive. When issues like that are aggravated, they lead to violence and at the end of the day, you realise that the cause of the crisis is a bunch of fake stories, pictures and videos that were pushed online," Adebulu said. 
Speaking on the way forward, the media expert urged "the media to continue to fact check stories and sort fact from fiction. We need to do that with the speed of light.  Whenever something is going viral, the media needs to verify and let people know the actual truth. The issue of the farmer-herder crisis may not end for now until the government lays the perfect template but we can reduce the crisis that comes out of it through responsible reporting from the media and fact checking some of the viral stuff online."
---
Support Our Journalism
There are millions of ordinary people affected by conflict in Africa whose stories are missing in the mainstream media. HumAngle is determined to tell those challenging and under-reported stories, hoping that the people impacted by these conflicts will find the safety and security they deserve.
To ensure that we continue to provide public service coverage, we have a small favour to ask you. We want you to be part of our journalistic endeavour by contributing a token to us.
Your donation will further promote a robust, free, and independent media.
Donate Here