Environment
Features
News
How Hike In Price Of Cooking Gas Exposes Nigerian Women To Harmful Alternatives
The use of firewood and charcoal involves deforestation, which impacts the environment, and drives other related environmental disasters such as desertification, soil erosion, loss of biodiversity, and wildlife.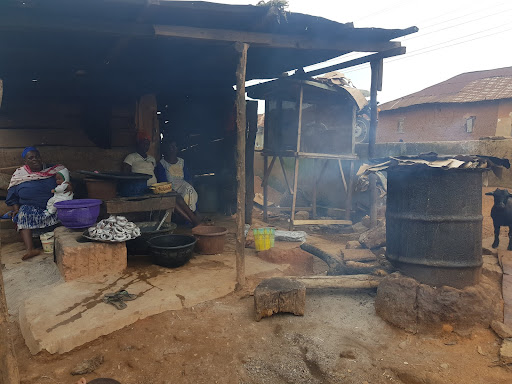 After cleaning her teary eyes, Musibau Falilat arranged more firewood to intensify the flame under her pot. She looked tired and sick but could not quit her business. She has run the food business for over 25 years, using firewood.
According to health experts, those cooking with firewood or charcoal are likely to develop Chronic Obstructive Pulmonary Disease, a condition that makes breathing difficult. Also, children around the vicinity are particularly at risk of asthma.
The use of firewood and charcoal also contributes to deforestation, and drives other related environmental disasters such as desertification, loss of biodiversity, soil erosion, and loss of wildlife. 
Falilat, who resides in Alabata village, Ibadan, Akinyele Local Government Area (LGA) of Oyo State, battles chest pain and cough. She told HumAngle that the incessant increase in the price of Liquified Petroleum Gas (LPG) also called cooking gas, has made life more difficult for her.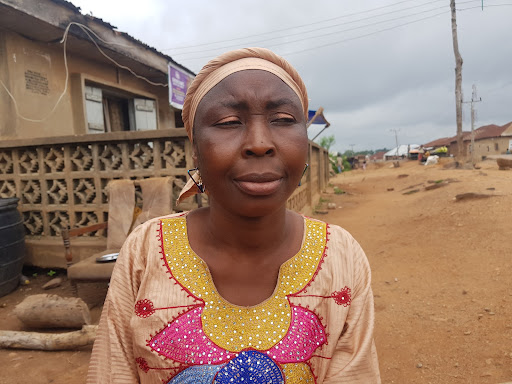 "I have been into this food business for the past 25 years and I have no experience of using cooking gas because of the high price. I believe such a thing is for the rich. I have to factor my children's school fees into the business. Even if I am considering the option before now, the soaring price won't allow me."
"The little I make from my rice and beans sales are channeled into different responsibilities. With N200 firewood, I will prepare food for my customers for two days and make little money for the needs of my children," she said. 
Cooking gas hike
Many Nigerians in the last few months have condemned the hike in gas prices. HumAngle's findings revealed that the price of LPG has increased four times in the last two months. 
Earlier this year, a 6kg gas cylinder was refilled for N1,800 but it is now being sold for N3,000. In the past two months, filling a 12.5kg cylinder had increased from N4,200 to N4,500, N4,700, and N5000. This was up from between N3,600 and N3,800 which 12.5kg was sold for in March.
Multiple users told this reporter that the 'monthly increments' have forced many homes to resort to firewood and charcoal for domestic cooking.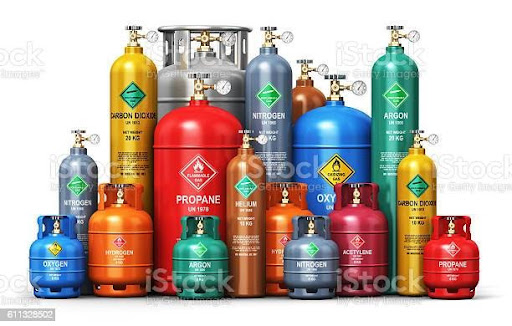 There are over 90 million Nigerians living below one dollar per day. Amidst the worsening unemployment situation, galloping inflation rate, and impact of COVID-19 pandemic, use of cooking gas is becoming a luxury. 
This development negates the plan by the federal government to boost the use of cooking gas by Nigerians from the current five per cent to 90 per cent in the next ten years. 
Speaking at the opening of a two-day National LPG sensitisation and awareness campaign, Vice President Yemi Osinbajo, on June 22,  said  the effective implementation of the National LPG Expansion Plan (NLEIP) would reduce the use of harmful cooking fuel that hurts human and environmental health. 
The Executive Secretary of the Nigerian Association of Liquefied Petroleum Gas Marketers, Bassey Essien, who spoke on the repeated increment in the price of cooking gas said "Nigeria consumes about one million metric tons of cooking gas annually, but 65% of it is imported."
The importation, therefore, makes the commodity vulnerable to economic indices, due to incessant weakness of the naira against the dollar, and the increasing price of natural gas at the international market.
More depressing stories
Oyeleye Morili sells smoked fish at Alabata village in Ibadan. She had just finished opening cartons of frozen fish when HumAngle got to her wooden shop. She slammed the fishes on the floor and cut them into pieces. 
After completing this process, she bent each of the fishes in a round form, using a tiny piece of bamboo stick to join the head and the tail together. She put them on a net placed on a metallic net with fire blazing underneath. She was roasting them for sale.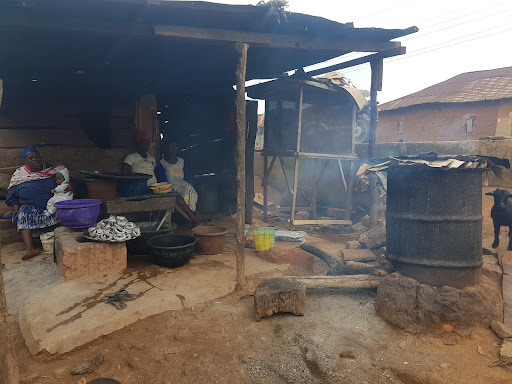 "I have been selling smoked fish for the past 10 years. The sad thing is that the job is affecting my health. I cannot work a long distance. It is something I would love to quit if there is an alternative but I don't have any other job. I understand there's a gas oven that will make my work easier but I cannot afford it let alone talk about refilling it. The cost of cooking gas made me shun the idea when my son proposed that," the 55-year-old woman said. 
In the same vein, Adigun Omowumi, a maize seller said "my eyes hurt me anytime I look at the sun. I have been battling with chest pain, cough, teary eyes, and back pain for years. My daughter also shares in this pain as a result of inhaling the smoke, but we must eat and sell. I do not have money to afford safe cooking alternatives like cooking gas and its cylinder. The suffering is endless but there is no choice."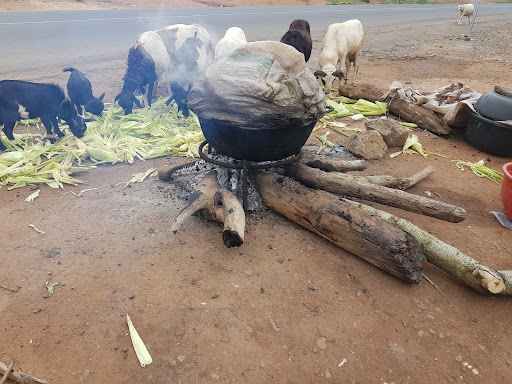 Health implications 
In 2018, the World Health Organisation (WHO) said "each year, close to 4 million people die prematurely from illness attributable to household air pollution from inefficient cooking practices using polluting stoves paired with solid fuels." 
The organisation also said that noncommunicable diseases caused by firewood often lead to premature deaths due to stroke, ischaemic heart disease, chronic obstructive pulmonary disease (COPD) and lung cancer.
In another report, WHO said smoke emanating from firewood used for cooking is the third greatest killer of women and children in Nigeria as no fewer than 98,000 Nigerian women die annually from smoke inhaled during cooking with firewood.
Speaking with HumAngle on other negative effects of cooking with firewood and charcoal, Ronke Aliu, a medical practitioner, said  the smoke "forced into the eyes causes an irritation known as conjunctivitis, or pink eye. It is an infection that covers the white part of the eyeball and often results in partial or total blindness," she said. 
"Also, long exposure to smoke from firewood may lead to Chronic Obstructive Pulmonary disease such as breathing difficulties, and chronic cough."
Effect on climate change
In 2005, Nigeria was adjudged as the country with the highest rate of deforestation with over 55 per cent of primary forests lost. Firewood collection was listed as one of the reasons behind this. Yet it has continued despite campaigns against illegal felling of trees.
As forests grow, they battle against climate and emissions, preserve watersheds, stabilise soil and prevent erosion. They also help to protect the planet from a major greenhouse gas by absorbing carbon dioxide (CO2).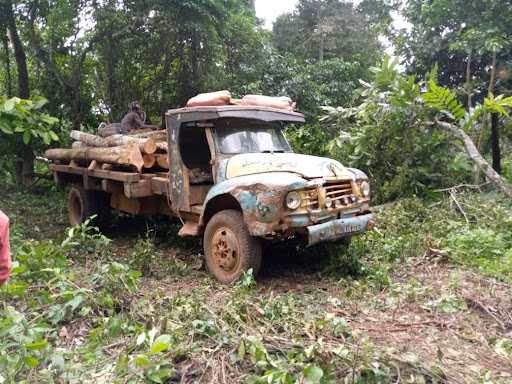 The African Refiners and Distribution Association (ARDA) recently said with over 14 percent of primary forest lost between 2002 and 2020 as a result of felling of trees for firewood, deforestation is likely to increase if the federal government fails to address the incessant increase in price of cooking gas.
Speaking at the 10th Environmental Outreach Magazine public lecture in 2019, the National Coordinator, Nigeria Erosion and Watershed Management Project, Salisu Dahiru, said "Nigeria loses between 450,000 and 600,000 hectares of forest to deforestation annually to rank among the countries with the highest rate of deforestation in the world," he said, quoting the Food and Agriculture Organisation of the United Nations.
Govt actions and inactions 
In Nov. 2014, the federal government under the leadership of President Goodluck Jonathan, approved a N9.2 billion contract for the purchase of 750,000 clean stoves and 18,000 wonderbags for rural women. The administration said the purchase and distribution of the items for free was in line with its National Clean Cooking Scheme.
The scheme was expected to provide 20 million stoves over a five-year period at the rate of four million stoves annually for onward distribution.
Following the emergence of President Muhammadu Buhari in 2015, a social rights group, Connected Development (CODE), in a statement by its Director, Hamzat Lawal, urged the federal government to probe the N9.2 billion National Clean Cookstove Scheme.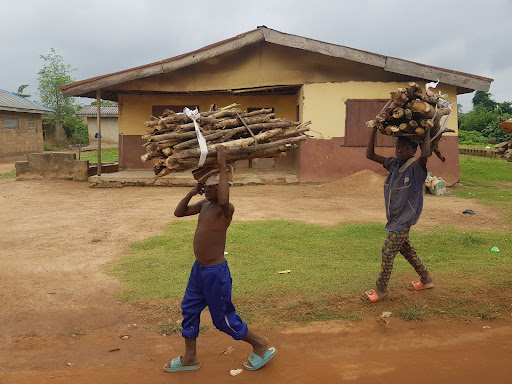 Two years after continuous controversy, James Faleke, a member of the House of Representatives representing Ikeja Federal Constituency, in Jan. 2017, moved a motion for the probe of the contract. He pointed out that nobody was given the stoves to achieve its intended purpose.
The Chairman, House Committee on Finance, recommended then that the House committees on Anti-Corruption and Environment should investigate the scheme and his recommendations were unanimously adopted. 
These committees were given six weeks to carry out a detailed investigation of the matter but nothing has been heard since then. HumAngle contacted Faleke for an update on this and why the committees never made their findings open to the public, four years after. But the lawmaker did not respond to calls and text messages.
Meanwhile, a report in May 2017 revealed that the "clean stoves" meant to check the felling and use of trees for cooking were abandoned at the National Park along Airport Road, Abuja. The report said hundreds of stoves were seen lying under trees at the park without any form of covering or protection while women still use firewood to meet their cooking demands.
When contacted for an update on the matter, the Minister of State for Environment, Sharon Ikeazor, directed this reporter to the Acting Director of the Department of Climate Change, Federal Ministry of Environment, Halima Bawa-Buhari but she did not respond to HumAngle's repeated calls and text messages.
Unfulfilled promises 
In his acceptance speech after the 2015 election, Buhari said his government would play a more active role in diplomatic efforts to craft a global response to climate change. The president, in Sept. 2019, announced plans and initiatives by his administration to reverse the negative effects of climate change in Nigeria. 
Buhari who spoke at the United Nations Climate Action Summit admitted that climate change is a human-induced phenomenon and his government would develop a more robust sectoral action plan against the menace. 
Speaking in an interview in Jan. 2020, Environment Minister Mohammad Abubakar said "forestry plays a big role in climate change, especially in stabilising the climate. Trees absorb carbon dioxide and produce oxygen, and by reducing the level of carbon dioxide in the air, we reduce the potentiality of the climate heating up. We are planning something about the tree planting campaign; we will get that together and unveil it to the general public."
"It is a project that involves the mass planting of millions of trees. This is a commitment that President Muhammadu Buhari made on the climate, for Nigeria and for the rest of the world at the United Nations General Assembly in September 2019. This is a promise that we intend to keep and we will go beyond the call of duty by planting more than 25 million trees and it will involve everybody." 
HumAngle findings revealed that no significant success has been recorded on this as many women are still suffering from the effect of constant use of firewood and charcoal due to increase in the price of cooking gas.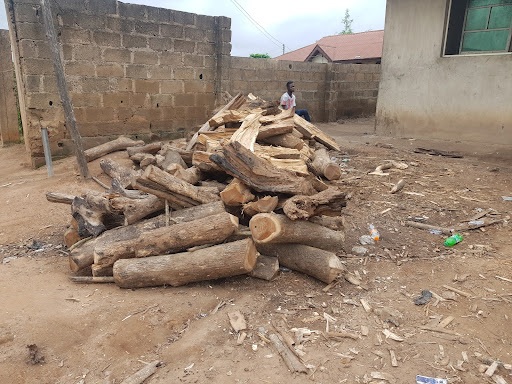 Meanwhile, Vice President Osinbajo last week canvassed for the reframing of conversations around climate change, saying addressing issues associated with the crisis tops the government's agenda. 
Way forward 
A climate change expert, Olanrewaju Sylvester urged authorities to sensitise women living in rural communities on the negative effects of cooking with firewood and deforestation. 
"People need to be properly sensitized that the more their community loses animal and plant species, there is less water in the air to be returned to the soil in deforested areas. So, there is a need for commitment on the part of the government."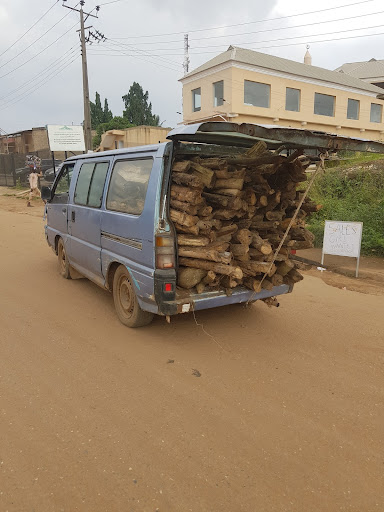 Sylvester also noted that "the biggest challenge is poverty. People understand that firewood is much cheaper compared to cooking gas. No matter how poor you are, you will be able to cut trees and make food for yourself. All you need to do is to dry the trees and convert them into firewood.
"People remain poor in Nigeria because authorities refuse to show concern for citizens.  They embezzled all that should make existence easy for citizens. Nothing came out of the N9.2 billion clean stove scheme. They wanted to discourage the felling of trees in the country but many years after, those stoves never got to the women in rural communities. We need to first address this if we are serious about addressing climate change."
---
This story was produced under the NAREP Climate Change Media 2021 fellowship of the Premium Times Centre for Investigative Journalism.
---
Support Our Journalism
There are millions of ordinary people affected by conflict in Africa whose stories are missing in the mainstream media. HumAngle is determined to tell those challenging and under-reported stories, hoping that the people impacted by these conflicts will find the safety and security they deserve.
To ensure that we continue to provide public service coverage, we have a small favour to ask you. We want you to be part of our journalistic endeavour by contributing a token to us.
Your donation will further promote a robust, free, and independent media.
Donate Here