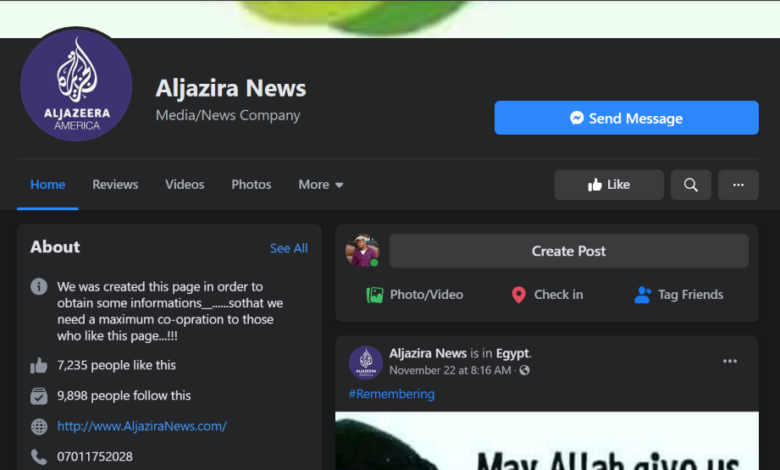 Have you been following the official Facebook page of that reputable media outlet or rather one of its many lookalikes? Telling the difference is increasingly getting difficult as scammers have now extended their duplication game beyond just the brand name and symbols. But while some of these pages share publications from the original news platforms, there are those that post other contentsㅡincluding fake news.
Browsing through the social media platform, Facebook, HumAngle found 30 pages designed to pass off as one of nine news organisations: Al Jazeera, British Broadcasting Corporation (BBC), Cable News Network (CNN), Vanguard News, Sahara Reporters, Television Continental (TVC), Channels TV, African Independent Television (AIT), and Nigerian Television Authority (NTA).
The problem is, however, not limited to Facebook. Other social media websites also play host to fake accounts purportedly belonging to one news organisation or the other. 
In 2016, for example, Channels TV raised alarm over a Twitter account using its name and logo to share gossip and sensational news under the guise of "parody." The account also cloned the original handle's username, bio, and location. Though not verified, it had gained over 188,000 followers. 
Very often, fake pages on Facebook are created with the intention of gathering followers through deception. These followers can then be converted to website traffic, customers, and ultimately money. 
In Nigeria, it is common for pages to be publicly offered for sale, with their value largely depending on the number of followers. This is especially likely for pages that pass off as big brands but do not share unrelated content. This one that calls itself CNN National News, for instance, only shared four news excerpts in 2014, four in 2015, one in 2016, and then updated its profile picture last November.
But in their bid to reach wider audiences and maximise profits, the page administrators sometimes resort to sharing false information.
An example is this page, Vanguard NewsPaper Nigeria, which instead of featuring the address of Vanguard's website puts up a blogspot address. It also shares links from a different blog. Two of the reports recently published had terribly misleading headlines, which contradicted the reports themselves: Breaking News: Attorney General to cancel US Election (See new development) and Finally Nigeria Govt bows to pressure from CNN, release the name of those who died in EndSARS protest.
Another example spotted by HumAngle was from a page called Sahara ReportersUpdates, also sharing links to websites unrelated to the prominent New York-based paper, Sahara Reporters. One of those reports, published in April, claimed that former President Olusegun Obasanjo was giving out N5,000 to every Nigerian with a Bank Verification Number (BVN) so long as they clicked a link and followed the steps. The scam report has been viewed nearly 7,000 times as of November 25.
Many of those who follow these pages are misled to think they are run by the major brands. This is made obvious by the comments often passed on their posts. "Please, help us beg the management of National Open University to kindly caution how they released bad results for us the students," someone, for example, replied last year to a post shared by a page impersonating AIT.
As a fact-checker at the Agence France-Presse (AFP), Segun Olakoyenikan, has come across many of these impersonating accounts, which he says are especially common on Facebook. He explained that the motives of the creators vary, from spreading political propaganda to simply generating controversy. Sometimes, after growing the pages' reach, they would change their names to suit their ultimate plans. 
"The challenge we have now is that there is a trust gap. Media organisations across the country are working to ensure they bridge the gap but these guys are compounding the issue for journalists generally because their contents are mostly misleading or false," Olakoyenikan added. 
"When they do that and are fact-checked, and people see Facebook calling them out for posting misleading information, people will think it is coming from reputable media organisations."
Team lead for FactCheckHub, Victoria Bamas, also suggests that the trend of impersonation can be potentially harmful to the affected media organisations if not handled urgently.
"People might believe contents from such pages and, if such contents turn out to be dubious or pushing an agenda, the people exposed to these messages will have a negative perception from the organisation," she explained.
S/N
Page
Red Flags

1

Al Jazeera News

Page is used by a Somalian motivational speaker. It has a conflicting username:

https://www.facebook.com/Raadka.nolosha/

 

2

Aljazeera News

Bio says, "Dollarland Forum, we believe everyone has a story …Connect with us: @Dollarlandforum.com." Page has a conflicting username:

https://www.facebook.com/Aljaezeera/

. Page leads to a fake Al Jazeera

Youtube channel

.

3

Aljazira News

Misspelling of Al Jazeera. External link is:

http://www.aljaziranews.com/

. Listed phone number is Nigerian: 07011752028

4

Aljazeera Nigeria

Bio says, "An islamic multipurpose monthly magazine that promotes islamic personalities, islamic values, current affairs and giving voice to the voiceless in shaa Allah." External link is:

http://www.aljazeeramagz.blogspot.com/

 

5

AljazirahNews Nigeria

Misspelling of Al Jazeera. External link is:

http://www.aljazirahnews.com/

. Page belongs to an Abuja-based magazine.

6

Aljazeera Africa

Has a typo in its bio. External link is a personal blog:

https://morrismakabe.com/

. The page advertises to those interested in patronising sugar mummies. 

7

The BBC Ghana

Bio says, "Entertainment And General News Platform." External link is:

https://thebbcghana.com/

. Avi is the picture of a woman, not the BBC logo.

8

CNN National News

Only posts news headlines an average of twice a year.

9

CNN Breaking News

Page has no posts, yet about 18,000 followers.

10

Vanguard News – daily

Bio says, "Bringing news, updates and happening around the World and Nigeria to your door step. just click *LIKE*." External link is:

www.vanguardnewdaily.come

. Consistently makes posts that appear to be separatist propaganda.

11

Vanguard NewsPaper Nigeria

Bio has typos. External links are:

http://CFEstandardNEWS.blogspot.com/

and

www.lipglouse.com

. Has posts with misleading, exaggerated headlines.

12

Vanguard News Update

Has only one post from 2018 about a Dangote Cement Factory Bonanza.

13

Vanguard News Update

Bio says, "This is a Nigeria legal news paper/internet platform for real and genuine Nigeria news and updates." External link is:

http://www.vanguardnewsupdate.com/

. Also shares links to Facebook posts from the original Vanguard Newspaper page and other

lookalikes

. 

14

Vanguard Newz Nigeria

Bio says, "Want Latest happenings in the world of politics, sports, entertainment, business and tech, then stay glue to us." Claims to be the "official Facebook Page of vanguard Newspapers". External links include:

https://vanguardnewz.com.ng/

,

www.thefounders.com.ng

 

15

Vanguard news paper

Misspelling in name. Shares posts from random Facebook pages and groups, from pages belonging to Vanguard, Sahara Reporters, Opera News, and so on.

16

Vanguard News247

Describes itself as "the official Facebook Page of vanguard Newspapers a leading news paper in Nigeria". Bio apparently copied incompletely from

another

fake page. External link is:

www.buzzfeedngn.com

 

17

Sahara ReportersUpdates

External links include:

https://legitfund.com.ng

,

http://gospelwinners.blogspot.com/

. Shares fake news with the aim of scamming people.

18

Sahara Reporters News

Says it provides "the latest breakthroughs in corona virus vaccines and treatments". Occasionally shares headlines from Sahara Reporters with attached pictures but without links to the reports.

19

Official: sahara reporters

Bio says it provides "latest breaking news around te globe". External link is:

http://www.saharareportes.com/

20

Tvc news

Shares random content from the News Agency of Nigeria, personal Facebook accounts, skit makers, and so on.

21

TVC News Nigeria

External link is:

http://www.tvcnews.ng/

. Shares random content from personal accounts, other pages, ads etc.

22

ChannelsTelevision Nigeria

Occasionally shares content from Channels TV.

23

Channels TV

External link is:

www.scholarshipguide.info

24

Channels Tv News

Bio says, "Always check our page and websites for update .as we get you informed." External links include:

https://channelsnews24.com/

,

channelsnews24@gmail.com

 

25

AIT U.K.

External link is:

http://www.aitinternational.co.uk/

. Page posts wildly unrelated content such as pleas for votes and movie uploads.

26

AIT Abuja

External link is:

http://www.ait_online.tv/

.

27

CNN Nigeria

The page has CNN's actual website address in its bio but shares links to reports by Channels TV. Page administrators greets the followers and sometimes wishes them a "successful week".

28

CNN international news

Page has a conflicting username:

https://www.facebook.com/AhmedBashirElmi/

. Bio says, "Wellcome to my page." External links include:

axmedzaki1992@hotmail.com

,

http://www.youtube.com/

. Phone number is a Somalian line: +252 63 4513139 

29

NTA News

Bio says, "Still the best n largest TV network in Africa." External link is:

http://www.nta.com.ng/

. One of the posts says, "

AM BACK ON TRACK  WITH ALL the LATEST IN THE WORLD OF NEWS & updates."

30

NTA News

Bio says, "Nigeria entertainment news." External links include:

http://www.muminstuff.blogspot.com/

,

www.celebritynaija.com
Some of the pages, like this one, this one, and this, belong to actual organisations that pass off names of prominent media brands to promote their own works. Beyond Facebook, their websites and magazines similarly have names close to those of the big brands.
And then there are those who do not just copy the logos and names, but also the publications and disclaimers. In one case, a Facebook page masquerading as that of AIT shared a post warning against fake online platforms. "For the avoidance of doubt, the authentic website of the media outfit is www.aitonline.tv. It therefore distances itself from other sites and their fake news posts," it said, copying from AIT. The website address on its page is, however, different: http://www.ait_online.tv 
Here are some tips to avoid following the wrong pages on Facebook and unknowingly promoting the spread of misinformation.
Verification: Confirm if the page is verified. Often, reputable news organisations have their authentic handles verified to prevent fraud and deception.
Conflicting usernames: Check if the name of the page is consistent with the name of its username or URL. 
Typos: Be wary of pages whose descriptions and publications are full of misspelled words and grammatical errors.
Logo: Check if the logo is the same with the brand of the original media organisation.
Number of followers: If the number of likes and followers on the page is not impressive considering the brand's reputation, it is possibly a fake platform. 
About: You may find other red flags in the information contained in the about section, such as local phone numbers listed for a multinational organisation, the use of links to personal blogs or slightly edited addresses. You can make use of a search engine to confirm the organisation's correct website address. If there is no information in the about section, this is also a red flag.
Infrequent posting: Pages that do not post consistently, especially those belonging to online newspapers and broadcast platforms, are likely inauthentic. Other red flags include the strange use of uppercase letters across posts, the presence of a strong of letters in the page's URL address, and the publication of materials unrelated to the work of the media organisation copied.
It is important for users of social media platforms, especially Facebook, to exercise more caution about the accounts they interact with. This is so that they do not unknowingly partake in the misinformation ecosystem or fall victim to scam attempts. 
Olakoyenikan believes the best way to reduce the effectiveness of fake accounts is by creating awareness and enlightening the public on how they can distinguish impersonators from authentic pages "especially as we have reputable media organisations that do not have verified accounts on social media". 
He advised social media users to evaluate a page's credibility by going through many of its publications and confirming that they have a history of transparency, objectivity, and accountability, which are the core of journalism. 
"When we create this awareness and people are able to identify these things, we should also encourage people to report accounts that they discover are spreading misinformation or imitating media organisations to the tech giants," he added. 
"We will be doing ourselves a great disservice if we allow platforms like this to thrive because they are destroying the work we do and it won't be good because we already have a trust deficit between media practitioners and the audience. We don't want people to widen that deficit."
---
The researcher produced this article per the Dubawa 2020 Fellowship partnership with HumAngle to facilitate the ethos of "truth" in journalism and enhance media literacy in the country.
---
Support Our Journalism
There are millions of ordinary people affected by conflict in Africa whose stories are missing in the mainstream media. HumAngle is determined to tell those challenging and under-reported stories, hoping that the people impacted by these conflicts will find the safety and security they deserve.
To ensure that we continue to provide public service coverage, we have a small favour to ask you. We want you to be part of our journalistic endeavour by contributing a token to us.
Your donation will further promote a robust, free, and independent media.
Donate Here