Emergencies
Featured
Features
News
How Face Masks Have Become A Major Source Of Income For Nigerians
The unfortunate advent of the COVID-19 pandemic has ironically created a new source of income for several Nigerians in face mask sales.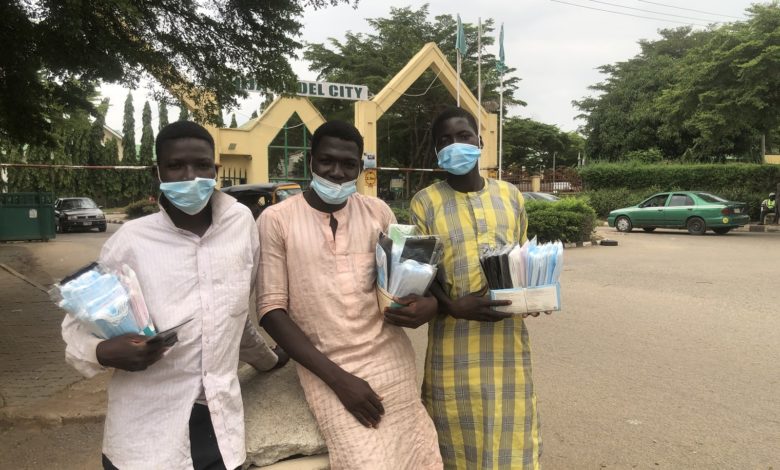 When the Covid-19 pandemic first hit the world in 2020, it was still like a myth to Nigeria and Nigerians, and it remained so until the first case was announced in Lagos, Southwest Nigeria by the Federal Ministry Of Health, on February 27, 2020.
Even then, the new development had no impact on the daily lives of the people. But by the month of April, Nigerians began to get a sense of what was at hand.
When Muhammadu Buhari, Nigeria's President announced the first phase of lockdown on March 27, educational institutions shut their doors to students, banks did the same to customers, and so did public and private offices.
Wearing face masks became the new normal. Newspapers wrote about the importance of putting on a face mask, television stations sensitised viewers at intervals, and radio stations played jingles.
Because the Federal Ministry Of Health, backed by the Federal Government of Nigeria, made failure to wear a face mask a punishable offense, many Nigerians had to buy it; people like Remi Adebowale, whom the pandemic and lockdown had already put out of  work, saw the high demand of face masks and decided to key into it.
HumAngle spoke with several face mask sellers like Adebowale who have capitalised on the surge in demand for the protective gear, to earn a living for themselves.
Ankara plus face masks
If you are accustomed to seeing face mask vendors who hawk their wares in traffic and at other points, you may  find Remi Adebowale an interesting sight to behold.
Seated behind the wheel of her SUV and occasionally leaning on the car, she parks under a tree in the quiet Sokode Crescent street located in the Wuse zone 5 area of the Federal Capital Territory (FCT).
Displayed on the bonnet of her car are face masks varying in colour, design, and size. From the plain white, and the black colored face masks to those intricately designed, down to the ones specially produced for children, as well as face shields, Adebowale has them all.
Adebowale, who lives within the area, told HumAngle that she has another business but decided to sell face masks during the pandemic.
"I didn't want to be an idle housewife. Since I could no longer move around like I used to, I decided to diversify my source of income," Adebowale explained.
She added that she sold face masks wholesale during the pandemic, as the demand then was at an all-time high.
When asked to make an estimate of her daily sales, she said she could not exactly determine that, as sales vary from day to day. What Adebowale was certain of, however, was that sales have greatly declined, as people no longer adhere to the face mask rule.
Current inflation impact
Recently, business owners have begun adding extra costs to their services, due to the current inflation rate. This has affected Adebowale's business greatly, as the proceeds from daily sales can no longer purchase much for her.  
Despite making considerable sales on a regular basis, Adebowale told HumAngle that there is barely enough profit from it, as compared to the way it was during the first wave of Covid-19.
"The price of everything keeps increasing; everything except face masks. At this rate, I am just trying to sell off my stock, so that I can get them off my hands," she said.
HumAnlgle met and spoke with some facemask sellers who sell at mall entrances, traffic prone areas, and roadsides to get their perspective on the nature of the business.
From roadside petrol to face masks
A cheerful looking Abdulkadir told HumAngle that he used to sell petrol by the roadside, prior to the outbreak of Covid-19 in Nigeria. He had swapped to selling facemasks where he made more profit.
"In a day, I can make up to N700  or N800 profit. Even though people don't buy face masks as they used to, the money I get out of it is fair enough as I am able to feed and take care of myself with it," Abdulkadir said.
New to Abuja, but face masks saved the day
When Tijjani Abubakar first arrived in Abuja from Kebbi State, Northwest Nigeria, he had no idea that he was going to start the face mask business. He had come to work as a personal driver to a certain man but upon his arrival, his would-be employer made a trip to Kaduna, leaving him stranded.
"A friend advised me to start the facemask business and I did so," he said.
So while Abubakar awaits the return of his employer, he comes out every day and stands by the National Identity Management Commission (NIMC) building in Wuse zone 5, hoping that the "no facemask, no entry!" sign would compel passers by to patronise him.
At the end of each day, he makes at least N2000 in profit.
"Even if the money can't do much, it covers my feeding, and other small expenses. Once my boss returns, I will focus on my driving business," he explained.
From dealing in balloons to face masks
Like several others in the face mask trade, 15-year-old Zakari used to trade something else, for him, it was balloons.
Zakari, whose mother sells food in another part of town, told HumAngle that he comes from Karmajiji to the Jabi mall everyday to sell face masks at the entrance.
Once a kolanut trader
Umar was simply following the trend when he switched to selling face masks. But then it soon became a permanent decision because of the profit he made. 
"I can make like N2,000 to N3,000 in a day. If eventually people stop using face masks, I will go back to the kolanut business or back to my village if I lack capital," he said.
For low income earners like Umar and Abubakar, the face mask business has become a sort of shield which they can run to for cover against the harsh economic reality of Nigeria.
Bye-bye to selling biscuits
Husaifa Muhammed, a former biscuit seller, also told HumAngle that he had recently started selling face masks.
"In a day, I can make up to N800 to N900," he said.
When asked if he may consider going back to his former business, Muhammed said that he would only do so when face masks stop selling. 
---
Support Our Journalism
There are millions of ordinary people affected by conflict in Africa whose stories are missing in the mainstream media. HumAngle is determined to tell those challenging and under-reported stories, hoping that the people impacted by these conflicts will find the safety and security they deserve.
To ensure that we continue to provide public service coverage, we have a small favour to ask you. We want you to be part of our journalistic endeavour by contributing a token to us.
Your donation will further promote a robust, free, and independent media.
Donate Here