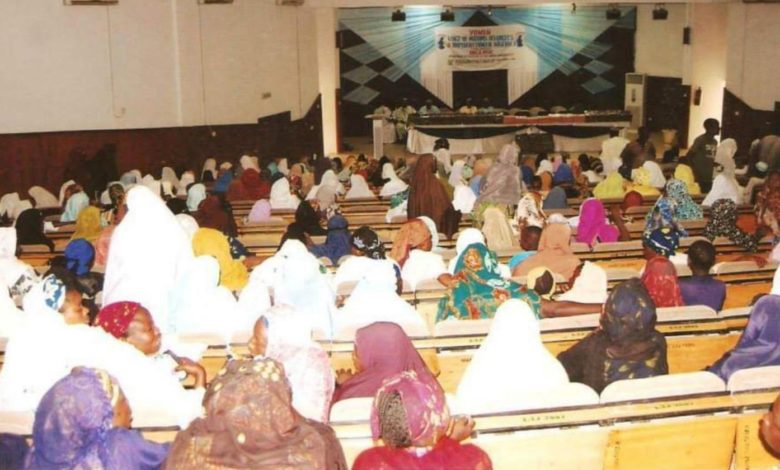 The divorce rate in Northern Nigeria is among the highest in West Africa. In recent times, particularly in Kano State, the divorce rate has reached an alarming proportion.
In 2009, it was estimated that there were over one million registered divorcees in Kano State which prompted Hajiya Altine Abdullahi, an Executive Director of National Association of Divorcees/Orphans and Widows, to threaten a protest march.
Increase of poverty among men-less women is pathetic, which is more pronounced in less developed countries of Africa and Asia, where majority of female divorcees are uneducated and not gainfully employed.
A research on "Assesment of Zawrawa (divorcees) Mass Marriage Programme in Kano State" shows that women suffer an average of 30 per cent after separating from their spouses, while 10 per cent of men go through similar experience.
Divorce has long term effects on family roles and feeling of family members. Many divorced adults continue to feel angry, humiliated and rejected and children of divorced parents tend to exhibit a variety of psychological problems as well, experts said.
In 2011, the high rate of divorce in Kano State compelled the administration of Dr Rabiu Musda Kwankwaso to adopt a strategy that could liberate divorcees/widows with the aid of private organisations and individuals.
The large number of divorcees and widows increases the rate of prostitution, crimes and delinquency, particularly amongst the women and their children in Kano State, the experts added.
HumAngle learnt that some street beggars in Kano city are children of divorcees or widows without means saddled with the responsibility of catering to children.
Some divorced women shared their experiences with HumAngle, among them Zuwaira Musa from Madobi Local Government Area.
She said, "My marriage broke up three years ago.
"I was living with my husband peacefully for over 12 years. As the economic hardship prevailed, my husband started to develop some strange behaviour but I encouraged him and assured him that everything would be alright.
"One fateful day when I was pregnant and could not perform some house duties because of fatigue, he came back home, got angry and threw my clothes outside and asked me to leave the house with my five children.
"He said he had divorced me. I pleaded to the extent that third parties were involved but he stuck to his decision.
"I left to my parents' house, I started facing hardship and some unfamiliar attitude from my parents, who insulted and humiliated me.
"I went to Kano State Hisbah Board and complained but my parents continued torturing me.
"Due to frustration of having no food and shelter, I started begging on the street to cater to my children and the unborn child. Up to now, I am a beggar because I have no other means to live."
Amina Salihu from Kano Municipal Local Government Area, said, "I was divorced by my husband because I questioned him about some illegal acts he was doing, including coming back home very late and smoking, which he started through the influenced of friends.
"I still love my husband and I want to go back to my matrimonial home. My family had pleaded with him and he promised that he would call me back. For over six months now I have not received his call; I have called him several times but he is rejecting my calls.
"Now, I am living with the family of my husband. Sometimes he used to pay visits but he shouts at me or hissed whenever I greet him. I am tired I want to go back to my husband's house. Hisbah Board summoned him but he rejected their summons."
Dr Bello Ibrahim, an Associate Professor of Sociology at Bayero University, Kano, blamed the high rate of divorce in Kano State and other parts of Northern Nigeria on poor upbringing.
"The major causes of divorce, most especially in Kano State, one of the reasons is socialisation because some women are not trained on how to be wives, people nowadays marry because of material things and marriage is beyond that.
"Second is the economic factor because many youths have no source of livelihood but get married. High rate of inflation, for example, a working man earning N30,000 and having three children with a wife which is not enough to cater for the entire family.
"Also, peer influence is one of the factors that lead to divorce because the household might have friends influencing her causing negative interventions between the couple," Ibrahim said.
He said the lack of education also contributed to divorce.
"Marriage is an institution of its own, because the more educated the couples are the less their marriage is likely to fail. However, in our society most couples are uneducated which is also a major factor that leads to failure in marriage.
"Social media also influences divorce, because many married women share pleasantries with others, so if the husband discovers that then the marriage is going to fail," he said.
Ibrahim said "failure in marriage affects the society negatively because when a marriage fails, the whole society fails too because marriage is the bedrock of socialisation for children and future leaders. So when there is failure in marriage it leads children to juvenile delinquency and other criminal activities."
He said to curtail the problem, there was a need to reassess cultural and religious values and reorient young persons to understand the institution of marriage.
Ibrahim said community must take responsibility to check threats to the family
values, while individuals and organisations should provide good and free education and fight poverty through job opportunities.
However, all these cannot be achieved without erasing corruption, Ibrahim said.
Mallama Ummul Khursim Kassim, Deputy Commander-General, Kano State Hisbah Board, said diivorce caused indecency among children "because many of the hooligans or street criminals we arrest are children of divorcees and widows."
"Some women lack patience. Simply because the husband cannot afford to provide everything for the family the wife will seek for divorce and these lead to ungodly activities from the women and children.
"Divorce is a great disaster for the society, it brings more high rate of begging, smoking and stealing. Building marriage on truth is the major way and solution to divorce, also patience and caring," she said.
Abdullahi of Voice of Widows, Orphans and Divorcees Association of Nigeria, said poor people were those mainly affected by divorce.
She said that divorce did not affect the children of the elite and that "is why our leaders are not concerned about the issue."
"Divorcees get frustrations from their parents due to the parents' responsibilities. However, this leads to some divorcees venturing into ungodly activities.
'We have about one million registered widows and divorcees in Kano State," Abdullahi said.
Perspectives of men
Abdullahi Umar of Sharada Quaters who divorced his wife recently, said, ' I divorced my wife, Hafsat Bala, because I suspected her of acts of infidelity.
"I have not caught her red handed but my friends told me that she is having extra-marital affairs whenever I am at work. I can't be in marriage of doubt so I divorced her.
"Unfortunately, one among my friends married my wife back into his house.
I am now in deep pains as I have nothing to do but surrender everything to Almighty Allah," he said.
Ishaq Mukthar of Yakasai Quarters said that most of things that led men to divorce their wives was the lack of trust and impatience upon which relationships were built.
"I have been with my wife for over 15 years now and we are living happily, sometimes arguments and disagreements do occur but control of anger is the key to lifetime marriage," Muktar said.
---
Support Our Journalism
There are millions of ordinary people affected by conflict in Africa whose stories are missing in the mainstream media. HumAngle is determined to tell those challenging and under-reported stories, hoping that the people impacted by these conflicts will find the safety and security they deserve.
To ensure that we continue to provide public service coverage, we have a small favour to ask you. We want you to be part of our journalistic endeavour by contributing a token to us.
Your donation will further promote a robust, free, and independent media.
Donate Here