Emergencies
Features
Hopeless Victims, Helpless Firefighters: The Problems With Non-functional Fire Service Equipment In Osun
Despite awarding N223.2 million in contracts for the construction of 11 fire stations in various locations of Osun state, residents suffer due to a lack of equipment to fight the fire.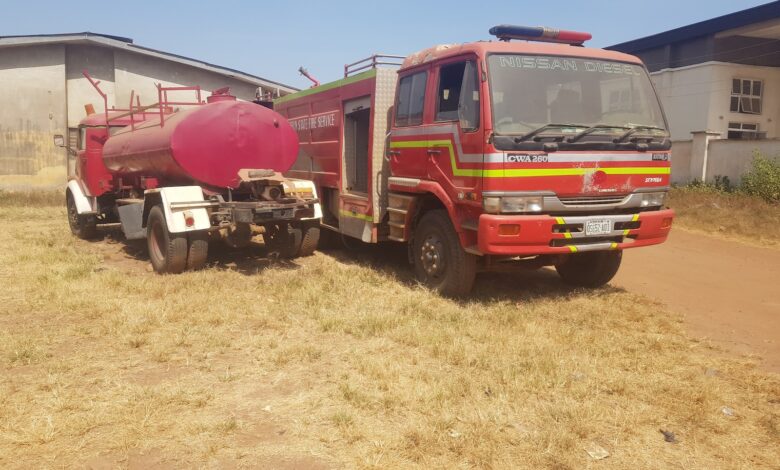 Having worked as a teacher for 35 years in Ile-Ife, Southwest Nigeria, Remilekun Alimi, 75, retired to his three-bedroom apartment in April 2020. A month after, he became homeless when his house caught fire and burned to the ground.
Two weeks after the fire incident, Alimi died as a result of hypertension.
"The house was the only property he ever owned in his lifetime. In fact, it took him nearly 20 years to build the house because he never wanted to remain in a rented apartment after his retirement from work," said Taiwo Alimi, the deceased's younger brother.
The fire incident occurred when the deceased's wife left a candle stick on and went out. Before she came back, the candle light had consumed her room and later spread to other parts of the house.
When contacted, the office of the firefighters in Ile-Ife said they lack fuel and water in their vehicle. Since the house was built on a new site, there were only a few people around to help. So, Alimi had to watch his house burn to ashes after the fire service failed to help.
Narrating his experience, Ibikunle Lawal, the proprietor of Ibikunle Lawal College said firefighters could not help when his school caught fire due to refuse burning in Nov. 2022.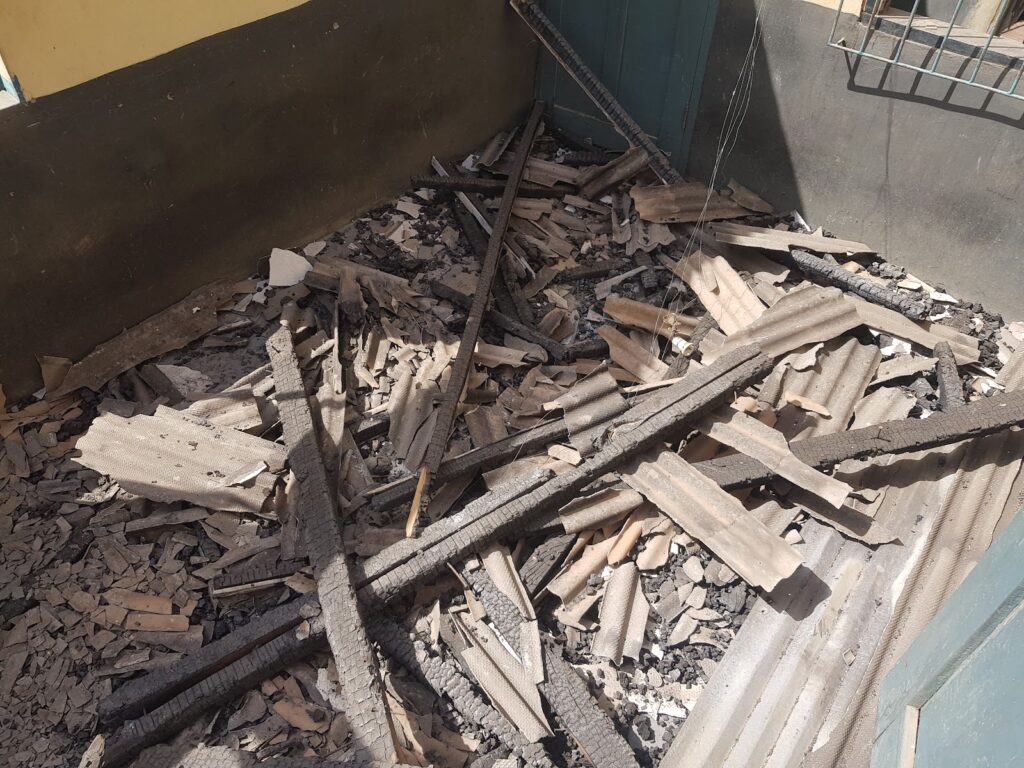 "The incident happened as a result of the carelessness of a teacher who left the school while burning refuse around 5:00 p.m. I was in my office having a meeting with the college board members when somebody started shouting fire!!!
"I started praying and allowed others to reach out to the fire service whose office is just 10 minutes away. Despite arriving one hour late, they arrived with little or no water. It was not up to five minutes after their arrival when I heard that they had already run out of water. If not for the power of God, the entire school would have been burnt down."
Lawal said he lost multi-million naira worth of properties in the fire incident.
"I am certain that the damage wouldn't have been much if the firefighters had come earlier with enough water in their fire vehicle," said the octogenarian who claimed to have lost hope in the state's fire service.
Unending crisis?
Nigerians have, in the last few years, witnessed many fire outbreaks, showing the loopholes in the country's emergency system. When residential homes are not affected, markets get burnt.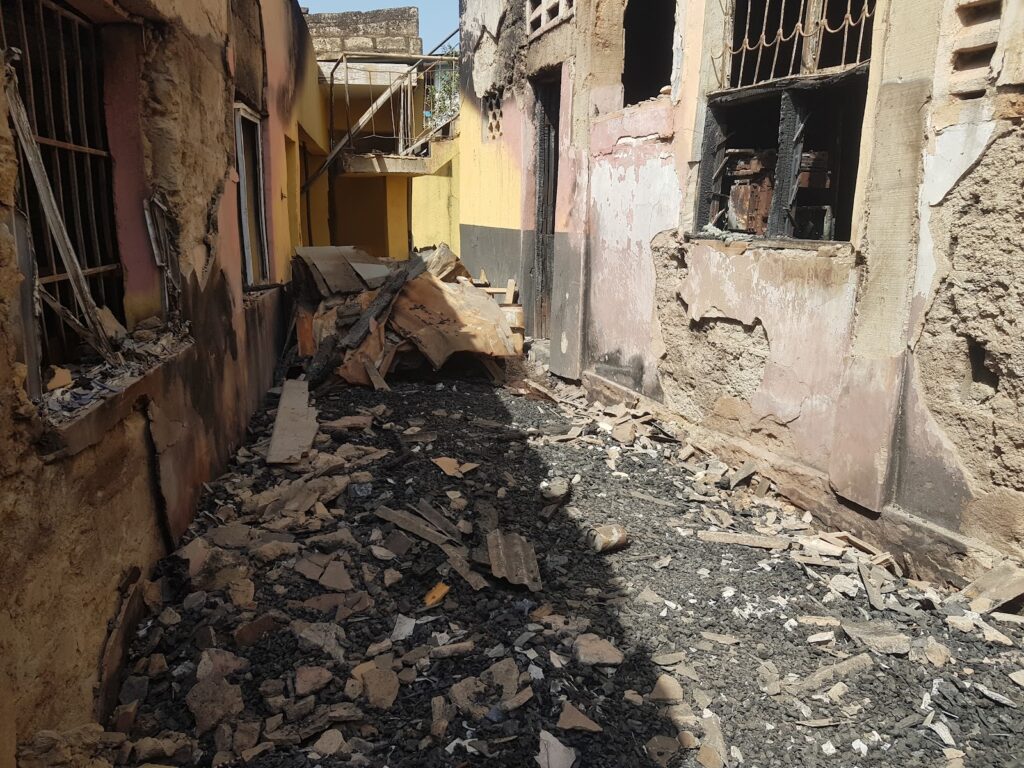 As traders lose millions of naira to the recurrent incidents yearly, victims often labour from scratch. While some usually lose their lives as a result of the shock that follows, many develop illnesses such as hypertension or stroke.
Though a source for scientific, technical and medical research known as ScienseDirect says the best response time to an emergency should not be later than five minutes, firefighters in Nigeria hardly meet up with the time stipulation due to a lack of enough fire stations and equipment to fight outbreaks.
In a bid to help citizens combat fire outbreaks, the Osun government in Nov. 2018 awarded N223.2 million in contracts for the construction of 11 fire stations in various locations of the state.
The contracts for the stations, awarded for N20.3 million each, were said to be located in Ile-Ife, Ilesa, Erin-Osun, Ede, Iwo, Ila Orangun, Ikirun, Ikire, Ipetu-Ijesha, Ejigbo, and Esa-Oke.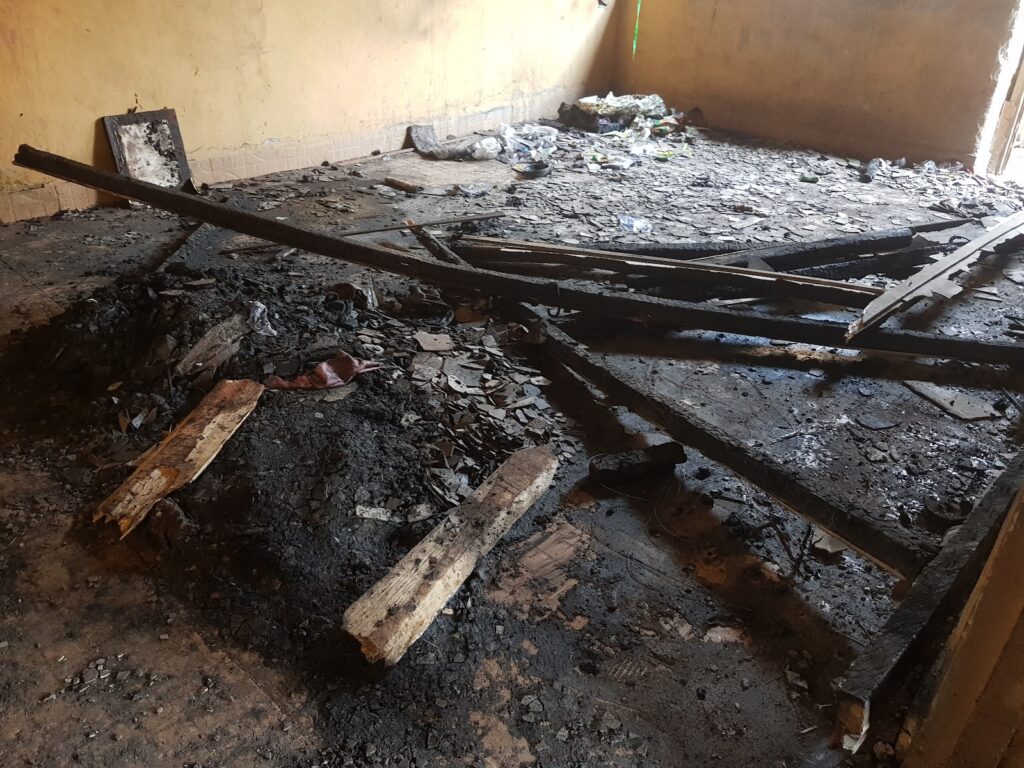 HumAngle visited some of the fire stations as residents and firefighters shared tales of unproductive services. Our reporter observed that most of the facilities have been left to ruin with a lack of equipment such as trucks, water tankers, and many more.
Bitter tales
On getting to Kehinde Oluyemi's residence, HumAngle met a lot of people who had come to commiserate with the victim of the late fire incident in Ile-Ife. The event reportedly happened on Jan. 10.
From the look on his face and his shaky voice, one could easily tell that Oluyemi was yet to recover mentally from his loss. He lost a six-bedroom apartment and his wife's pharmacy to the fire outbreak.
"I got a call around 9:00 p.m. that the house was burning. On getting to the scene, I realised that the entire house had been caught. We called the fire service, but we got no response. The emergency line kept ringing, but no one answered. It took the efforts of 'area boys' to quench the fire," he said.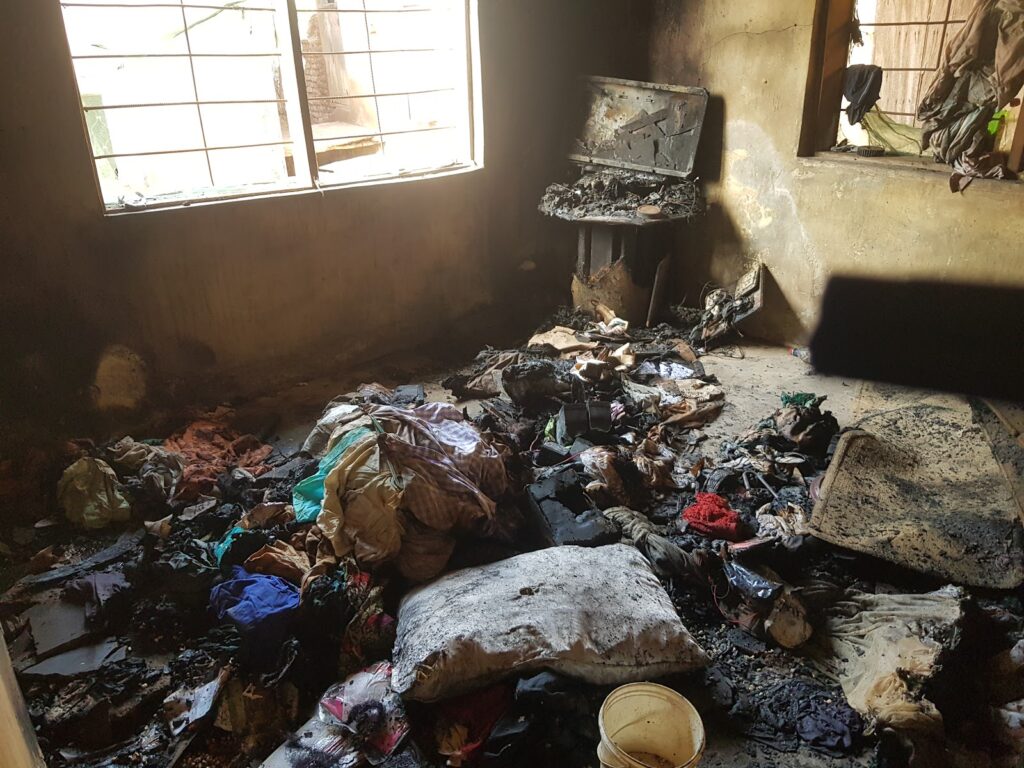 "By the time they finished, all the goods in my wife's shop had gone. She's been crying since then because we don't know where and how to start. It is as if we are starting a new life."
On getting to the fire station at college road in Ile-Ife, officials told HumAngle that the emergency telephone was faulty so they could not attend to the calls of victims. An official who spoke under anonymity because of fear of victimisation said the station lacked necessary requirements to fight fire outbreaks.
"The two fire vehicles we parked outside have stopped working for the past two years. So, when we have cases of fire incidents, we look for motorcycles to convey firefighters to the scene and beg residents in the area to give us buckets and water, which usually makes us look stupid and helpless.
"There have been a lot of cases that we could have combated but we don't even have a borehole, no fire vehicle and many more. It has really been a headache for me as a firefighter. The vehicles cannot leave the spot they are. They are as useless as not having vehicles and we feel sad when we see people cry over properties that could have been saved if we had necessary requirements. It's a disaster."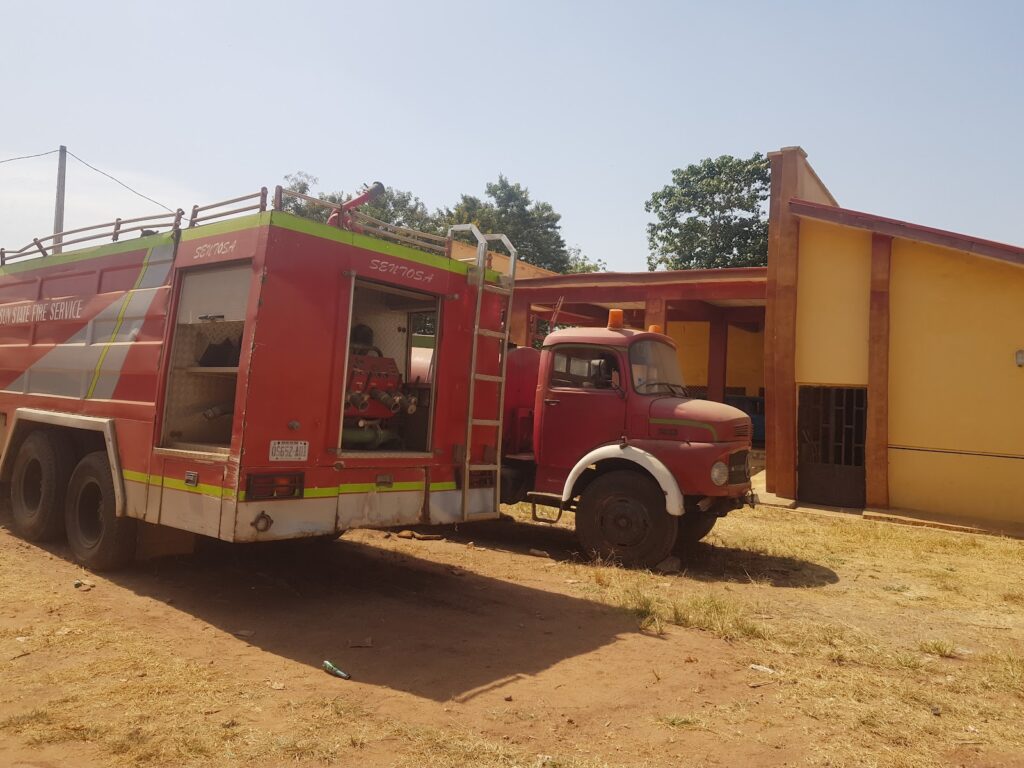 Another official who simply identified himself as Lukman is worried that several complaints to the headquarters in Osogbo, Osun capital, about lack of equipment are yet to be responded to. He also expressed displeasure over attacks on firefighters by residents who are not satisfied with their service.
Angry residents beat firefighters
Fire officers working in Ede also told HumAngle that the absence of essential equipment needed to carry out their duties has caused them physical harm by angry residents in the area.
In Jan. 2019, angry traders attacked firefighters from Ede fire station following an alleged late response to a distress call of fire outbreak at the popular Oje Market in Ede town. The traders argued that the effect of the fire would have been minimal if the service had arrived early.
One of those beaten during the incident said he would have resigned from the fire service if he had other job opportunities.
When contacted to combat the recent fire outbreak at the Independent National Electoral Commission (INEC) office, fire service officers reportedly borrowed buckets from residents to fetch water to quench the fire.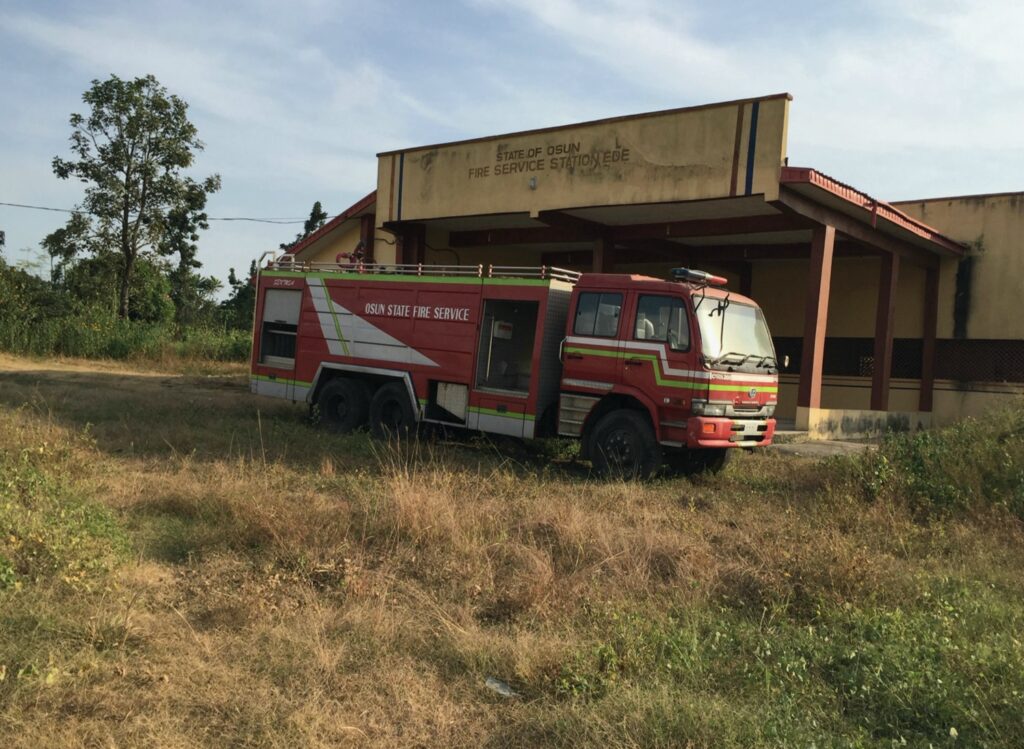 The fire stations in Erin-Osun, Iwo, Ila Orangun, Ikire, Ipetu-Ijesha, and Esa-Oke have been under lock and key since their completion as they have been covered with tall grasses during HumAngle's visits.
Frustrated officials
When visited, the fire station in Ilesha was under lock, forcing officials to maintain a 20-year-old worn-out building at Atakumosa market.
The officials told HumAngle they had been maintaining the fire truck with their salaries until recently when inflation could not allow them spare money from their personal income.
A top official who spoke under anonymity because of fear of sanction accused the state's government of irresponsibility, saying he has written several letters to the headquarters in Osogbo, complaining about the station's situation but got no response.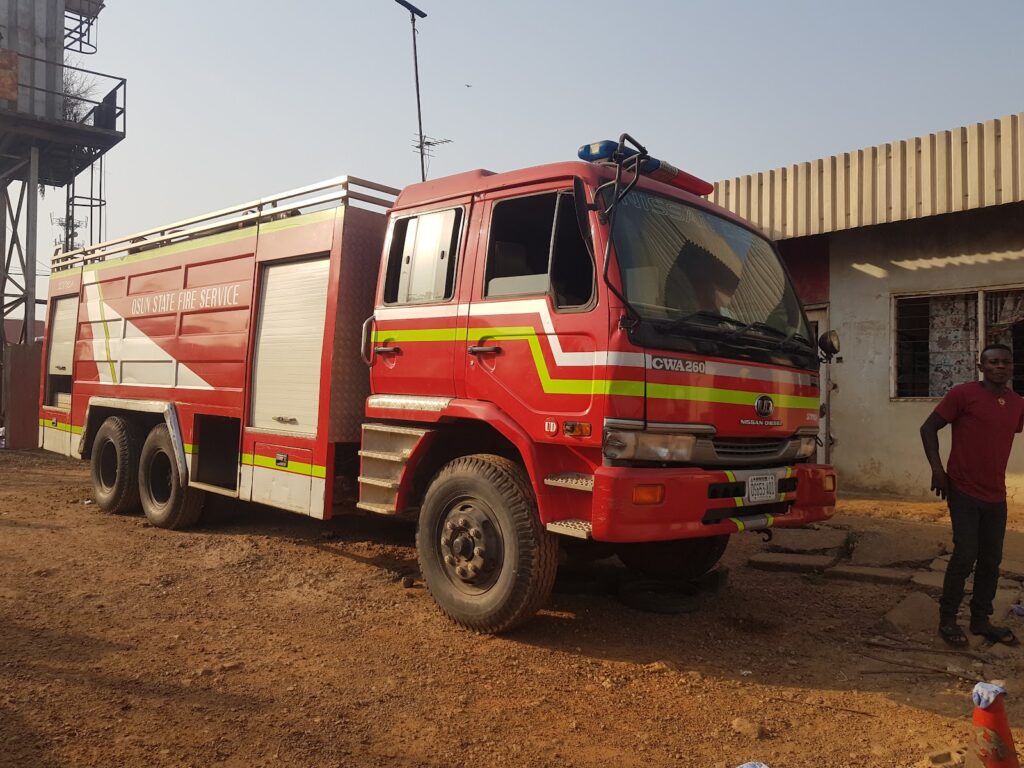 "The government has been irresponsible, and we do not have leaders with a conscience. It has been a bitter experience for the past 27 years I have been working. I am part of the first squad enlisted in the 90s. We've been trying to fix the vehicles with our salary, but the fire truck has now been faulty for months because we no longer repair it with our personal funds.
"We have forwarded a series of complaints to the headquarters but no response. If there is any emergency in Ilesha, we cannot attend because we don't have equipment to combat the fire crisis. We are only praying that the new government will help."
When contacted by HumAngle, the Osun State Fire Service Public Relations Officer, Adekunle Ibraheem, asked our reporter to call him back in an hour, saying he was in a meeting. He has, however, not responded to calls and text messages since then.
Meanwhile, Olawale Rasheed, the spokesperson of Governor Ademola Adeleke, said the new administration would be meeting with the ministry of home affairs to get a proper briefing and know the challenges of the state's fire service.
---
Support Our Journalism
There are millions of ordinary people affected by conflict in Africa whose stories are missing in the mainstream media. HumAngle is determined to tell those challenging and under-reported stories, hoping that the people impacted by these conflicts will find the safety and security they deserve.
To ensure that we continue to provide public service coverage, we have a small favour to ask you. We want you to be part of our journalistic endeavour by contributing a token to us.
Your donation will further promote a robust, free, and independent media.
Donate Here