Features
Gender & SGBV
'He Knew': People With Disabilities Are More Vulnerable To Sexual Abuse
Young people with disabilities are vulnerable to sexual predators. For Ifeoma, the impacts of her encounter with an abuser are still visible in her life, decades after the incident took place.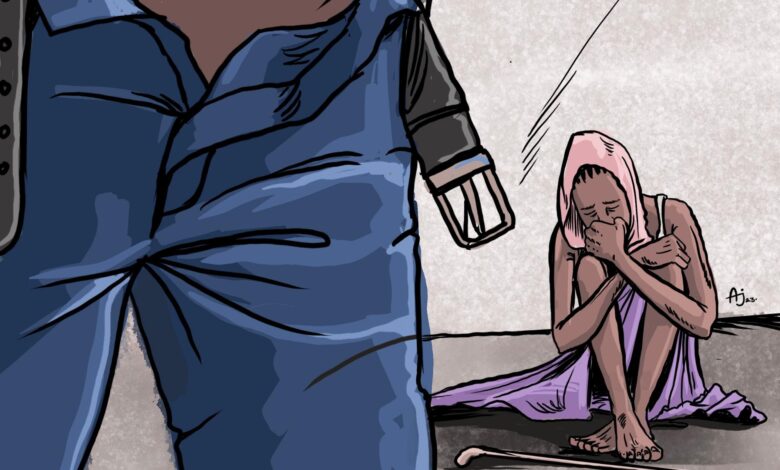 One Monday morning, many years ago in Southeastern Nigeria, Ifeoma's aunt roused her from sleep and they set out to the hospital to consult a doctor.
If the cold harmattan wind was digging its teeth into her flesh, Ifeoma did not take note of it because her mind was wound tight with thoughts of the horror that had taken place the previous day, and what the doctor's verdict might be.
When they got to the hospital the doctor examined her.
"There was no penetration," the doctor said to Ifeoma's aunt. "There was no penetration, she is just in shock from what happened," the man said again.
Many Mondays have passed since. Over two decades later, Ifeoma has not fully recovered from the shock that the doctor spoke of. What happened to her is not an easy thing to recover from.
Assaulted
Ifeoma's vision is poor. She has lived with visual impairment all her life, but she is not completely blind.
When she walks Ifeoma takes small, unsure steps. Even though she is looking ahead, she will almost bump into anything directly in front of her. This is what seeing and getting around has always been for Ifeoma.
The man who assaulted her lived in the same compound as her family, so he knew her predicament. In fact, his tactics towards the assault hinged on her inability to see and move as quickly.
In 2003, researcher, Marit Hoem Kvam carried out four studies (commissioned by the humanitarian organisation, Save the Children) and the studies found that children with disabilities are more exposed to sexual abuse and that they are more at risk than children without disabilities.
Another 1994 study found that "children with disabilities were at a slightly higher risk of being abused in ordinary situations (home, family, neighbourhood)." In Ifeoma's case, the abuse was in her neighbourhood.
"He knew," Ifeoma said, referring to her neighbour's knowledge of her disability.
"Because he knew, that was why he wanted to take advantage of that," she added.
On the day that the incident happened, Ifeoma was home alone as it was Christmas time and her parents had travelled and her aunt who was staying in with her had briefly gone out.
The man lived in an apartment above Ifeoma's family.
"I was downstairs when he called me to buy him some provisions I thought he wanted to use for breakfast," Ifeoma recalls.
She first told him to throw down the money to her, but he asked her to come upstairs to his apartment instead. She told him she was preparing for church and did not want to be late, so he threw down the money.
Having bought what she was asked to, Ifeoma slowly made her way up the stairs with the sachets of beverages in her hand. She was going to hand them to him and then go to church, or so she thought.
She knocked on the door and as she went in to drop the items, he locked the door. Initially, she did not think anything of it.
But in a split second, chaos ensued and before she knew it, this man whom she knew and who was a long-time neighbour of her family, who sometimes, shared evening drinks with her father, was attempting to drag her to his bedroom.
As he tried to take her to his room, she protested, begged him to stop, and asked him what he was doing all at the same time.
"Why are you doing this? Is it because your wife and your children have travelled?" she asked, her voice laden with all the horror that she felt.
She ran about the place in an attempt to get away from him and because she was not seeing as quickly as she was moving, she destroyed many things in the sitting room, including his television.
But there was no stopping him because he soon grabbed her and continued to his room. Her struggle had no effect on him as he was a grown man and she, a girl. "He struggled with me to pull my panties in order for him to penetrate me but I refused to be still, so he tore the panties," Ifeoma narrated.
"Why are you doing this?" she had asked him, her words more of a plea to him than it was a question. The man, on the one hand, did not utter a word but instead, he kept trying to put her in position.
When he established contact with her, he loosened his grip on her; perhaps it was a rush of adrenaline that spurred Ifeoma into action because she immediately pushed him and as she heard his head hit the wall, she sprang from the bed and sought her way out of the room. Before that ugly encounter, Ifeoma had already been to the man's house several times and knew every part of the house. This familiarity with the place and her loud screams came in handy.
"As I was doing all that [escaping from the man], I was shouting, I was not keeping quiet," she said, recalling that she started to hear people wonder who it was that was screaming and asking where the shouts were coming from.
"He already locked the front door but I knew where the back door was so I found my way there, pushed the door and ran out," she remembered.
When Ifeoma's aunt got home later in the day and learnt of what had happened, she was furious and her confrontation with her niece's abuser bore all the rage that coursed through her.
"My aunt was a lawyer so she threatened to make sure that the man was imprisoned," she said.
Ifeoma was only a girl and had no prior sexual experience so it was impossible for her to know if the man had "disvirgined" her; in those horrific moments when he had torn her panties and she struggled with him, his penis had touched Ifeoma so her aunt decided that they would go to the hospital, just to be certain that she had not been raped by the man.
"By the time my aunt could finish confronting him, it was late so she took me to the house. First thing in the morning on Monday, she took me to the hospital," Ifeoma recalls.
After the doctor confirmed that she had not been raped, Ifeoma's aunt took her home and there, she pleaded with the woman not to pursue the matter anymore or tell her parents that their neighbour had tried to rape her.
"My father was a disciplinarian, he would have buried that man alive if he was told," Ifeoma says.
"It was a miracle that I was not raped by that man," she says for the third time, explaining that it would have been ordinarily impossible for her to push him and leave the way that she did. "I used the back door," she reverts again.
"It is a place [the house] that I usually come to so I was already conversant with the environment, that was what saved me," she recalled.
"Aah! It would have been difficult. It would have been pretty difficult. I wouldn't have made my escape through the backside," Ifeoma said when I asked her what she thought would have happened if she wasn't altogether familiar with the nook and crannies of the house.
"I was so glad that God helped me and he did not penetrate me, that was my happiness.
"That was the good thing that happened to me; he did not rape me. He tried his best but he couldn't," she said.
But does any one ever escape rape unscathed?
Trust
All the trust in Ifeoma's being had shrunk that day and it was hard for it not to because the rape attempt was too close to home and it hit her where it hurt.
Despite her aunt's intentions, the man was never prosecuted. He remained their upstairs neighbour, on speaking terms with her father.
"You know, this very person that we are talking about was close to us somehow… You know, as a neighbour. His wife was close to our particular family; Each time my father comes back, they will greet, they will share drinks in common and everybody will vacate to his own apartment," she remembers.
After what she experienced, Ifeoma said that she became cautious about going to people's homes and allowing children to do the same, unattended.
In reaction to what had happened to her as a girl, Ifeoma has made it a point to be as careful as she can be where men (and even women) are involved, perhaps obsessively careful.
"They can say 'hey madam, can you help me' and I'll say 'no, I cannot help you," she explained, the gruffness in her voice portraying her displeasure. "Because that experience taught me a very great lesson, but God was by my side," she added.
"Since that time till now, I have been very careful; you may be discussing with me just like now that we are in the office and you say err, can we hang out, as you are asking me to hang out with you, I am already reading your mind and thinking of what could possibly take place and because of that, I'll just say no to the invitation," Ifeoma said, asking if I understand.
She admits that though it has been ages since she was assaulted by her neighbour, she still finds it challenging to lay down her guard around people.
"Even up till now," she said.
"How can you trust them," she said, pausing, "How can you trust them? No man can tell me now that can we hang out, can I talk with you? I will just say no! I don't think I am interested," she said, her voice gruff again.
But Ifeoma believes in marriage and she looks forward to meeting a man whose intentions are pure and with whom she would make a home, someday.
---
Support Our Journalism
There are millions of ordinary people affected by conflict in Africa whose stories are missing in the mainstream media. HumAngle is determined to tell those challenging and under-reported stories, hoping that the people impacted by these conflicts will find the safety and security they deserve.
To ensure that we continue to provide public service coverage, we have a small favour to ask you. We want you to be part of our journalistic endeavour by contributing a token to us.
Your donation will further promote a robust, free, and independent media.
Donate Here