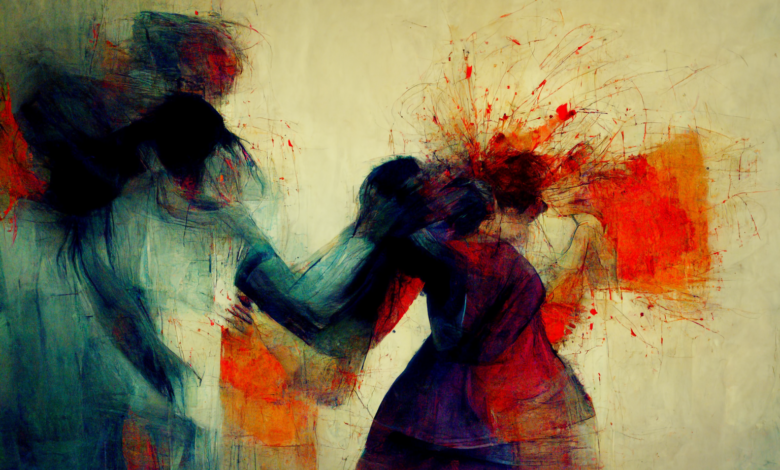 Busayo* has been in an abusive marriage since 2005. Each time she considers walking out of the marriage, she thinks about the future of her children.
"I don't want to raise them as a single mother and do not want them to miss the presence of their father in their lives as they grow up," she says.
But after a recent experience where her husband dug his teeth into her, she concluded that staying in the marriage means she would one day die from the violence.
"All I pray for at the moment is for my relocation to the United Kingdom to work so I can have peace with my children. Friends and family continue to tell me to beg him, but nobody is considering my mental health," she told HumAngle after surviving an assault by her husband on June 1.
The journey
Busayo met her husband in Ibadan, Southwest Nigeria in late 2004. They would later tie the nuptial knot the following year. Four months after their wedding, her husband, a federal government civil servant, was transferred to Anambra in the country's southeast.
"After his transfer in 2005, he did not come home for months. When he returned in 2006, I conceived the pregnancy of our child. Throughout the pregnancy period, he never showed up as he usually complained about the far distance between us. After my child was born, he started coming home once a year."
Busayo learned later that he kept having affairs while he was away. When he started to come home to her once a year, his visits were often agonizing as their relationship took a somewhat mechanical turn. He was never willing to talk to her about her welfare or even about their marriage.
"For him, sex defines marriage and I always told him that has to do with emotions. You cannot travel for months and the only thing you care about upon your return is sex, and after days of intercourse, you return to your base."
Because the idea of having children who would be fathered by different men did not appeal much to Busayo, which would ultimately be the case if her marriage ended and she had to remarry, she tried to work on the marriage. So she travelled to Anambra in 2008 to meet her husband who had not shown up at home for more than a year.
During her visit, she became pregnant before she returned to Ibadan. Again, her husband did not visit throughout the pregnancy period and even after she gave birth.
Midnight calls?
After repeated complaints about neglect, he started reaching out through MTN extra-cool midnight calls, a service that allowed people to make phone calls for free from midnight to the early hours of dawn. It was deeply uncomfortable and inconvenient for her.
"I tried coping with the midnight calls but it was not comfortable for me because I will go to work very early in the morning. I told him we should work around the timing and talk during the day but he never agreed.
"I was getting emotionally battered and drained. I weep some days because of the way he treats me. He never treated me as his wife and I do not want to be mocked as being a single mother," she told HumAngle.
The Violence Against Persons (Prohibition) Act 2015 forbids emotional, verbal and psychological abuse. The offence is punishable with an imprisonment for not more than 1 year or fine of not more than ₦200,000 or both.
An attempt to commit the offence is also punishable with an imprisonment for not more than 6 months or fine of not more than ₦100,000 or both.
Asked if she knows the provisions of the law, she says: "no one returns from courts or prison and still remains under the same roof with the person that sued or facilitated his prison journey. My children will grow to learn that their mother jailed or attempted to jail their father."
Following her refusal to cope with the midnight calls, Busayo's husband stopped sending money home to feed the children for six months. After intervention from family members, he resumed his duties of paying necessary bills at home.
Depression
In 2015, her husband was transferred back to Ibadan and life has since then been hell for Busayo. Not pleased with the busy schedule of his wife who works in a commercial bank, Busayo's husband accused his wife of making moves to be richer than him.
"He was so insecure that he said he won't allow me to be richer than him. One time, he asked me to resign because he feels I do not beg him for money. There was a time I thought of running away because I know marriage should be enjoyed and not endured. I have not for once enjoyed my marriage.
"Between the time he returned and now, we hardly have sex because he was not acting right. Even though I know sex is his marital right, it was like a punishment for me because of the poor treatment. So, he started having external affairs."
Though Busayo's husband had not started hitting her by this time, he emotionally abused her, causing a series of mental pain that could not be seen by the human eye. Sometimes, she feels degraded.
One time when they had a disagreement, he got the police to arbitrarily arrest his wife at her workplace, accusing her of threatening to kill him and also commit suicide.
Busayo was so shaken by the scene that she fainted and had to be rushed to the hospital. The doctor would later tell her that she has high blood pressure, and admit her at the hospital for a week. At another time, Busayo's husband locked her and their children outside over a little misunderstanding.
Japa plan
Following the repeated assault and the pains the duo's fight had caused their children, Busayo entertained the idea of relocation in January. Briefed about the development, her husband showed interest and vowed to support her for the sake of the children.
This time, they were on good terms so when he asked her for sex, she responded saying he "must use condoms or visit the hospital for a medical test."
The test result confirmed that he had a sexually transmitted infection known as syphilis. After he was treated, she insisted that her husband must use condoms since he still had multiple sexual partners outside of their marriage.
But to Busayo's surprise, her husband served her a divorce notice in June.
"When I tried speaking to him at home about the divorce notice I got, he put his phone on record to have my voice recorded. I tried stopping him from recording me but he held my hand, and dug his teeth into me until my daughter ran out to call neighbours who came to my rescue. It was a painful experience.
"He would later bring out a cutlass threatening to kill me. As much as I want to leave, what about my children? I was later asked to beg and I did because of the children."
Like Busayo, many Nigerian women stay in abusive relationships because they consider it a shield to protect their children. They want their kids to grow up with both parents in a family unit, regardless of how fragile that unit may be.
"Many are scared that if they leave an abusive marriage, their husbands may not allow them to go with the kids, and the new wife of their spouse may maltreat their children. There is also a belief among Nigerians that single mothers will lead their children astray even when there is no empirical support for this," says Wemimo Oke, a psychologist and marriage counselor.
She added that some families also encourage their children to remain in abusive marriages; they believe that having a daughter who is divorced will not help preserve the dignity of the family.
Apart from the sake of her children, Busayo, an evangelist in her church believes that having a broken marriage will cause her shame in the church as she may face stigmatisation and be discriminated against when the need to lead other women arises.
This is because some religious institutions, like hers, in Nigeria forbid divorce.
Even as Busayo continues to make her relocation moves, she says she will have to endure the abusive marriage, pending the time she travels, for the sake of their children.
---
Name of the source was changed to avoid stigmatisation.
---
Support Our Journalism
There are millions of ordinary people affected by conflict in Africa whose stories are missing in the mainstream media. HumAngle is determined to tell those challenging and under-reported stories, hoping that the people impacted by these conflicts will find the safety and security they deserve.
To ensure that we continue to provide public service coverage, we have a small favour to ask you. We want you to be part of our journalistic endeavour by contributing a token to us.
Your donation will further promote a robust, free, and independent media.
Donate Here