Armed Violence
Features
News
Harmony In Diversity: Southwest Nigeria Communities Where Herders, Farmers Live As One
Despite heightened tension between Yoruba farmers and Fulani herders across southwest states, some communities housing different ethnic groups in the region are living in harmony.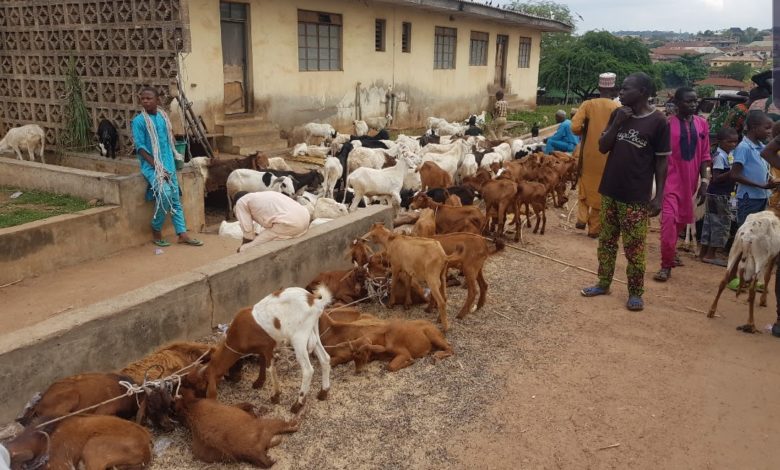 Yakubu Kehinde, 29, was born and bred in Iseyin, a community in the Iseyin Local Government Area of Oyo State. She never believed that love was infectious until she met Yakubu Bello, the Seriki Fulani of her community. Their relationship was like a clap of thunder — It was rude and shocking as both parties never envisioned it.
Kehinde was never lucky with relationships. She told HumAngle she was 'used and dumped' by different men including those that got the blessings of her parents after marriage proposals. At some points, she gave up and focused on her petty trade.
She learnt how to sell medicinal drugs and opened a chemist in Kara, where cattle trade takes place in the community. Soon, she met Bello who was always asking about her welfare. In the blink of an eye, they became closer.
"Seriki Fulani showed me love even after I thought I was not going to have anything to do with men again," she said.
In just one request, she agreed to marry Bello.
"For me, it was like God himself arranged it. We became inseparable and I agreed to be his fourth wife because he saved me from depression. My parents disagreed based on two grounds when I told them about my relationship with him. They said I couldn't marry a Fulani man and they would not want their daughter to be the fourth wife of any man. I felt depressed again. After many months of appealing to them, they gave their nods."
Three years later, Kehinde believes that she made the right choice. The marriage remains deep in friendship, with a two-year-old baby. Two of Bello's wives are Fulanis while the third wife is Hausa. They all live peacefully under the same roof.
HumAngle saw "love" on Bello's face when our reporter visited him. He is one of the reasons there is peaceful co-existence in Iseyin and he has for years ensured that his kinsmen lived in accordance with the traditions of their hosts, the Yoruba people.
"Our forefathers have been doing businesses together for ages without killings. The reports on the crisis between Yoruba farmers and Fulani herders is sad for me. I know Iseyin as my home. Hence, I do all my best to ensure that we coexist with our hosts peacefully," he said speaking with HumAngle in fluent Yoruba language.
Bello said although it is impossible not to have strife, leaders must ensure there are different mechanisms to resolve the festering disagreements between the farmers and herders.
"A farmer is not planting because he or she wants cattle to destroy them. The herder gathering and caring for a herd of domesticated livestock is not also doing so to destroy crops but mistakes happen," he said. "They are both interested in making money. It is how we resolve the disagreements that determine how long we will live together. When matters like this are brought before me, I appoint people to visit affected farms and inspect. We resolve most farmers-herders disagreements amicably. Only a few of the matters get to the police to settle."
He said even the police most times "urge complainants to meet us for a peaceful resolution. When farmers appear to be in doubt, they bring in chiefs from the palace to intervene. In most cases, offenders whose cattle destroy crops compensate farmers and, in some cases, farmers simply demand an apology and a promise that such won't happen on his farm again."
When the Fulani leaders are unable to trace offenders, all herders in the area donate a compensation to the affected farmers, HumAngle learnt.
"As my wife explained, we have an inter-tribal marriage between us and the Yorubas. We have a monarch who is not interested in crises. I know three or more of my friends who also marry Yorubas. We understand that there are many criminals among the Fulanis but they are not the indigenous ones. The bad guys do not have an identity but once we notice those we are not familiar with, we challenge them and hand them over to the police for investigation.  We cannot say because there are bad people among the Fulanis, we should hate those living with us for years. We should collectively fight the bad guys," the Seriki submitted.
HumAngle visited the palace of Abdulganiyy Salau, the community monarch (Aseyin of Iseyin), but he was not around to attend to our inquiries. However, one of his chiefs, the Ogboye of Iseyin, Olufunmilayo Odusola, corroborated Bello's account.
He told HumAngle that the "monarch appoints leaders in small-small areas within Iseyin and they are saddled with the responsibility of maintaining orderliness in their axis. They monitor the farms and give us feedback at the palace. There are cases they sometimes find difficult to resolve but the traditional committee in the palace will intervene."
"We have Fulani leaders who listen to us and they are always in the palace anytime the king summons them for meetings. They even hold key positions here. We are running a secular nation and our constitution provides the right for anyone to live anywhere in the country."
Disturbing crisis between herders and farmers
Many Nigerians have been through a rollercoaster of emotion in the last few years following diverse security challenges. Asides the insurgency in the northern part of the country, herders-farmers' conflicts are the order of the day in many regions. Thousands of persons have been killed and many others displaced as a result of these clashes.
Findings reveal the cause of the crisis as a growing population, depleting resources, cattle rustling, and destruction of farmlands. While farmers complain of cattle destroying their lands, the herders complain that their grazing routes have been encroached on while their cattle are rustled or killed in retaliation for the destruction of farmlands. This development has consistently led to an unending cycle of attacks and reprisals.
Amnesty International in a report published in 2018 said about 3,641 persons were killed in various farmers-herders clashes between Jan. 2016 and Oct. 2018. The report also revealed that no fewer than 406 people were injured and 182,530 persons were displaced following the destruction of 5,000 houses in various states across Nigeria.
The crisis has graduated to killings and kidnappings on farms and even on major highways. HumAngle understands that there is high tension and suspicion of herder activities in southwest states following the killings and abductions of townspeople by suspected herders.
Brief history of events in the Southwest
HumAngle recalls the first incident involving a prominent Yoruba leader, Olu Falae. The ex-secretary to the government of the federation was kidnapped on his farm in Ondo State in 2015. His abduction generated outrage on social media and despite efforts by security agents, he was not released until N5 million was paid as ransom. He later confirmed that he was kidnapped by six 'Fulani' herdsmen. Aside from Falae's case, there have been more embarrassing cases and the host communities are already demanding the eviction of Fulanis in their region. In 2019, Olafunke Olakunrin, daughter of Afenifere leader Reuben Fasoranti, was killed while returning to Lagos after a visit to her father in Ondo. Again, her death triggered another round of agitation and the call for Fulani herders' eviction from southwest communities. A regional security network codenamed Operation Amotekun was launched in 2020 by the six governors in the region amidst a row with the federal government. However, nothing appears to have changed after many months.  The security challenges got to their peak in early 2021 following the unlawful intervention of a self-styled Yoruba warlord, Sunday Adeyemo, also known as Sunday Igboho. He visited Igangan community in the Ibarapa area of Oyo State to evict Seriki Fulani of Igangan, Salihu Abdulkadir, an action that was condemned by the state and federal governments. Igboho claimed that Abdulkadir was responsible for the kidnapping and killing of farmers and residents of the community. Even after his denial, the Fulani leader and his subjects were forcefully sent out from the community they had lived in for decades. For the authorities, Igboho went above the roof because 'no citizen has the right to eject others from wherever they wished to reside in the country.' However, many argued that he was filling the vacuum the government failed to fix. Igboho later proceeded to neighbouring Ogun State to purportedly evict herders residing there. His activities metamorphosed into demands for self-determination. The acclaimed warlord and members of Ilana Omo Oodua led by Banji Akintoye are championing Yoruba Nation, a political ideology to get political independence for the Yoruba race in Nigeria. They have led rallies in Ondo, Ekiti, Osun, Oyo, and Ogun states. Barely 72 hours to a planned rally in Lagos, Igboho's home was raided by Nigeria's secret police. While some of his aides were arrested, he escaped. He was declared wanted and eventually arrested in the Benin Republic weeks after.
While the reports of conflicts between Fulanis and Yorubas in the Southwest are quick to make headlines, little has been said about the harmony among them. HumAngle's findings revealed that aside from Iseyin in Oyo State, many other communities in the Southwest are coexisting peacefully and Fulanis even contribute to the development of their host communities in the region. 
No room for 'foreign herders' in Papalantoro
Papalantoro village in the Ewekoro Local Government Area of Ogun State is a popular Fulani settlement where herders and their hosts, Yoruba farmers, build houses near each other. In this community, the children of Fulanis and Yorubas attend the same schools and play together 'without discrimination'.  
HumAngle observed that most of the Fulanis spoke the Yoruba language fluently and even ate foods peculiar to the Yorubas. Interestingly, inter-tribal marriage is commonplace in the community. Speaking on the unity between the two tribes, the traditional ruler of the village, Rasaki Jimoh, told our reporter that all the herders rearing cattle in the community have identity cards and they do not allow foreign herders to join them. 
"We sat together to discuss the unity among us. Some of them (Fulanis) have been living here for years and we told them to always alert us anytime they notice foreign Fulanis. The Fulanis in Papalantoro have identity cards and we have their identity numbers.
"If there is a problem in the farm, they call us and tell us the number on the herders' jackets and cows. We have the head of the Fulanis that we call from time to time. We also have our spy among them who brief us about their operations. And if they have visitors that will be with them for more than two nights, the palace must be informed."
He told HumAngle that the palace also warned farmers against attacking the cows of herders. Instead, they are expected to report irregularities to the traditional authorities. He blamed community leaders who recklessly rent and sell land to unknown individuals for the crisis between the two groups in the Southwest.
Corroborating the monarch, the secretary of all farmers in the community, Nafiu Mukaila, said "We've not had bloody attacks here because all the Fulanis in this community preach unity. Those fighting among themselves in other places must learn from us."
The Fulanis in the community told HumAngle that their tribe of Fulani do not engage in the abduction and killing of innocent citizens, rather they form members of the vigilante group securing the community with their Yoruba neighbours. The head of Fulanis in Papalantoro, Usman Saje, argued that the major reason for the crisis is the "influx of foreign Fulanis."
"I have houses and family here. So, some of us cannot support destruction in Yoruba land. Those people who find themselves in the forest to commit crimes are not Nigerians. The crisis is not happening in the southwest alone, it happens across Nigeria. We just need to pray for peace."
"We hardly have disagreements in Papalantoro because most of the cows and rams we have are known. They have numbers on them for us to trace. Farmers used to attack our cows sometimes but we understand the essence of living together. The monarch is awesome. He loves us and often admonishes us against attacking ourselves. His chiefs are also responsible and responsive. We have meetings anytime there is a need for us to do so."
The committee ensuring harmony in Osun
The work of a peaceful coexistence committee of Fulanis and Yorubas is a major reason for unity in the Sadiat community in Osogbo, Osun State. While there have been various instances that cattle destroyed crops, the committee mediated and resolved disagreements amicably. The committee consists of members of the All Farmers Association of Nigeria (AFAN), representatives of the state's ministry of agriculture, as well as Fulani representatives. 
The Seriki Fulani in the community, who simply identified himself as Ibrahim, admitted that their cows often ate crops. 
But "we have a way of resolving disputes peacefully. We have a committee that oversees the crisis between Fulani herders and Yoruba farmers. We call farmers to evaluate the crops destroyed and we often encourage herders to pay back. There are times we find the real culprit difficult to capture but all herders in the affected community must take responsibility. The committee on peaceful resolution also does justice to ensure that justice is served," Ibrahim said.
"The community mandated that no Fulani nor Yoruba should take laws into their hands. I was born in Osogbo and make necessary contributions to the development of the city. The committee has been fair so far. I married a Yoruba woman and we take good care of ourselves."
Musa Opeyemi was born in a royal family in Ila-Orangun but she's currently the wife of a Fulani leader in Sadiat. She told our reporter that she has been married since 2007 and is blessed with a child. Again, this was after her bitter experiences with her kinsmen.
"I did not marry my husband as a single lady. I used to be a wife of a Yoruba man but I later left him after torture.  I took a Fulani man and I realised that there are a lot of good ones among them," she said.
Speaking on the role of the Peaceful Co-existence Committee, the chairman, Oguntola Togun, said over 8000 crises that would have degenerated into bloodshed have been averted since the committee was set up in 2014.
"The moment we receive complaints, we go to the farm and call the parties together at the scene of the incident. What is important to us is peaceful coexistence. There are some deadly foreign Fulanis with weapons but we engage them gently. We have the traditional Fulanis who are born in our communities and marry our daughters. If by accident, they invade another person's farm, they submit themselves and resolve with farmers without even getting to us," he said.
"No single petition has been written against my committee. Security operatives and even courts send cases to the committee to resolve, and the Fulanis here have been cooperating because they trust me. Some farmers are liars. There are times we get to the farmland and realise that they only want to punish Fulanis by lying against their cattle."
Ban on open grazing to end the crisis?
Many Nigerians have argued that the best solution to the farmers-herders crisis is to end the open grazing system, an old practice where livestock roam in open fields, plains, and bushes in search of pasture or foliage. During the period of looking for what to feed on, the herds tend to damage people's crops, which often leads to conflicts.
The six southwest governors in January met with the leaders of Miyetti Allah Cattle Breeders Association (MACBAN) and they agreed to ban night and underage grazing in the region. Four months later, the governors of 17 states in Southern Nigeria met and this time resolved to ban open grazing of cattle in their states.
The governors in a 12-point communique made available to journalists "affirmed that the people of Southern Nigeria remain committed to the unity of Nigeria on the basis of justice, fairness, equity and oneness and peaceful co-existence between and among its peoples with a focus on the attainment of shared goals for economic development and prosperity."
Security expert Timothy Avele told our reporter that the ban would help expose criminals disguising as herders to kidnap innocent citizens. "It is a good development for the general security of Nigerians," he said. "Truly, the constitution allows every citizen to live in any place of their choice but does not support the destruction of another man's farm. With the ban on open grazing in southern Nigeria, killings would reduce on farms."
Interestingly, the spokesperson of Arewa Consultative Forum (ACF), Emmanuel Yawe, said the group agreed with the decision of the governors. He enjoined "the government to take ranching, a practice of raising herds of animals on large tracts of land seriously to ensure peace in the country."
---
Support Our Journalism
There are millions of ordinary people affected by conflict in Africa whose stories are missing in the mainstream media. HumAngle is determined to tell those challenging and under-reported stories, hoping that the people impacted by these conflicts will find the safety and security they deserve.
To ensure that we continue to provide public service coverage, we have a small favour to ask you. We want you to be part of our journalistic endeavour by contributing a token to us.
Your donation will further promote a robust, free, and independent media.
Donate Here