Features
Human Rights
Handbag Carriers, Gate Keepers… The Nigerian Police Officers Who Are Domestic Servants
Security officers attached to private citizens regarded as "VIPs" narrate tales of how they are treated in a demeaning manner and used as "house helps" by their principals.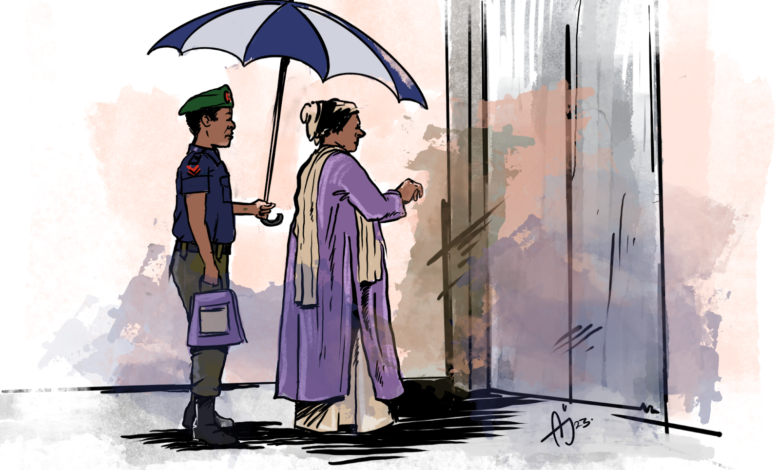 When Ademola Adigun* was recruited into the Nigeria Police Force in 2016, he swore to put his best in the service and help the country fight all forms of crime.
Soon though he was posted to be security for a "VIP" – a common term used to describe influential personalities like politicians, traditional rulers, senior military and paramilitary officers, wealthy businessmen and celebrities.
But Adigun, attached to a politician from a state in the South West region, said between 2019 and late 2022 he was used as an errand boy.
"I was attached to a VIP in 2019 and served him for three years. My wish to join the police is to protect lives and properties. When I was attached to the VIP, I saw it as a challenge."
Though deployed to protect only the politician, Adigun was used as an escort for the wife and children of his principal. On days when the politician was resting at home, Adigun followed his children to the shopping mall and sometimes to their friends' birthday parties, he says.
Coupled with these, he helped them open car doors and carry bags when the need arose. Asked if all of these were part of his job description, he said "I opened doors for him and his children as a sign of respect."
Denigration
Speaking about his challenging moments as an orderly, Adigun told HumAngle that his principal's extended family gave him the worst treatment each time they came to visit.
"There were times my principal asked me to follow some of his relatives when they were around and they treated me badly. Worse than what the boss could not even do."
He added that the risks involved throughout the three years of securing the man he was sent to protect were not worth the denigration.
His boss had to travel to the North East region, a high risk environment where the military was battling with terrorists.
His principal usually asked him and his driver to make the dangerous journey by road, while he went by plane. At the time many people were being kidnapped at roadblocks in this part of Nigeria.
"We had to go days before him so we could meet up. Even at the peak of insecurity, I had no choice than to go by road," he said.
For most of the travels, Adigun slept in the car overnight with the driver, exposing him to even more danger.
Growing trend
In a recent video that went viral on May 16, a Nigerian singer known as Spyro shared footage on his Twitter handle of an armed policeman opening a car door for him.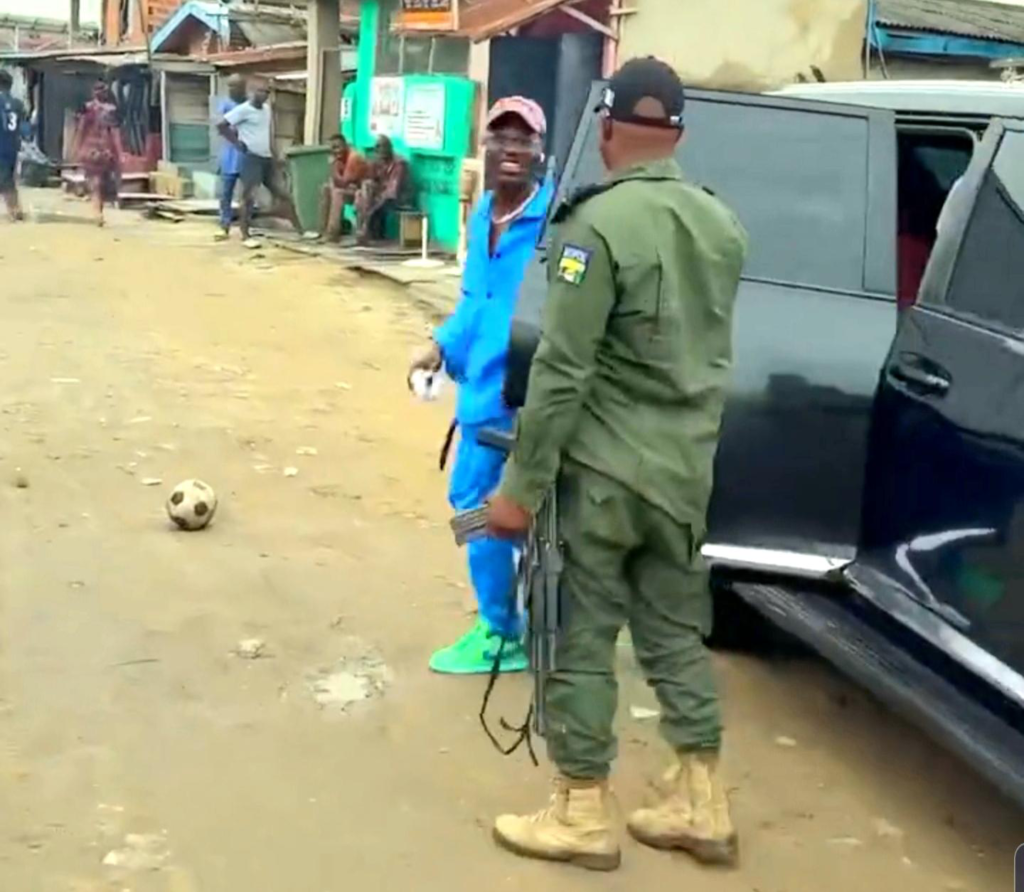 The video sparked outrage among many Nigerians who condemned the policeman's act. In reaction, Muyiwa Adejobi, Nigeria Police Force spokesperson criticised the officer's action.
"This is indeed unprofessional and ridiculous. The video will be sent to relevant offices and units to fish him out. We will stop some deployments or attachments. You can imagine him moving with and opening the door for him," he wrote.
But it was not the first time the police force would threaten to withdraw police escorts from VIPs. In fact, Spyro's case is one of many such incidents that has gone viral.
Apart from opening car doors, police orderlies, armed with AK-47 rifles can often be seen slapping the bonnets of cars in traffic as they command other road users to give way to their principals. It is also common to see them carrying handbags or umbrellas for VIPs, especially politicians.
For instance, in Dec. 2015, a picture of a female officer holding the handbag of the wife of Sokoto State governor, Aminu Tambuwal triggered wide protests on social media as many Nigerians accused police authorities of using taxpayers money to protect a selected few.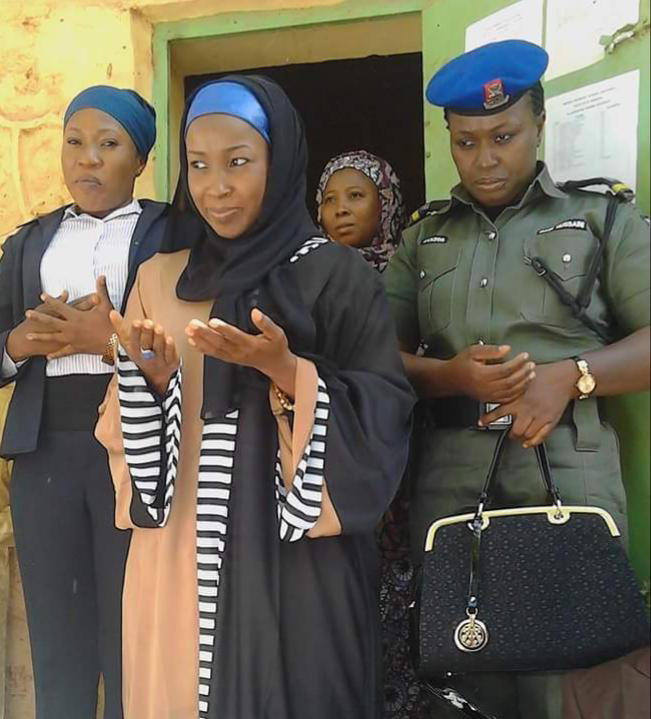 A similar incident also played out in Oct. 2022 after a police escort of Titi, wife of Atiku Abubakar, was seen carrying her principal's bag at an event in Abuja. Reacting to the viral picture at the time, the police force spokesperson said it is not the duty of the officer to carry the handbag of Atiku's wife.
Officials of Nigeria's secret police known as State Security Service or Department of State Service are not also exempted from the humiliation. HumAngle recalls that ex-interior, Abdulrahman Dambazau, was in Jan. 2016, seen in a video having his shoes shined by an official of the DSS at a public event.
When contacted for comments on repeated cases of abuse on police officers by VIPs and updates on previous incidents, Police spokesman Adejobi said "we will react when it's time for us to do so and we will make it public."
But many Nigerians have argued that police authorities only talk tough but do nothing when it comes to withdrawal of VIPs' escorts.
Peter Afunanya, spokesperson of the DSS was yet to respond to HumAngle's enquiries as of the time this report was filed.
Assaulted
Adigun is not alone in the mess of being used as a house help by Nigeria's elite.
In Sept. 2022, a female police officer, Inspector Teju Moses was physically assaulted by her principal, Zainab Abiola in Garki, Abuja, due to the refusal of the officer to breach professional ethics by carrying out menial and domestic chores in the house.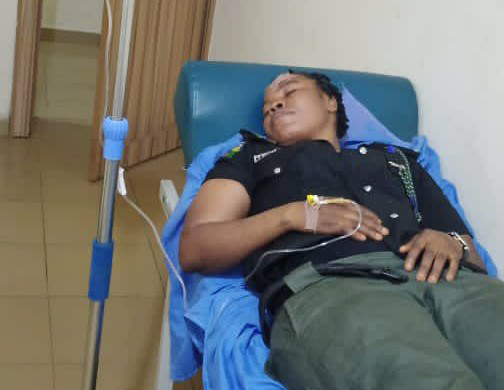 The orderly, covered with blood in a viral video said her principal told her to open the gate while in uniform and she refused. 
"I told her that I could not open the gate because it was raining and I was in uniform. She then said, why would I answer her that way? She insisted that her previous police orderlies did what she asked without questioning her. She then started to insult me and said that she could call the Inspector General of Police to get her a new orderly. The next morning, she told me to bring all the carpets in the car to clean them. Again, I explained to her that I could not do so because I was in uniform."
The refusal of the orderly to breach professional ethics led to an assault on her. Though Abiola was arrested, arraigned and remanded, she was granted bail 12 days later. The police spokesperson failed to give updates on the prosecution of the case when contacted by HumAngle.
Concubine
Officers that spoke with our reporter under anonymity because of fear of retaliation said Inspector Moses' experience is one of the reasons why most police orderlies breach ethics to satisfy their principals.
"I used to work with a big man that usually sent me to his concubine to deliver lunch at her shop every day. I don't need to voice out my displeasure before he threatens to report me to my superior officers if I fail to obey him," an officer who had in the past been attached to a businessman lamented.
He said he was scared of being assaulted by the businessman so he had to obey all his orders, including the ones that violate his freedom.
"I am aware that slaves are expected to have some freedom but it wasn't the case for me as an orderly. I can't eat when I want to unless I get his permission. It was a terrible experience for me."
Leadership
Meanwhile, a senior police officer at the Assistant Inspector General's Office in Zone 11, Osogbo blamed the denigration of police orderlies on police authorities. He condemned the failure of the leadership of the police force to cater for the welfare of its personnel and also defend them when abused by VIPs they secure.
"Police officers should have the right to say no to things that are not part of their job. But the leadership hardly supports them and that's the cause of the predicament of young officers. Our officers are dying in silence."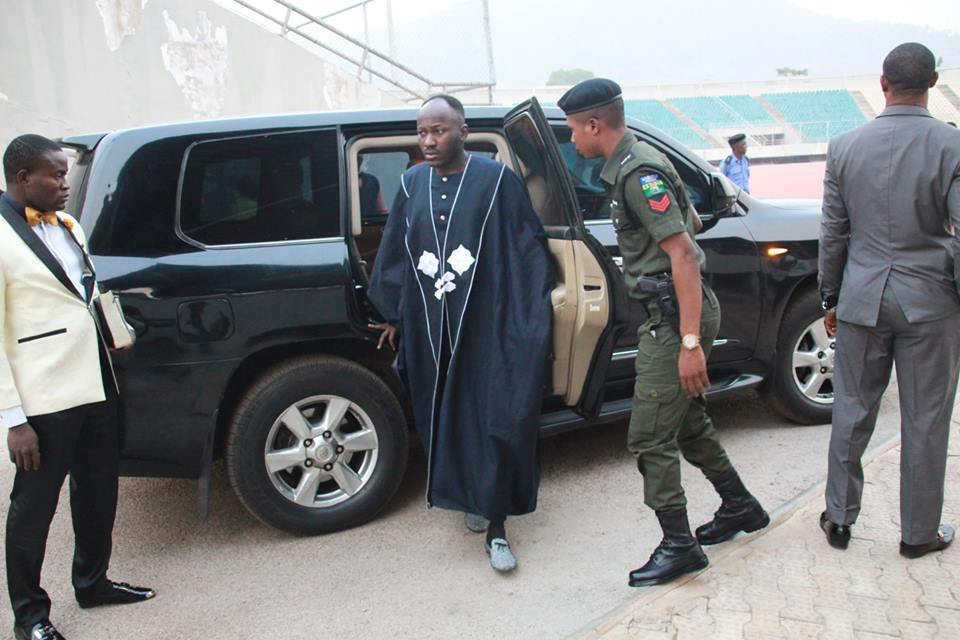 To get orderlies, interested personalities apply through the Special Protection Unit (SPU) of the Police Force.  
The SPU, a creation of the 2009 Police Reform Agenda of the Federal Government of Nigeria is responsible for deploying men to VIPs, diplomats, high profile individuals, top bank and industry executives, senators, ministers amongst others. Most of the personnel can be easily identified with their unique 'blue beret'.
It is not clear how police authorities screen citizens who apply for police escorts. But many junior officers told our reporter that superior officers who facilitate orderlies for VIPs get monthly stipends from them till the expiry date of the escorts' service.
Scary data
In Nigeria there is a low ratio of policemen to citizens.
The United Nations recommends a police officer for every 450 persons for effective policing.
Based on UN data, Nigeria's population is estimated at 206,139,589. So, there is a need for 458,087 policemen to adequately police the nation. However, the country has less than 400,000 policemen and women, a figure insufficient compared to the numbers recommended.
Despite low police personnel figures in the face of rising insecurity, the rich and powerful have about 150,000 police officers attached to them, Mike Okiro, former Chairman of the Police Service Commission (PSC) said in 2018.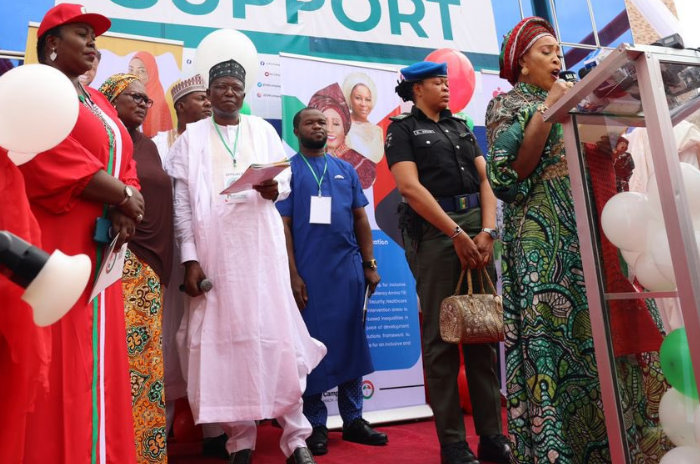 Some Nigerians who spoke with HumAngle described the excess deployment of police orderlies as unfair to many citizens who do not have such opportunity. 
"With the high rate of crime we witness daily, our security strength is weak and the ability of big men to get personal security shows that our leaders see the high profile individuals as the few citizens worthy of protection. Already, people whose security is not guaranteed in several parts of the nation are resorting to self-help. We should expect more of that," said Ololade Abdulsalam, a psychologist in Ibadan.
"When an influential citizen has two or three officers protecting him, the larger society with more citizens is being denied adequate protection. While I support the full protection of top politicians and many others with high profile, we should not do so at the detriment of a common man that looks up to the government for protection."
She explained that it would be more beneficial to a country to have a nation where every life and property is safe than to have a place where only a few are protected.
Unending withdrawal
Police spokesman Adejobi has said efforts are being made by Inspector-General Usman Baba to check the practice. There have been attempts in the past to stop it, however, and they came to nothing.
Ogbonna Onovo, an ex-IGP in 2009 ordered immediate withdrawal of all orderlies attached to private individuals but the directive failed to hold water. Hafiz Ringim who succeeded him made the same order in 2010 but nothing changed.
In 2012, Mohammed Abubakar, the then IGP also gave the same directive, saying it is meant to bring about professionalism in their jobs. Ex-police chief, Solomon Arase, also lamented in 2016 that there are more pressing security challenges across the country than attachment of officers to private individuals. It was the same during Ibrahim Idris and Mohammed Adamu's era as IGPs.
So often has the directive to prevent the hiring out police officers to personal security of "big men" been made by successive IGPs, it is almost as frequent as the reform most demanded by Nigerians; for police officers to desist from mounting roadblocks to extort money from motorists.
---
*Name changed because the officer is not cleared to speak with the media.
---
Support Our Journalism
There are millions of ordinary people affected by conflict in Africa whose stories are missing in the mainstream media. HumAngle is determined to tell those challenging and under-reported stories, hoping that the people impacted by these conflicts will find the safety and security they deserve.
To ensure that we continue to provide public service coverage, we have a small favour to ask you. We want you to be part of our journalistic endeavour by contributing a token to us.
Your donation will further promote a robust, free, and independent media.
Donate Here