Armed Violence
Features
Governor's Order Not Enough To End Terrorist Curfew In Nigeria's South East
Residents of Enugu in Nigeria's South East region say they will continue to obey a stay-at-home order mandated by separatist terrorist group the Indigenous People of Biafra and defy government orders to go back to work on curfew days.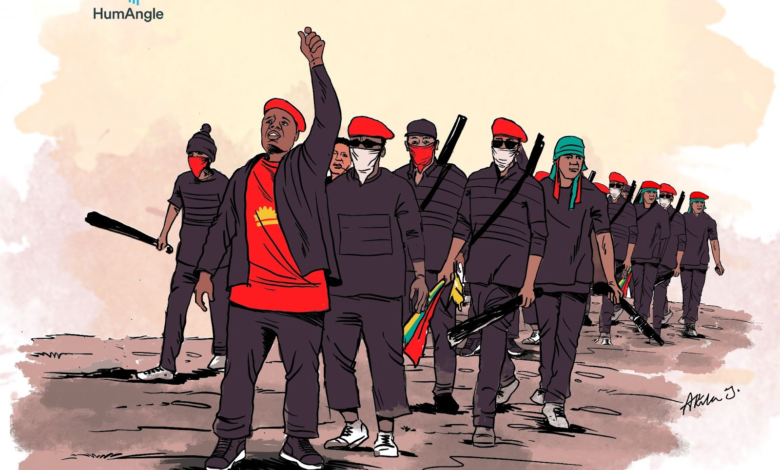 Chinedu was in the street when he was killed by a stray bullet.
The bullet that killed him came from a gunfight between the Army and members of a separatist-terror group, the Indigenous People of Biafra, in Enugu southeast Nigeria, in May 2021.
Perhaps 14-year-old Chinedu should not have been outside at all.
The shooting happened on a day when IPOB had ordered everyone to "stay-at-home", to observe an enforced curfew on the citizens of the region, instigated as a protest to the continued imprisonment of their leader.
Two years later, Chinedu's brother Emmanuel Nebo still feels bitterly about what happened.
"It pains me so much that I don't not feel like talking about the past and death of my brother," he told HumAngle when reached on the phone.
Like Emmanuel, many other Nigerians in the South East are grieving the killings of their loved ones or dealing with injuries inflicted on them by militants enforcing sit-at-home curfew.
'Zoo' Nigeria
The curfew is a protest at the incarceration of Nnamdi Kanu, leader of IPOB. Arrested in 2015, he has called for the restoration of an independent state of Biafra, comprising the current South East and the South-south regions.
At various times, he referred to Nigeria as "a zoo", urging his loyalists to take up arms against the state.
Under the terrorists orders, on Mondays and days that Kanu appears in court, residents are forced to stay off the streets under threat of violence.
The streets are deserted and all business grinds to a halt.
Even when curfew violators are not killed, consequences are severe. Their businesses are destroyed by members of the IPOB's Eastern Security Network (ESN) who move around streets. They frequently have confrontations with either soldiers or the police, often resulting in fatalities, like Chinedu's.
But this week, new governor of Enugu Peter Mbah issued an order of his own, a commandment that people defy the stay-at-home orders.
'Normal business'
On June 4, Governor Mbah ordered schools and other business owners to stop observing the sit-at-home directive issued by IPOB. He demanded that citizens themselves end the enforced empty streets by ignoring the orders of the separatist-terror group to keep off the streets the next day.
"This is to inform all schools, markets, banks, retail outlets, hospitals, transporters, malls and the general members of the public that, in view of the recent ban/cancellation of Mondays' sit-at-home by the Government of Enugu State, in all nooks and crannies of the state, they have been directed to go about their normal businesses and activities every day of the week, including Mondays," the Governor's order read.
"The above-mentioned bodies and others alike are required to comply with the directive as adequate security measures have been taken to guarantee their safety.
There would be support for their safety, Governor Mbah promised, but also consequences if they did not.
"Members of the government's task force will be moving around to monitor compliance. Any market, transport outlet, or any other body that fails to open for business risks being shut down."
In a bid to assure the people of the government's readiness to tackle the menace, security operatives were seen roaming the streets with their vehicles on Sunday.
But this did not change the minds of the state's residents, who had in the past experienced the deadly activities of IPOB.
It is not the first time that a Governor has tried to end the curfew orders.
Like Governor Mbah, some governors had in the past urged IPOB to stop the curfew, in order to pave the way for dialogue. One of them, Charles Soludo of Anambra State even visited Kanu in detention to show his solidarity but that could not stop his supporters from carrying out violence.
Many others who spoke with our reporter said the Governor's directive reinforced compliance with sit-at-home as the curfew experienced on Monday was unprecedented.
People were scared of either becoming victims of the IPOB militants prowling for collaborators or traitors to their cause, or of security agents attacking innocent citizens under the guise of hunting down members of the separatist group.
HumAngle understands that following acts of cruelty linked to IPOB militants, the Police in Enugu continue to carry out illegal arrests of 'innocent' residents.
A resident who spoke under anonymity because he feared getting attacked, said distressed residents did not sleep at night after Governor Mbah banned sit-at-home.
Reinforced?
Despite threats by the government, people complied with the Monday sit-at-home order on June 5. Major roads and markets were deserted.
Public institutions like schools refused to open.
Residents told HumAngle that although there was a presence of security officials in various strategic places and surveillance aircraft hovering around the state capital and other major flashpoints, people remained indoors.
In fact, all transport companies in Holy Ghost, Garrik, Emene, Eke-Obinagu, and Zik Avenue, did not operate, having had their vehicles burnt in the past.
A resident whose vehicle was once burnt by IPOB militants said complying with the directive of the government means "I risk losing my vehicle to sit-at-home for the second time. I am still owing debt for the previous bus that got burnt during an attack. They shot my tyres and forced the vehicle to stop. Each time I remember this, I see more reasons to stay back indoors on Mondays or any other day declared for sit-at-home."
To some it might have appeared the stay at home seemed to be "reinforced" by the Governor's order.
Risks
Emmanuel's brother had been just at the start of his life.
Chinedu, had been preparing for the Basic Education Certificate Examination (BECE) taken by candidates in their final year of Junior Secondary School, when he was killed.
"My brother was a bystander and never part of the face-off. He had only gone to throw away the dirt he swept from house when he saw a group of people gathered at the bus stop. He wanted to be sure of what was happening, so he moved closer to the scene and was hit by a bullet fired by soldiers dispersing IPOB protesters."
He was rushed to the hospital for treatment, but they announced he was 'brought dead'.
Although Emmanuel hates the curfew, and blames the separatists for his brother's death, the risks that people might run to defy the order have a powerful sway over him.
"The government said we should shun sit-at-home but people are scared that they may be attacked," he told HumAngle.
"The Governor cannot force people to come out. People who have lost their loved ones in the past do not want to risk it. If you remember those that have been killed and illegally arrested, you will not want to be prey."
---
Support Our Journalism
There are millions of ordinary people affected by conflict in Africa whose stories are missing in the mainstream media. HumAngle is determined to tell those challenging and under-reported stories, hoping that the people impacted by these conflicts will find the safety and security they deserve.
To ensure that we continue to provide public service coverage, we have a small favour to ask you. We want you to be part of our journalistic endeavour by contributing a token to us.
Your donation will further promote a robust, free, and independent media.
Donate Here