Armed Violence
Displacement & Migration
Features
News
From Captivity To University: Bold Borno Girl Who Escaped Marriage To Boko Haram Thrice (2)
"I am not bothered about marriage because I have seen the light. I'll rather pursue my dreams now that I have the opportunity."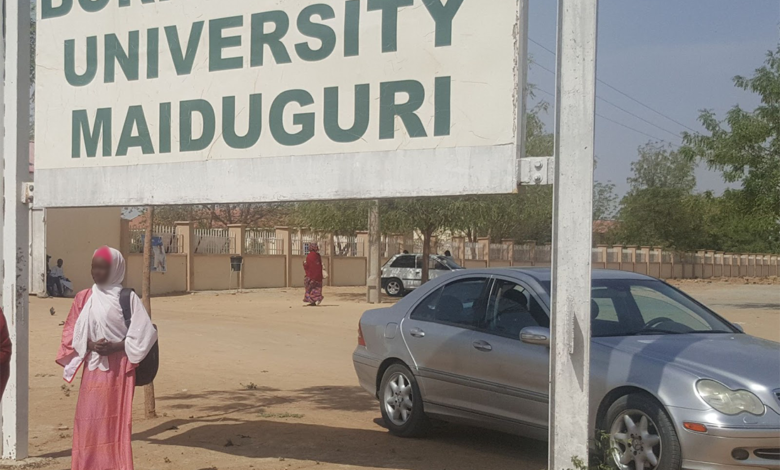 After she escaped from her Boko Haram captors in Bama and trekked for days without food and proper rest, 13-year-old Zarah eventually survived the wilderness.
"I arrived at Konduga on the evening of the third day. Some soldiers spotted me hoofing it toward the town from afar, and they waylaid me," she said.
"It was around 6 p.m. and already dark then; the soldiers wanted to shoot at me thinking I was a suicide bomber, but one of them later interrogated me and believed my story."
The soldiers gave her warm water, some food, and then a place to sleep. The next day, one of the senior officers also gave her bread and promised to take her to the Dalori Internally Displaced Persons (IDP) camp in Maiduguri.
Dalori camp was about 20km away from Konduga. Most of the IDPs from Bama are camped in either the Dalori I or Dalori II camp — both adjacent to each other.
Zarah was registered in the camp as an 'unaccompanied child'. The camp officials usually take in displaced kids who lost both of their parents or those whose parents cannot be traced at the time of arrival as unaccompanied children.
Reuniting with family
After spending some weeks in the camp, Zarah said she eventually ran into her kid sister, Aisha.
"I never knew that shortly after I arrived at the Dalori camp, Nigerian soldiers entered Bama and asked everyone to leave for Maiduguri as they began the battle with Boko Haram. They eventually chased Boko Haram away," she said.
"I spent some days in the IDP camp alone as an unaccompanied child until one day, as we were having breakfast inside the large pavilion, I saw one of my little sisters, Aisha, who told me that my parents were also in the camp!"
Zarah said she hugged her younger sister as she cried uncontrollably.
"My reunion with my family was a turning point for me. It was as though all the sufferings I passed through never happened. I was happy."
How Boko Haram members marry girls
One of the biggest reasons insurgents abduct young girls isn't for ransom but to take care of their sexual needs. This, they achieve through rape or forced marriages of women and girls.
Zarah said she was just lucky to have escaped being forced into "sexual abuse in the name of marriage." But many women and girls were not as fortunate.
"I was not married to any Boko Haram member because I did not allow it to happen," she stressed.
"I felt sick most of the time, and I never rested on the attempts to escape. When Boko Haram wanted to marry a girl or woman, they paid a dowry of N5,000 and then brought a bundle of wrappers and a bottle of make-up powder. That's all."
"After that, you are moved into an empty house and, when it is time for them to move, you move with them. They pretend to stand against rape, but they force girls as young as 13 and 15 years into marriage regardless of their consent."
Zarah said many of her friends, especially those taken from her neighbourhood in Bama have been married off, "and we have not seen them again."
"My best friends like Yakkau and Mammy were married off," she said.
An uncommon passion for education
Before she was born, no one in Zarah's nuclear and extended family had ever seen the four walls of a primary school classroom, except for her paternal uncle.
Like any other child from poor backgrounds in Bama, she would grow up helping her mother hawk wares and possibly enrol in a Quranic school that held classes in the evening.
Zarah recalled how she used to sell akara (bean cake) at the gate of a primary school in Bama, where pupils, some of whom were her agemates, came to buy from her.
"Each time I was at the school, I got fascinated by what the children were learning in the classrooms. Sometimes I abandoned my ware and joined the pupils in learning. My parents were not happy with me, but when I insisted on getting enrolled in school, one of the teachers persuaded my parents to allow me. And that was how I started primary school," she said.
"I was in JSS 1 when Boko Haram came to attack Bama and forced everyone to flee."
Zarah explained that after making her escape from captivity to Dalori camp, her parents lost interest in continuing her education.
At 13, all they wished for her was to get someone to marry.
"There in the camp, all I wanted was to get enrolled in school and continue my education. Now that I am free, I would like to finish my education before thinking of marriage," Zarah told HumAngle.
"But I am still under pressure from my family to get married. I am not bothered about marriage because I have seen the light. I'd rather pursue my dreams now that I have the opportunity. Marriage is not a priority for me now, but education. Marriage can come later."
Help came at UNICEF IDP camp school
A ray of hope came for Zarah when the United Nations Children Fund (UNICEF) introduced schools for kids at the IDP camp.
"During the course of our schooling there, the UNICEF officials initiated a programme that gives grants for kids to get formal learning in conventional secondary schools; and I was lucky to be among the three kids and the only girl that passed the selection test," she said.
"I was excited because I was told that I had secured an admission to continue my education at Federal Girls College (FGC), Abaji in Abuja. But my parents opposed my going outside Maiduguri for school and a lot of people kept telling my mother that I was being taken away to be sold in unknown lands. But I insisted that I would go even if it was against the wishes of my parents."
"My uncle, Abba, who is the only person that was educated in my entire extended family, came in to save the situation. He impressed on my parents to allow me to go to the school, saying I would be the second person in our family to acquire Western education."
"I am very eager to get educated and that has been my passion from childhood. I believe with education, I can help my people and be a shining light especially for the girls who are always asked to get married at early ages."
Zarah eventually had her secondary school at the prominent FGGC Abaji and had good grades.
She is currently pursuing an undergraduate programme in Computer Science at Borno State University, Maiduguri.
"I want to be a computer scientist because, through my little smartphone, I have come to understand that the future solely depends on the computer and the internet for its development," Zarah said.
"One can become anything with good knowledge of ICT."
Read part one of the report here.
This report is the product of a partnership between the African Transitional Justice Legacy Fund and HumAngle Media under the 'Mediating Transitional Justice Efforts in North-East' project.
---
Support Our Journalism
There are millions of ordinary people affected by conflict in Africa whose stories are missing in the mainstream media. HumAngle is determined to tell those challenging and under-reported stories, hoping that the people impacted by these conflicts will find the safety and security they deserve.
To ensure that we continue to provide public service coverage, we have a small favour to ask you. We want you to be part of our journalistic endeavour by contributing a token to us.
Your donation will further promote a robust, free, and independent media.
Donate Here