Development
Features
News
From Beggar To Businessman: An IDP With Disability's Boko Haram Survival Story
When others were fleeing a major terror attack that saw the fall of Damboa in 2014, no one had thought that Mohammed Fali, a disabled person, could survive. But he did, by riding his tricycle 86km from Damboa to Maiduguri.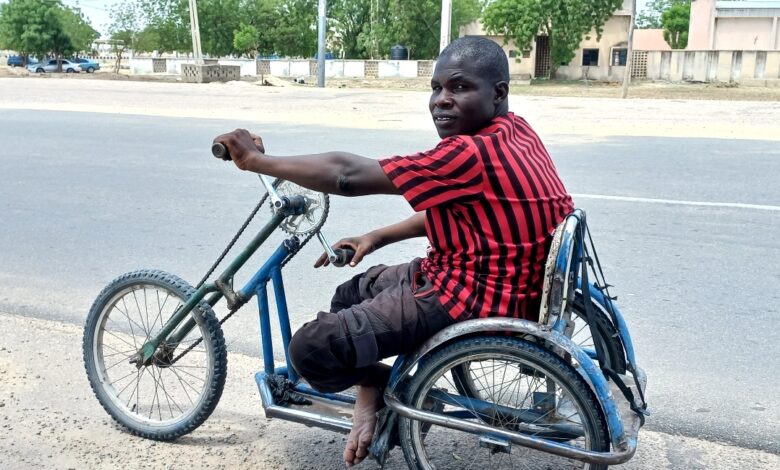 "For over two decades of my life growing up, I used to beg for alms because I was born crippled before Boko Haram came to chase us out of Damboa town. But now I have found a new life in displacement, and I doubt if I would ever return."
Mohammed Fali, 33, sat quietly on his tricycle as he looked with tearful eyes at the highway that leads from Maiduguri to his ancestral home, where Boko Haram almost took his life in July 2014 during an attack.
People showed him sympathy all his life as a boy born with a disability. Born to a struggling family, he lived a dependent life until the day the insurgents showed up. That was when he realised that the little comforts he enjoyed were fluid.
The Boko Haram conflict may have taken so much from his family and friends in Damboa, but the war itself was a blessing in disguise to him.
The 13-year-old conflict has led to the death of about 350,000 persons and displaced over two million others, mostly women and children. Among those displaced is a smaller set of people whose experiences are hardly talked about — those with a physical disability.
Mohammed's story is a classic example of what people with disabilities go through each time terrorists attack a community and have to run to save their lives.
The attack on Damboa
When Boko Haram terrorists attacked Damboa, a popular agrarian community in Borno, Northeast Nigeria, they hardly spared anyone, including women and children.
It was an attack that eventually led to the fall of Damboa in July 2014 before the Nigerian troops later recaptured it.
Those who witnessed the invasion recalled that "it was a day bullet rained upon the town" for many hours. Many lives were lost, and so were properties worth billions of naira.
Those who escaped were considered the lucky, but no one was perhaps as lucky as Mohammed, who depended on a manual tricycle to move around.
"Everyone in my father's compound, except my aged mother, had to run and leave me, but my mother could not abandon me because she knew I had no legs to carry myself," Mohammed said. 
He recalled that the attack started at noon and continued till evening. By the time the insurgents had succeeded in uprooting all the civic authorities, including the police and the military deployment in Damboa, they began to search from house to house to fish out anyone hiding from them.
"When we realised that they were advancing towards our street, I had to beg my mother to run with a promise that I would also take care of myself," he said.
"The heavy firing of anti-aircraft rifles by Boko Haram caused a mighty tree branch in front of our house to break down and block the front door. My mother worried that it would be impossible for me to ride my tricycle out of the house through the broken branch. So she had to risk her life to help me drag it a bit away from the door before she left praying for God to spare my life."
Fali said he had to risk riding his tricycle out of the house using his knowledge of the neighbourhood to avoid the Boko Haram shooters who were busy searching every house and dragging people out to face death.
"Praying for God's protection, I managed to get to the outskirts of the town and then hit the road leading from Damboa to Maiduguri."
His escape was aided by stormy weather that later led to heavy rainfall.
"I wheeled myself through the dark hours of the night and the rains till I arrived at Dalwa at cockcrow when I began to hear the distant chanting of calls for prayer. It was then I realised how long I rode on my tricycle."
Dalwa is about 63km from Damboa, and it took Mohammed 10 hours of pedalling his tricycle with his two hands while driving at 6km per hour to cover that distance on a stormy night. It was the longest ride he had ever accomplished at a stretch.
"The folks in Dalwa received me with kindness, even as they were all amazed that one could ride such a distance at night using an unconventional means of transportation like a hand-driven tricycle," he recalled.
"In the morning, they offered to assist me to get a vehicle that could transport me to Maiduguri, which is about 21km ahead. But most of the vehicles coming from the direction of Damboa were filled up with people fleeing the town. None of the drivers stopped at Dalwa, so I became more agitated."
Mohammed had to tell them to let him continue his journey on his trike. He thought if he could travel 63km at night, what could stop him from completing the remaining 21km to Maiduguri?
"I mounted the road again, but this time I had to avoid the highway lest I get knocked down by vehicles moving at a crazy speed. Without food or water to drink, I rode for about eight hours to reach Maiduguri at 4 p.m."
To have a better feel of his story, Mohammed insisted that he share his story close to the highway leading to Damboa. With tears in his eyes, he said he did not think he could make it alive to the junction that links Damboa road to different parts of Maiduguri.
While on the way out of Damboa, he remembered seeing dead bodies that had been shot or decapitated. The sight almost caused him to give up. "If people with two legs and able bodies could not survive, I doubt if I could ever make it."
Mohammed thought it was the worst day of his life. Little did he know that other tragic events awaited him.
Life in Maiduguri, dropping out of school
Mohammed joined other beggars and wanted to continue alms-begging in Maiduguri because his appetite for survival had doubled as an IDP. But he would soon find out that, unlike in Damboa, beggars in the state capital are profiled negatively.
"I had to start thinking of what business I could do with my two hands that would not require me to worry about my crippled legs. So I later decided to be a cobbler. With the little money that I had saved, I decided to buy some brush and polish with which I polished shoes for people at the entrance gate of mosques. If any worshiper appreciated my free service, they dashed me money in return."
Mohammed said the series of threats to his life had never dampened his desire to excel.
He had once secured admission at the University of Maiduguri for a diploma programme but had to drop out due to challenges peculiar to his disability.
"I find it difficult to ride myself every day to the university and, when I get there, the lecture halls are not disability-friendly," he explained. "In most cases, I arrived for lectures late and then I found it difficult to climb the stairs to access lecture halls. So I had to drop out."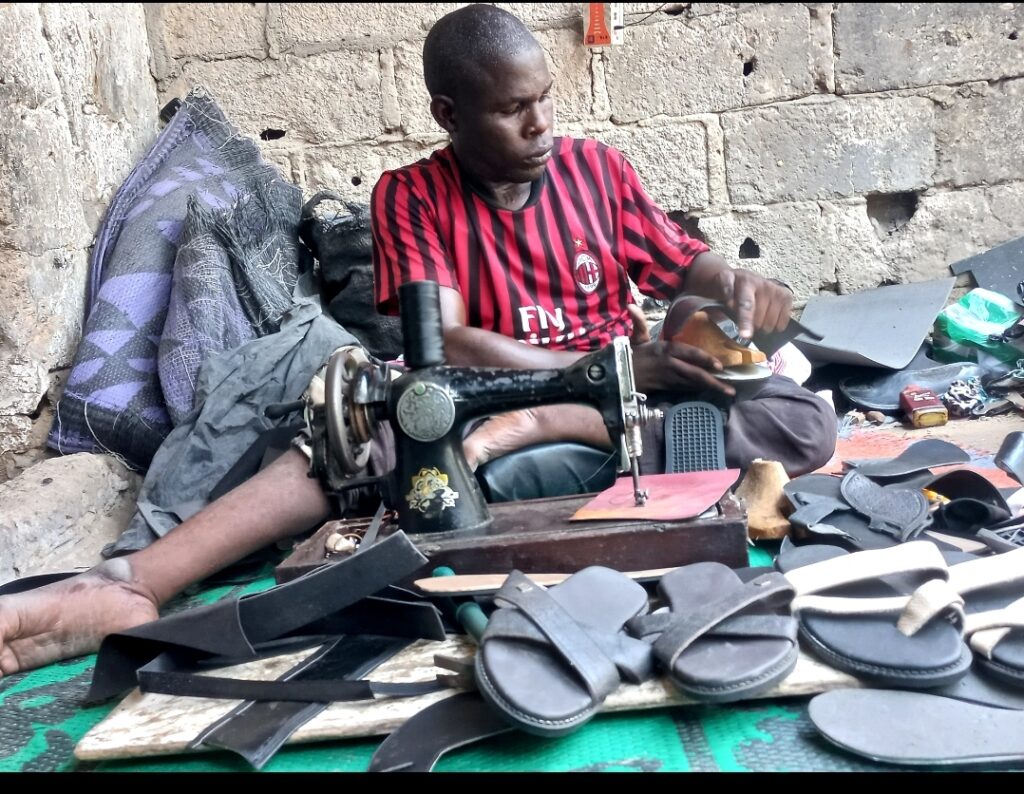 Escaped bomb attack 
Maiduguri recorded a major bomb attack on Jan. 15, 2014, when a vehicle laden with explosives went off at a crowded commercial area known as Post Office.
Many persons died, and several others survived with various degrees of injuries. Mohammed was one of the survivors of the deadly blast.
"I was at the old GSM market to fix my phone when the incident happened," he recalled.
"Unknown to me, the vehicle in front of me was carrying the bomb, and it went off as I tried to ride ahead of it in the traffic hold-up. I heard a loud explosion before I passed out. I later woke up in a hospital bed with serious injuries and hip dislocation."
The University of Maiduguri Teaching Hospital doctors fixed his hip and discharged him days later.
His tricycle was destroyed, and it took the support of friends to help him get it back on the road.
An NGO's intervention
As an ardent radio listener, Mohammed stumbled on a piece of information that one of the international nongovernmental organisations, Plan International, was about to train young persons on skill acquisition. So he applied to be trained as a cobbler.
After an intensive three months of training, he graduated as a professional shoemaker. The NGO provided him and other graduands with all the tools required for making all kinds of shoes.
"Happily, people have identified with my product, and they buy from me," he said. "Today, I make shoes like palm sandals and ladies' shoes which I sell at ₦2,500 [$6] and ₦3,000 [$7]."
Having no shop of his own for now, he does business from a rented apartment he shares with his wife and newborn.
"Plan International is the messiah in my life because they saw me and believed in me, despite my physical disability, and offered to give me a lifeline support," he said.
"Today, I'm married, and I even had my baby's naming ceremony two weeks ago. I've been able to save money from my earnings in shoe making and repairs to buy a half plot of land where I've started building my own house."
His biggest challenges are getting a workshop, acquiring a motorised bike to ease his movement, and completing his house.
"If you look at me, you would notice that without my tricycle, I practically crawl on the floor, and this worries me so much because, in my condition, I have to share the toilet with others in a rented compound. That's why I'm eager to see that I own my own house."
---
Support Our Journalism
There are millions of ordinary people affected by conflict in Africa whose stories are missing in the mainstream media. HumAngle is determined to tell those challenging and under-reported stories, hoping that the people impacted by these conflicts will find the safety and security they deserve.
To ensure that we continue to provide public service coverage, we have a small favour to ask you. We want you to be part of our journalistic endeavour by contributing a token to us.
Your donation will further promote a robust, free, and independent media.
Donate Here