Development
Features
Four Years After Big Launch, Borno's School For Displaced Children Still Under Lock
The project's commissioning gave hope to hundreds of orphaned and displaced children across the state that they could get both free and quality education. With every passing year, that hope gets even dimmer as the facilities lie in waste.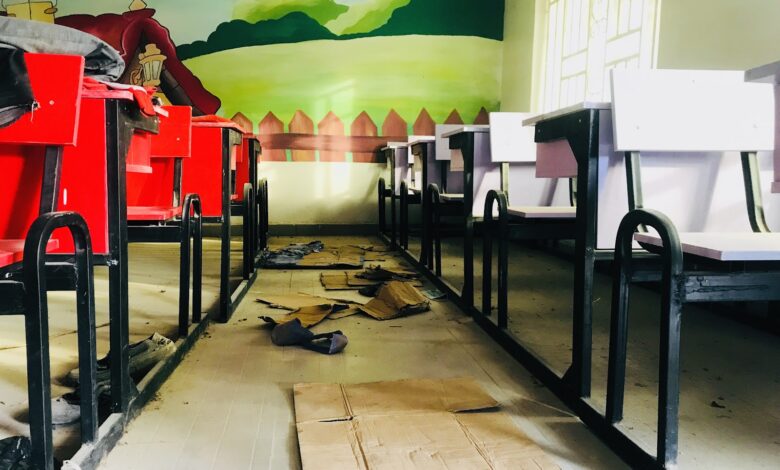 If you are driving down Bama Road in Maiduguri, it is almost impossible not to notice the structure. Even if you miss the twin swing gates coated in ash and white, how could you not see the gatehouse in between them and the towering entrance arc? Without a signpost, one would be forgiven for thinking this was the address of a government agency or maybe even a palatial private residence. But once you peer through the gates and see the colourful playground in the distance, you will realise at once what it is, and you might wonder: If this is a school, where are the students?
The Aliko Dangote Primary School in Borno State, northeastern Nigeria has not had students since it was commissioned over four years ago.
The school, named after Africa's richest man, was constructed under the administration of former Borno governor Kashim Shettima, who is now Vice President of Nigeria. It is situated right in the middle of the 202 and 303 housing estates on a piece of land that used to host a partly constructed shopping complex and a football pitch.
The 40 classrooms are equipped with interactive whiteboards, digital teaching aids, adequate furniture, air conditioners, and vivid artwork.
It also has a dormitory built to accommodate 1,000 students who are displaced orphans. The school would then take in 600 more children from the host communities who would enrol as day students. There is a library, kitchen, playground, water reservoir, stand-by generating set, and boarding hall. Because of all this, the facility is often described glowingly as a "mega" school.
The project was intended to serve mostly vulnerable children whom the Boko Haram insurgency had victimised. Shettima disclosed in 2017 that up to 52,311 children were orphaned by the crisis, stating that the best assistance that could be provided to these children was more investments in their education. His administration set out to do just that.
On April 26, 2019, the then president Muhammadu Buhari commissioned the Aliko Dangote Primary School and other projects across Maiduguri. "As demonstrated by Governor Shettima, it is essential to give priority attention to primary school education in order to ensure formidable education at the tertiary level in line with international best practices," he said.
It is not clear how much was spent on this project, but the state government approved the sum of ₦3.5 billion ($4.6 million) for the "construction/provision of public schools" for the Ministry of Education between 2017 and 2018. In the same period, an additional ₦350 million ($460,000) was earmarked for the Borno State Agency for Mass Education for the construction and rehabilitation of public schools for internally displaced children.
Shettima noted during a 2017 visit by Nobel laureate and female education activist Malala Yousafzai that his government also spent $3 million to send teachers to India to learn how to use the K-Yan teaching aid.
Ibrahim, 60, a resident of the host community whose name has been changed because he is a civil servant, remembers the excitement during the launch.
"People were saying, at least, if the hostels were given to orphans, our children could attend as day students. We would not have to spend money on transport. We were all happy. If you get relief from school fees and transportation, it is a great joy. It is free education. Even the uniforms and textbooks are free."
"Everybody was so excited," he stressed.
He added that people in the neighbouring communities hoped the school would take off because alternatives, such as the University Of Maiduguri Staff Primary School and Demonstration Secondary School, were too expensive.
Ibrahim has worked with the local government for 31 years and is currently a level 15 officer (the highest level being 17). Despite multiple paper promotions during the period, he has earned the same salary since 2011: ₦32,800 ($43). He explained that the mega primary school would have been a life-saver to people like him who barely earn the national minimum wage.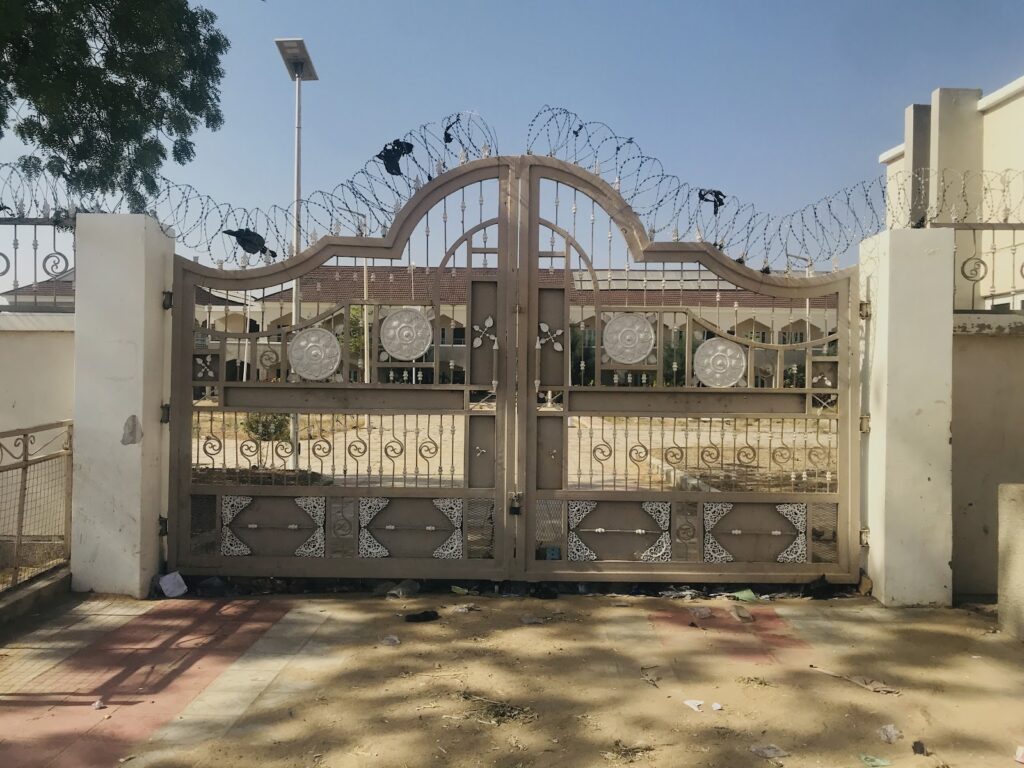 The impact of the school's abandonment ripples across the state.
Aisha Umar, 31, has borne the responsibility of taking care of her three children alone since her husband's disappearance a decade ago. She has five other children under her care as well, belonging to siblings who have either gone missing or are in detention. They all live under the same roof, which she inherited from her father in the Gamboru neighbourhood of Maiduguri.
Some of the children currently attend a private school, but this has only been possible with the help of Aisha's brother-in-law, who pays the tuition. What she makes from her sale of local perfume is only enough to put food on the table. Her earnings are only about ₦10,000 ($13) monthly, she said. Her other business of selling charcoal has failed.
When the Dangote School was commissioned, she heard that she could submit a list of her children so they could be enrolled. She gave the names to one man, who was said to be on the committee set up by the government for the purpose. The man assured her the children would be enrolled once activities started.
"But we've not heard anything about it since then," she told HumAngle. "We kept asking what is happening about the school, but we have received no update till now."
Some of her children who were in kindergarten then are now in primary school.
The Dangote school held several prospects. Not only was it going to take the burden of paying tuition off the parents, but it was also going to accommodate the children. In addition, the quality of the education promised to be better than what the children were used to.
"The standards at our present school are low. Teachers' attendance and the quality of teaching is very poor," complained 17-year-old Saratu Musa Abubakar, one of the older children under Aisha's care who is now in her penultimate year in secondary school.
"We want to attend a better school," she pleaded.
As orphaned children in host communities struggle to gain access to and remain in schools, the situation in displacement camps is likely worse.
Yakura Abubakar, secretary of Knifar, an advocacy group formed by women IDPs in Borno, used to reside at the Dalori II camp on the outskirts of Maiduguri, not far from the site of the mega school, before their resettlement to Bama. If the school had been opened after its commissioning, their children would have progressed academically, she said.
She told HumAngle that children in IDP camps who spend their days begging are more than those enrolled in school. This can't be helped since many of them would go hungry without alms. Sometimes, parents discourage them from schooling and see fetching firewood or engaging in other menial labour as a better use of their time if they are to survive.
"They are just roaming around, going to bush and begging," she said of children in Nguro Soye, a community in Bama. "Some teenage girls are sexually abused and were even kidnapped by Boko Haram after they went for firewood. If the schools are functional, they would be busy with their education."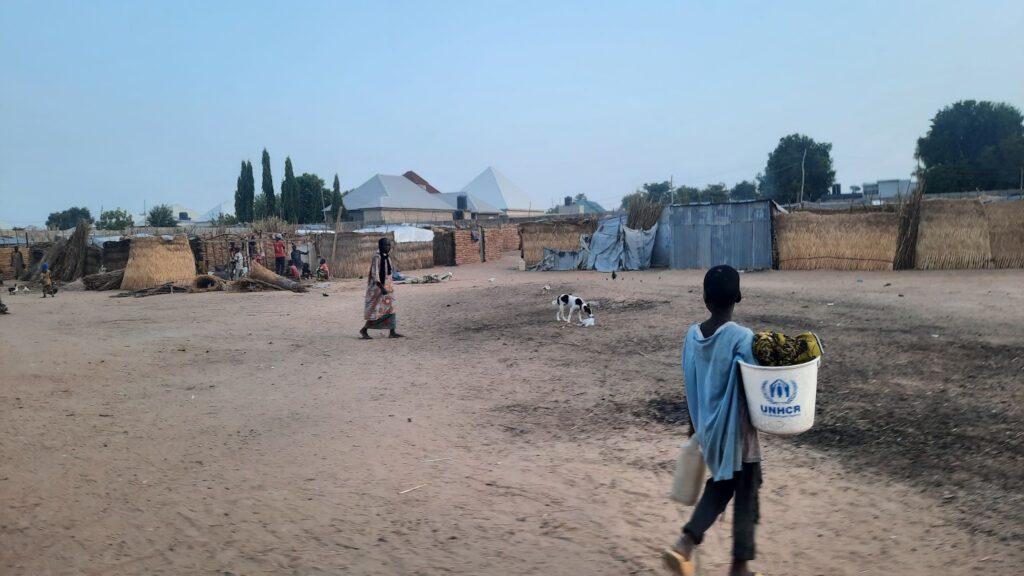 The first sign of trouble Ibrahim – the civil servant – saw after the launch of the mega primary school was the carting away of bicycles, said to have been donated by Dangote. He recalled there were two to three trucks full of about 2,000 bicycles.
"Immediately they commissioned them, around 4/5 in the evening, the trailers came back, they loaded them with the bicycles, and they took them away. We didn't see them anymore," he claimed. He said he saw security agents and other officials taking a few of the bicycles for themselves. "Some were saying hide this one for me."
After there was a noticeable delay in the commencement of academic activities, the residents noticed something else. The security guard was reportedly allowing people into the premises for a fee, and they used it the same way they would a hotel. So they complained and got him replaced with a stricter security man.
"But when there is a social event, people used to ask for permission to have their reception in the cafeteria. They will bring their food and everything. It is very nice. Instead of going to the hotel, they would use the cafeteria for their wedding or naming reception," Ibrahim said.
He says the place is like a museum now, where people go to admire the modern instalments and daydream about the school's potential.
Other people living in the area share Ibrahim's disappointment.
"I can vividly remember in 2017, Malala Yousafzai was at the construction site for an inspection of the school. And later I heard on the news that it is only for girls. I was very optimistic about the progress of the work and felt heartbroken when the school was not put to use," said Mohammad, a shopkeeper.
For Abdul, a resident of 303 Housing Estate, what makes the abandonment even more painful is seeing street children begging for food, scavenging for waste, or playing football in the neighbourhood when they could have been beneficiaries of the initiative.
"I have this feeling that a day will come when they will need a better life, and they will not be able to afford it. And they will be forced to react in a primitive way just like Boko Haram," he said.
Ibrahim made the same observation.
"If you go outside now, you will see a lot of children roaming the university park. They grew up here, but they were brought from Bama and other villages at a tender age. They have nowhere to go. They are begging or carrying luggage for people. Now they are just loading these Keke NAPEPs [auto-rickshaws] or going around the estate looking for errands to run."
He further argued that the problem with the education system in the state is there are fine structures, but there are either no teachers or those available are not adequately motivated.
Shettima would likely not disagree. He had declared during Malala's visit years ago, "If you do not have quality teachers, you can build the most beautiful infrastructure [but] it is an exercise in futility."
Last December, the state government started accepting applications to fill 3,000 teaching roles. In September, it again announced that it was recruiting 4,000 teachers, a third of whom would be deployed to primary schools.
Ibrahim is hopeful that once the successful candidates are employed, some of them might be assigned to the Aliko Dangote Primary School.
HumAngle reached out to Borno government spokesperson Isa Gusau for a comment on our findings and allegations about the diversion of bike donations, but we have yet to receive a response.
When we met Aisha in the first week of September, she said her children's school was not only expensive, but they kept increasing the fees. In fact, they had notified parents to brace up for another increase the following term from ₦8,000 per term to ₦15,000.
She wasn't sure she could break this news to her brother-in-law, who bore the costs. She figured there was a cheaper option: withdrawing them from the school and enrolling them in a public institution.
"Things are very hard, and we need support, especially for the orphans. We have no one to support us."
It breaks Aisha's heart every time she passes by the abandoned school along Bama Road and sees that the gates are still locked.
"All my hope was tied to this school," she said. "But now we have lost hope. Sometimes, we feel we have been deceived. It's four years now. They had better open this school since they said they did it for orphans."
She wants to see all her children achieve their dreams, no matter how ambitious. Eight-year-old Abubakar, for example, is torn between two paths. He punches the air before him as he announces his plan to become a soldier. Seconds later, he would fiddle with his exercise book and suggest another career goal: piloting.
Everyone laughs, but Aisha's smile carries an invisible weight. She knows that to achieve either of his dreams, young Abubakar stands a higher chance with access to quality education. But the more the economy tightens and the longer the Dangote school stands abandoned, the slimmer the boy's chances get.
---
Additional reporting by Abubakar Muktar Abba.
---
This report was produced in partnership with the MacArthur Foundation under the 'Promoting Transparency in Insurgency-Related Funding in Northeast Nigeria' Project.
---
Support Our Journalism
There are millions of ordinary people affected by conflict in Africa whose stories are missing in the mainstream media. HumAngle is determined to tell those challenging and under-reported stories, hoping that the people impacted by these conflicts will find the safety and security they deserve.
To ensure that we continue to provide public service coverage, we have a small favour to ask you. We want you to be part of our journalistic endeavour by contributing a token to us.
Your donation will further promote a robust, free, and independent media.
Donate Here