Environment
News
Flooding In Maiduguri Displaces Residents As Poor Drainage Systems Fail To Cope 
Maiduguri residents turn to canoes for commuting as heavy rains cause devastating floods, forcing residents to leave poorly designed homes. Inadequate drainage systems contribute to the crisis despite prior warnings.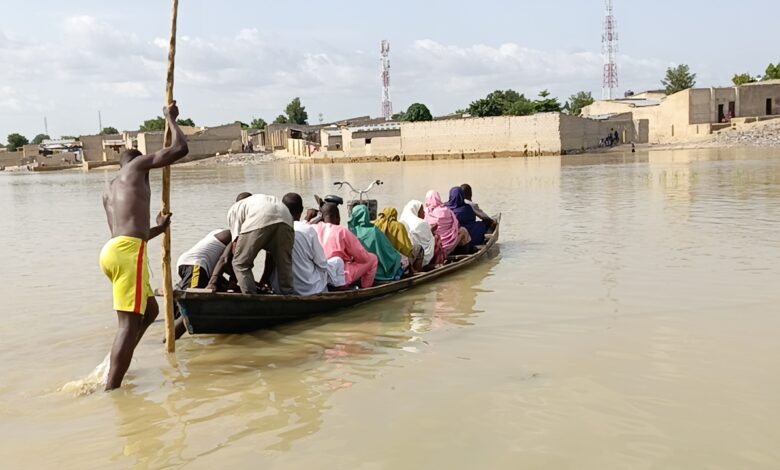 The township of Maiduguri, the capital of Borno State, North East Nigeria, has again fallen victim to devastating floods, forcing numerous residents living in poorly designed layouts and suburbs to flee their homes.
As the heavy rains arrived on schedule this August, the township was ill-prepared, with drainage systems unable to handle the deluge. Last year flooding also caused widespread misery.
The National Emergency Management Agency (NEMA) and the State Emergency Management Agency (SEMA) had previously warned of intensified flooding this year, with Borno State among the high-risk areas.
Residents, who had gathered in a large square just last month to offer prayers for rain, now find themselves grappling with the aftermath of torrential downpours.
Like last year, they fear flooding might deal another severe blow to the region's agricultural sector, jeopardising newly planted and sprouting crops.
Residents, especially in areas with zero or poorly designed drainage systems, had to flee their flooded homes, some in the middle of the night.
Submerged
Ibrahim Abubakar, a father of three, expressed his anguish, saying, "When we gathered to pray for rains, we had hoped that it would simply come to nourish our crops, but instead, they have destroyed everything we had worked so hard for. Now, we have no choice but to seek shelter elsewhere."
Another victim, Aisha Mohammed, tearfully recounted her experience. She said: "Our homes have been submerged, and our belongings washed away. We have lost many things to the flood. It feels like we will start from scratch when the flood finally dries up."
Mohammed Yunus, a civil servant, said his entire household was submerged when the flood poured in at night.
"All five rooms in my house were flooded," he said. My wife, our six children, and I had to stand in the water throughout the night until morning, when we had to wade through the water, knee-deep, to get out of the house. We may not come back till probably next month.
Yunus said his house gets flooded annually because no paved road or drainage leads to his street due to poor town planning in the area.
The dire situation in Maiduguri is exacerbated by poorly designed drainages that lack adequate outflow capacity, experts say. This has also affected people's movements in some parts of the township, where they have to use canoes to paddle down what used to be a roadway.
Canoes
HumAngle visited the area where locals pay canoe sailors to ferry them across the increasing waters from the city centre to Gwange-Sabongari, a densely populated location with poor drainage.
"We pay N30 to cross the water on canoes, and if you have luggage, you pay N50 or more," said Ali Abdullahi, a resident of Sabon Gari-Gwange, who vends insecticide on a bicycle.
"The rain has come to cut off our main route to our homes, and this occurs every year. We hope the government will consider a mini-bridge here so that our perennial hardships can be eased."
As small as N30 is, many people struggle to pay for the ride across.
"Sometimes, when you have no cash to pay, and you need to go out there to struggle for survival, you have to beg for a canoe ride for a credit paddle across with a promise to pay on your way back in the evening. And if things remain rough, and you could pay, they'll understand, but it remains a debt you must pay," said Nasiru Hassan.
Flood plain
Last year, HumAngle media published a story highlighting the vulnerability of Maiduguri to flooding, shedding light on the urgent need for improved infrastructure. The article emphasised the importance of investing in robust drainage systems to mitigate the impact of heavy rains.
Experts said the recurrence of flooding in Maiduguri serves as a stark reminder of the urgent action needed to safeguard the lives and livelihoods of its residents by putting in place mechanisms that will check illegal and risky buildings along the river bank
Maiduguri, a region surrounded by rivers and known as a "floodplain," is experiencing an escalating crisis exacerbated by climate change and local socioeconomic conditions, according to Dr. Dogo Saje, an expert on climate change, water resources, and community adaptation in Lake Chad.
"The area is naturally prone to flooding due to its geographical location," Dr. Saje explained.
"However, the situation is worsened by the rise in poverty, largely attributed to the Boko Haram insurgency, which has led to a higher number of tenants within the Maiduguri metropolis. People are now forced to build along the river banks, an area at high risk of flooding."
Dr. Saje also pointed out that unchecked construction along the river bank poses a significant risk to the inhabitants.
"Once there is an overflow of water, which is becoming increasingly common due to climate change, these settlements along the river bank are naturally affected," he said.
Climate change
The flooding situation in Maiduguri cannot be fully understood without considering the role of climate change. Dr. Saje emphasised that this region, part of which is located in the Sahel, is experiencing the effects of climate change, intensifying the natural and political challenges in the area.
"To understand the major causes of this flooding, we have to consider the issue of climate change," he stated. "We are located in the Sudano-Sahelian region, and while we are not deeply in the Sahel, some parts of Borno are. There are a lot of political and human problems that intersect with the natural issues we have around."
Dr. Saje urged the government to implement strict regulations to prevent people from selling lands along the river banks.
"The government has to put a severe and strong mechanism in place that forbids people, no matter how strong their claim of ownership, from selling lands along the river banks," he said.
Despite the challenges, Dr. Saje commended the recent efforts by the Borno state government to address the issue.
"I am happy to hear that the Borno state government had recently set up a committee of key ministries to look at the issue of housing land and property along the river banks," he said.
Further, he noted that one of the efforts to control or reduce the flooding was by dredging the river and waterways that crisscross through the city to deepen its banks. This measure was taken to prevent water overflow during heavy downpours, a positive step towards protecting the town from the devastating effects of flooding.
---
Support Our Journalism
There are millions of ordinary people affected by conflict in Africa whose stories are missing in the mainstream media. HumAngle is determined to tell those challenging and under-reported stories, hoping that the people impacted by these conflicts will find the safety and security they deserve.
To ensure that we continue to provide public service coverage, we have a small favour to ask you. We want you to be part of our journalistic endeavour by contributing a token to us.
Your donation will further promote a robust, free, and independent media.
Donate Here